Shayari for India (Country) "tiranga, apni ye pahchaan hai"
|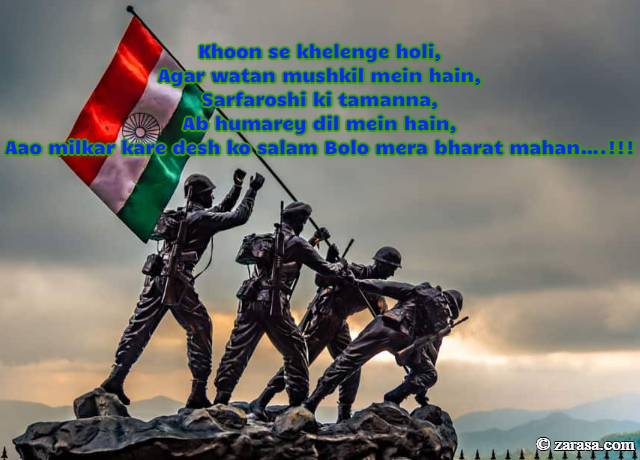 Khoon se khelenge holi,
Agar watan mushkil mein hain,
Sarfaroshi ki tamanna,
Ab humarey dil mein hain,
Aao milkar kare desh ko salam Bolo mera bharat mahan….!!!
खून से खेलेंगे होली,
अगर वतन मुश्किल में है,
सरफ़रोशी की तमन्ना ,
अब हमारे दिल में हैं ,
आओ मिलकर करे देश को सालाम बोलो मेरा भारत महान।

خون سے کھیلینگے ہولی ،
اگر وطن مشکل می ہے ،
سرفروشی کی تمنا ،
اب ہماری دل می ہے ،
آو ملکر کرے دیش کو سلام بولو میرا بھارت مہان .
---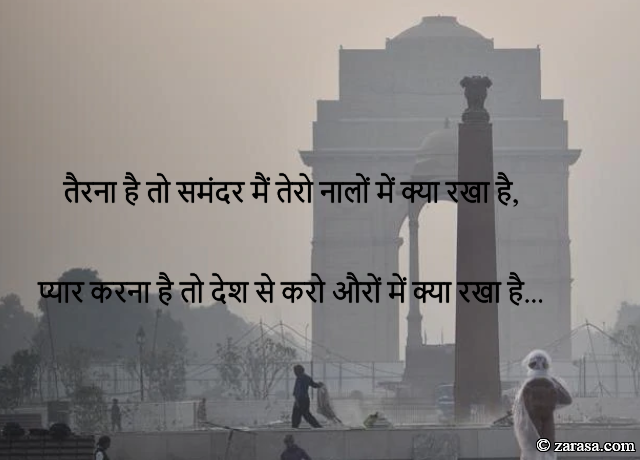 Terna Hai To Samandar Me Tero Naalon Me Kya Rakha Hai,
Pyar Karna Hai To Desh Se Karo Auron Me Kya Rakha Hai...
तैरना है तो समंदर मैं तेरो नालों मैं क्या रखा है,
प्यार करना है तो देश से करो औरों मैं क्या रखा है...
تیرنا ہے تو سمندر می تھرو نالوں میں کیا رکھا ہے'
پیار کرنا ہے تو دیش میں کرو آوروں میں کیا رکھا ہے -
---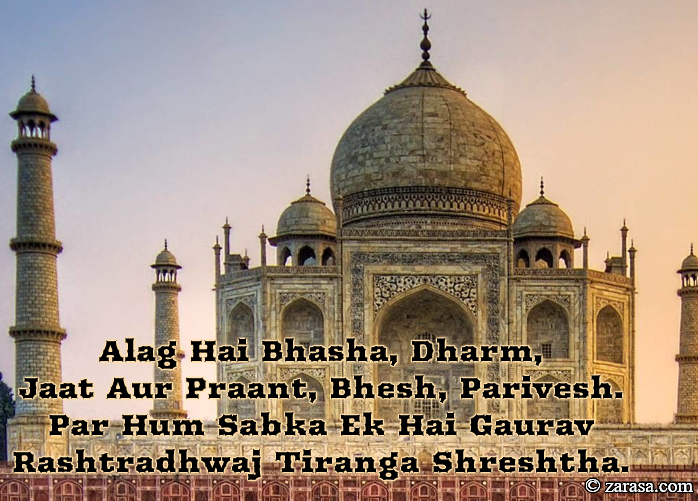 Alag Hai Bhasha, Dharm, Jaat Aur Praant, Bhesh, Parivesh.
Par Hum Sabka Ek Hai Gaurav Rashtradhwaj Tiranga Shreshtha.
अलग है भाषा , धर्म , जात और प्रांत , भेष , परिवेश .
पर हम सबका एक है गौरव राष्ट्रध्वज तिरंगा श्रेष्ठ .
الگ ہے بھاشا , دھرم , جات اور پرانت , بہش , پریویش .
پر ہم سبکا ایک ہے گورو راشٹرادھوج ترنگا شریشتھا .
---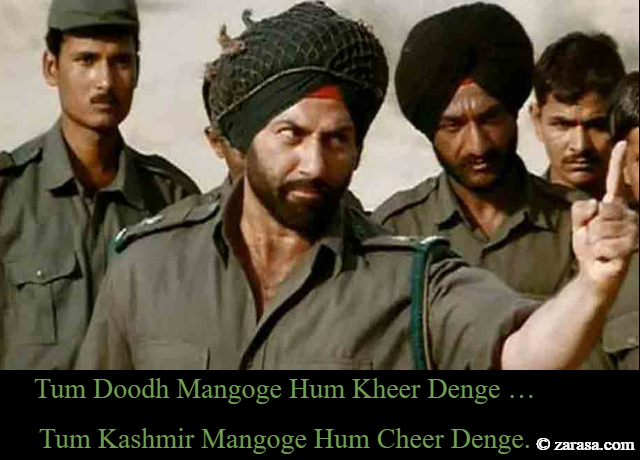 Tum Doodh Mangoge Hum Kheer Denge …
Tum Kashmir Mangoge Hum Cheer Denge.
तम दूध मांगोगे हम खीर देंगे ,
तम कश्मीर मांगोगे हम चीर देंगे। ....
تم دودھ مانگوگے ہم خیر دینگے
تم کشمیر مانگوگے ہم چیر دینگے
---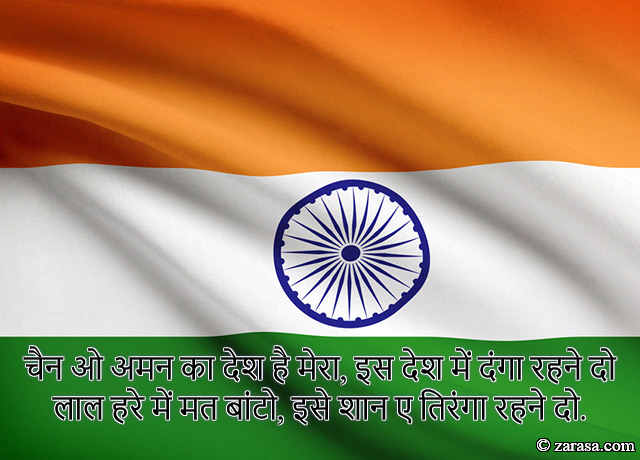 Chain O Aman Ka Desh Hai Mera, Is Desh Me Danga Rehne Do,

Lal Hare Mai Mat Baato, Ise Shan E Tiranga Rehne Do.


चैन ओ अमन का देश है मेरा, इस देश में दंगा रहने दो
लाल हरे में मत बांटो, इसे शान ए तिरंगा रहने दो i
چین و امن کا دیش ہے میرا, اس دیش مے دنگا رہنے دو,

لال ہارے می مت باتو, اسے شان ے ترنگا رہنے دو.
---