Shayari for Dard "Dard ko Bhi Dard Hota Hai"
|
Dard Ko Na Dekho Dard ki Nazron Se
Dard ko Bhi Dard Hota Hai
Dard ko Bhi Zaroorat Hai Pyar ki
Akhir Pyar Mein Dard Hi Toh HumDard Hota Hai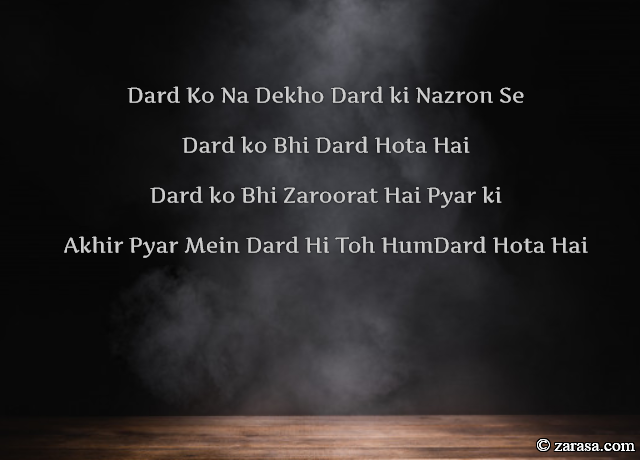 ---

दर्द को न देखो दर्द की नज़रों से
दर्द को भी दर्द होता है
दर्द को भी जरूरत है प्यार की
आखिर प्यार में दर्द ही तोह हमदर्द होता है


---

درد کو نہ دیکھو درد کی نظروں سے
درد کو بھی درد ہوتا ہے
درد کو بھی ضرورت ہے پیار کی
اخر پیار می درد ہی تو ہمدرد ہوتا ہے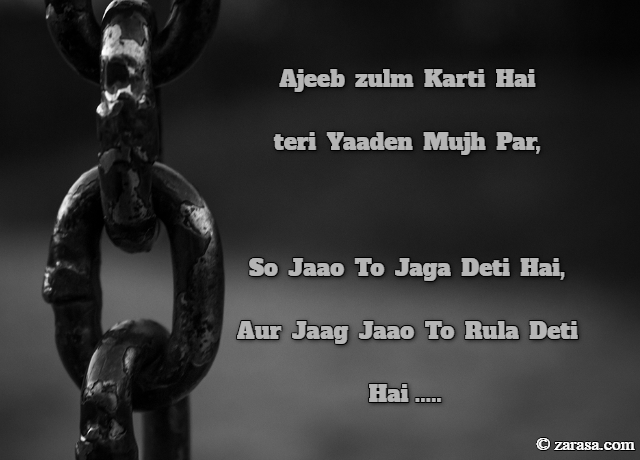 Ajeeb zulm Karti Hai teri Yaaden Mujh Par,
So Jaao To Jaga Deti Hai,Aur Jaag Jaao To Rula Deti Hai .....
अजीब जुल्म करती है तेरी यादें मुझ पर,
सो जाऊ तो जगा देती है, और जाग जाऊ तो रुला देती है…
عجیب ظلم کرتی ہے تیری یادیں مجھ پر
سو جاؤ تو جگا دیتی ہے ، اور جاگ جاؤ تو رولا دیتی ہے
---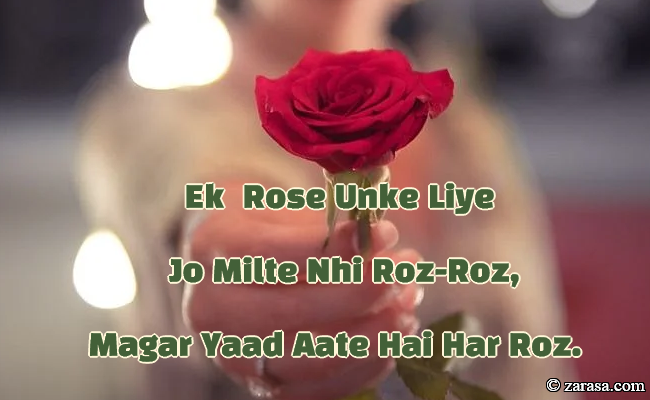 Ek  Rose Unke Liye
Jo Milte Nhi Roz-Roz,
Magar Yaad Aate Hai Har Roz.
एक रोस उनके लिए
जो मिलते नही रोज़-रोज़,
मगर याद आते है हर रोज़ |
ایک روسے انکے لئے
جو ملتے نہی روز -روز
مگر یاد آتے ہے ہر روز
---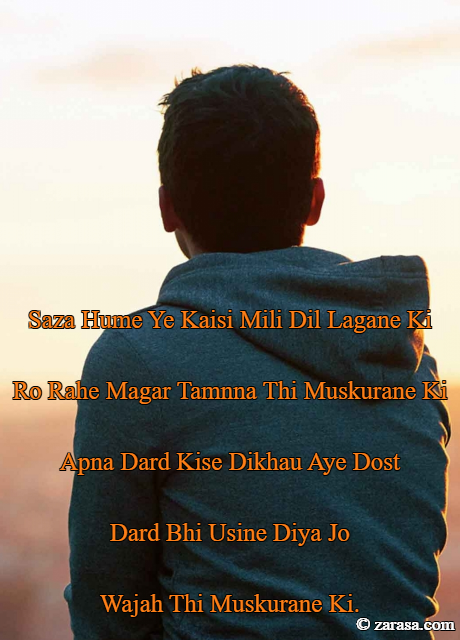 Saza Hume Ye Kaisi Mili Dil Lagane Ki
Ro Rahe Magar Tamnna Thi Muskurane Ki
Apna Dard Kise Dikhau Aye Dost
Dard Bhi Usine Diya Jo Wajah Thi Muskurane Ki.
सज़ा हमे यह कैसी मिली दिल लगाने की ,
रो रहे मगर तमन्ना थी मुस्कुराने की
अपना दर्द किसे दिखाऊ ए दोस्त
दर्द भी उसीने दिया जो वजह थी मुस्कुराने की।
سزا ہمے یہ کیسی ملی دل لگانے کی
رو رہی مگر تمنّ تھی مسکرانے کی
اپنا درد کیسے دیکھو ہے دوست
درد بھی اسنے دیا جو وجہ تھی مسکرانے کی
---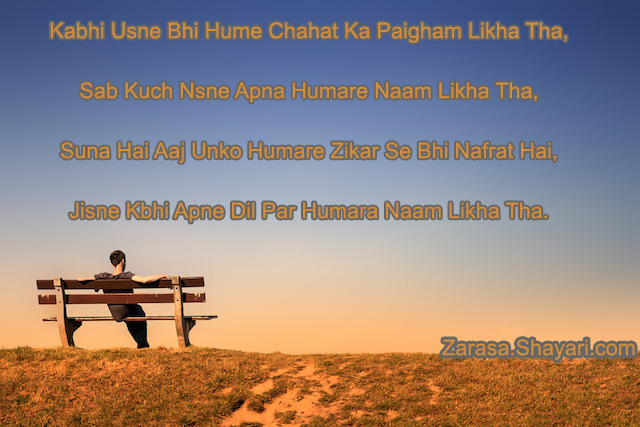 Kabhi Usne Bhi Hume Chahat Ka Paigham Likha Tha,
Sab Kuch Nsne Apna Humare Naam Likha Tha,
Suna Hai Aaj Unko Humare Zikar Se Bhi Nafrat Hai,
Jisne Kbhi Apne Dil Par Humara Naam Likha Tha.

 

 

कभी उसने भी हमें चाहत का पैग़ाम लिखा था,
सब कुछ उसने अपना हमारे नाम लिखा था,
सुना है आज उनको हमारे ज़िकर से भी नफ़रत है,
जिसने कभी अपने दिल पर हमारा नाम लिखा था।
کبھی  اسنے  بھی  ہمے  چاہت  کا  پےغام  لکھا  تھا
سب  کچھ  اسنے  اپنا  ہمارے  نام  لکھا  تھا
سنا  ہے  آج  انکو  ہمارے  ذکر سے  بھی  نفرت  ہے
جسنے  کبھی  اپنے  دل  پر  ہمارا  نام  لکھا  تھا
---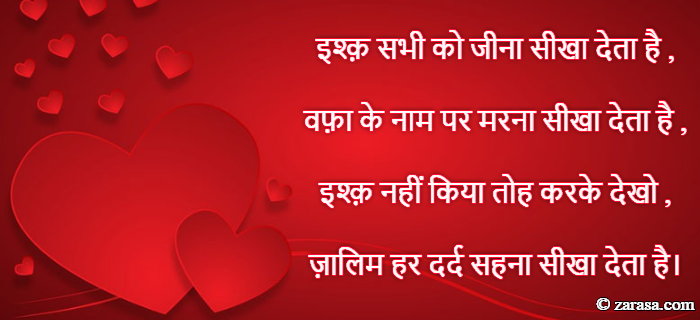 Ishq Sabhi Ko Jeena Sikha Deta Hai ,
Wafa Ke Naam Par Marna Sikha Deta Hai ,
Ishq Nhi Kiya Toh Karke Dekho,
Zalim Har Dard Sehna Sikha Deta Hai ,
इश्क़ सभी को जीना सीखा देता है ,
वफ़ा के नाम पर मरना सीखा देता है ,
इश्क़ नहीं किया तोह करके देखो ,
ज़ालिम हर दर्द सहना सीखा देता है।
عشق سبھی کو جینا سکھا دیتا ہے
وفا کے نام پر مرنا سکھا دیتا ہے
عشق نہی کیا تو کرکے دیکھو
ظالم ہر درد سہنا سکھا دیتا ہے
---