Shayari for Love "Hamen Seene Se Lagakar"
|
Hamen Seene Se Lagakar Hamari Sari Kasak Door Kr Do.
Ham Sirf Tumhare Ho Jaye Hamen Itna Majaboor Kar Do.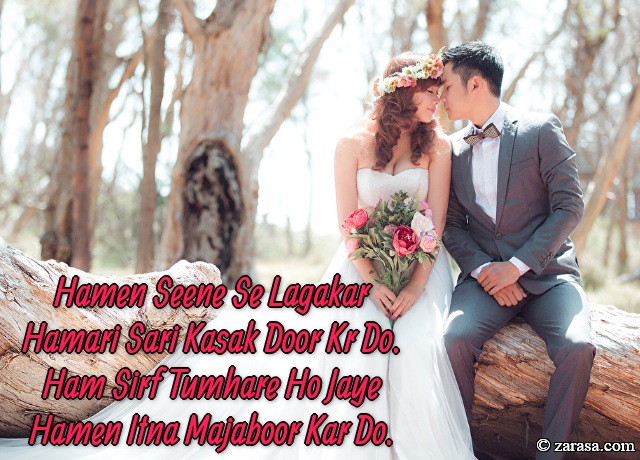 ---

हमें सीने से लगाकर हमारी साडी कसक दूर कर दो .
हम सिर्फ तुम्हारे हो जाये हमें इतना मजबूर कर दो .


---

ہمیں سینے سے لگاکر ہماری سری کسک دور کر دو.
ہم صرف تمہارے ہو جائے ہمیں اتنا مجبور کر دو .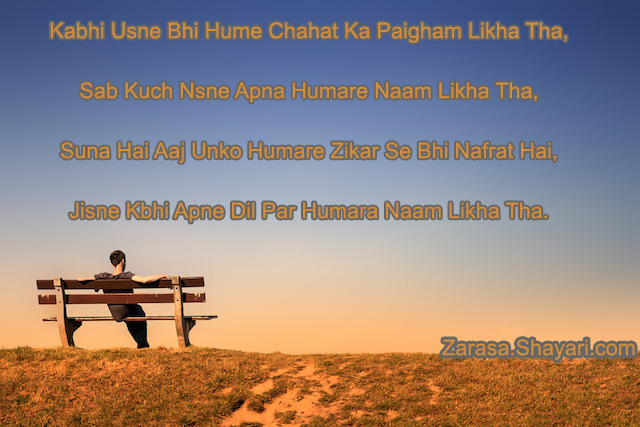 Kabhi Usne Bhi Hume Chahat Ka Paigham Likha Tha,
Sab Kuch Nsne Apna Humare Naam Likha Tha,
Suna Hai Aaj Unko Humare Zikar Se Bhi Nafrat Hai,
Jisne Kbhi Apne Dil Par Humara Naam Likha Tha.

 

 

कभी उसने भी हमें चाहत का पैग़ाम लिखा था,
सब कुछ उसने अपना हमारे नाम लिखा था,
सुना है आज उनको हमारे ज़िकर से भी नफ़रत है,
जिसने कभी अपने दिल पर हमारा नाम लिखा था।
کبھی  اسنے  بھی  ہمے  چاہت  کا  پےغام  لکھا  تھا
سب  کچھ  اسنے  اپنا  ہمارے  نام  لکھا  تھا
سنا  ہے  آج  انکو  ہمارے  ذکر سے  بھی  نفرت  ہے
جسنے  کبھی  اپنے  دل  پر  ہمارا  نام  لکھا  تھا
---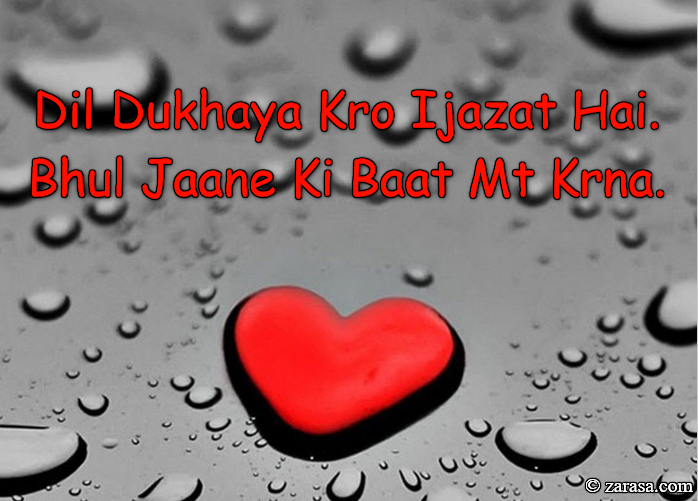 Dil Dukhaya Kro Ijazat Hai.
Bhul Jaane Ki Baat Mt Krna.
दिल दुखाया करो इजाज़त है .
भूल जाने की बात मत करना .

دل دکھایا کرو اجازت ہے .
بھول جانے کی بات مت کرنا .

---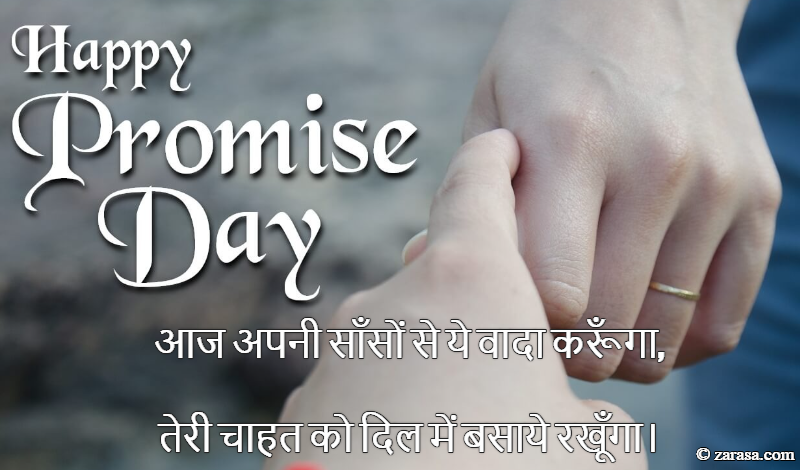 Aaj Apni Saason Se Ye Vada Karunga,
Teri Chahat Ko Dil Mai Basaye Rakhunga..
आज अपनी साँसों से ये वादा करूँगा,

तेरी चाहत को दिल में बसाये रखूँगा।
آج اپنی ساسوں سے یہ وادا کرونگا
تیری چاہت کو دل می بسے رکھونگا
---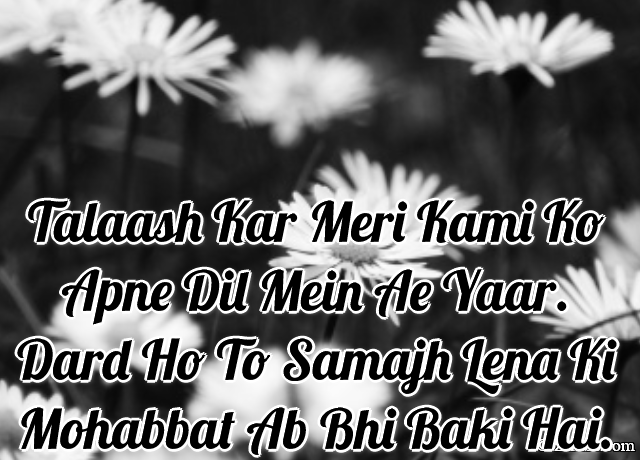 Talaash Kar Meri Kami Ko Apne Dil Mein Ae Yaar.
Dard Ho To Samajh Lena Ki Mohabbat Ab Bhi Baki Hai.
तलाश कर मेरी कमी को अपने दिल में ऐ यार .
दर्द हो तो समझ लेना की मोहब्बत अब भी बाकि है .
تلاش کر میری کمی کو اپنے دل میں اے یار .
درد ہو تو سمجھ لینا کی موحبّت اب بھی باکی ہے .
---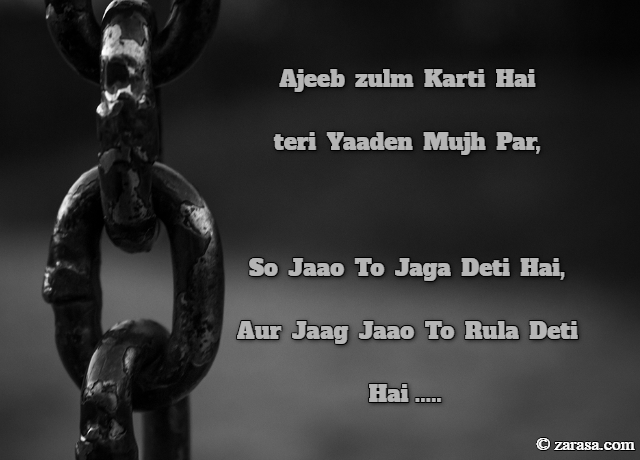 Ajeeb zulm Karti Hai teri Yaaden Mujh Par,
So Jaao To Jaga Deti Hai,Aur Jaag Jaao To Rula Deti Hai .....
अजीब जुल्म करती है तेरी यादें मुझ पर,
सो जाऊ तो जगा देती है, और जाग जाऊ तो रुला देती है…
عجیب ظلم کرتی ہے تیری یادیں مجھ پر
سو جاؤ تو جگا دیتی ہے ، اور جاگ جاؤ تو رولا دیتی ہے
---