Shayari for Chaand Taara "Doobta Suraj Kaun Dekhna Chahta Hai"
|
Nikalta Chand Sabko Pasand Aata Hai
Doobta Suraj Kaun Dekhna Chahta Hai
Toot'ta Hua Taara Sabki Dua Isliye Poori Karta Kai
Kyuki Use Tootne Ka Dard Maalum Hota Hai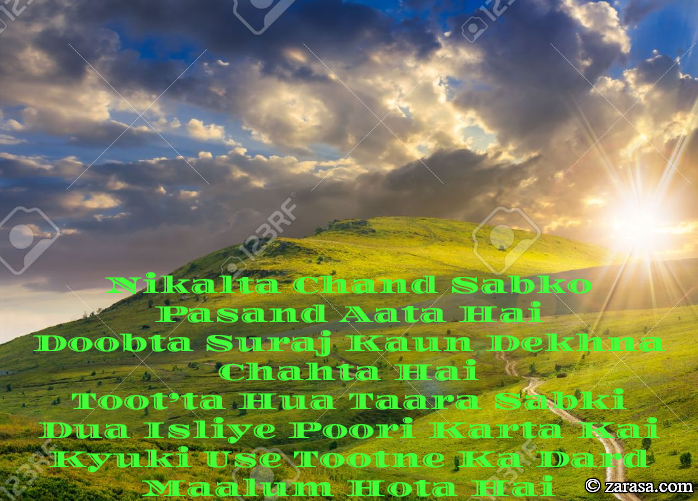 ---

निकलता चाँद सबको पसंद आता है
डूबता सूरज कौन देखना चाहता है
टूट 'ता हुआ तारा सबकी दुआ इसलिए पूरी करता है
क्युकी उसे टूटने का दर्द मालुम होता है


---

نکلتا چاند سبکو پسند آتا ہے
ڈوبتا سورج کون دیکھنا چاہتا ہے
ٹوٹ 'تا ہوا تارا سبکی دوا اسلئے پوری کرتا ہے
کیونکی اسے ٹوٹنے درد معلوم ہوتا ہے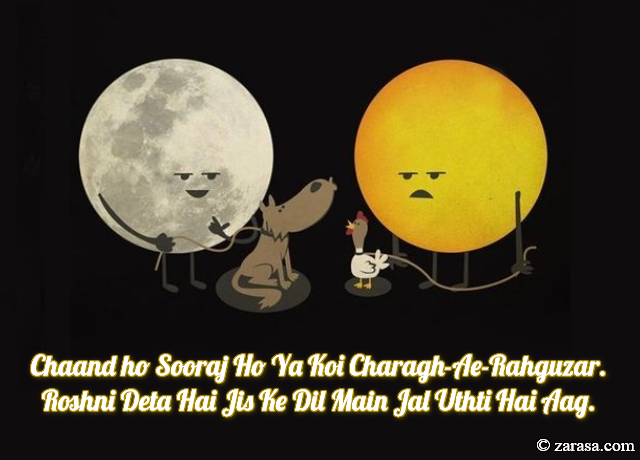 Chaand ho Sooraj Ho Ya Koi Charagh-Ae-Rahguzar.
Roshni Deta Hai Jis Ke Dil Main Jal Uthti Hai Aag.
चाँद हो सूरज हो या कोई चराग़ -ऐ -रहगुज़र .
रौशनी देता है जिस के दिल मैं जल उठती है आग .

چاند ہو سورج ہو یا کوئی چراغ -اے - رہگزر .
روشنی دیتا ہے جس کے دل میں جل اٹھتی ہے آگ .

---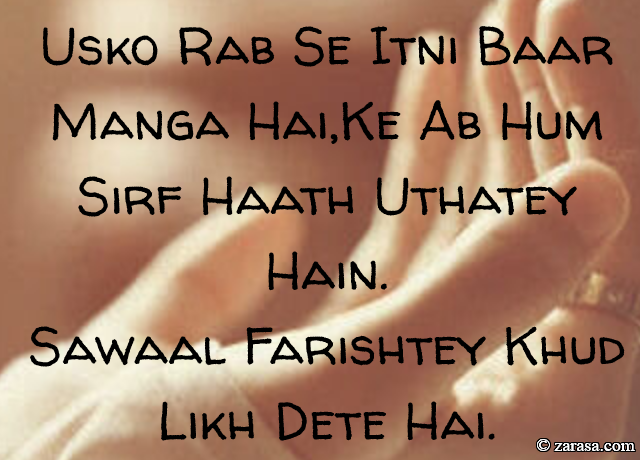 Usko Rab Se Itni Baar Manga Hai,Ke Ab Hum Sirf Haath Uthatey Hain.
Sawaal Farishtey Khud Likh Dete Hai.
उसको रब से इतनी बार माँगा है ,के अब हम सिर्फ हाथ उठाते हैं .
सवाल फ़रिश्ते ख़ुद लिख देते है .
اسکو رب سے اتنی بار منگا ہے ,کے اب ہم صرف ہاتھ اٹھاتے ہے .
سوال فرشتے خود لکھ دیتے ہے .
---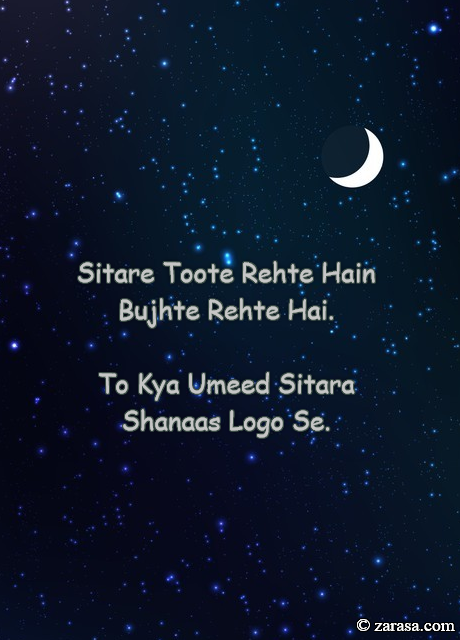 Sitare Toote Rehte Hain Bujhte Rehte Hai.
To Kya Umeed Sitara Shanaas Logo Se.
सितारे टूटे रहते हैं बुझते रहते है .
तो क्या उम्मीद सितारा शनास लोगो से .
ستارے ٹوٹے رہتے ہیں بجھتے رہتے ہے .
تو کیا امید سترہ شناس لوگو سے .
---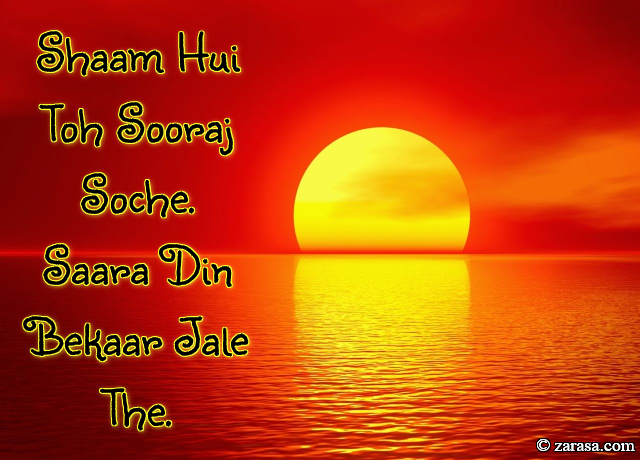 Shaam Hui Toh Sooraj Soche.
Saara Din Bekaar Jale The.
शाम हुई तो सूरज सोचे .
सारा दिन बेकार जले थे .
شام ہی تو سورج سوچے .
سارا دن بیکار جلے تھے .
---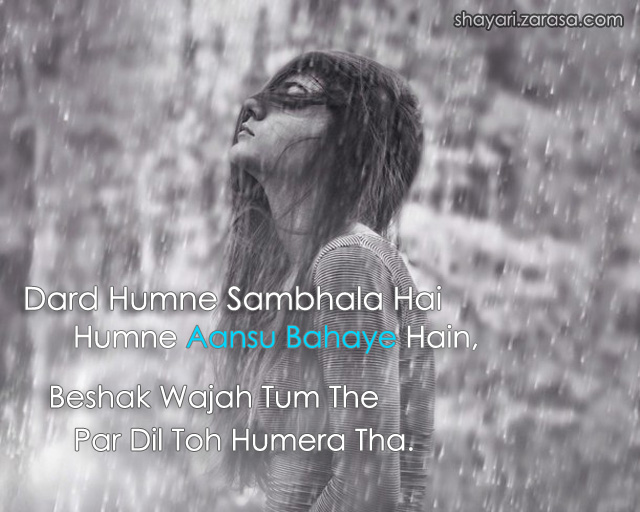 Dard Humne Sambhala Hai Humne Aansu Bahaye Hain,
Beshak Wajah Tum The Par Dil Toh Humara Tha.





दर्द हमने संभाला है हमने आँसू बहाए हैं,
बेशक वजह तुम थे पर दिल तो हमारा था।


درد ہمنے سمبھالا ہے ہمنے آنسو بھایں ہیں,
بیشک وجہ تم تھے پر دل تو ہمارا تھا.
---