Shayari for Chaand Taara "Doobta Suraj Kaun Dekhna Chahta Hai"
|
Nikalta Chand Sabko Pasand Aata Hai
Doobta Suraj Kaun Dekhna Chahta Hai
Toot'ta Hua Taara Sabki Dua Isliye Poori Karta Kai
Kyuki Use Tootne Ka Dard Maalum Hota Hai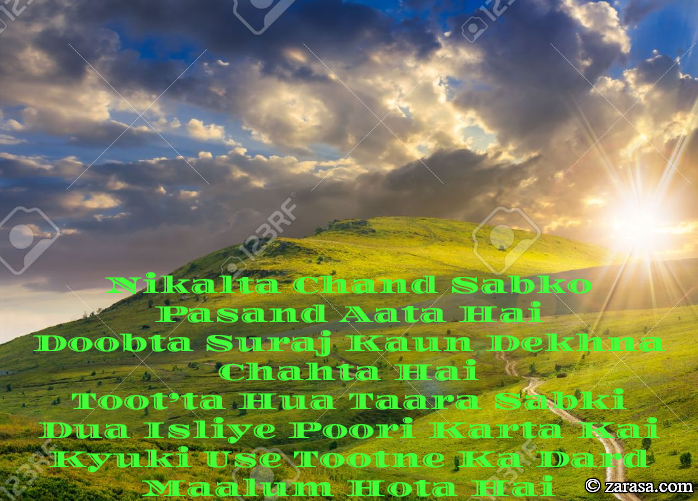 ---

निकलता चाँद सबको पसंद आता है
डूबता सूरज कौन देखना चाहता है
टूट 'ता हुआ तारा सबकी दुआ इसलिए पूरी करता है
क्युकी उसे टूटने का दर्द मालुम होता है


---

نکلتا چاند سبکو پسند آتا ہے
ڈوبتا سورج کون دیکھنا چاہتا ہے
ٹوٹ 'تا ہوا تارا سبکی دوا اسلئے پوری کرتا ہے
کیونکی اسے ٹوٹنے درد معلوم ہوتا ہے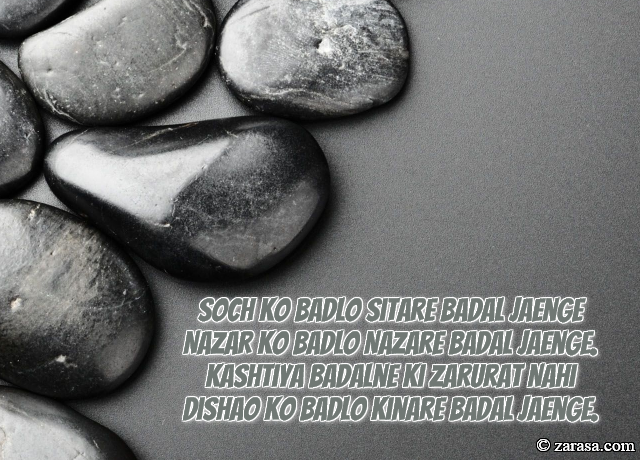 Soch Ko Badlo Sitare Badal Jaenge Nazar Ko Badlo Nazare Badal Jaenge.
Kashtiya Badalne Ki Zarurat Nahi Dishao Ko Badlo Kinare Badal Jaenge.

सोच को बदलो सितारे बदल जाएंगे नज़र को बदलो नज़ारे बदल जाएंगे .
कश्तिया बदलने की ज़रूरत नहीं दिशाओ को बदलो किनारे बदल जाएंगे .


سوچ کو بدلو ستارے بدل جاینگے نظر کو بدلو نظارے بدل جاینگے .
کشتیا بدلنے کی ضرورت نہیں دشو کو بدلو کنارے بدل جاینگے .

---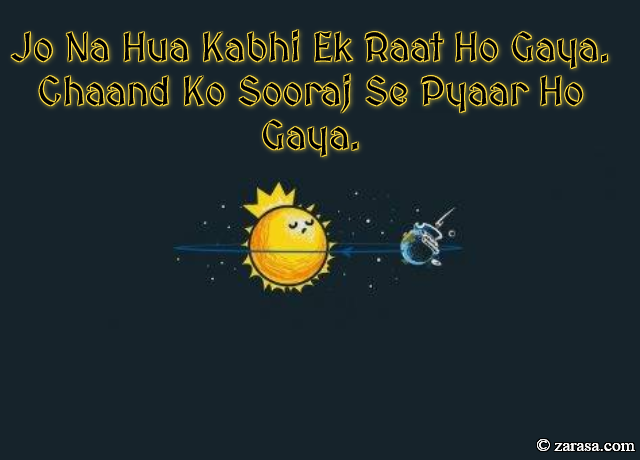 Jo Na Hua Kabhi Ek Raat Ho Gaya.
Chaand Ko Sooraj Se Pyaar Ho Gaya.

जो न हुआ कभी एक रात हो गया .
चाँद को सूरज से प्यार हो गया .


جو نہ ہوا کبھی ایک رات ہو گیا .
چاند کو سورج سے پیار ہو گیا .

---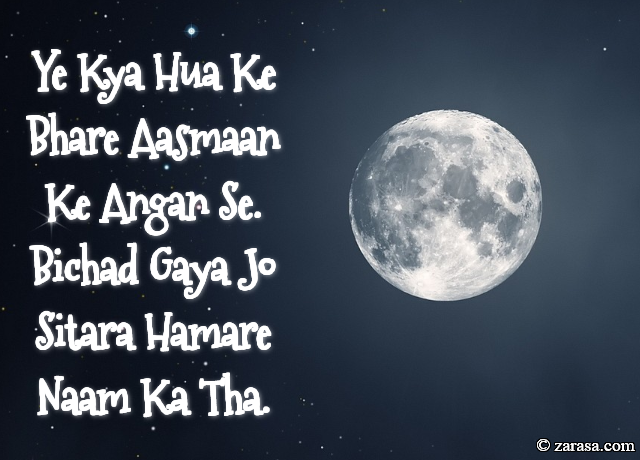 Ye Kya Hua Ke Bhare Aasmaan Ke Angan Se.
Bichad Gaya Jo Sitara Hamare Naam Ka Tha.

ये क्या हुआ के भरे आसमान के आंगन से .
बिछड़ गया जो सितारा हमारे नाम का था .

یہ کیا ہوا کے بھرے آسمان کے آنگن سے .
بچھاد گیا جو ستارہ ہمارے نام کا تھا .
---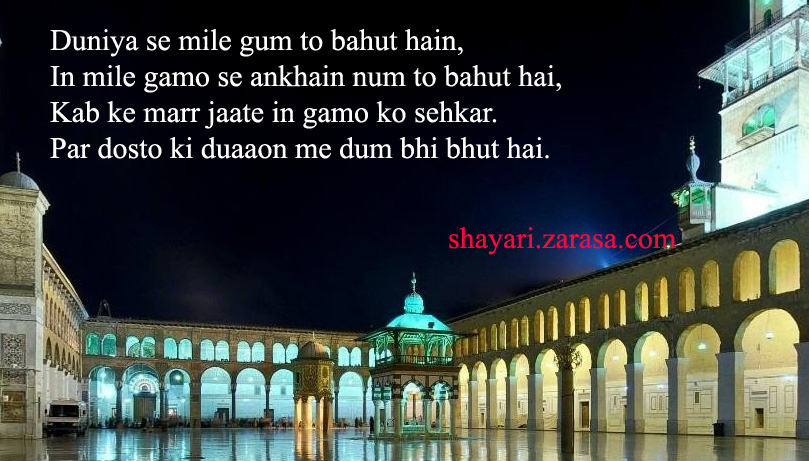 Duniya se mile gum to bahut hain,
In mile gamo se ankhain num to bahut hai,
Kab ke mar jaate in gamo ko sehkar.
Par dosto ki duaaon me dum bhi bhut hai.



दुनिया से मिले गम तो बहुत हैं,
इन मिले गमो से आँखें नम तो बहुत है,
कब के मर जाते इन गमो को सहकर.
पर दोस्तों की दुआओं में दम भी बहुत है.
دنیا سے ملے گم تو بہت ہیں
ان ملے گمو سے آنکھیں نم تو بہت ہے
کب کے مر جاتے ان گمو کو برداشت کرکے
پر دوستوں کی دعاؤں میں دم بھی بہت ہے
---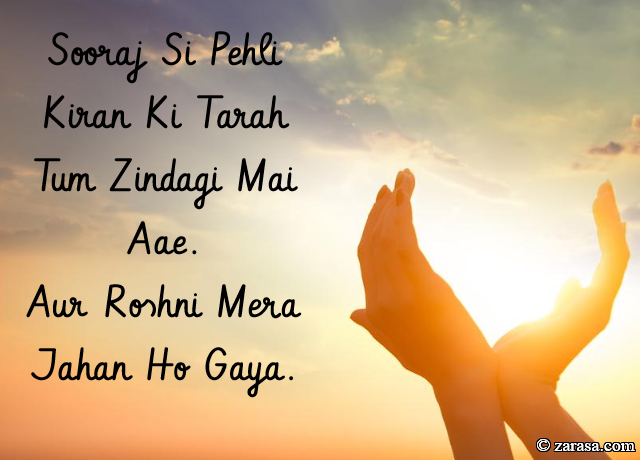 Sooraj Si Pehli Kiran Ki Tarah Tum Zindagi Mai Aae.
Aur Roshni Mera Jahan Ho Gaya.


सूरज सी पहली किरण की तरह तुम ज़िन्दगी मै आए .
और रौशनी मेरा जहाँ हो गया .


سورج سی پہلی کرن کی طرح تم زندگی می ے .
اور روشنی میرا جہاں ہو گیا .
---