Shayari for Promise Day "Na Karenge Kisi Se vada"
|
Socha Tha Na Karenge Kisi Se Dosti,
Na Karenge Kisi Se vada…
Par Kya Karein, Dost Mila Itna Pyara…
Ki Karna Pada Dosti Ka vada….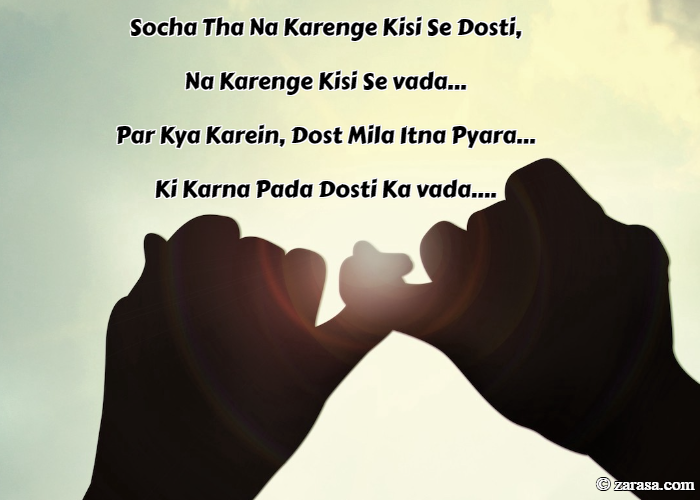 ---

सोचा था ना करेंगे किसी से दोस्ती,
ना करेंगेे किसी से वादा…
पर क्या करें, दोस्त मिला इतना प्यारा…
कि करना पड़ा दोस्ती का वादा…


---

سوچا تھا نہ کرینگے کسی سے دوستی
نہ کرینگے کسی سے وادا
پر کیا کرے دوست ملا اتنا پیارا
کی کرنا پڑا دوستی کا وادا


Har Pal Tumhe Pyaar Karenge Ye Irada Hai,
Kayamat Tak Rahega Hamara Saath, Ye Vada Hai...
Happy Promise Day
हर पल तुम्हें प्यार करेंगे ये इरादा है,
कयामत तक रहेेगा हमारा साथ, ये वादा है…
Happy Promise Day
ہر پل تمھ پیار کرینگے یہ ارادہ ہے
کیامت تک رہیگا ہمارا ساتھ یہ وادا ہے
---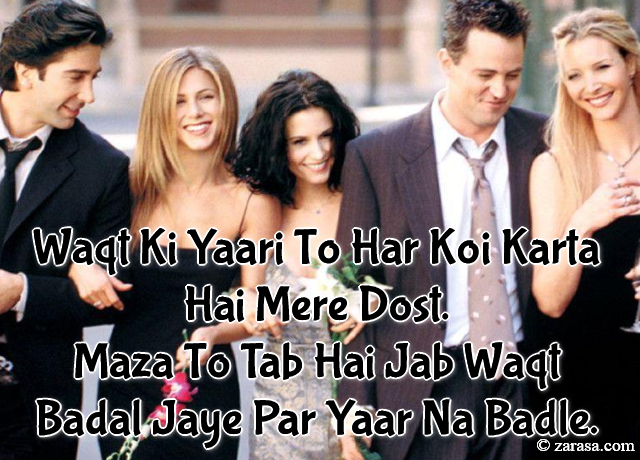 Waqt Ki Yaari To Har Koi Karta Hai Mere Dost.
Maza To Tab Hai Jab Waqt Badal Jaye Par Yaar Na Badle.
वक़्त की यारी तो हर कोई करता है मेरे दोस्त .
मज़ा तो तब है जब वक़्त बदल जाये पर यार ना बदले .
وقت کی یاری تو ہر کوئی کرتا ہے میرے دوست .
مزہ تو ٹیب ہے جب وقت بدل جائے پر یار نہ بدلے .
---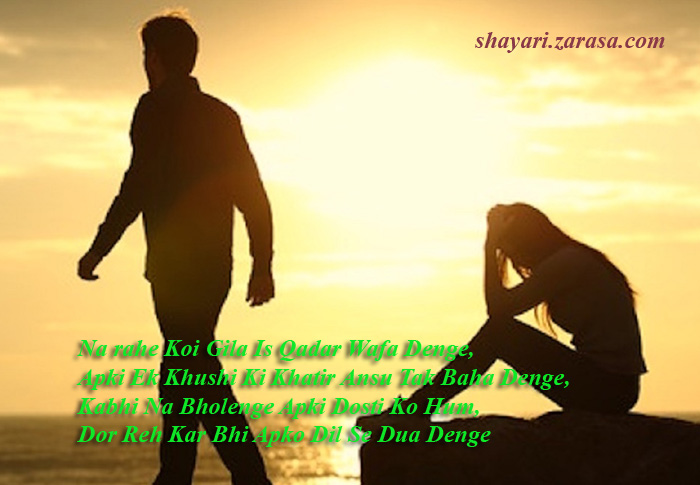 Na rahe Koi Gila Is Qadar Wafa Denge,
Apki Ek Khushi Ki Khatir Ansu Tak Baha Denge,
Kabhi Na Bholenge Apki Dosti Ko Hum,
Dor Reh Kar Bhi Apko Dil Se Dua Deng



न रहे कोई गिला इस क़दर वफ़ा देंगे,
आपकी एक ख़ुशी की खातिर आंसू तक बहा देंगे,
कभी न भूलेंगे आपकी दोस्ती को हम,
दूर रह कर भी आपको दिल से दुआ देंगे .
نہ رہے کوئی گلہ اس قدر وفا دیں گے،
آپ کی ایک خوشی کی خاطر آنسو تک بہا دیں گے،
کبھی نہ بھولیں گے آپ کی دوستی کو ہم،
دور رہ کر بھی آپ کو دل سے دعا دیں گے
---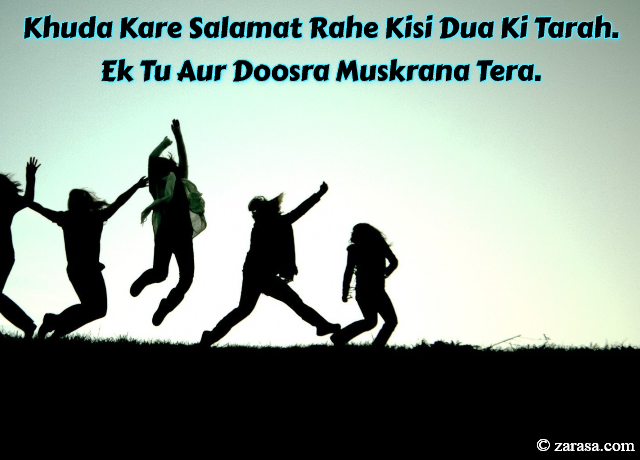 Khuda Kare Salamat Rahe Kisi Dua Ki Tarah.
Ek Tu Aur Doosra Muskrana Tera.
ख़ुदा करे सलामत रहे किसी दुआ की तरह .
एक तू और दूसरा मुस्कुराना तेरा .
خدا کرے سلامت رہے کسی دوا کی طرح .
ایک تو اور دوسرا مسکرانا تیرا .
---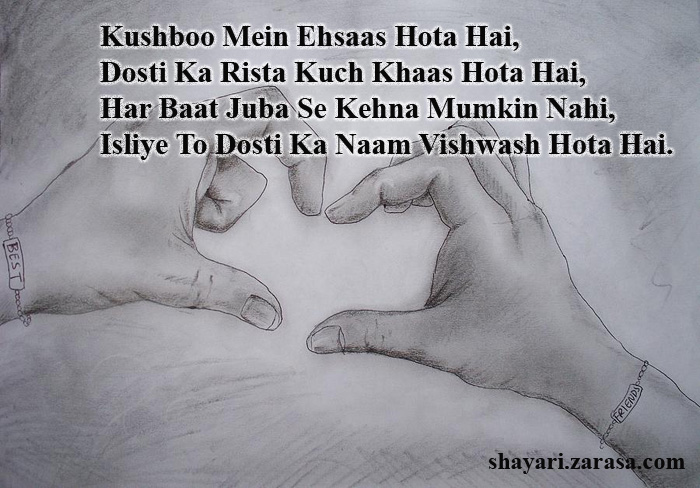 Kushboo Mein Ehsaas Hota Hai,
Dosti Ka Rista Kuch Khaas Hota Hai,
Har Baat Juba Se Kehna Mumkin Nahi,
Isliye To Dosti Ka Naam Vishwas Hota Hai.


खुशबू में एहसास होता है,
दोस्ती का रिश्ता कुछ ख़ास होता है,
हर बात ज़ुबां से कहना मुमकिन नहीं,
इसलिए तो दोस्ती का नाम विश्वास होता है.
خوشبو میں احساس ہوتا ہے،
دوستی کا رشتہ کچھ خاص ہوتا ہے،
ہر بات زباں سے کہنا ممکن نہیں،
لہذا تو دوستی کا نام وشواس ہوتا ہے.
---