Shayari for Dosti(Friendship) "एहसास बहुत होगा जब छोड़ के जायेंगे"
|
Ehsaas Bahut Hoga Jab Chhod Ke Jayenge,
Royenge Bahut Magar Aansu Nahi Aayenge,
Jab Saath Koi Na De Toh Aawaj Humein Dena,
Aasman Par Honge Toh Bhi Laut Ke Jayenge.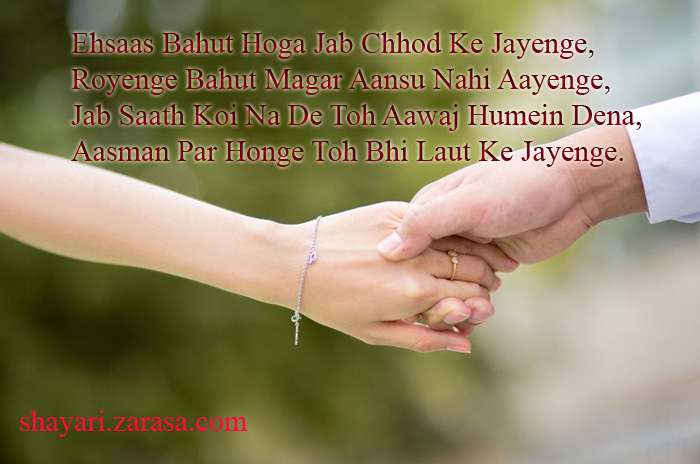 ---

एहसास बहुत होगा जब छोड़ के जायेंगे,
रोयेंगे बहुत मगर आंसू नहीं आएंगे,
जब साथ कोई न दे तो आवाज हमें देना,
आसमान पर होंगे तो भी लौट के जायेंगे।


---

احساس بہت ہوگا جب چھوڑ کے جائیں گے،
رونا بہت مگر آنسو نہیں آئیں گے،
جب ساتھ کوئی نہ دے تو آواز ہمیں دینا،
آسمان پر ہوں گے تو بھی لوٹ کے جائیں گے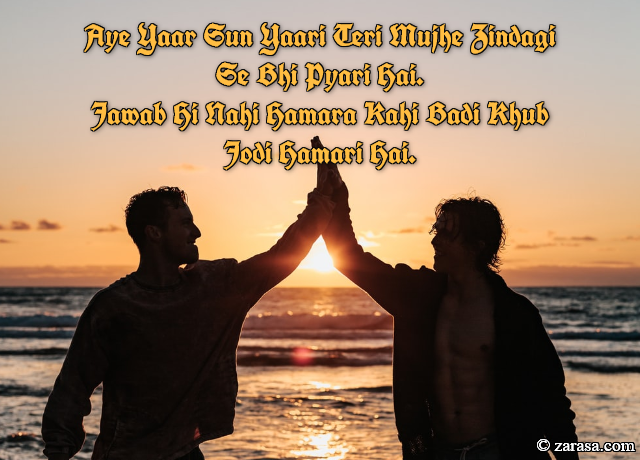 Aye Yaar Sun Yaari Teri Mujhe Zindagi Se Bhi Pyari Hai.
Jawab Hi Nahi Hamara Kahi Badi Khub Jodi Hamari Hai.
ए यार सुन यारी तेरी मुझे ज़िन्दगी से भी प्यारी है .
जवाब ही नहीं हमारा कही बड़ी खूब जोड़ी हमारी है .
ہے یار سن یاری تیری مجھے زندگی سے بھی پیاری ہے .
جواب ہی نہیں ہمارا کہی بدی خوب جوڈی ہماری ہے .
---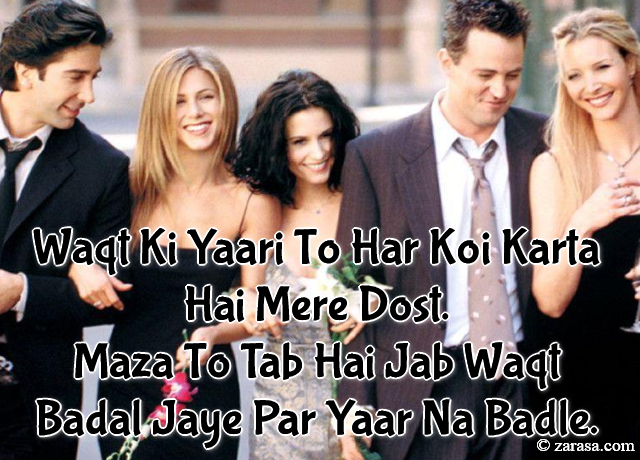 Waqt Ki Yaari To Har Koi Karta Hai Mere Dost.
Maza To Tab Hai Jab Waqt Badal Jaye Par Yaar Na Badle.
वक़्त की यारी तो हर कोई करता है मेरे दोस्त .
मज़ा तो तब है जब वक़्त बदल जाये पर यार ना बदले .
وقت کی یاری تو ہر کوئی کرتا ہے میرے دوست .
مزہ تو ٹیب ہے جب وقت بدل جائے پر یار نہ بدلے .
---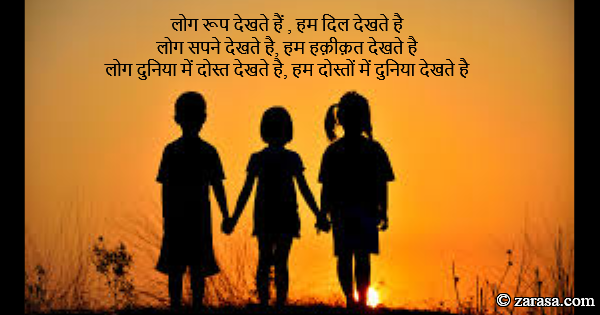 Log Roop Dekhte Hai , Hum Dil Dekhte Hai,
Log Sapne Dekhte Hai , Hum Haqiqat Dekhte Hai,
Log Duniya Mein Dost Dekhte Hai ,Hum Dosto Mein Duniya Dekhte Hai.
लोग रूप देखते हैं , हम दिल देखते है
लोग सपने देखते है, हम हक़ीक़त देखते है
लोग दुनिया में दोस्त देखते है, हम दोस्तों में दुनिया देखते है
لوگ روپ دیکھتے ہے, ہم دل دیکھتے ہے
لوگ سپنے دیکھتے, ہے ہم حقیقت دیکھتے ہے
لوگ دنیا میں دوست دیکھتے, ہے ہم دوستوں میں دنیا دیکھتے ہے
---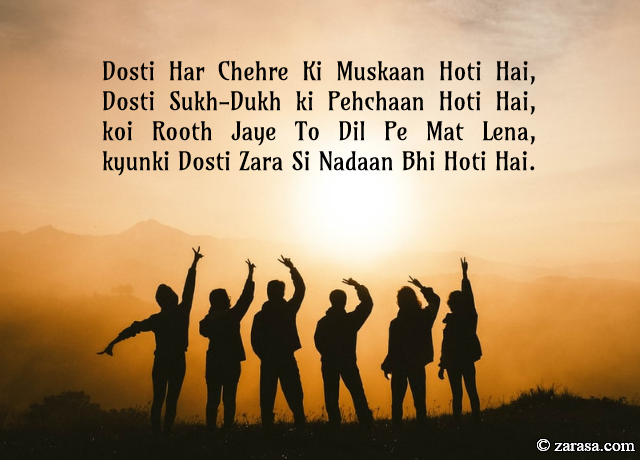 Dosti Har Chehre Ki Muskaan Hoti Hai,
Dosti Sukh-Dukh ki Pehchaan Hoti Hai,
koi Rooth Jaye To Dil Pe Mat Lena,
kyunki Dosti Zara Si Nadaan Bhi Hoti Hai.
दोस्ती हर चेहरे की मुस्कान होती है,
दोस्ती ही सुख-दुःख की पहचान होती है,
कोई रूठ भी जाये तो दिल पे मत लेना,
क्यूंकि दोस्ती ज़रा सी नादान होती है।
دوستی ہر چہرے کی مسکراہٹ ہوتی ہے
دوستی سکھ-افسوس کی شناخت ہوتی ہے
کوئی روٹھ جائے تو دل پہ مت لینا
کیوںک دوستی ذرا سی نادان بھی ہوتی ہے
---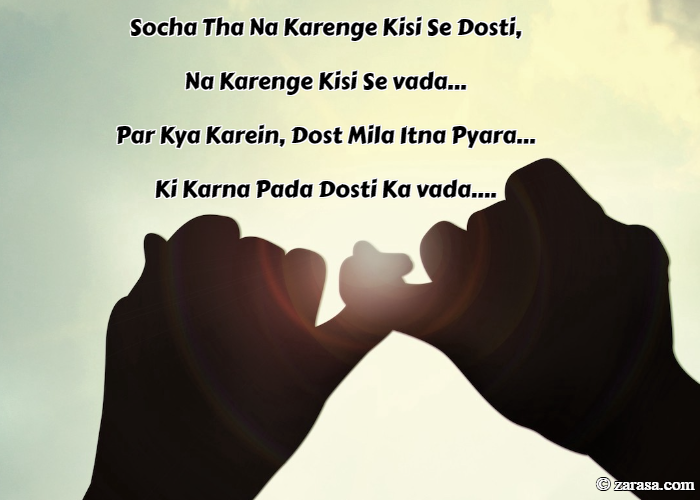 Socha Tha Na Karenge Kisi Se Dosti,
Na Karenge Kisi Se vada...
Par Kya Karein, Dost Mila Itna Pyara...
Ki Karna Pada Dosti Ka vada....
सोचा था ना करेंगे किसी से दोस्ती,
ना करेंगेे किसी से वादा…
पर क्या करें, दोस्त मिला इतना प्यारा…
कि करना पड़ा दोस्ती का वादा…
سوچا تھا نہ کرینگے کسی سے دوستی
نہ کرینگے کسی سے وادا
پر کیا کرے دوست ملا اتنا پیارا
کی کرنا پڑا دوستی کا وادا
---