Shayari for Eyes "Aankhon Ke Raste Aaye"
|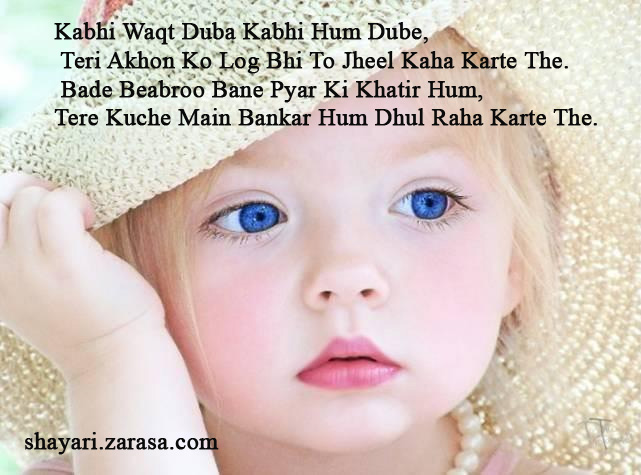 Kabhi Waqt Duba Kabhi Hum Dube,
Teri Akhon Ko Log Bhi To Jheel Kaha Karte The.
Bade Beabroo Bane Pyar Ki Khatir Hum,
Tere Kuche Main Bankar Hum Dhul Raha Karte The.


कभी वक़्त डूबा कभी हम दुबे,
तेरी आँखों को लोग भी तो झील कहा करते थे.
बड़े बेआबरू बने प्यार की खातिर हम,
तेरे कूचे मैं बनकर हम धूल रहा करते थे।
کبھی وقت ڈوبا کبھی ہم ڈوبے
تیری انکھون کو لوگ بھی جھیل کہا کرتے تھے
برھے بےابرو بنے پیار کی خھاتر ہم
تیرے کوچے مے بنکر ہم دھول رحا کرتے تھے
---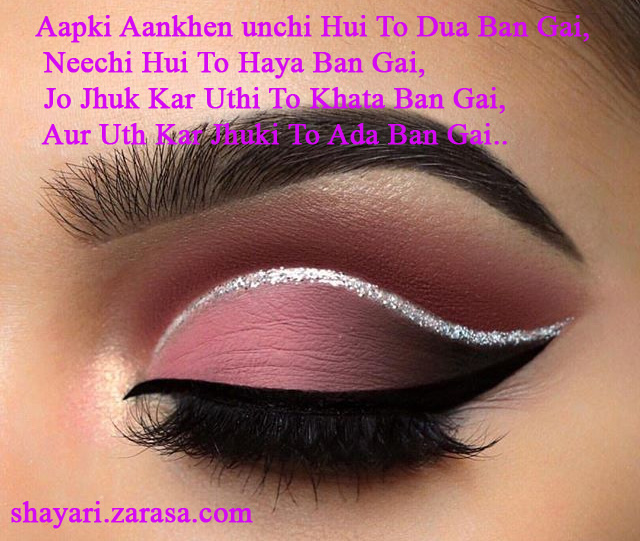 Aapki Aankhen unchi Hui To Dua Ban Gai,
Neechi Hui To Haya Ban Gai,
Jo Jhuk Kar Uthi To Khata Ban Gai,
Aur Uth Kar Jhuki To Ada Ban Gai..



आपकी आँखें ऊँची हुई तो दुआ बन गई,
नीची हुई तो हाय बन गई,
जो झुक कर उठी तो खता बन गई,
और उठ कर झुकी तो अदा बन गई।
اپ کی انکحعن اءنچی حوی تو حےا بن گی
نععچحی حوی تو حےا بن گین
جو جھک کر اٹھی تو ختا بن گین
اور اٹھ کر جھکی تو ادا بن گین۔
---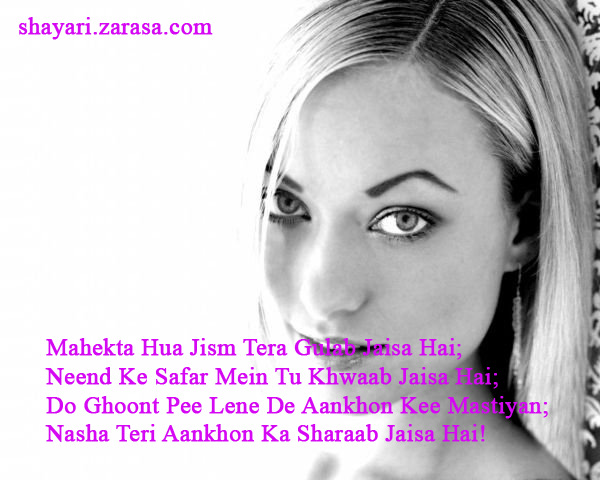 Mahekta Hua Jism Tera Gulab Jaisa Hai;
Neend Ke Safar Mein Tu Khwaab Jaisa Hai;
Do Ghoont Pee Lene De Aankhon Kee Mastiyan;
Nasha Teri Aankhon Ka Sharaab Jaisa Hai!




महेकता हुआ जिस्म तेरा गुलाब जैसा है,
नींद के सफर में तू ख्वाब जैसा है,
दो घूँट पी लेने दे आँखों की मस्तियाँ,
नशा तेरी आँखों का शराब जैसा है।
مہکتا ہوا جسم تیرا گلاب جیسا ہے,
نیند کے سفر مے تو خواب جیسا ہے,
دو گھونٹ پی لینے دے آنکھوں کی مستیاں,
نشہ تیری آنکھوں کا شراب جیسا ہ
---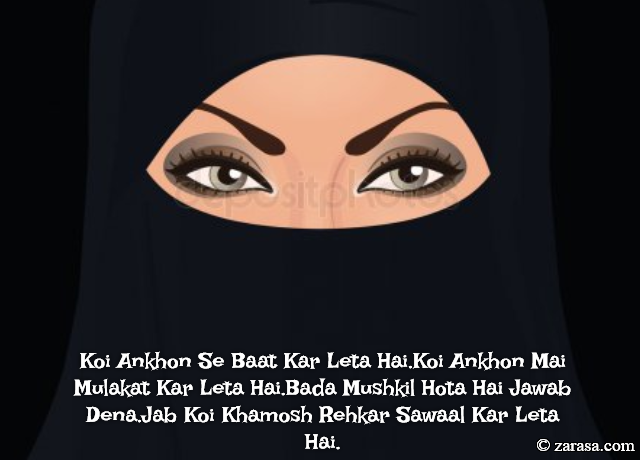 Koi Ankhon Se Baat Kar Leta Hai.Koi Ankhon Mai Mulakat Kar Leta Hai.Bada Mushkil Hota Hai Jawab Dena.Jab Koi Khamosh Rehkar Sawaal Kar Leta Hai.
कोई आँखों से बात कर लेता है .कोई आँखों मै मुलाकात कर लेता है .बड़ा मुश्किल होता है जवाब देना .जब कोई ख़ामोश रहकर सवाल कर लेता है .
کوئی آنکھوں سے بات کر لیتا ہے کوئی آنکھوں می ملکت کر لیتا ہے .بد مشکل ہوتا ہے جواب دینا .جب کوئی خاموش رہکر سوال کر لیتا ہے .
---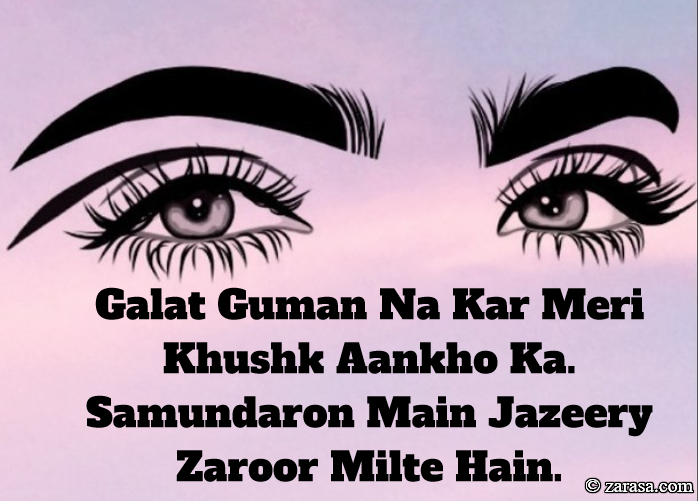 Galat Guman Na Kar Meri Khushk Aankho Ka.
Samundaron Main Jazeery Zaroor Milte Hain.
गलत गुमान ना कर मेरी खुश्क आँखों का .
समन्दरों मैं जज़ीरी ज़रूर मिलते हैं .
گلت گمان نہ کر میری خشک آنکھوں کا .
سمندروں میں جزیرے ضرور ملتے ہیں
---