Shayari for Farewell "आँखों में सपने और दिल में अरमान लिए"
|
Aankho me sapne aur dil me armaan liye,
ek safar me chal pade bina kisi ka saath liye,
Raaste me kuch naye chehro se mulakaat ho gayi,
Phir to wo aise dost bane jaise ek rishta ho umar bhar ke liye.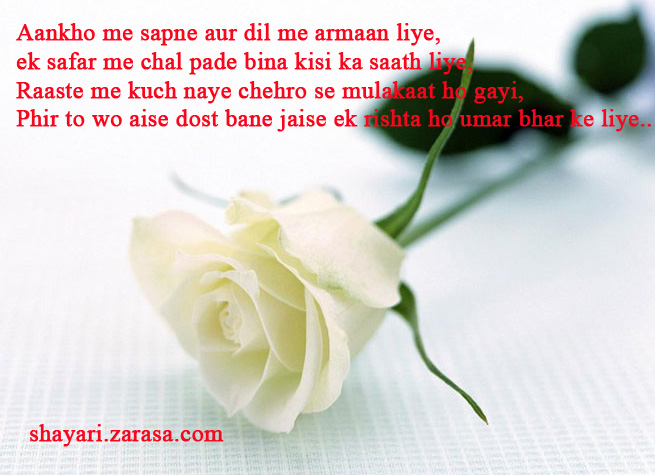 ---

आँखों में सपने और दिल में अरमान लिए,
एक सफर में चल पड़े बिना किसी का साथ लिए,
रास्ते में कुछ नए चेहरों से मुलाकात हो गयी,
फिर तो वो ऐसे दोस्त बने जैसे एक रिश्ता हो उम्र भर के लिए.


---

انکھون منی سپنے اور دل مین ارمان لیے
ایک سفر مین چل پڑے بنا کسی کا نام لیے
راستے مین کچھ نیے چھرون سے ملاقات حو گہی
فر تو وہ ایسے دوست بنے جیسے اک رشتا حو عمر بھر کے لیے۔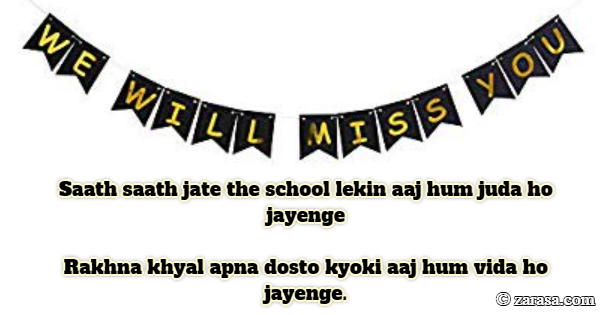 Saath saath jate the school lekin aaj hum juda ho jayenge
Rakhna khyal apna dosto kyoki aaj hum vida ho jayenge.
साथ-साथ जाते थे स्कूल लेकिन आज हम जुदा हो जायेंगे
रखना ख्याल अपना दोस्तों क्योंकि आज हम विदा हो जायेंगे।
سات سات جاتے تھے اسکول لیکن آج ہم جودا ہو جاینگے
رخنا خیال اپنا دوستو کیونکی آج ہم ویدا ہو جاینگے
---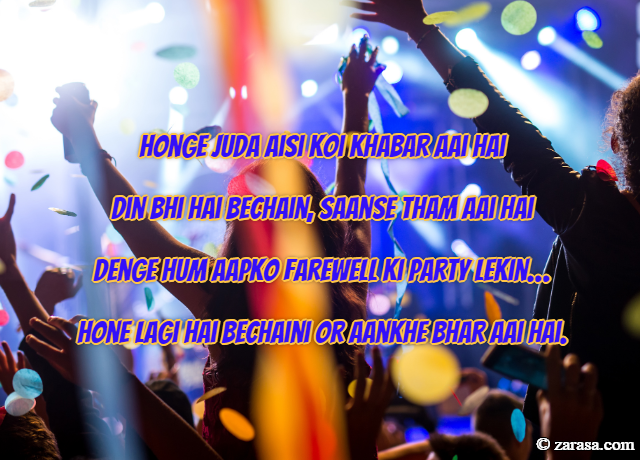 Honge juda aisi koi khabar aai hai
Din bhi hai bechain, Saanse tham aai hai
Denge hum aapko farewell ki party lekin…
Hone lagi hai bechaini or aankhe bhar aai hai.


होंगे जुदा ऐसी कोई खबर आई है
दिन भी है बेचैन, साँसे थम आई है
देंगे हम आपको फेयरवेल की पार्टी लेकिन…
होने लगी है बेचैनी और आँखे भर आई है।
ہونگے جودا ایسی کوئی خبر ای ہے
دین بھی ہے بچین سانسے تھام ای ہے
دینگے ہم آپکو فیرول کی پارٹی لیکن
ہونے لگی ہے بیچینی اور آنکھیں بھر ای ہے
---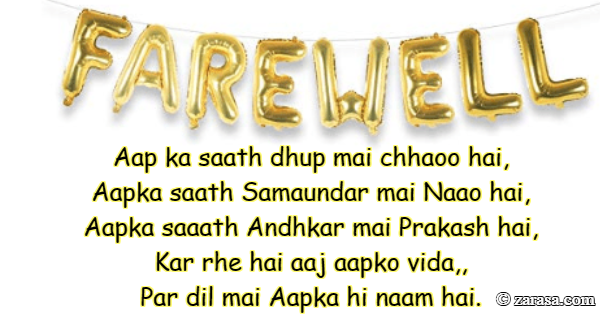 Aap ka saath dhup mai chhaoo hai,
Aapka saath Samaundar mai Naao hai,
Aapka saaath Andhkar mai Prakash hai,
Kar rhe hai aaj aapko vida,,
Par dil mai Aapka hi naam hai.

आप का साथ धूप में छांव है,
आपका साथ समुन्दर में नाव है ,
आपका साथ अंधकार में प्रकाश है ,
कर रहे है आज आपको विदा ,
पर दिल में आपका ही नाम है।
آپکا سات دھوپ مے چاؤ ہے
آپکا سات سمندر مے ناو ہے
آپکا سات اندھکار مے پرکاش ہے
کر رہی ہے آج آپکو ودا
پر دل می آپکا ہی نام ہے
---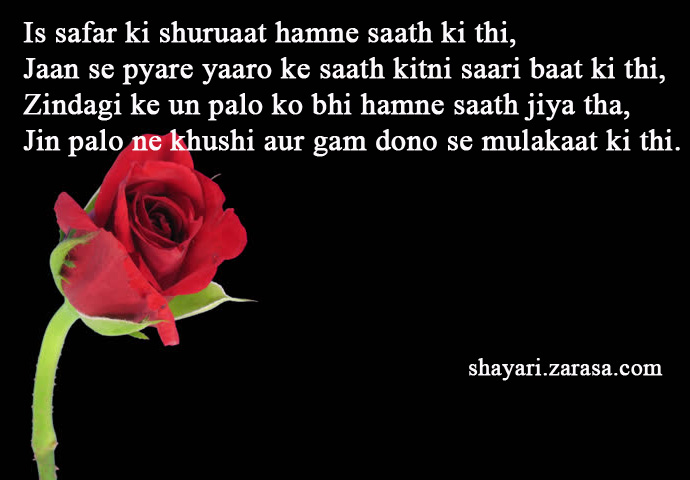 Is safar ki shuruaat hamne saath ki thi,
Jaan se pyare yaaro ke saath kitni saari baat ki thi,
Zindagi ke un palo ko bhi hamne saath jiya tha,
Jin palo ne khushi aur gam dono se mulaqaat ki thi.



इस सफर की शुरुआत हमने साथ की थी,
जान से प्यारे यारो के साथ कितनी सारी बात की थी,
ज़िन्दगी के उन पालो को भी हमने साथ जिया था,
जिन पालो ने ख़ुशी और ग़म दोनों से मुलाकात की थी।
اس سفر کی شروات ہمنے سانتھ کی تھی
جان سے پیارے یارون کے سانتھ کتنی ساری بات کی تھی
زندگی کہ ان پلو کو بھی حمنے سانتھ چیا تھا
جن پلون نے خشی اور غم دونون مین ملاقات کی تھی۔
---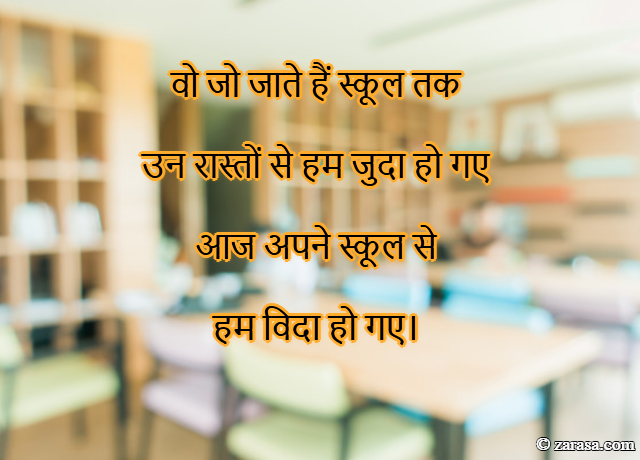 Vo jo jaate hai School tak
Un raston se Hum Juda Ho Gaye
Aaj apne School se
hum Vidaa Ho Gaye.
वो जो जाते हैं स्कूल तक
उन रास्तों से हम जुदा हो गए
आज अपने स्कूल से
हम विदा हो गए।
وہ جو جاتے ہے اسکول تک
وں راستوں سے ہم جودا ہو گی
آج اپنے اسکول سے
ہم ودا ہو گی
---