Shayari for Farewell "वो लम्हे जो मेरी ज़िन्दगी के अनमोल पल बन गए"
|
Wo lamhe jo meri zindagi ke anmol pal ban gaye,
Wo lamhe jo mere gujre huye kal ban gaye,
Kaash in lamho ko mai phir se ji pata,
Wo lamhe jo meri nam aankho ke jal ban gaye.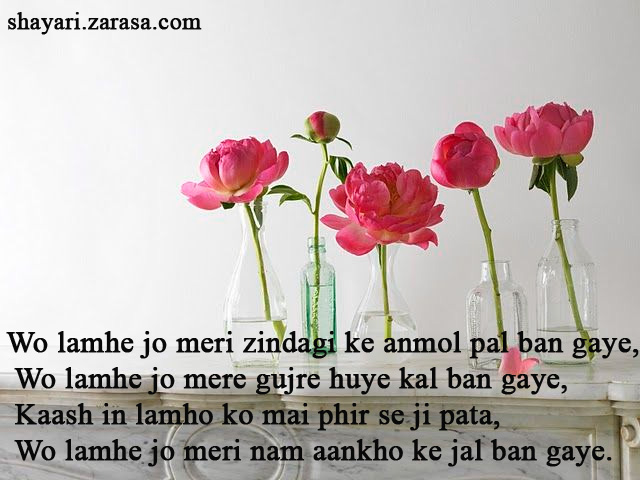 ---

वो लम्हे जो मेरी ज़िन्दगी के अनमोल पल बन गए,
वो लम्हे जो मेरे गुजरे हुए कल बन गए,
काश इन लम्हो को में फिर से जी पता,
वो लम्हे जो मेरी नम आँखों के जाल बन गए।


---

وہ لمحے جو میری زندگی کے انمول پل بن گے
وہ لمحے مرے گزرے ہوے کل بن گیے
کاش ان لمحون کو مین پھر سے جی پاتا
وہ لمحے جو میری نم انکھون کے جال بن گیے۔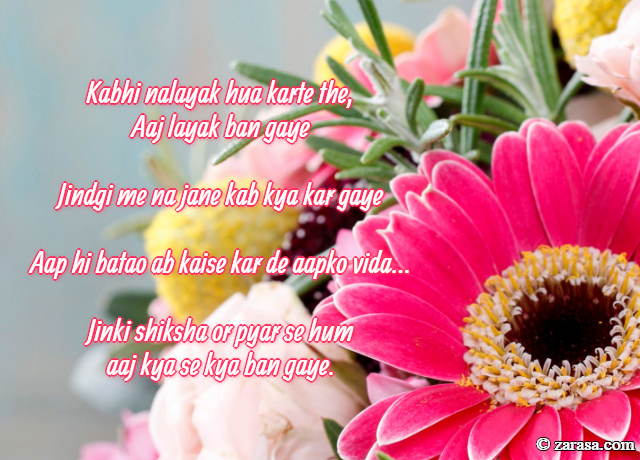 Kabhi nalayak hua karte the, Aaj layak ban gaye
Jindgi me na jane kab kya kar gaye
Aap hi batao ab kaise kar de aapko vida…
Jinki shiksha or pyar se hum aaj kya se kya ban gaye.
कभी नालायक हुआ करते थे, आज लायक बन गए
जिन्दगी में ना जाने कब क्या कर गए
आप ही बताओ अब कैसे कर दे आपको विदा…
जिनकी शिक्षा और प्यार से हम आज क्या से क्या बन गए।
کبھی نالایک ہوا کرتے تھے آج لیک بن گئے
زندگی می نہ جانے کب کیا کر گئے
آپ ہی بتاؤ اب کیسے کر دے آپکو ویدا
جنکی شکشا اور پیار سے ہم آج کیا سے کیا بن گئے
---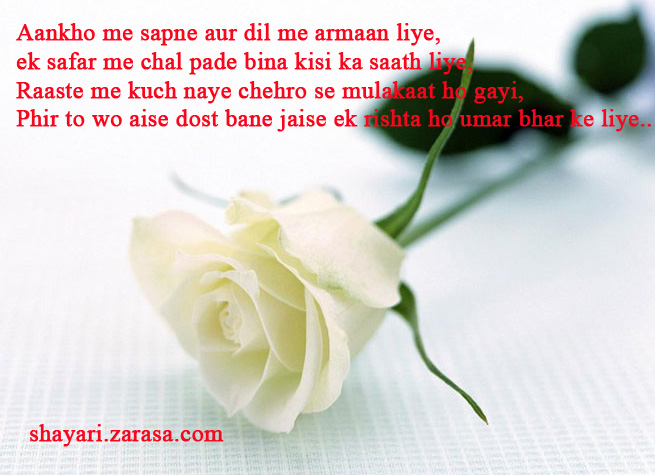 Aankho me sapne aur dil me armaan liye,
ek safar me chal pade bina kisi ka saath liye,
Raaste me kuch naye chehro se mulakaat ho gayi,
Phir to wo aise dost bane jaise ek rishta ho umar bhar ke liye.



आँखों में सपने और दिल में अरमान लिए,
एक सफर में चल पड़े बिना किसी का साथ लिए,
रास्ते में कुछ नए चेहरों से मुलाकात हो गयी,
फिर तो वो ऐसे दोस्त बने जैसे एक रिश्ता हो उम्र भर के लिए.
انکھون منی سپنے اور دل مین ارمان لیے
ایک سفر مین چل پڑے بنا کسی کا نام لیے
راستے مین کچھ نیے چھرون سے ملاقات حو گہی
فر تو وہ ایسے دوست بنے جیسے اک رشتا حو عمر بھر کے لیے۔
---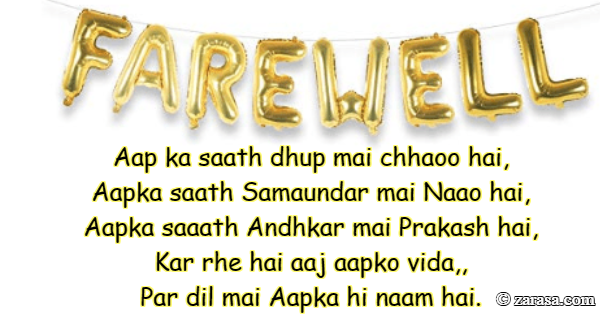 Aap ka saath dhup mai chhaoo hai,
Aapka saath Samaundar mai Naao hai,
Aapka saaath Andhkar mai Prakash hai,
Kar rhe hai aaj aapko vida,,
Par dil mai Aapka hi naam hai.

आप का साथ धूप में छांव है,
आपका साथ समुन्दर में नाव है ,
आपका साथ अंधकार में प्रकाश है ,
कर रहे है आज आपको विदा ,
पर दिल में आपका ही नाम है।
آپکا سات دھوپ مے چاؤ ہے
آپکا سات سمندر مے ناو ہے
آپکا سات اندھکار مے پرکاش ہے
کر رہی ہے آج آپکو ودا
پر دل می آپکا ہی نام ہے
---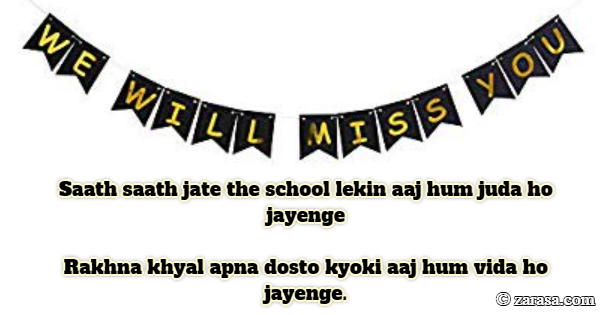 Saath saath jate the school lekin aaj hum juda ho jayenge
Rakhna khyal apna dosto kyoki aaj hum vida ho jayenge.
साथ-साथ जाते थे स्कूल लेकिन आज हम जुदा हो जायेंगे
रखना ख्याल अपना दोस्तों क्योंकि आज हम विदा हो जायेंगे।
سات سات جاتے تھے اسکول لیکن آج ہم جودا ہو جاینگے
رخنا خیال اپنا دوستو کیونکی آج ہم ویدا ہو جاینگے
---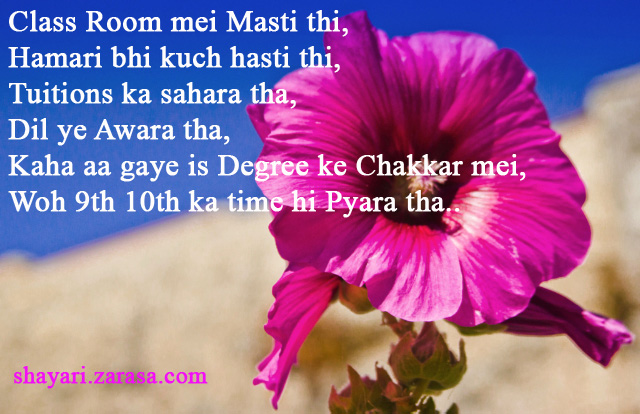 Class Room mei Masti thi, Hamari bhi kuch hasti thi,
Tuitions ka sahara tha, Dil ye Awara tha,
Kaha aa gaye is Degree ke Chakkar mei,
Woh 9th 10th ka time hi Pyara tha..


क्लास रूम मेंi मस्ती थी, हमारी भी कुछ हस्ती थी,
टुइशनस का सहारा था, दिल ये आवारा था,
कहा आ गए इस डिग्री के चक्कर में,
वह 9th 10th का टाइम ही प्यारा था।
کلاس روم مین مستی تھی
حماری بھی کچھ حستی تھی
ٹیوشنس کا سحارا تھا
دل ے اوارا تھا، کہان اگیا اس ڈگری کے چککر مین
وہ ناینتھ ٹینتھ کا ٹایم حی پیارا تھا۔
---