Shayari for Pyaar "Vo Kush Hai To Shikayat Kaisi"
|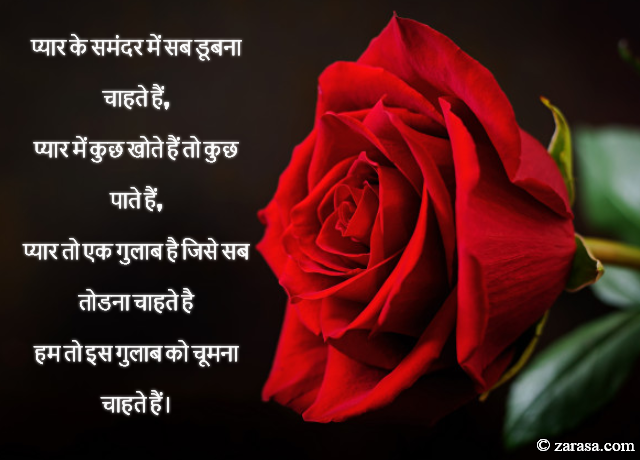 Pyaar ke Samandar Me Sab Doobna Chahte Hain,
Pyaar me Kuch Khote Hain, Toh Kuch Paate Hain,
Pyaar Toh Ek Gulaab hai Jise Sab Todna Chahte Hai,
Hum To Es Gulab Ko Chumna Chahte Hain.
प्यार के समंदर में सब डूबना चाहते हैं,
प्यार में कुछ खोते हैं तो कुछ पाते हैं,
प्यार तो एक गुलाब है जिसे सब तोडना चाहते है
हम तो इस गुलाब को चूमना चाहते हैं।
پیار کے سمندر مے سب دبنا چاہتے ہیں
پیار مے کچھ کھوتے ہیں ٹوہ کچھ پاتے ہیں
پیار ٹوہ ایک گلاب ہے جسے سب توڑنا چاہتے ہے
ہم تو یس گلاب کو چومنا چاہتے ہیں
---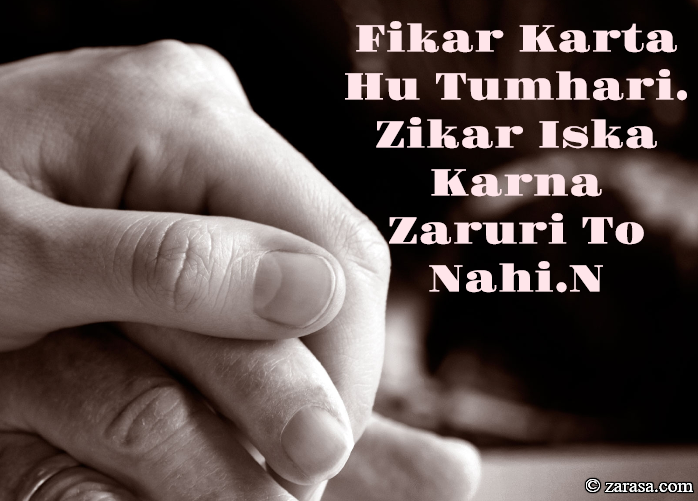 Fikar Karta Hu Tumhari.
Zikar Iska Karna Zaruri To Nahi.
फ़िक्र करता हु तुम्हारी .
ज़िकर इसका करना ज़रूरी तो नहीं .
فکر کرتا ہو تمہاری .
ذکر اسکا کرنا ضروری تو نہیں .
---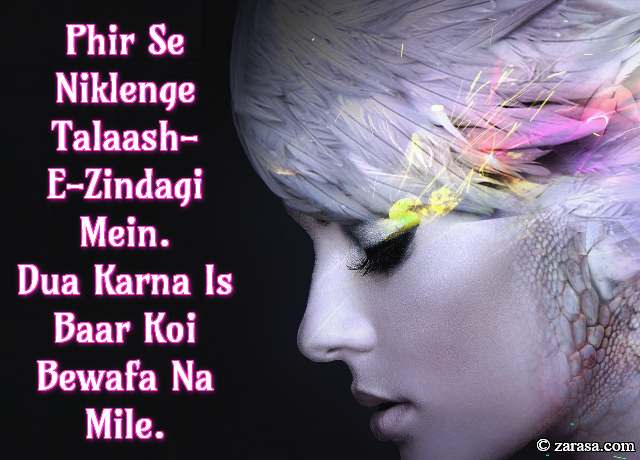 Phir Se Niklenge Talaash-E-Zindagi Mein.
Dua Karna Is Baar Koi Bewafa Na Mile.
फिर से निकलेंगे तलाश -इ -ज़िन्दगी में .
दुआ करना इस बार कोई बेवफा न मिले .
پھر سے نکلیںگے تلاش -ا -زندگی میں .
دوا کرنا اس بار کوئی بیوفا نہ میلے .
---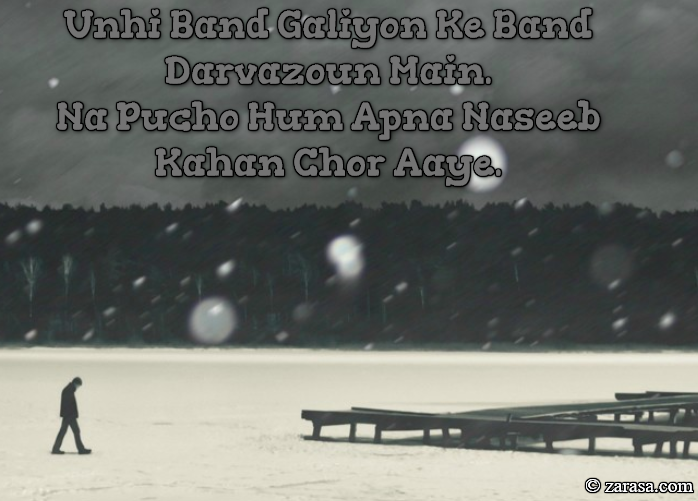 Unhi Band Galiyon Ke Band Darvazoun Main.
Na Pucho Hum Apna Naseeb Kahan Chor Aaye.
उन्ही बंद गलियों के बंद दरवाज़ों में .
ना पूछो हम अपना नसीब कहाँ छोड़ आये .
انہی بینڈ گلیو کے بینڈ دروازوں مے .
نہ پچو ہم اپنا نصیب کہاں چوڑ اے .
---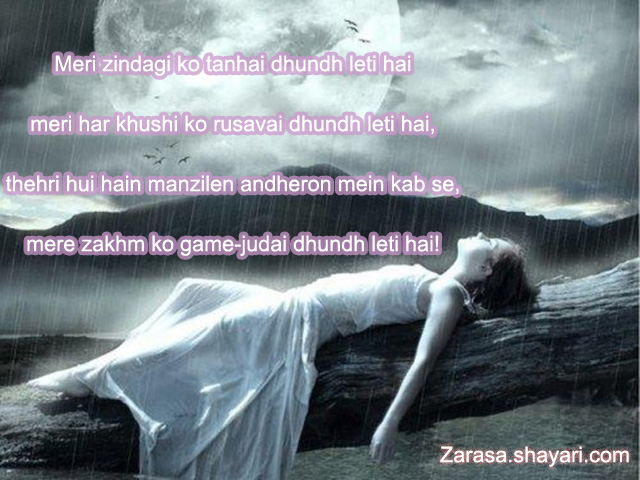 Meri zindagi ko tanhai dhundh leti hai
meri har khushi ko rusavai dhundh leti hai,
thehri hui hain manzilen andheron mein kab se,
mere zakhm ko game-judai dhundh leti hai!





मेरी ज़िन्दगी को तन्हाई ढूँढ लेती है,
मेरी हर खुशी को रुसवाई ढूँढ लेती है,
ठहरी हुई हैं मंजिलें अंधेरों में कबसे,
मेरे ज़ख्म को गमे-जुदाई ढूँढ लेती है!
میری زندگی کو تنہائی ڈھونڈ لیتی ہے
میری ہر خوشی کو رسوائی ڈھونڈ لیتی ہے
ٹھہری ہی ہیں منزلیں اندھیروں میں کب سے
میرے زخم کو گیم -جدائی ڈھونڈ لیتی ہے
---