Shayari for Happiness "खुशी उनको मिलती है,"
|
Khushi Unko Nahi Milti
Jo Apni Sharton Pe Zindagi Jiya Karte Hain,
Khushi Unko Milti Hai,
Jo Dusron ki Khushi Ke Liye Apni Sharton Ko Badal Liya Karte Hain…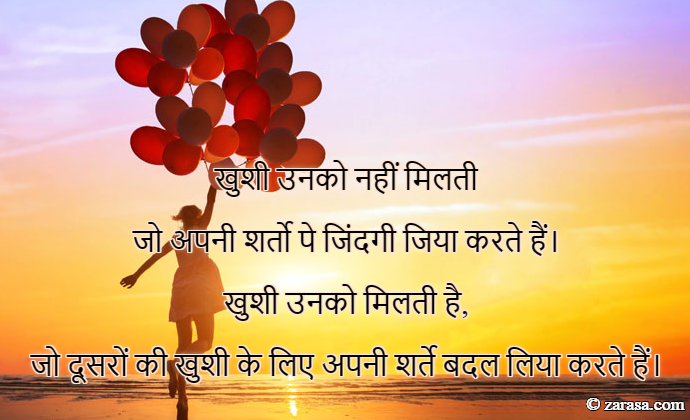 ---

खुशी उनको नहीं मिलती
जो अपनी शर्तो पे जिंदगी जिया करते हैं।
खुशी उनको मिलती है,
जो दूसरों की खुशी के लिए अपनी शर्ते बदल लिया करते हैं।


---

خوشی انکو نہیں ملتی
جو اپنی شرطوں پی زندگی جیا کرتے ہیں
خوشی انکو ملتی ہے
جو دوسروں کی خوشی کے لئے اپنی شرطوں کو بدل لیا کرتے ہیں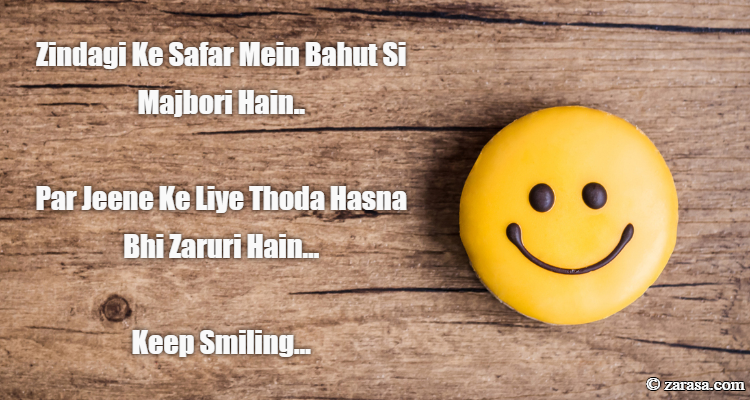 Zindagi Ke Safar Mein Bahut Si Majbori Hain..
Par Jeene Ke Liye Thoda Hasna Bhi Zaruri Hain…

Keep Smiling…
ज़िन्दगी के सफर में बहुत सी मजबूरी हैं ,
पर जीने के लिए थोड़ा हसना भी ज़रूरी है।
زندگی کے سفر میں بہت سی مجبوری ہیں
پر جینے کے لئے تھودا حسنہ بھی ضروری ہیں
---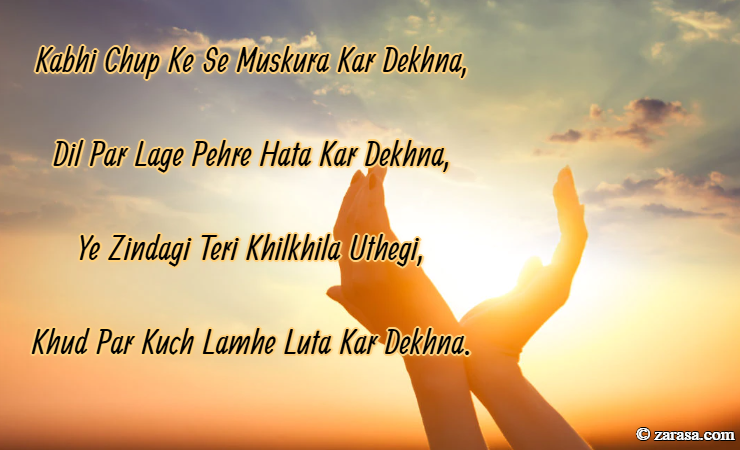 Kabhi Chup Ke Se Muskura Kar Dekhna,
Dil Par Lage Pehre Hata Kar Dekhna,
Ye Zindagi Teri Khilkhila Uthegi,
Khud Par Kuch Lamhe Luta Kar Dekhna.
क़भी चुपके से मुस्कुरा कर देखना,
दिल पर लगे पहरे हटा कर देख़ना,
ये ज़िन्दग़ी तेरी खिलखिला उठेगी,
ख़ुद पर कुछ लम्हें लुटा कर देखना|
کبھی چپکے سے مسکرا کر دیکھنا
دل پر لگے پھرے ہٹا کر دیکھنا
یہ زندگی تیری کھلکھلا اٹھےگی
خود پر کچھ لمحے لوٹا کر دیکھنا
---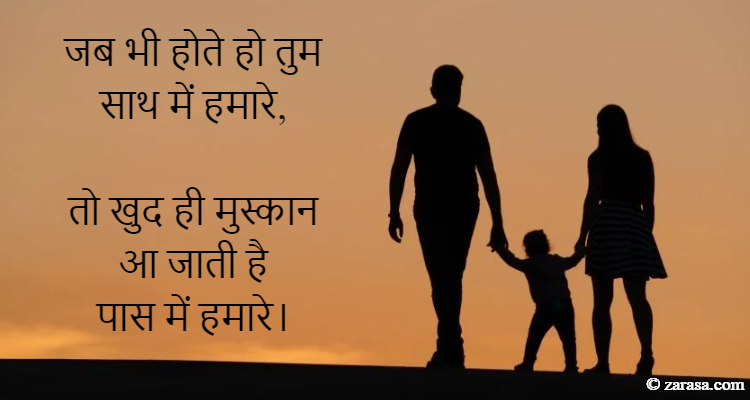 Jab Bhi Hote Ho Tum Saath Me Hamare,
To Khud Hi Muskan Aajati Hai Pass Me Hamare.
जब भी होते हो तुम साथ में हमारे,
तो खुद ही मुस्कान आ जाती है पास में हमारे।
جب بھی ہوتے ہو تم ساتھ مے ہمارے
تو خود ہی مسکن آجاتی ہے پاس مے ہمارے
---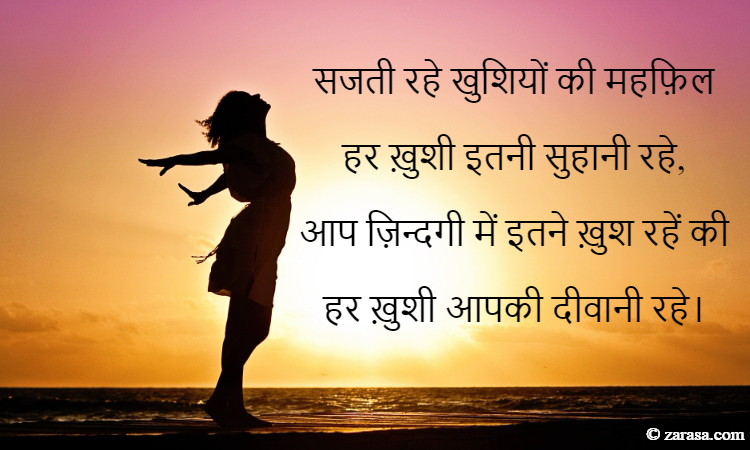 Sajti Rahe Khushiyon Ki Mehfil
Har Khushi Itni Suhani Rahe,
Aap Zindagi Me Itne Khush Rahen Ki
Har Khushi Apki Deewani Rahe .
सजती रहे खुशियों की महफ़िल
हर ख़ुशी इतनी सुहानी रहे,
आप ज़िन्दगी में इतने ख़ुश रहें की
हर ख़ुशी आपकी दीवानी रहे।
سجتی رہے خوشیوں کی محفل
ہر خوشی اتنی سہانی رہے
آپ زندگی مے اتنے خوش رہیں کی
ہر خوشی آپکی دیوانی رہے
---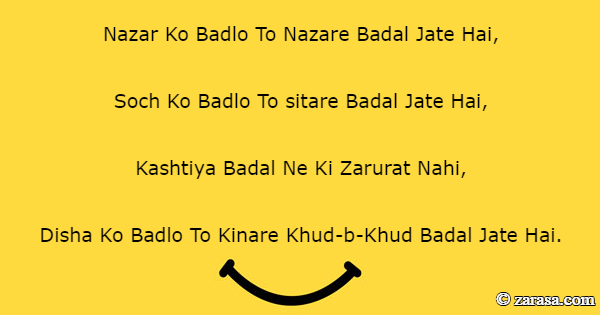 Nazar Ko Badlo To Nazare Badal Jate Hai,
Soch Ko Badlo To sitare Badal Jate Hai,
Kashtiya Badal Ne Ki Zarurat Nahi,
Disha Ko Badlo To Kinare Khud-b-Khud Badal Jate Hai.
नज़र को बदलो तो नज़ारे बदल जाते है,
सोच को बदलो तो सितारे बदल जाते है,
कश्तिया बदल ने की ज़रूरत नहीं ,
दिशा को बदलो तो किनारे खुद बा खुद बदल जाते है।
نظر کو بفلو تو نظارے بدل جاتے ہے
سوچ کو بدلو تو ستارے بدل جاتے ہے
کشتیا بدل نے کی ضرورت نہیں
دشا کو بدلو تو کنارے خود با خود بدل جاتے ہے
---