Shayari for Husband "रूठ जाओ कितना भी मना लेंगे"
Rooth Jao Kitna Bhi Mana Lenge,
Door Jao Kitna Bhi Bula Lenge
Dil Aakhir Dil Hai Sagar Ki Ret To Nhi
Ki Naam Likh Kar Use Mita Denge..!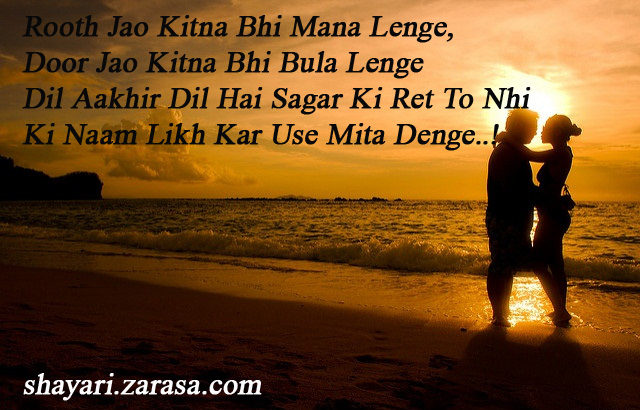 ---

रूठ जाओ कितना भी मना लेंगे,
दूर जाओ कितना भी बुला लेंगे दिल आखिर दिल है
सागर की रेत तो नहीं की नाम लिख कर उससे मिटा देंगे..!


---

روٹھ جاؤ کتنا بھی منا لیں گے
دور کریں کتنا بھی بلا لیں گے
دل آخر دل ہے سمندر کی ریت تو نہیں
کسی کا نام لکھ کر اس سے مٹا دیں گے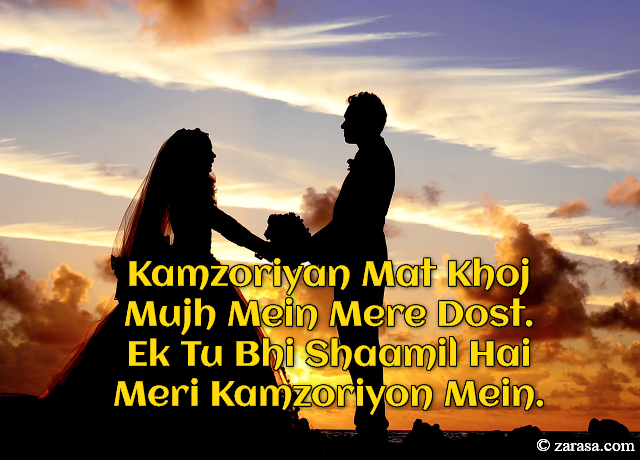 Kamzoriyan Mat Khoj Mujh Mein Mere Dost.
Ek Tu Bhi Shaamil Hai Meri Kamzoriyon Mein.
कमज़ोरियाँ मत खोज मुझ में मेरे दोस्त .
एक तू भी शामिल है मेरी कमज़ोरियों में .
کمزوریاں مت کھوج مجھ میں میرے دوست .
ایک تو بھی شامل ہے میری کمزوریوں میں .
---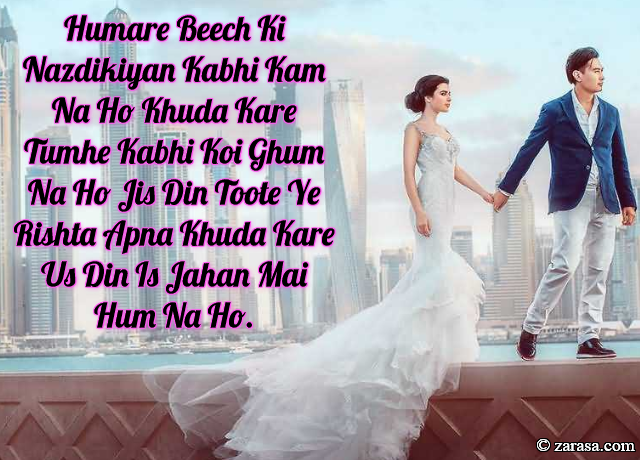 Humare Beech Ki Nazdikiyan Kabhi Kam Na Ho Khuda Kare Tumhe Kabhi Koi Ghum Na Ho Jis Din Toote Ye Rishta Apna Khuda Kare Us Din Is Jahan Mai Hum Na Ho.
हमारे बीच की नज़दीकियां कभी कम ना हो खुदा करे तुम्हे कभी कोई घूम ना हो जिस दिन तूटे ये रिश्ता अपना खुदा करे उस दिन इस जहाँ मैं हम ना हो .
ہمارے بیچ کی نزدیکیاں کبھی کم نہ ہو خدا کرے تمھ کبھی کوئی غم نہ ہو جس دن توٹے یہ رشتہ اپنا خدا کرے اس دن اس جہاں می ہم نہ ہو.
---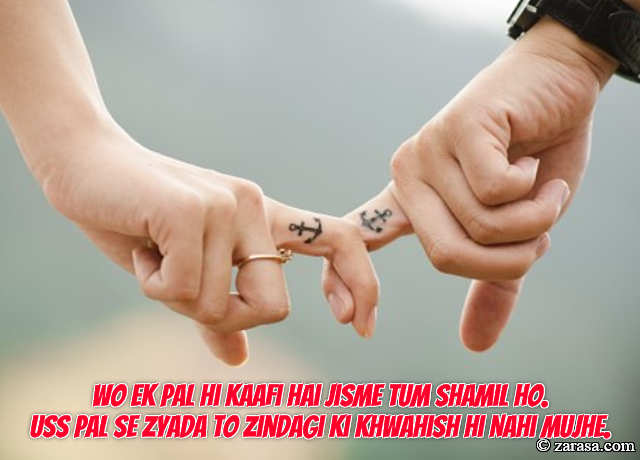 Wo Ek Pal Hi Kaafi Hai Jisme Tum Shamil Ho.
Uss Pal Se Zyada To Zindagi Ki Khwahish Hi Nahi Mujhe.
वो एक पल ही काफी है जिसमे तुम शामिल हो .
उस पल से ज़्यादा तो ज़िन्दगी की ख्वाहिश ही नहीं मुझे .
وہ ایک پل ہی کافی ہے جسمے تم شامل ہو .
اس پل سے زیادہ تو زندگی کی خواہش ہی نہیں مجھے
---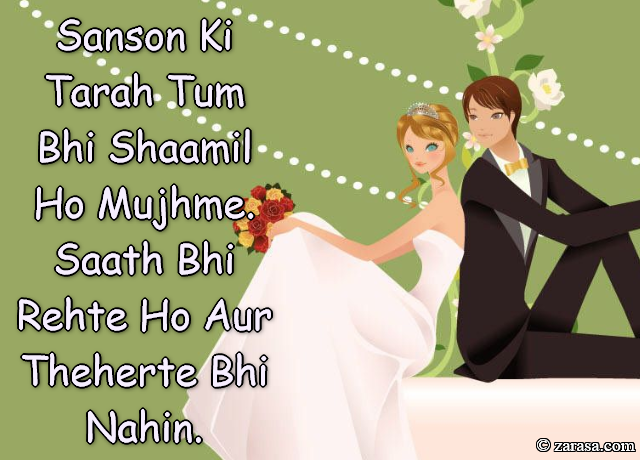 Sanson Ki Tarah Tum Bhi Shaamil Ho Mujhme.
Saath Bhi Rehte Ho Aur Theherte Bhi Nahin.


सांसों की तरह तुम भी शामिल हो मुझमे .
साथ भी रहते हो और ठहरते भी नहीं .
سانسوں کی طرح تم بھی شامل ہو مجھمے .
ساتھ بھی رہتے ہو اور ٹھہرتے بھی نہیں .
---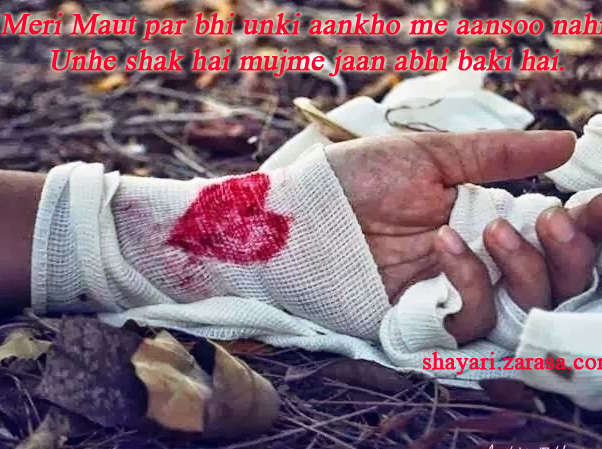 Meri Maut par bhi unki aankho me aansoo nahi,
Unhe shak hai mujme jaan abhi baki hai.


मेरी मौत पर भी उनकी आँखों में आंसू नहीं,
उन्हें शक है मुजमे जान अभी बाकी है.
میری موت پر بھی ان کی آنکھوں میں آنسو نہیں،
انہیں شک ہے مجمے جان ابھی باقی ہے
---