Shayari for Husband"Tu Naraz Na Raha Kar Tujhe Wasta Hai Khuda Ka"
|
Tu Naraz Na Raha Kar Tujhe Wasta Hai Khuda Ka.
Ek Tera He Chehra Khush Dekh Kar To Hum Apna Ghum Bhulate Hain.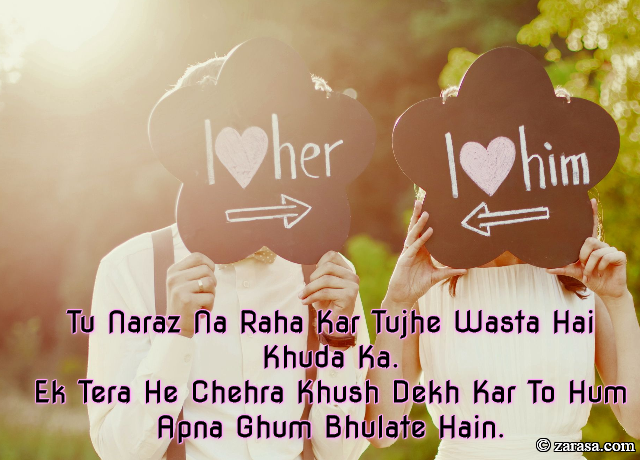 ---

तू नाराज़ ना रहा कर तुझे वास्ता है खुदा का.
एक तेरा हे चेहरा खुश देख कर तो हम अपना ग़म भुलाते हैं .


---

تو ناراض نہ رہا کر تجھے واسطہ خدا کا .
ایک تیرا ہے چہرہ خوش دیکھ کر تو ہم اپنا غم بھولتے ہیں .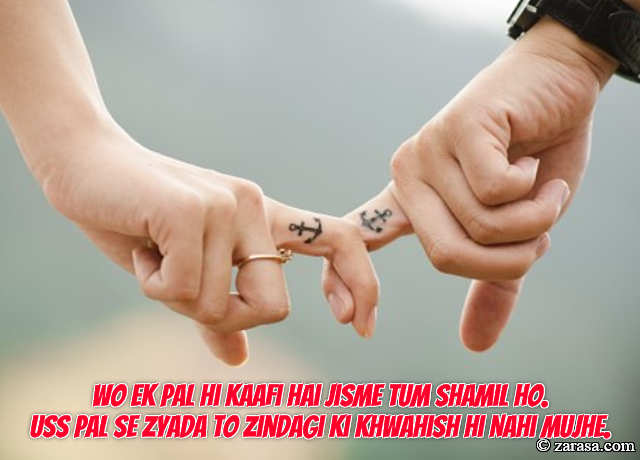 Wo Ek Pal Hi Kaafi Hai Jisme Tum Shamil Ho.
Uss Pal Se Zyada To Zindagi Ki Khwahish Hi Nahi Mujhe.
वो एक पल ही काफी है जिसमे तुम शामिल हो .
उस पल से ज़्यादा तो ज़िन्दगी की ख्वाहिश ही नहीं मुझे .
وہ ایک پل ہی کافی ہے جسمے تم شامل ہو .
اس پل سے زیادہ تو زندگی کی خواہش ہی نہیں مجھے
---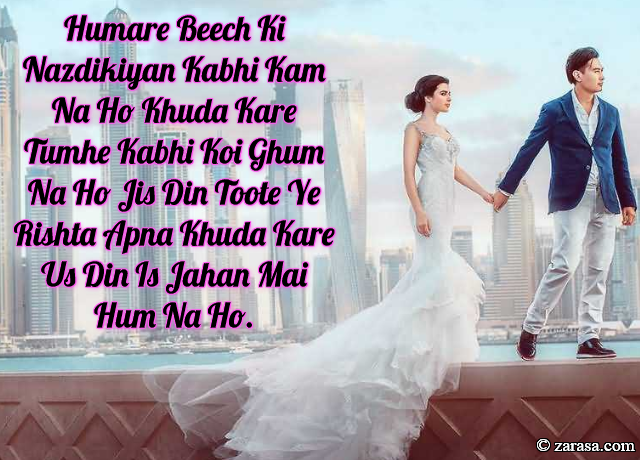 Humare Beech Ki Nazdikiyan Kabhi Kam Na Ho Khuda Kare Tumhe Kabhi Koi Ghum Na Ho Jis Din Toote Ye Rishta Apna Khuda Kare Us Din Is Jahan Mai Hum Na Ho.
हमारे बीच की नज़दीकियां कभी कम ना हो खुदा करे तुम्हे कभी कोई घूम ना हो जिस दिन तूटे ये रिश्ता अपना खुदा करे उस दिन इस जहाँ मैं हम ना हो .
ہمارے بیچ کی نزدیکیاں کبھی کم نہ ہو خدا کرے تمھ کبھی کوئی غم نہ ہو جس دن توٹے یہ رشتہ اپنا خدا کرے اس دن اس جہاں می ہم نہ ہو.
---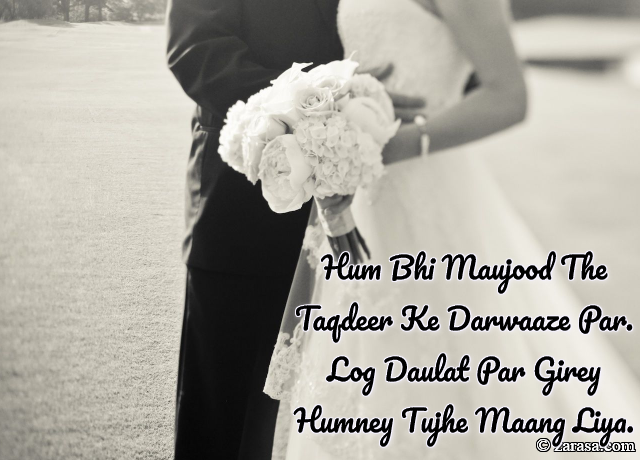 Hum Bhi Maujood The Taqdeer Ke Darwaaze Par.
Log Daulat Par Girey Humney Tujhe Maang Liya.
हम भी मौजूद थे तक़दीर के दरवाज़े पर .
लोग दौलत पर गिरे हमने तुझे मांग लिया .
ہم بھی موجود تھے تقدیر کے دروازے پر .
لوگ دولت پر گرے ہمنے تجھے مانگ لیا .
---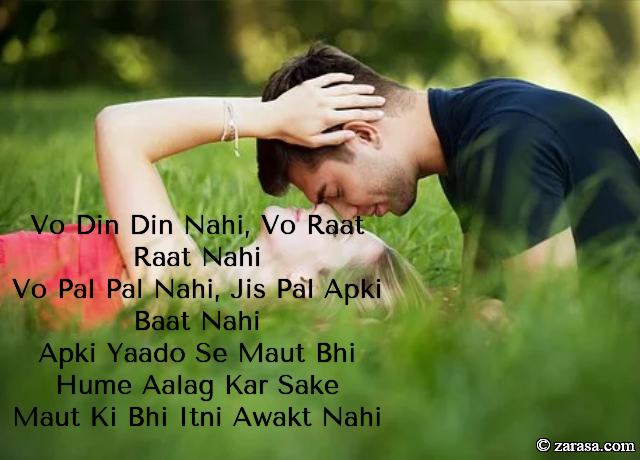 Vo Din Din Nahi, Vo Raat Raat Nahi
Vo Pal Pal Nahi, Jis Pal Apki Baat Nahi
Apki Yaado Se Maut Bhi Hume Aalag Kar Sake
Maut Ki Bhi Itni Awakt Nahi
वो दिन दिन नहीं , वो रात रात नहीं
वो पल पल नहीं , जिस पल आपकी बात नहीं
आपकी यादो से मौत भी हमे अलग कर सके
मौत की भी इतनी अव्यक्त नहीं
وہ دن دن نہیں , وو رات رات نہیں
وہ پل پل نہیں , جس پل آپکی بات نہیں
آپکی یادو سے موت بھی ہمیں الگ کر سکے
موت کی بھی اتنی آواکت نہیں
---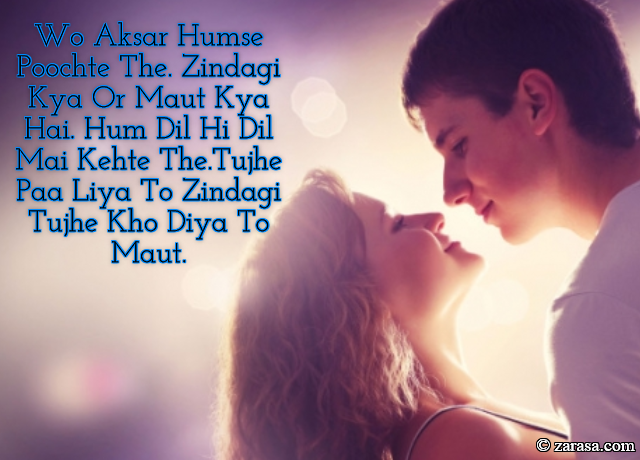 Wo Aksar Humse Poochte The. Zindagi Kya Or Maut Kya Hai. Hum Dil Hi Dil Mai Kehte The.Tujhe Paa Liya To Zindagi Tujhe Kho Diya To Maut.
वो अक्सर हमसे पूछते थे .ज़िन्दगी क्या और मौत क्या है . हम दिल ही दिल मई कहते थे .तुझे पा लिया तो ज़िन्दगी तुझे खो दिया तो मौत .
وہ اکثر ہمسے پوچھتے تھے . زندگی کیا اور موت کیا ہے . ہم دل ہی دل می کہتے تھے .تجھے پا لیا تو زندگی تجھے کھو دیا تو موت .
---