Shayari for Kamyabi (success) "Apni Kamyabi"
|
Kisi Ek Insaan Ke Liye Zindagi Bhar
Rone Se Acha h Apni Kamyabi Ki Aur Dhyaan Do.
Kyunki Barbadi Kissa Banati h Aur Kamyabi Ethihaass.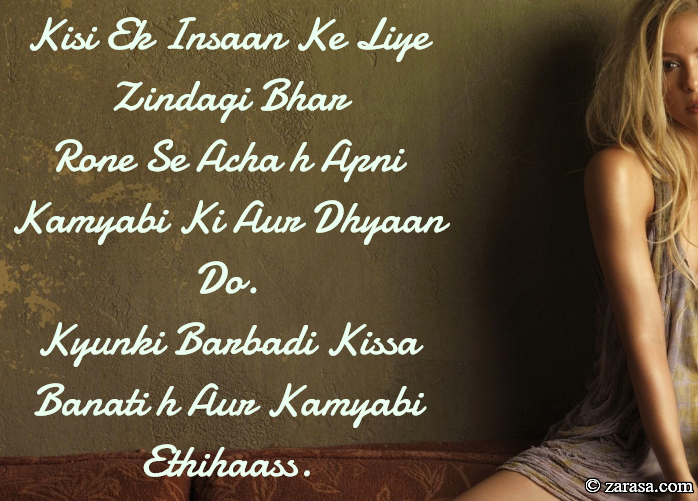 ---

किसी एक इंसान के लिए ज़िन्दगी भर
रोने से ाचा ह अपनी कामयाबी की और ध्यान दो ..
क्यूंकि बर्बादी किस्सा बनती ह और कामयाबी इतिहास.


---

کسی ایک انسان کے لئے زندگی بھر
رونے سے اچھا ہ اپنی کامیابی کی اور دھیان دو .
کیونکی بربادی کسسا بناتی ہ اور کامیابی ایتھاسس .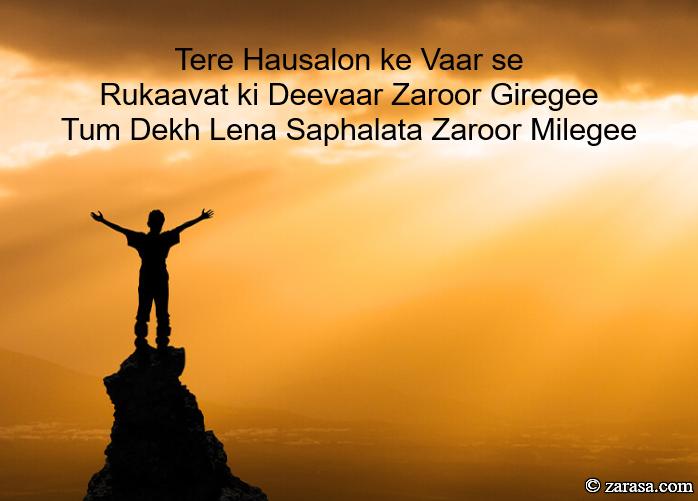 Tere Hausalon ke Vaar se
Rukaavat ki Deevaar Zaroor Giregee
Tum Dekh Lena Saphalata Zaroor Milegee
तेरे हौसलों के वार से
रुकावट की दीवार ज़रूर गिरेगी
तुम देख लेना सफलता ज़रूर मिलेगी
تیرے حوصلوں کے وار سے
رکاوٹ کی دیوار ضرور گرگئی
تم دیکھ لینا سفلاتا ضرو ملیگی
---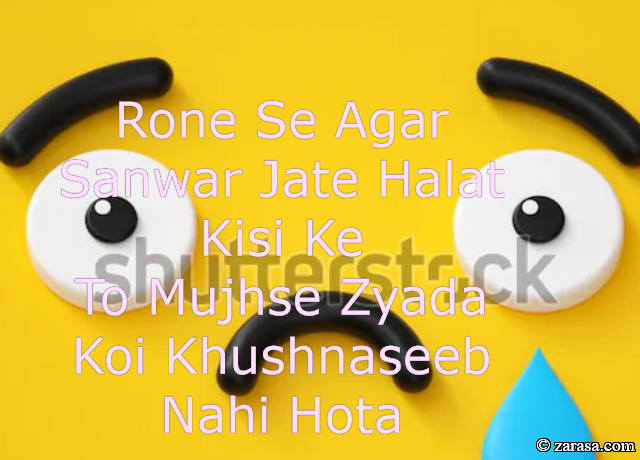 Rone Se Agar Sawar Jate Halat Kisi Ke
To Mujhse Zyada Koi Khushnaseeb Nahi Hota
रोने से अगर संवर जाते हालत किसी के
तो मुझसे ज़्यादा कोई खुशनसीब नहीं होता
رونے سے اگر سنوار جاتے حالت کسی کے
تو مجھسے زیادہ کوئی خوشنصیب نہیں ہوتا
---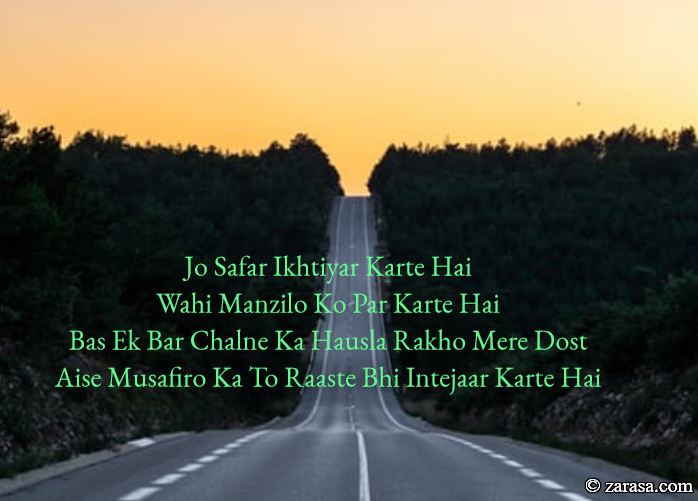 Jo Safar Ikhtiyar Karte Hai
Wahi Manzilo Ko Par Karte Hai
Bas Ek Bar Chalne Ka Hausla Rakho Mere Dost
Aise Musafiro Ka To Raaste Bhi Intejaar Karte Hai
जो सफर इख़्तियार करते है
वही मंजिलो को पर करते है
बस एक बार चलने का हौसला रखो मेरे दोस्त
ऐसे मुसाफिरों का तो रास्ते भी इंतज़ार करते है
جو سفر اختیار کرتے ہے
وہی منزلو کو پار کرتے ہے
بس ایک بار چلنے کا حوصلہ رکھو میرے دوست
ایسے مسافروں کا تو راستے بھی انتظار کرتے ہے
---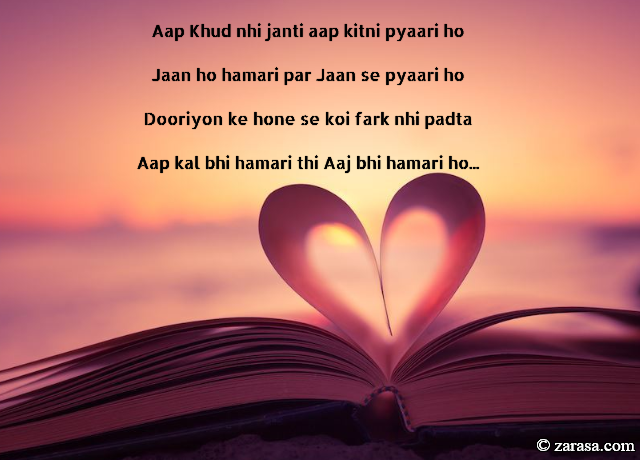 Aap Khud nhi janti aap kitni pyaari ho

Jaan ho hamari par Jaan se pyaari ho

Dooriyon ke hone se koi fark nhi padta

Aap kal bhi hamari thi Aaj bhi hamari ho...
आप खुद नहीं जानती आप कितनी प्यारी हो
जान हो हमारी पर जान से प्यारी हो
दूरियों के होने से कोई फर्क नहीं पड़ता
आप कल भी हमारी थी आज भी हमारी हो
آپ خود نہیں جانتی آپ کتنی پیاری ہو
جان ہو ہماری پر جان سے پیاری ہو
دوریوں کے ہونے سے کوئی پھڑک نہیں پڑتا
آپ کل بھی ہماری تھی آج بھی ہماری ہو
---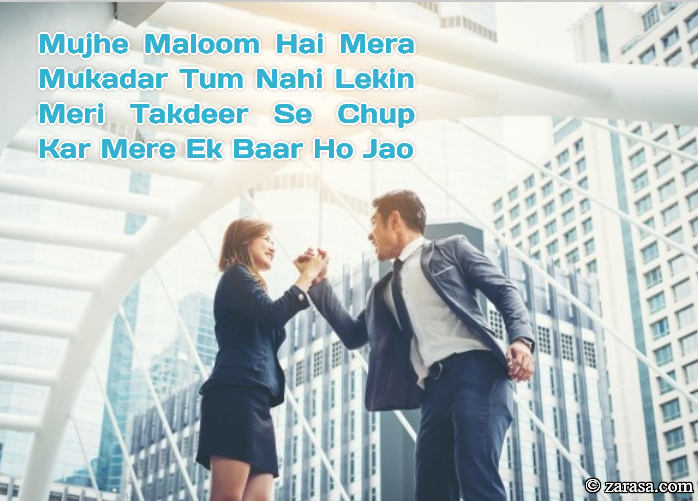 Mujhe Maloom Hai Mera Mukadar Tum Nahi
Lekin Meri Takdeer Se Chup Kar Mere Ek Baar Ho Jao
मुझे मालूम है मेरा मुकदर तुम नहीं
लेकिन मेरी तकदीर से चुप कर मेरे एक बार हो जाओ
مجھے معلوم ہے میرا مقدار تم نہیں
لیکن میری تقدیر سے چھپ کر میرے ایک بار ہو جاؤ
---