Shayari for Kamyabi (success)"Kitne Pal Hain"
|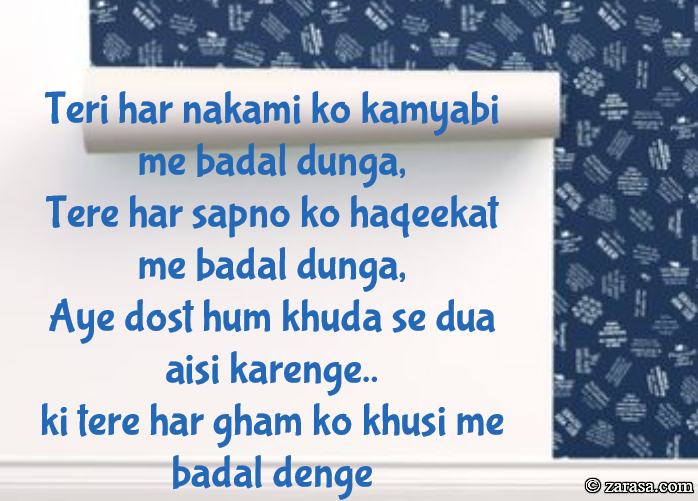 Teri Har Nakami Ko Kamyabi Me Badal Dunga.
Tere Har Sapno Ko Haqeekat Me Badal Dunga.
Aye Dost Hum Khuda Se Dua Aisi Karenge.
Ki Tere Har Gham Ko Khusi Me Badal Denge.
तेरी हर नाकामी को कामयाब में बदल दूंगा ,
तेरे हर सपनो को हक़ीक़त में बदल दूंगा ,
ए दोस्त हम खुदा से दुआ ऐसी करेंगे ..
की तेरे हर ग़म को खुसी में बदल देंगे
تیری ہر ناکامی کو کامیابی مے بدل دونگ ,
تیرے ہر سپنو کو حقیقت مے بدل دونگا ,
ہے دوست ہم خدا سے دوا ایسی کرینگے ..
کی تیرے ہر غم کو خصی مے بدل دینگے
---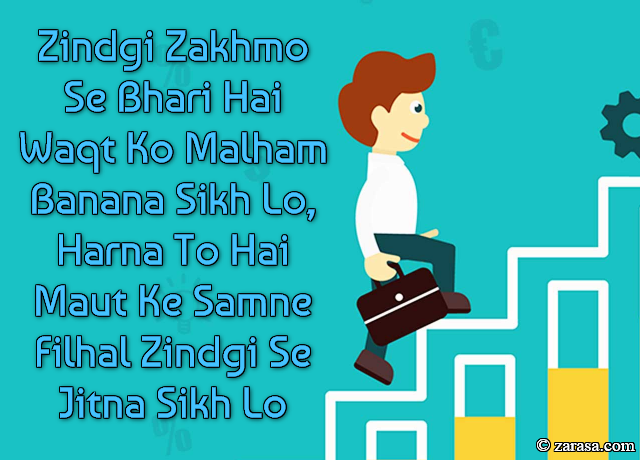 Zindgi Zakhmo Se Bhari Hai
Waqt Ko Malham Banana Sikh Lo,
Harna To Hai Maut Ke Samne
Filhal Zindgi Se Jitna Sikh Lo
ज़िंदगी ज़ख्मो से भरी है
को मलहम बनाना सिख लो
हारना तो है मौत के सामने
फ़िलहाल ज़िंदगी से जितना सिख लो
زندگی زخمو سے بھری ہے
وقت کو ملہم بنانا سکھ لو
ہارنا تو ہے موت کے سامنے
فلحال زندگی سے جتنا سکھ لو
---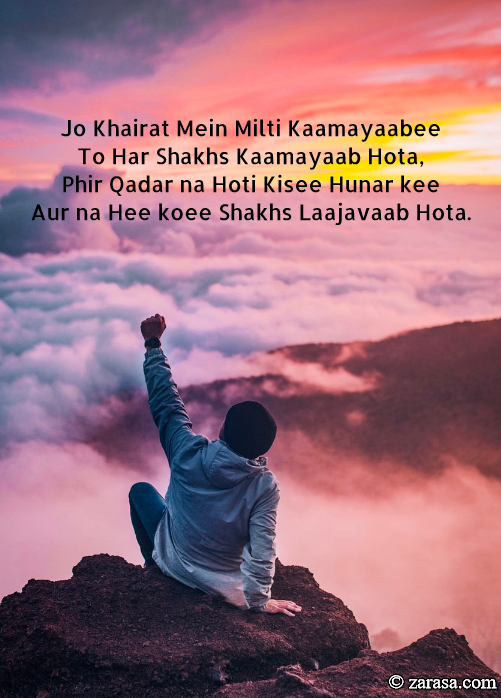 Jo Khairat Mein Milti Kaamayaabee
To Har Shakhs Kaamayaab Hota,
Phir Qadar na Hoti Kisee Hunar kee
Aur na Hee koee Shakhs Laajavaab Hota.
जो खैरात में मिलती कामयाबी
तो हर शख्स कामयाब होता ,
फिर क़दर न होती किसी हुनर की
और न ही कोइ शख्स लाजवाब होता


جو خیرات میں ملتی کامےابے
تو ہر شخص کامیاب ہوتا
پھر قدر نہ ہوتے کیسے ہنر کی
اور نہ ہی کوئی شخص لاجواب ہوتا
---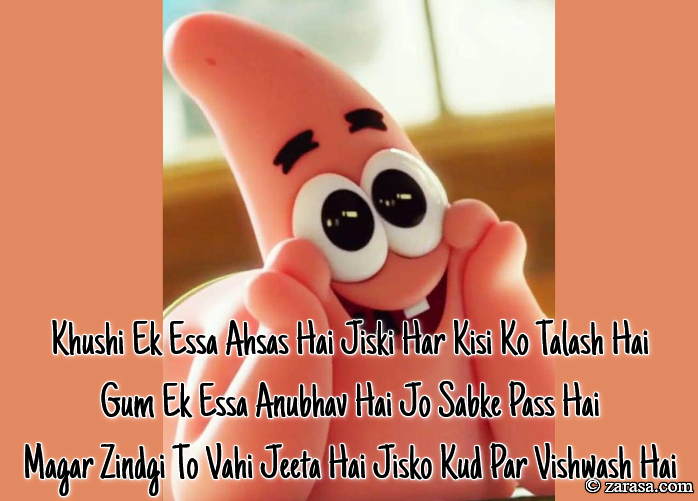 Khushi Ek Essa Ahsas Hai Jiski Har Kisi Ko Talash Hai
Gum Ek Essa Anubhav Hai Jo Sabke Pass Hai
Magar Zindgi To Vahi Jeeta Hai Jisko Kud Par Vishwash Hai
ख़ुशी एक ऐसा अहसास है जिसकी हर किसी को तलाश है
गम एक ऐसा अनुभव है जो सबके पास है
मगर ज़िंदगी तो वही जीता है जिसको कूद पर विश्वाश है
خوشی ایک اسا احساس ہے جسکی ہر کسی کو تلاش ہے
غم ایک اسا انبہاو ہے جو سبکے پاسس ہے
مگر زندگی تو وہی جیتا ہے جسکو خود پر وشواش ہے
---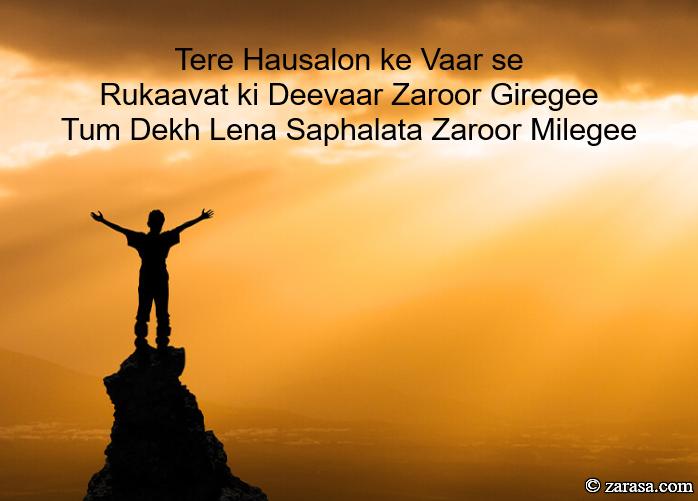 Tere Hausalon ke Vaar se
Rukaavat ki Deevaar Zaroor Giregee
Tum Dekh Lena Saphalata Zaroor Milegee
तेरे हौसलों के वार से
रुकावट की दीवार ज़रूर गिरेगी
तुम देख लेना सफलता ज़रूर मिलेगी
تیرے حوصلوں کے وار سے
رکاوٹ کی دیوار ضرور گرگئی
تم دیکھ لینا سفلاتا ضرو ملیگی
---