Shayari for Kamyabi (success)"Kitne Pal Hain"
|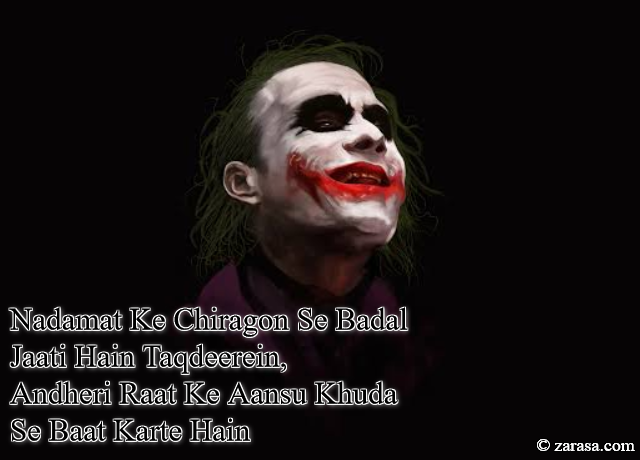 Nadamat Ke Chiragon Se Badal Jaati Hain Taqdeerein,
Andheri Raat Ke Aansu Khuda Se Baat Karte Hain
नदामत के चिरागों से बदल जाती हैं तक़दीरें ,
अँधेरी रात के आंसू खुदा से बात करते हैं
ندامت کے چرگوں سے بدل جاتی ہیں تقدیریں ,
اندھیری رات کے آنسو خدا سے بات کرتے ہیں
---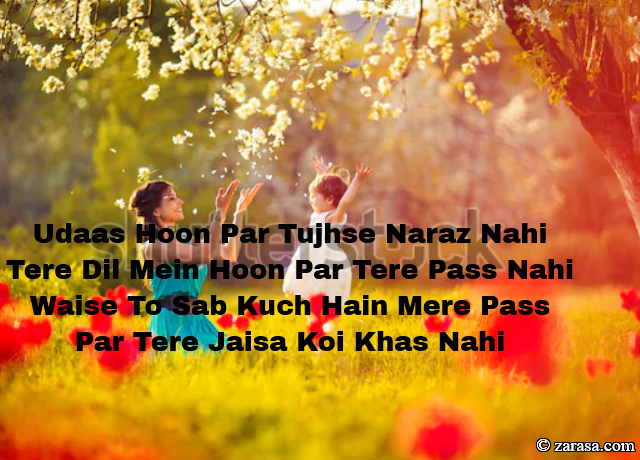 Udaas Hoon Par Tujhse Naraz Nahi
Tere Dil Mein Hoon Par Tere Pass Nahi
Waise To Sab Kuch Hain Mere Pass
Par Tere Jaisa Koi Khas Nahi
उदास हूँ पर तुझसे नाराज़ नहीं
तेरे दिल में हूँ पर तेरे पास नहीं
वैसे तो सब कुछ हैं मेरे पास
पर तेरे जैसा कोई खास नहीं
اداس ہوں پر تجھسے ناراض نہیں
تیرے دل میں ہوں پر تیرے پاسس نہیں
ویسے تو سب کچھ ہیں میرے پاسس
پر تیرے جیسا کوئی خاص نہیں
---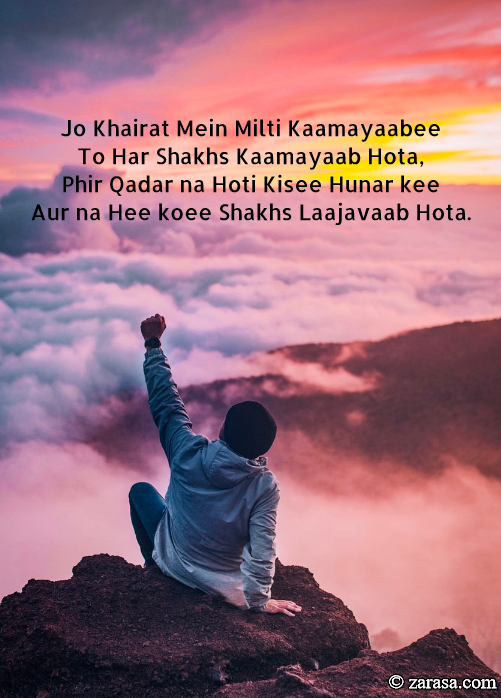 Jo Khairat Mein Milti Kaamayaabee
To Har Shakhs Kaamayaab Hota,
Phir Qadar na Hoti Kisee Hunar kee
Aur na Hee koee Shakhs Laajavaab Hota.
जो खैरात में मिलती कामयाबी
तो हर शख्स कामयाब होता ,
फिर क़दर न होती किसी हुनर की
और न ही कोइ शख्स लाजवाब होता


جو خیرات میں ملتی کامےابے
تو ہر شخص کامیاب ہوتا
پھر قدر نہ ہوتے کیسے ہنر کی
اور نہ ہی کوئی شخص لاجواب ہوتا
---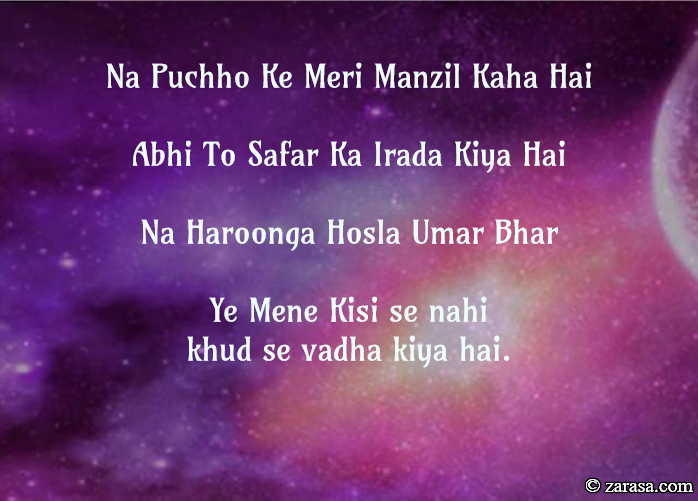 Na Puchho Ke Meri Manzil Kaha Hai
Abhi To Safar Ka Irada Kiya Hai
Na Haroonga Hosla Umar Bhar
Ye Mene Kisi se nahi khud se vadha kiya hai.
न पूछो के मेरी मंज़िल कहा है
अभी तो सफर का इरादा किया है
न हरूँगा हौसला उम्र भ
ये मेने किसी से नहीं खुद से वधा किया है .
نہ پوچھو کے میری منزل کہاں ہے
ابھی تو سفر کا ارادہ کیا ہے
نہ حرونگا حوصلہ امر بھر
یہ مینے کسی سے نہیں خود سے ودھ کیا ہے .
---
Thodi Si Ebaadat Bohat Sa Sila Deti Hai
Gulab Ki Tarha Chehra Khila Deti Hai
Allah Ki Yaad Ko Dil Se Jane Na Dena
Kabhi Kabhi Choti Si Dua Arsh Hila Deti Hai
थोड़ी सी इबादत बोहत सा सिला देती है
गुलाब की तरह चेहरा खिला देती है
अल्लाह की याद को दिल से जाने न देना
कभी कभी छोटी सी दुआ अर्श हिला देती है
تھوڑی سی عبادت بہت سا سلا دیتی ہے
گلاب کی طرھ چہرہ کھلا دیتی ہے
الله کی یاد کو دل سے جانے نہ دینا  
کبھی کبھی چھوٹی سی دوا عرش ہلا دیتی ہے
---