Shayari for Pyaar "Kalam Thi Hath Mai Likhna Sikhaya Aapne"
|
Kalam thi haath mai likhna sikhaya aapne
Taakt thi haath mai hausla Dilaya aapne
Manzil thi saamne rasta dikhaya aapne
Hm toh sirf Dost the ,Aashiq banaya aapne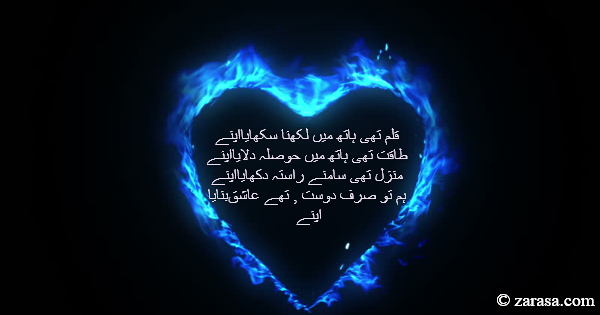 ---

कलम थी हाथ मई लिखना सिखाया आपने
ताकत थी हाथ मई हौसला दिलाया आपने
मंज़िल थी सामने रास्ता दिखाया आपने
हम तो सिर्फ दोस्त थे , आशिक़ बनाया आपने


---

قلم تھی ہاتھ میں لکھنا سکھایا اپنے
طاقت تھی ہاتھ میں حوصلہ دلایا اپنے
منزل تھی سامنے راستہ دکھایا اپنے
ہم تو صرف دوست تھے , عاشق بنایا اپنے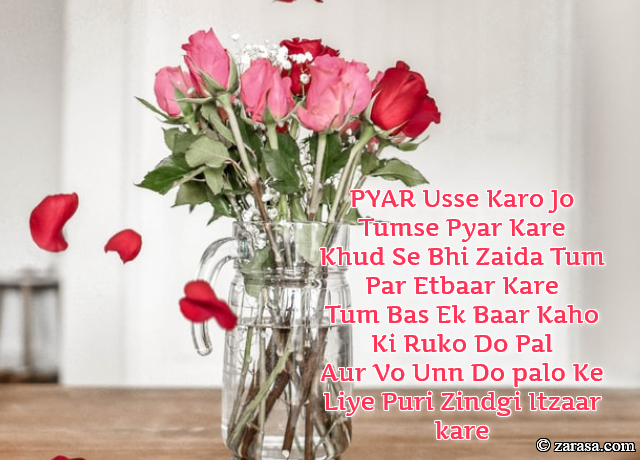 Pyar Usse Karo Jo Tumse Pyar Kare
Khud Se Bhi Zaida Tum Par Etbaar Kare
Tum Bas Ek Baar Kaho Ki Ruko Do Pal
Aur Vo Unn Do palo Ke Liye Puri Zindgi Intezaar kare
प्यार उससे करो जो तुमसे प्यार करे
कूद से भी जैड़ा तुम पर एतबार करे
तुम बस एक बार कहो की रुको दो पल
और वो उन् दो पालो के लिए पूरी ज़िंदगी इंतज़ार करे
پیار اسے کرو جو تمسے پیار کرے
خود سے بھی زیادہ تم پر عتبار کرے
تم بس ایک بار کہو کی روکو دو پل
اور وو ان دو پلو کے لئے پوری زندگی اتظار کرے
---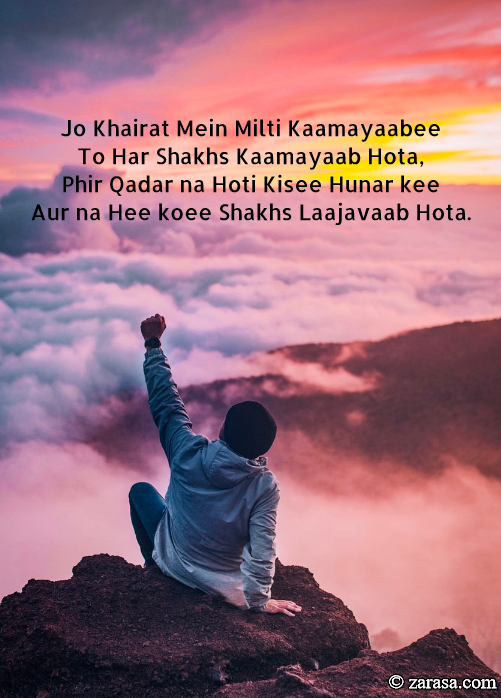 Jo Khairat Mein Milti Kaamayaabee
To Har Shakhs Kaamayaab Hota,
Phir Qadar na Hoti Kisee Hunar kee
Aur na Hee koee Shakhs Laajavaab Hota.
जो खैरात में मिलती कामयाबी
तो हर शख्स कामयाब होता ,
फिर क़दर न होती किसी हुनर की
और न ही कोइ शख्स लाजवाब होता


جو خیرات میں ملتی کامےابے
تو ہر شخص کامیاب ہوتا
پھر قدر نہ ہوتے کیسے ہنر کی
اور نہ ہی کوئی شخص لاجواب ہوتا
---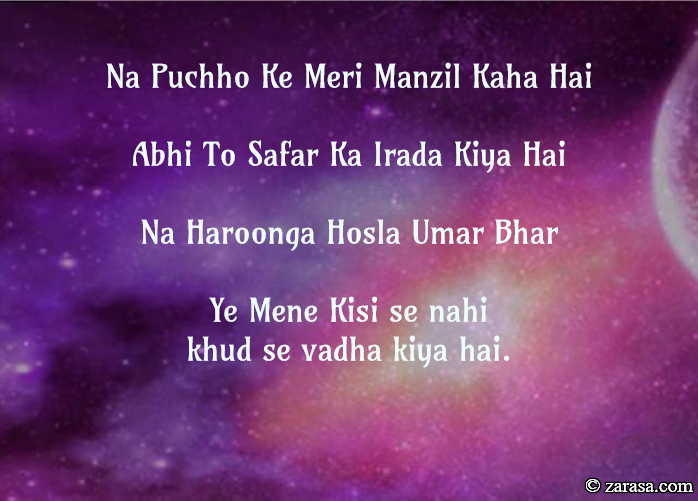 Na Puchho Ke Meri Manzil Kaha Hai
Abhi To Safar Ka Irada Kiya Hai
Na Haroonga Hosla Umar Bhar
Ye Mene Kisi se nahi khud se vadha kiya hai.
न पूछो के मेरी मंज़िल कहा है
अभी तो सफर का इरादा किया है
न हरूँगा हौसला उम्र भ
ये मेने किसी से नहीं खुद से वधा किया है .
نہ پوچھو کے میری منزل کہاں ہے
ابھی تو سفر کا ارادہ کیا ہے
نہ حرونگا حوصلہ امر بھر
یہ مینے کسی سے نہیں خود سے ودھ کیا ہے .
---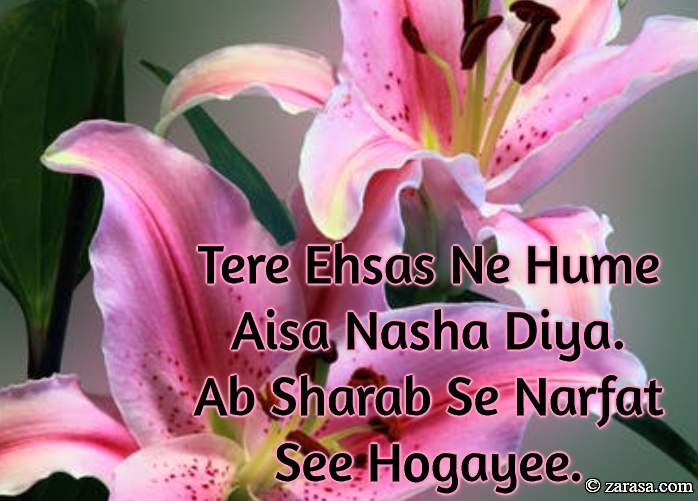 Tere Ehsas Ne Hume Aisa Nasha Diya.
Ab Sharab Se Narfat See Hogayee.
तेरे एहसास ने हमे ऐसा नशा दिया .
अब शराब से नरफत सी होगई .
تیرے احساس نے ہمے ایسا نشہ دیا .
اب شراب سے نرفت سی ہوگیے .
---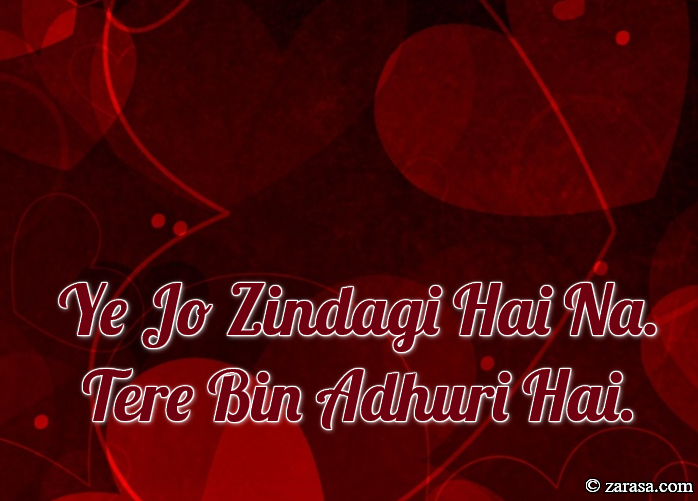 Ye Jo Zindagi Hai Na.
Tere Bin Adhuri Hai.
ये जो ज़िन्दगी है न .
तेरे बिन अधूरी है .
یہ جو زندگی ہے نہ .
تیرے بن ادھوری ہے .
---