Shayari for Kamyabi (success)"Rone Se Agar Sanwar Jate Halat Kisi Ke"
|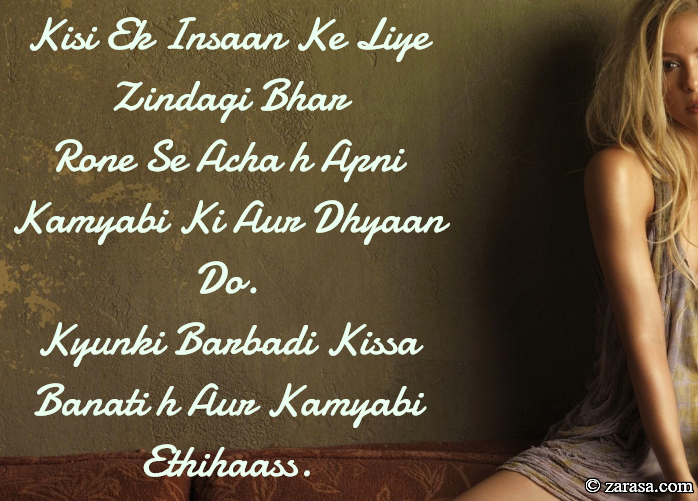 Kisi Ek Insaan Ke Liye Zindagi Bhar
Rone Se Acha h Apni Kamyabi Ki Aur Dhyaan Do.
Kyunki Barbadi Kissa Banati h Aur Kamyabi Ethihaass.
किसी एक इंसान के लिए ज़िन्दगी भर
रोने से ाचा ह अपनी कामयाबी की और ध्यान दो ..
क्यूंकि बर्बादी किस्सा बनती ह और कामयाबी इतिहास.
کسی ایک انسان کے لئے زندگی بھر
رونے سے اچھا ہ اپنی کامیابی کی اور دھیان دو .
کیونکی بربادی کسسا بناتی ہ اور کامیابی ایتھاسس .
---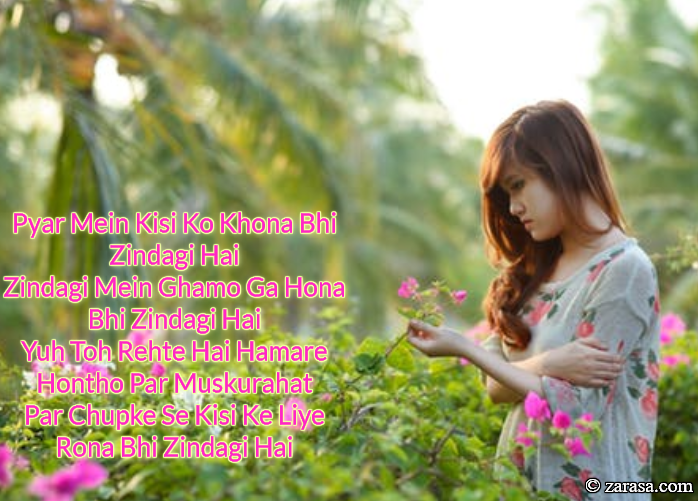 Pyar Mein Kisi Ko Khona Bhi Zindagi Hai
Zindagi Mein Ghamo Ga Hona Bhi Zindagi Hai
Yuh Toh Rehte Hai Hamare Hontho Par Muskurahat
Par Chupke Se Kisi Ke Liye Rona Bhi Zindagi Hai
प्यार में किसी को खोना भी ज़िन्दगी है
ज़िन्दगी में ग़मो का होना भी ज़िन्दगी है
यह तोह रहते है हमारे होंठो पर मुस्कराहट
पर चुपके से किसी के लिए रोना भी ज़िन्दगी है
پیار میں کسی کو کھونا بھی زندگی ہے
زندگی میں غمو کا ہونا بھی زندگی ہے
یھ تو رہتے ہے ہمارے ہونٹھو پر مسکراہٹ
پر چپکے سے کسی کے لئے رونا بھی زندگی ہے
---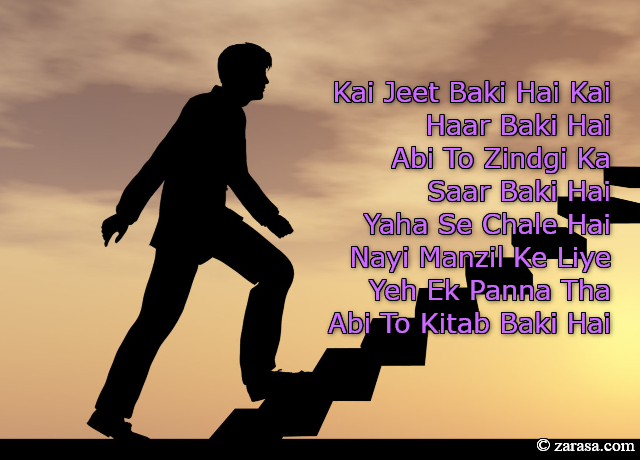 Kai Jeet Baki Hai Kai Haar Baki Hai
Abi To Zindgi Ka Saar Baki Hai
Yaha Se Chale Hai Nayi Manzil Ke Liye
Yeh Ek Panna Tha Abi To Kitab Baki Hai
कई जीत बाकि है कई हार बाकि है
अभी तो ज़िंदग का सा बाकि है
यहाँ से चले है नयी मंजिल के लिए
यह एक पन्ना था अभी तो किताब बाकि है
کیا جیت باقی ہے کیا ہار باقی ہے
ابھی تو زندگی کا سار باقی ہے
یہاں سے چلے ہے نیی منزل کے لئے
یہ ایک پنا تھا ابھی تو کتاب باقی ہے
---
Insaan ko Us waqt Tak Koi Nahi Hara Sakta
Jab Tak Wo Apne Aap Se Na Haar Jaye
इंसान को उस वक़्त तक कोई नहीं हरा सकता
जब तक वो अपने आप से नहार जाये
انسان کو اس وقت تک کوئی نہیں ہر سکتا
جب تک وو اپنے آپ سے نہ ہار جائے
---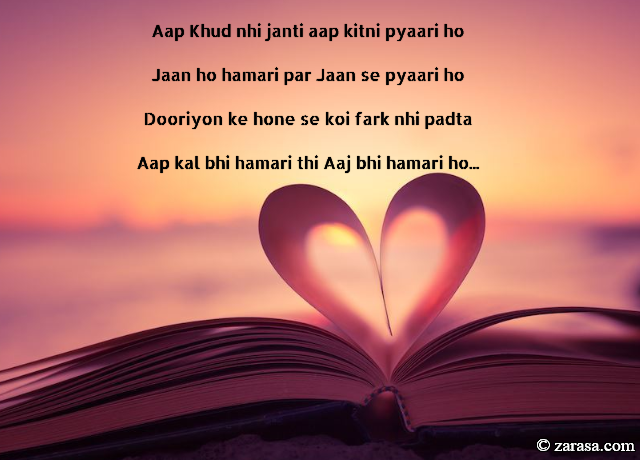 Aap Khud nhi janti aap kitni pyaari ho

Jaan ho hamari par Jaan se pyaari ho

Dooriyon ke hone se koi fark nhi padta

Aap kal bhi hamari thi Aaj bhi hamari ho...
आप खुद नहीं जानती आप कितनी प्यारी हो
जान हो हमारी पर जान से प्यारी हो
दूरियों के होने से कोई फर्क नहीं पड़ता
आप कल भी हमारी थी आज भी हमारी हो
آپ خود نہیں جانتی آپ کتنی پیاری ہو
جان ہو ہماری پر جان سے پیاری ہو
دوریوں کے ہونے سے کوئی پھڑک نہیں پڑتا
آپ کل بھی ہماری تھی آج بھی ہماری ہو
---