Shayari for Kamyabi (success)"Maut Ke Samne"
|
Zindgi Zakhmo Se Bhari Hai
Waqt Ko Malham Banana Sikh Lo,
Harna To Hai Maut Ke Samne
Filhal Zindgi Se Jitna Sikh Lo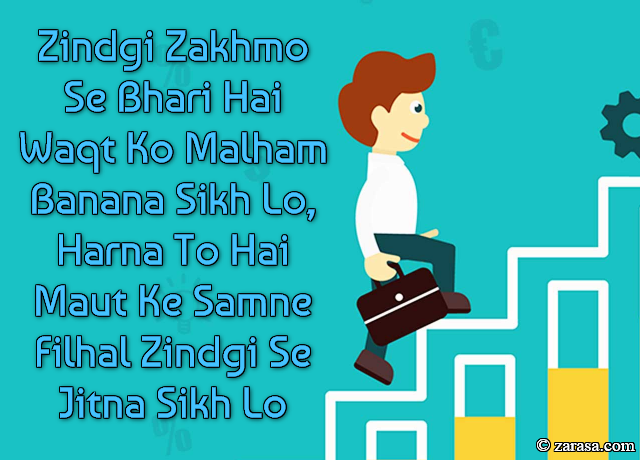 ---

ज़िंदगी ज़ख्मो से भरी है
को मलहम बनाना सिख लो
हारना तो है मौत के सामने
फ़िलहाल ज़िंदगी से जितना सिख लो


---

زندگی زخمو سے بھری ہے
وقت کو ملہم بنانا سکھ لو
ہارنا تو ہے موت کے سامنے
فلحال زندگی سے جتنا سکھ لو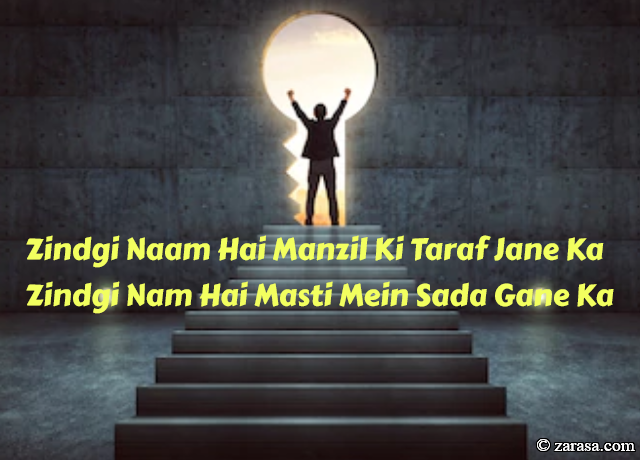 Zindgi Naam Hai Manzil Ki Taraf Jane Ka
Zindgi Nam Hai Masti Mein Sada Gane Ka
ज़िंदगी नाम है मंज़िल की तरफ जाने का
ज़िंदगी नाम है मस्ती में सदा गाने का
زندگی نام ہے منزل کی طرف جانے کا
زندگی نام ہے مستی میں سادہ گانے کا
---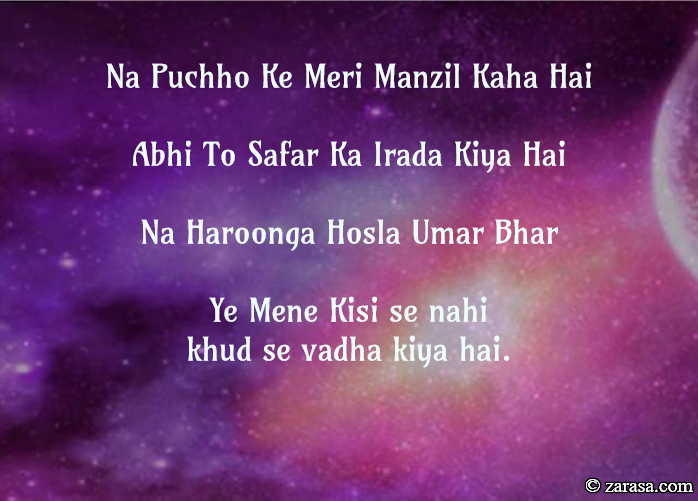 Na Puchho Ke Meri Manzil Kaha Hai
Abhi To Safar Ka Irada Kiya Hai
Na Haroonga Hosla Umar Bhar
Ye Mene Kisi se nahi khud se vadha kiya hai.
न पूछो के मेरी मंज़िल कहा है
अभी तो सफर का इरादा किया है
न हरूँगा हौसला उम्र भ
ये मेने किसी से नहीं खुद से वधा किया है .
نہ پوچھو کے میری منزل کہاں ہے
ابھی تو سفر کا ارادہ کیا ہے
نہ حرونگا حوصلہ امر بھر
یہ مینے کسی سے نہیں خود سے ودھ کیا ہے .
---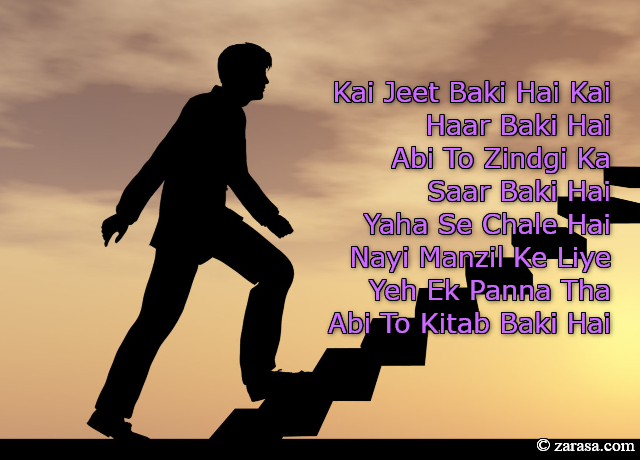 Kai Jeet Baki Hai Kai Haar Baki Hai
Abi To Zindgi Ka Saar Baki Hai
Yaha Se Chale Hai Nayi Manzil Ke Liye
Yeh Ek Panna Tha Abi To Kitab Baki Hai
कई जीत बाकि है कई हार बाकि है
अभी तो ज़िंदग का सा बाकि है
यहाँ से चले है नयी मंजिल के लिए
यह एक पन्ना था अभी तो किताब बाकि है
کیا جیت باقی ہے کیا ہار باقی ہے
ابھی تو زندگی کا سار باقی ہے
یہاں سے چلے ہے نیی منزل کے لئے
یہ ایک پنا تھا ابھی تو کتاب باقی ہے
---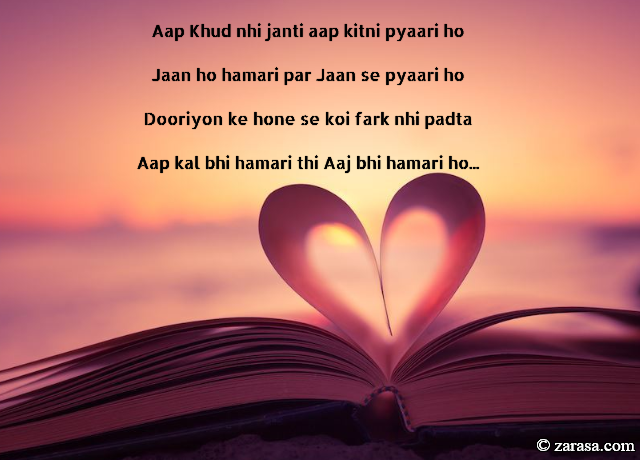 Aap Khud nhi janti aap kitni pyaari ho

Jaan ho hamari par Jaan se pyaari ho

Dooriyon ke hone se koi fark nhi padta

Aap kal bhi hamari thi Aaj bhi hamari ho...
आप खुद नहीं जानती आप कितनी प्यारी हो
जान हो हमारी पर जान से प्यारी हो
दूरियों के होने से कोई फर्क नहीं पड़ता
आप कल भी हमारी थी आज भी हमारी हो
آپ خود نہیں جانتی آپ کتنی پیاری ہو
جان ہو ہماری پر جان سے پیاری ہو
دوریوں کے ہونے سے کوئی پھڑک نہیں پڑتا
آپ کل بھی ہماری تھی آج بھی ہماری ہو
---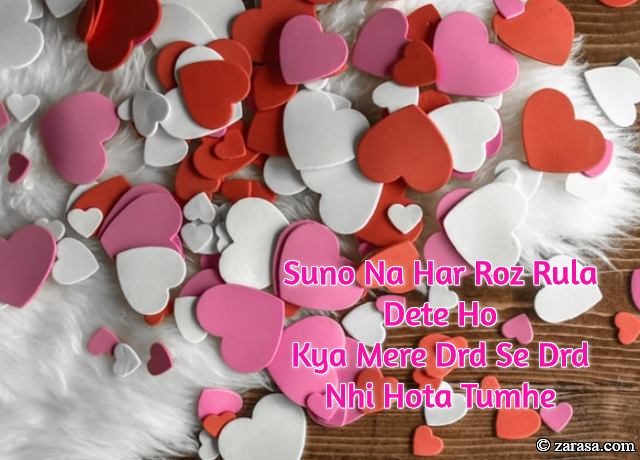 Suno Na Har Roz Rula Dete Ho
Kya Mere Dard Se Dard Nhi Hota Tumhe
सुनो ना हर रोज़ रुला देते हो
क्या मेरे दर्द से दर्द नहीं होता तुम्हे
سنو نا ہر روز رلا دیتے ہو
کیا میرے درد سے درد نہی ہوتا تمھ
---