Shayari for Kamyabi (success)"Maut Ke Samne"
|
Zindgi Zakhmo Se Bhari Hai
Waqt Ko Malham Banana Sikh Lo,
Harna To Hai Maut Ke Samne
Filhal Zindgi Se Jitna Sikh Lo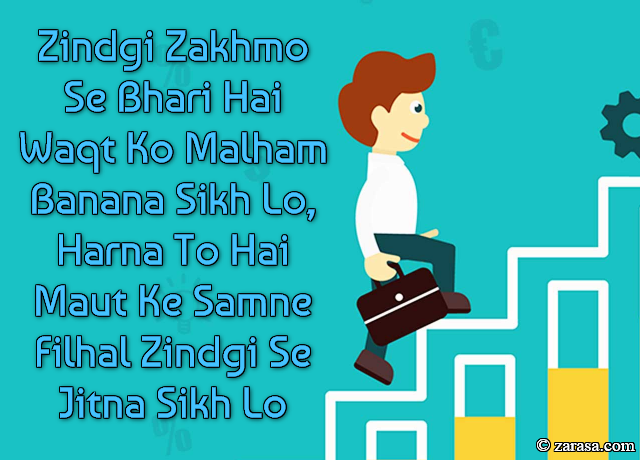 ---

ज़िंदगी ज़ख्मो से भरी है
को मलहम बनाना सिख लो
हारना तो है मौत के सामने
फ़िलहाल ज़िंदगी से जितना सिख लो


---

زندگی زخمو سے بھری ہے
وقت کو ملہم بنانا سکھ لو
ہارنا تو ہے موت کے سامنے
فلحال زندگی سے جتنا سکھ لو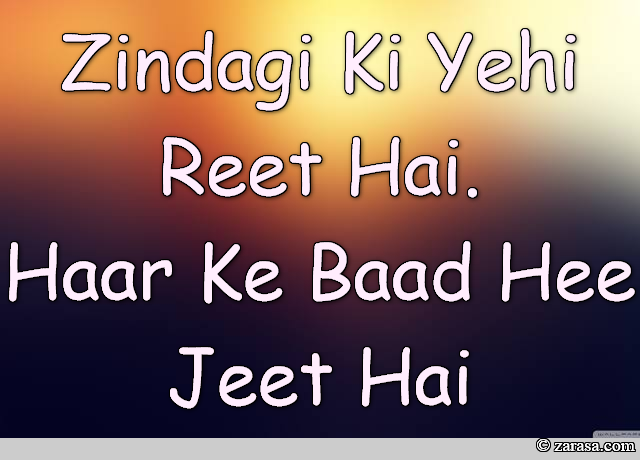 Zindagi Ki Yehi Reet Hai.
Haar Ke Baad Hee Jeet Hai.
ज़िन्दगी की एहि रीत है ,
हार के बाद ही जीत है
زندگی کی یہ i رے t ہے ,
ہار ک کے بعد ہی جیت ہے
---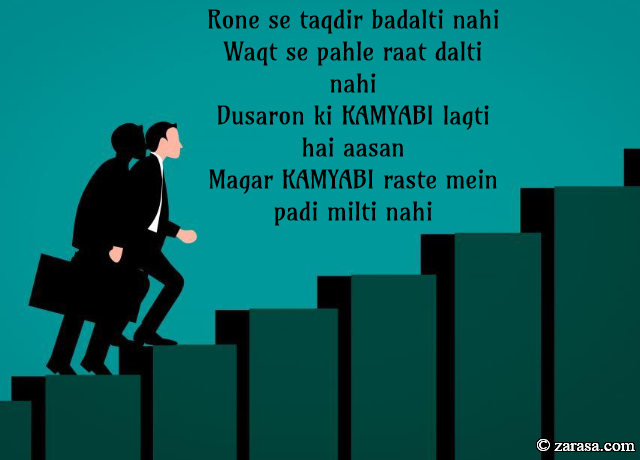 Rone se taqdir badalti nahi
Waqt se pahle raat dalti nahi
Dusaron ki KAMYABI lagti hai aasan
Magar KAMYABI raste mein padi milti nahi
रोने से तक़दीर बदलती नहीं
वक़्त से पहले रात डालती नहीं
दूसरों की कामयाबी लगती है आसान
मगर कामयाबी रस्ते में पड़ी मिलती नहीं
رونے سے تقدیر بدلتی نہیں
وقت سے پہلے رات ڈالتی نہیں
دوسروں کی کامیابی لگتی ہے آسان
مگر کامیابی راستے میں پڑی ملتی نہیں
---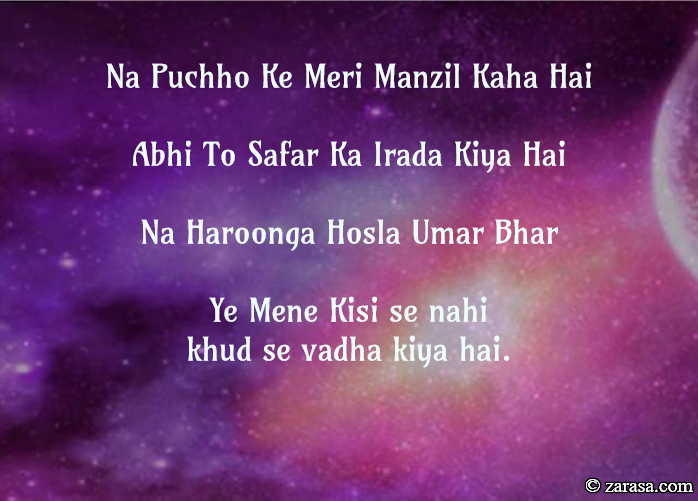 Na Puchho Ke Meri Manzil Kaha Hai
Abhi To Safar Ka Irada Kiya Hai
Na Haroonga Hosla Umar Bhar
Ye Mene Kisi se nahi khud se vadha kiya hai.
न पूछो के मेरी मंज़िल कहा है
अभी तो सफर का इरादा किया है
न हरूँगा हौसला उम्र भ
ये मेने किसी से नहीं खुद से वधा किया है .
نہ پوچھو کے میری منزل کہاں ہے
ابھی تو سفر کا ارادہ کیا ہے
نہ حرونگا حوصلہ امر بھر
یہ مینے کسی سے نہیں خود سے ودھ کیا ہے .
---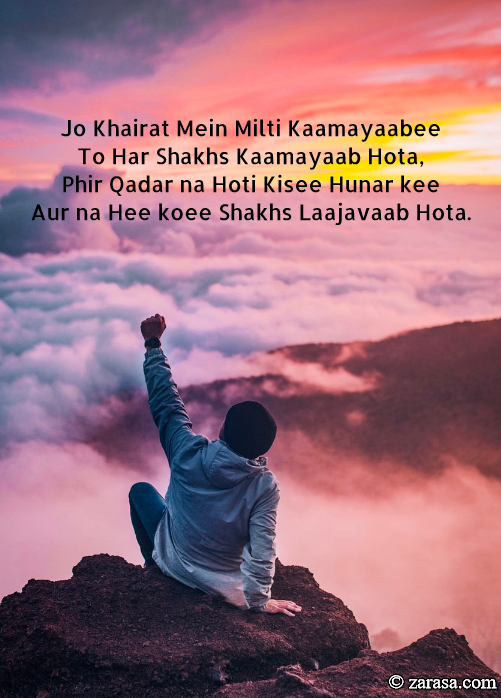 Jo Khairat Mein Milti Kaamayaabee
To Har Shakhs Kaamayaab Hota,
Phir Qadar na Hoti Kisee Hunar kee
Aur na Hee koee Shakhs Laajavaab Hota.
जो खैरात में मिलती कामयाबी
तो हर शख्स कामयाब होता ,
फिर क़दर न होती किसी हुनर की
और न ही कोइ शख्स लाजवाब होता


جو خیرات میں ملتی کامےابے
تو ہر شخص کامیاب ہوتا
پھر قدر نہ ہوتے کیسے ہنر کی
اور نہ ہی کوئی شخص لاجواب ہوتا
---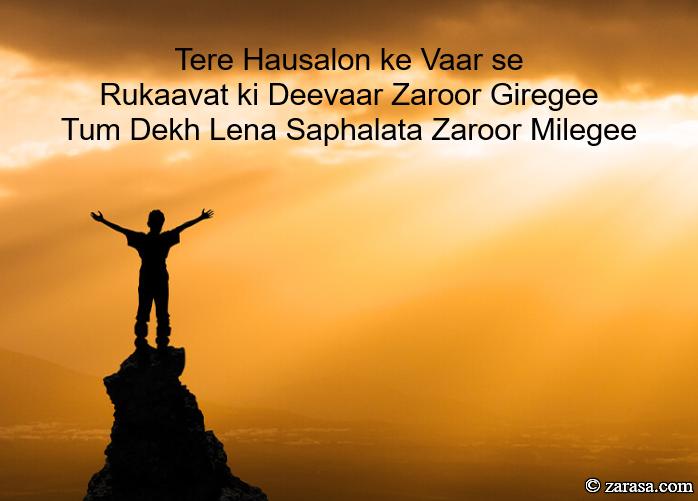 Tere Hausalon ke Vaar se
Rukaavat ki Deevaar Zaroor Giregee
Tum Dekh Lena Saphalata Zaroor Milegee
तेरे हौसलों के वार से
रुकावट की दीवार ज़रूर गिरेगी
तुम देख लेना सफलता ज़रूर मिलेगी
تیرے حوصلوں کے وار سے
رکاوٹ کی دیوار ضرور گرگئی
تم دیکھ لینا سفلاتا ضرو ملیگی
---