Shayari for Kids "मिरे दिल के किसी कोने में, इक मासूम सा बच्चा है."
|
Mere Dil Ke Kisi Kone Me Ek Masoom Sa Bachcha Hai,
Badon Ki Dekhkar Duniya Barda Hone Se Darta Hai.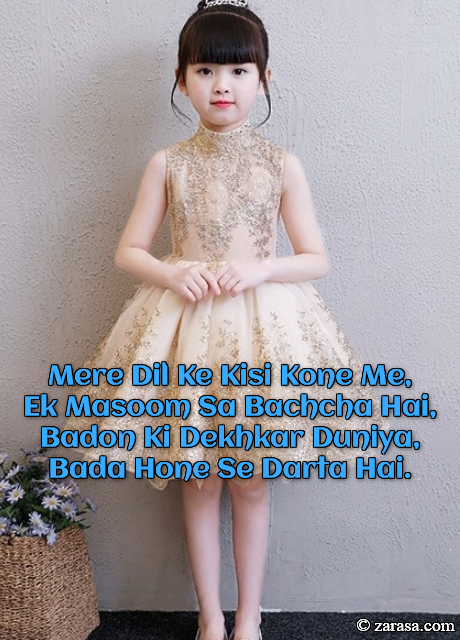 ---

मिरे दिल के किसी कोने में, इक मासूम सा बच्चा है.
बड़ों की देखकर दुनिया, बड़ा होने से डरता है.


---

میرے دل کے کسی کونے مے ایک معصوم سا بچچا ہے,
بڑوں کی دیکھکر دنیا بڑا ہونے سے ڈرتا ہے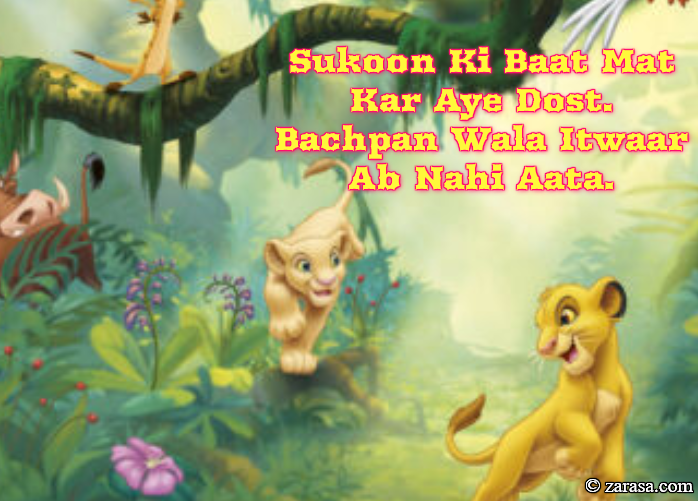 Sukoon Ki Baat Mat Kar Aye Dost.
Bachpan Wala Itwaar Ab Nahi Aata.
सुकून की बात मत कर ए दोस्त .
बचपन वाला इतवार अब नहीं आता .
سکوں کی بات مت کر ہے دوست .
بچپن والا اتوار اب نہیں آتا .
---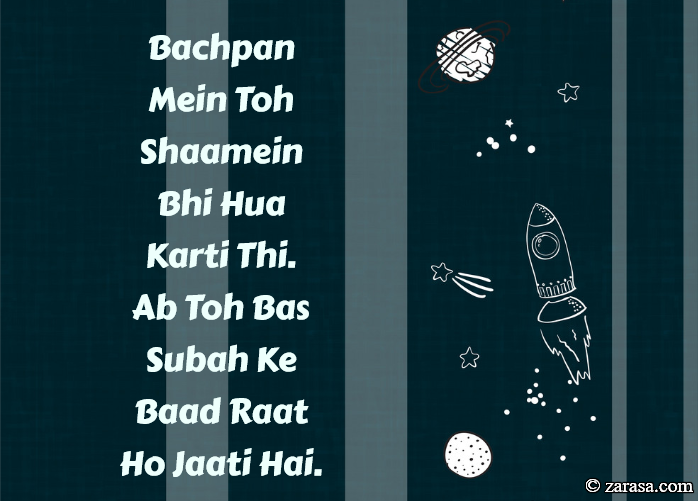 Bachpan Mein Toh Shaamein Bhi Hua Karti Thi.
Ab Toh Bas Subah Ke Baad Raat Ho Jaati Hai.
बचपन में तोह शामें भी हुआ करती थी .
अब तोह बस सुबह के बाद रात हो जाती है .
بچپن میں ٹوہ شامیں بھی ہوا کرتی تھی .
اب ٹوہ بس صوبہ کے بعد رات ہو جاتی ہے .
---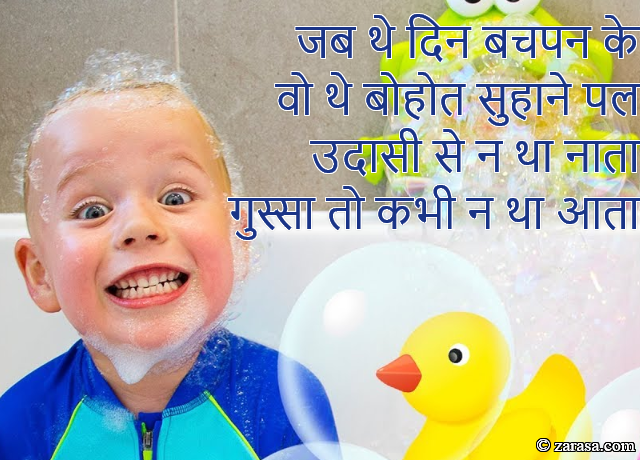 Jab The Din Bachpan Ke
Vo The Bohot Suhane Pal
Udasi Se Na Tha Nata
Gussa To Kabhi Na Tha Aata
जब थे दिन बचपन के
वो थे बोहोत सुहाने पल
उदासी से न था नाता
गुस्सा तो कभी न था आता
جب تھے دن بچپن کے
وو تھے بوہوت سہانے پل
اداسی سے نہ تھا ناتا
گسسا تو کبھی نہ تھا آتا
---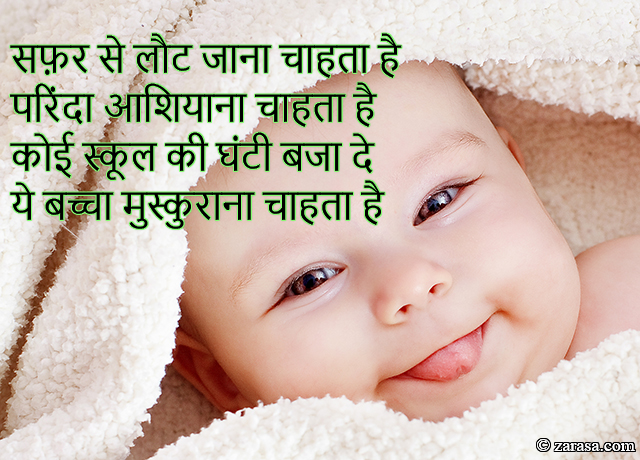 Safar Se Lot Jana Chahta Hai
Parinda Aashyana Chahta Hai,
Koi School Ki Ghanti Bajade
Ye Bachcha Muskurana Chahta Hai.


सफ़र से लौट जाना चाहता है
परिंदा आशियाना चाहता है
कोई स्कूल की घंटी बजा दे
ये बच्चा मुस्कुराना चाहता है
سفر سے لوٹ جانا چاہتا ہے ,
پرندہ آشیانہ چاہتا ہے,
کوی اسکول کی گھنٹی بجا دے
یہ بچچا مسکرانا چاہتا ہے.
---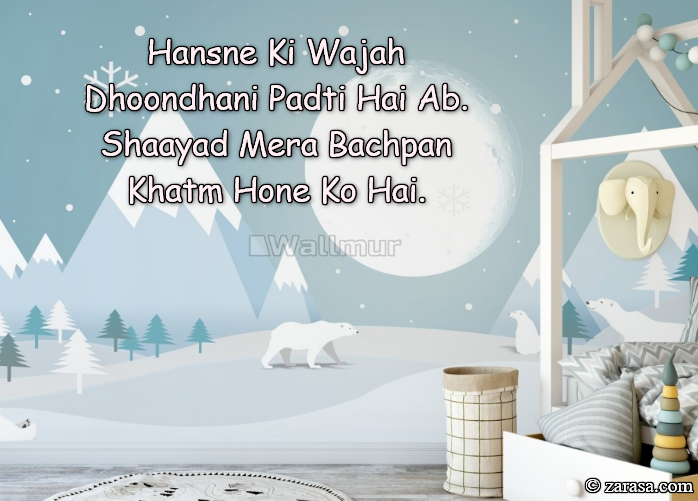 Hansne Ki Wajah Dhoondhani Padti Hai Ab.
Shaayad Mera Bachpan Khatm Hone Ko Hai.
हंसने की वजह ढूंढनी पड़ती है अब .
शायद मेरा बचपन ख़त्म होने को है .
ہنسنے کی وجہ ڈھوندھانی پڑتی ہے اب .
شاید میرا بچپن ختم ہونے کو ہے .
---