Shayari for Kids "मिरे दिल के किसी कोने में, इक मासूम सा बच्चा है."
|
Mere Dil Ke Kisi Kone Me Ek Masoom Sa Bachcha Hai,
Badon Ki Dekhkar Duniya Barda Hone Se Darta Hai.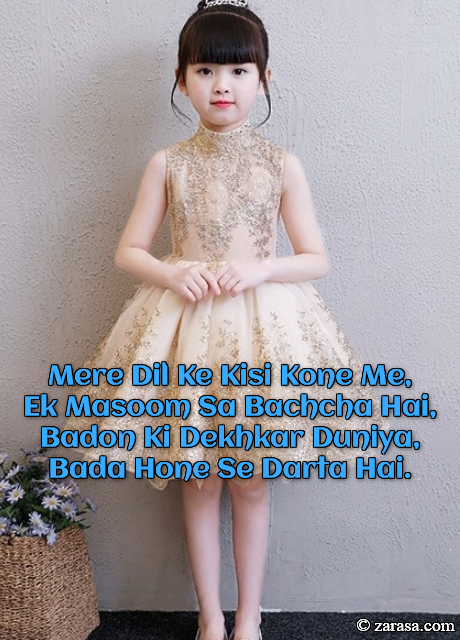 ---

मिरे दिल के किसी कोने में, इक मासूम सा बच्चा है.
बड़ों की देखकर दुनिया, बड़ा होने से डरता है.


---

میرے دل کے کسی کونے مے ایک معصوم سا بچچا ہے,
بڑوں کی دیکھکر دنیا بڑا ہونے سے ڈرتا ہے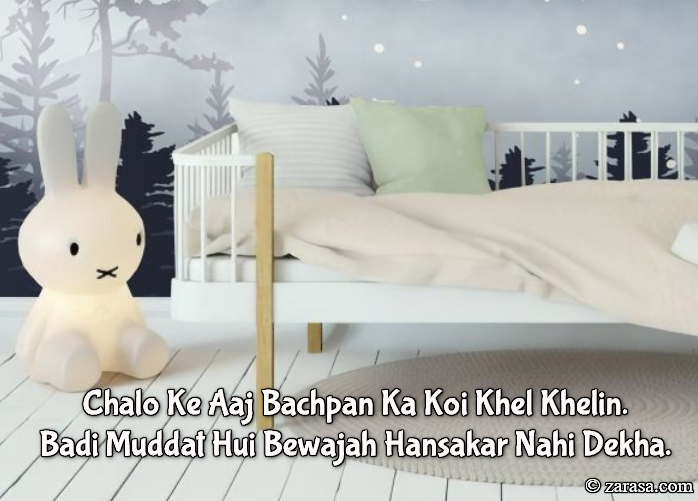 Chalo Ke Aaj Bachpan Ka Koi Khel Khelin.
Badi Muddat Hui Bewajah Hansakar Nahi Dekha.
चलो के आज बचपन का कोई खेल खेलीं .
बड़ी मुद्दत हुई बेवजह हंसकर नहीं देखा .
چلو کے آج بچپن کا کوئی کھل کھیلیں .
بدی مدّت ہی بوجہ ہنساکر نہیں دیکھا .
---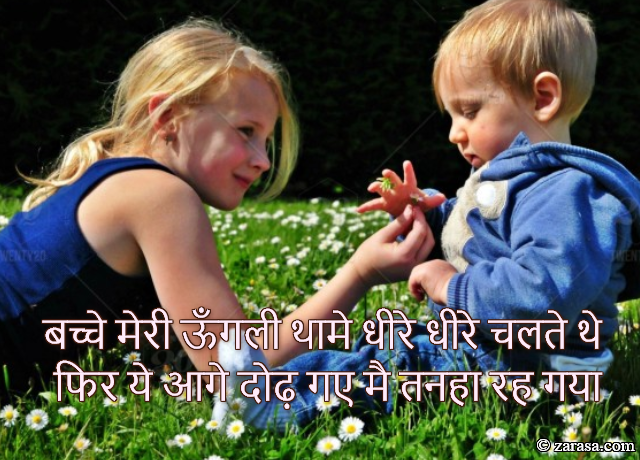 Bachche Meri Ungli Thame Dheere Dheere Chalte The
Phir Ye Aage Daurh Gaye Mai Tanha Reh Gaya.


बच्चे मेरी ऊँगली थामे धीरे धीरे चलते थे
फिर ये आगे दोढ़ गए मै तनहा रह गया .
بچچے میری انگلی تھامے دھیرے دھیرے چلتے تھے
پھر یہ آگے دوڈ گئے می تنہا رہ گیا-
---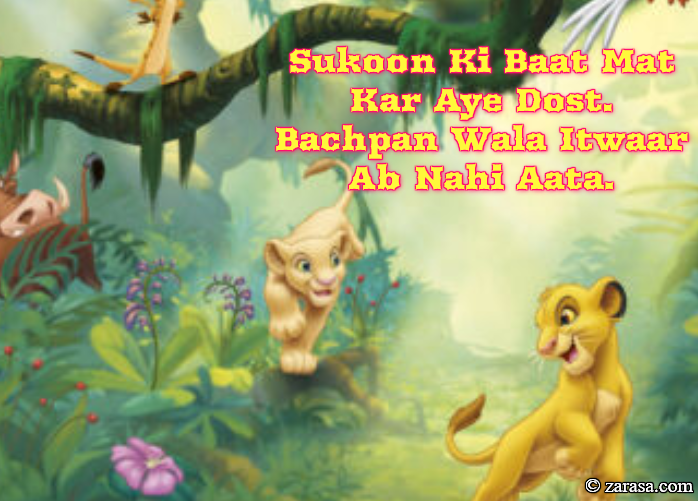 Sukoon Ki Baat Mat Kar Aye Dost.
Bachpan Wala Itwaar Ab Nahi Aata.
सुकून की बात मत कर ए दोस्त .
बचपन वाला इतवार अब नहीं आता .
سکوں کی بات مت کر ہے دوست .
بچپن والا اتوار اب نہیں آتا .
---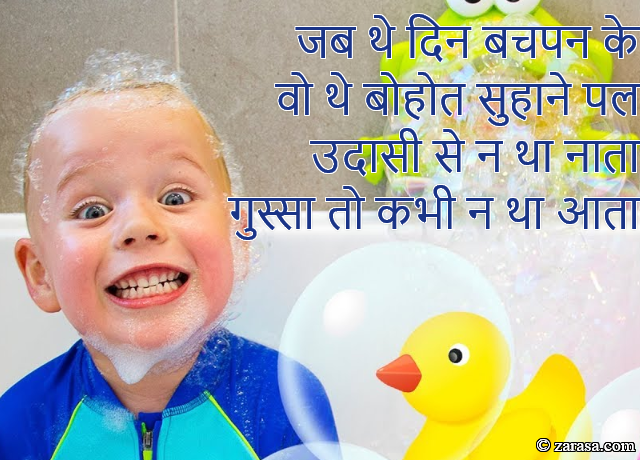 Jab The Din Bachpan Ke
Vo The Bohot Suhane Pal
Udasi Se Na Tha Nata
Gussa To Kabhi Na Tha Aata
जब थे दिन बचपन के
वो थे बोहोत सुहाने पल
उदासी से न था नाता
गुस्सा तो कभी न था आता
جب تھے دن بچپن کے
وو تھے بوہوت سہانے پل
اداسی سے نہ تھا ناتا
گسسا تو کبھی نہ تھا آتا
---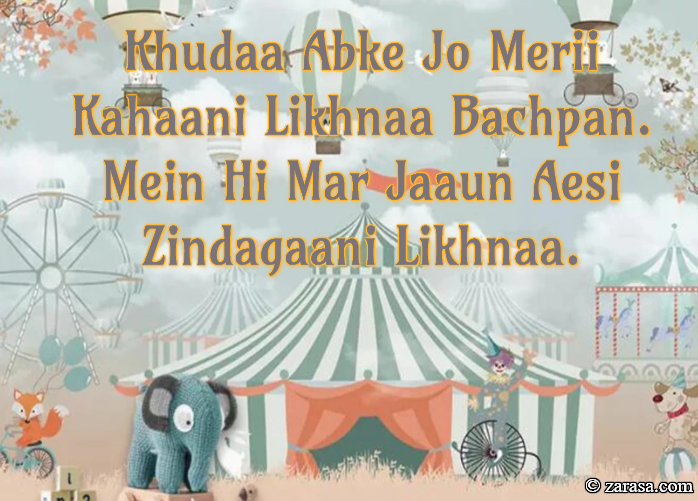 Khudaa Abke Jo Merii Kahaani Likhnaa Bachpan.
Mein Hi Mar Jaaun Aesi Zindagaani Likhnaa.
खुदा अबके जो मेरी कहानी लिखना बचपन .
में ही मर जाऊं ऐसी ज़िंदगानी लिखना .
خدا ابکے جو میری کہانی لکھنا بچپنا .
میں ہی مر جان ایسی زندگانی لکھنا .
---