Shayari for Kids "सफ़र से लौट जाना चाहता है"
|
Safar Se Lot Jana Chahta Hai
Parinda Aashyana Chahta Hai,
Koi School Ki Ghanti Bajade
Ye Bachcha Muskurana Chahta Hai.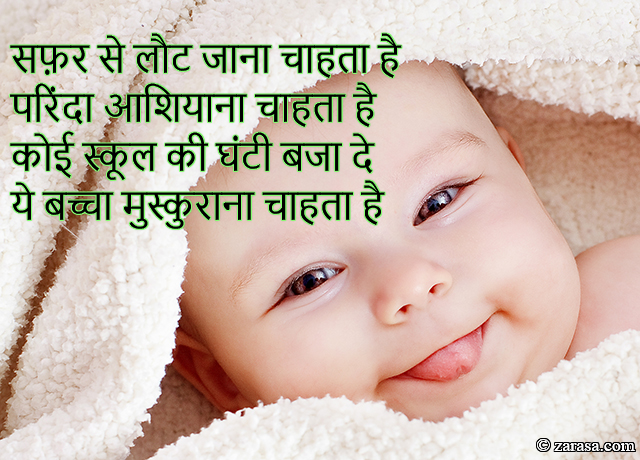 ---

सफ़र से लौट जाना चाहता है
परिंदा आशियाना चाहता है
कोई स्कूल की घंटी बजा दे
ये बच्चा मुस्कुराना चाहता है


---

سفر سے لوٹ جانا چاہتا ہے ,
پرندہ آشیانہ چاہتا ہے,
کوی اسکول کی گھنٹی بجا دے
یہ بچچا مسکرانا چاہتا ہے.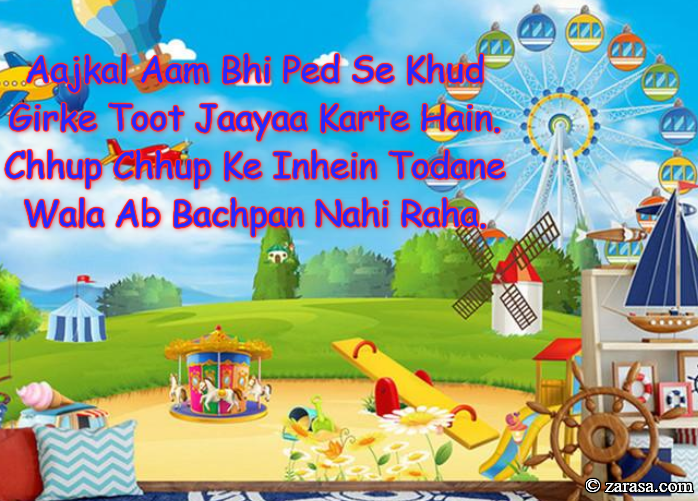 Aajkal Aam Bhi Ped Se Khud Girke Toot Jaayaa Karte Hain.
Chhup Chhup Ke Inhein Todane Wala Ab Bachpan Nahi Raha.
आजकल आम भी पेड़ से खुद गिरके टूट जाया करते हैं .
छुप छुप के इन्हें तोड़ने वाला अब बचपन नहीं रहा .
آجکل ام بھی پید سے خود گرکے ٹوٹ جایا کرتے ہیں .
چھپ چھپ کے انہیں تودانے والا اب بچپن نہیں رہا .
---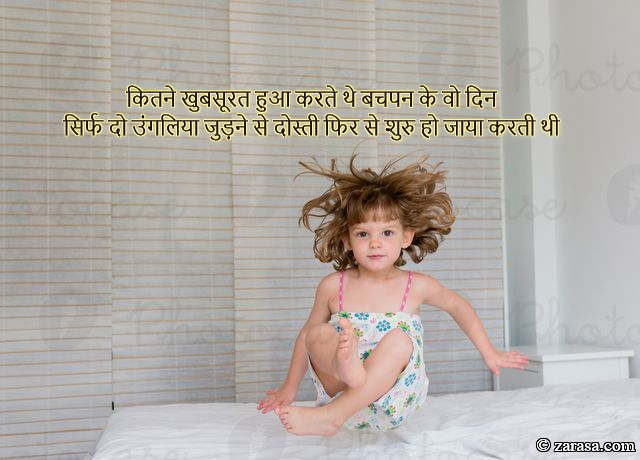 Kitne Khoobsoorat Hua Karte The Bachpan Ke Vo Din
Sirf Do Ungliyan Judne Se Dosti Phir Se Shuru Hojaya Karti Thi.
कितने खुबसूरत हुआ करते थे बचपन के वो दिन
सिर्फ दो उंगलिया जुड़ने से दोस्ती फिर से शुरु हो जाया करती थी
کتنے خوبصورت ہوا کرتے تھے بچپن کے وہ دن
صرف دو انگلیاں جڑنے سے دوستی پھر سے شرو ہوجایا کرتی تھی.
---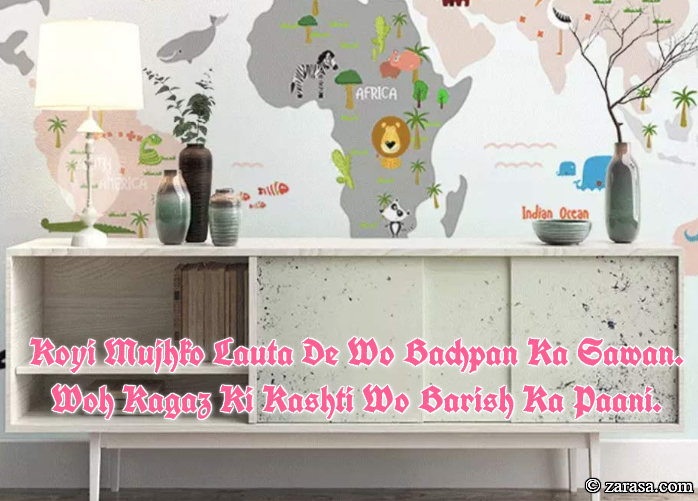 Koyi Mujhko Lauta De Wo Bachpan Ka Sawan.
Woh Kagaz Ki Kashti Wo Barish Ka Paani.
कोई मुझको लौटा दे वो बचपन का सावन .
वह कागज़ की कश्ती वो बारिश का पानी .

کویی مجھکو لوٹا دے وو بچپن کا ساون .
وہ کگاز کی کشتی وو بارش کا پانی .
---
Der Tak Hansta Raha Unn Par Humara Bachpana.
Jab Tajurbe Aaye The Sanjeeda Banaane Ke Liye.
देर तक हँसता रहा उन् पर हमारा बचपना .
जब तजुर्बे आये थे संजीदा बनाने के लिए .
دیر تک ہنستا رہا ان پر ہمارا بچپنا .
جب تجربے اے تھے سنجیدہ بنانے کے لیا .
---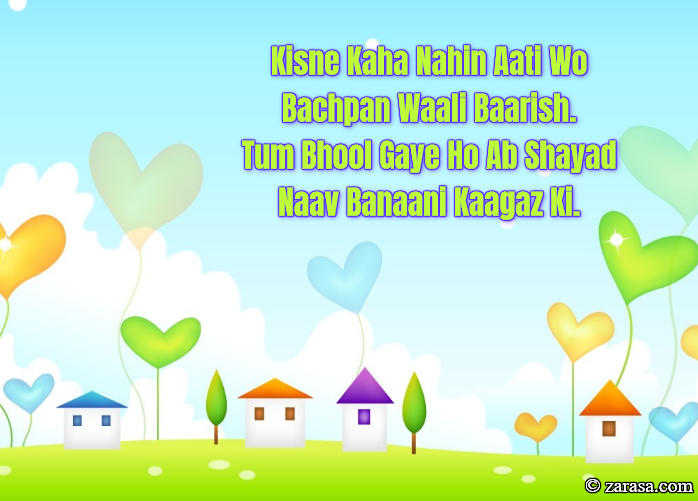 Kisne Kaha Nahin Aati Wo Bachpan Waali Baarish.
Tum Bhool Gaye Ho Ab Shayad Naav Banaani Kaagaz Ki.
किसने कहा नहीं आती वो बचपन वाली बारिश .
तुम भूल गए हो अब शायद नाव बनानी कागज़ की .
کسنے کہا نہیں آتی وو بچپن والی بارش .
تم بھول گئے ہو اب شاید ناؤ بنانی کاگز کی .
---