Shayari for Kids "सफ़र से लौट जाना चाहता है"
Safar Se Lot Jana Chahta Hai
Parinda Aashyana Chahta Hai,
Koi School Ki Ghanti Bajade
Ye Bachcha Muskurana Chahta Hai.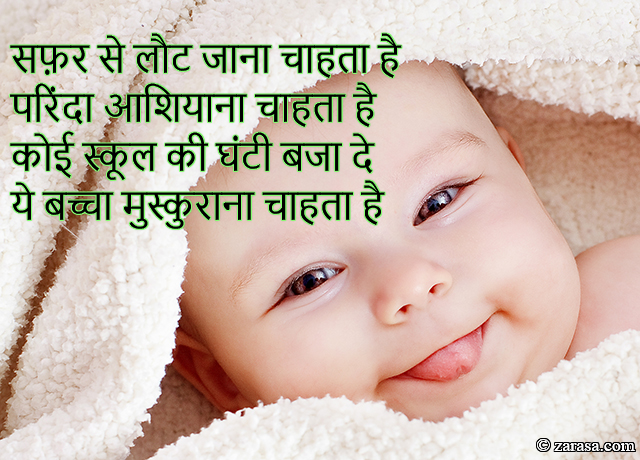 ---

सफ़र से लौट जाना चाहता है
परिंदा आशियाना चाहता है
कोई स्कूल की घंटी बजा दे
ये बच्चा मुस्कुराना चाहता है


---

سفر سے لوٹ جانا چاہتا ہے ,
پرندہ آشیانہ چاہتا ہے,
کوی اسکول کی گھنٹی بجا دے
یہ بچچا مسکرانا چاہتا ہے.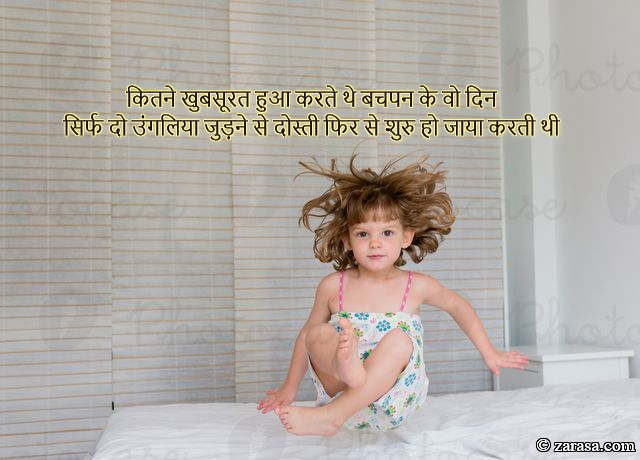 Kitne Khoobsoorat Hua Karte The Bachpan Ke Vo Din
Sirf Do Ungliyan Judne Se Dosti Phir Se Shuru Hojaya Karti Thi.
कितने खुबसूरत हुआ करते थे बचपन के वो दिन
सिर्फ दो उंगलिया जुड़ने से दोस्ती फिर से शुरु हो जाया करती थी
کتنے خوبصورت ہوا کرتے تھے بچپن کے وہ دن
صرف دو انگلیاں جڑنے سے دوستی پھر سے شرو ہوجایا کرتی تھی.
---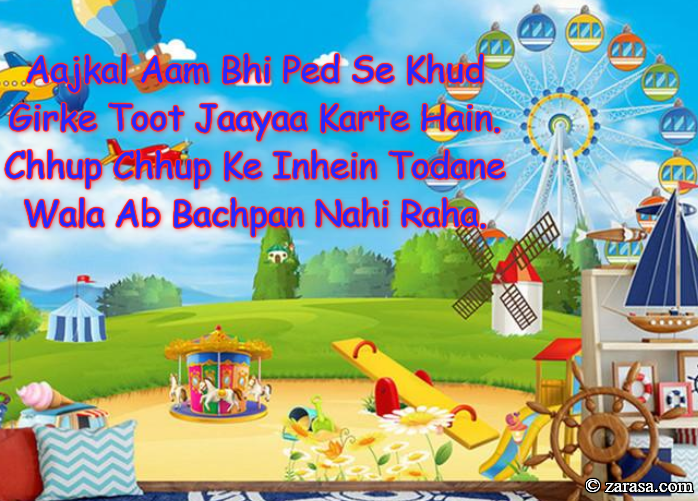 Aajkal Aam Bhi Ped Se Khud Girke Toot Jaayaa Karte Hain.
Chhup Chhup Ke Inhein Todane Wala Ab Bachpan Nahi Raha.
आजकल आम भी पेड़ से खुद गिरके टूट जाया करते हैं .
छुप छुप के इन्हें तोड़ने वाला अब बचपन नहीं रहा .
آجکل ام بھی پید سے خود گرکے ٹوٹ جایا کرتے ہیں .
چھپ چھپ کے انہیں تودانے والا اب بچپن نہیں رہا .
---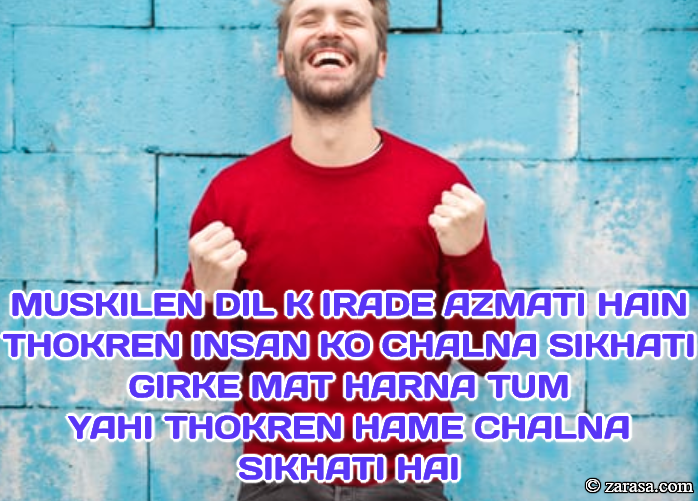 MUSHKILEN DIL KE IRADE AZMATI HAIN
THOKREN INSAN KO CHALNA SIKHATI
GIRKE MAT HARNA TUM
YAHI THOKREN HAME CHALNA SIKHATI HAI
मुश्किलें दिल क इरादे आज़माती हैं
ठोकरें इंसान को चलना सिखाती
गिरके मत हारना तुम
यही ठोकरें हमें चलना सिखाती है
مشکلیں دل کے ارادے آزماتی ہیں
ٹھوکریں انسان کو چلنا سیکھاتی
گرکے مت ہارنا تم
یہی ٹھوکریں ہمی چلنا سیکھاتی ہے
---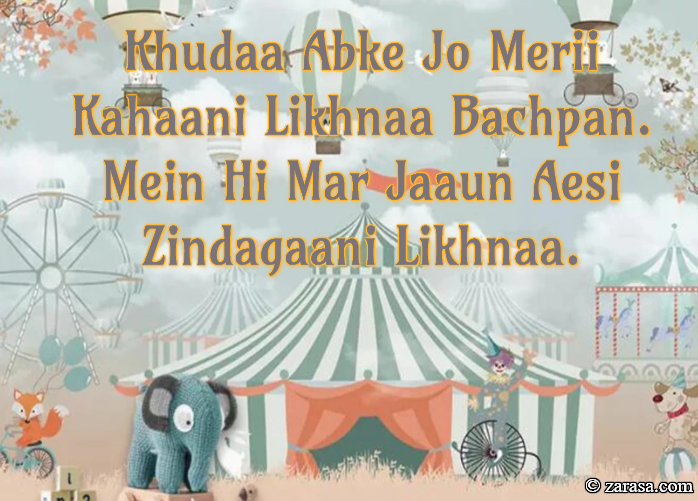 Khudaa Abke Jo Merii Kahaani Likhnaa Bachpan.
Mein Hi Mar Jaaun Aesi Zindagaani Likhnaa.
खुदा अबके जो मेरी कहानी लिखना बचपन .
में ही मर जाऊं ऐसी ज़िंदगानी लिखना .
خدا ابکے جو میری کہانی لکھنا بچپنا .
میں ہی مر جان ایسی زندگانی لکھنا .
---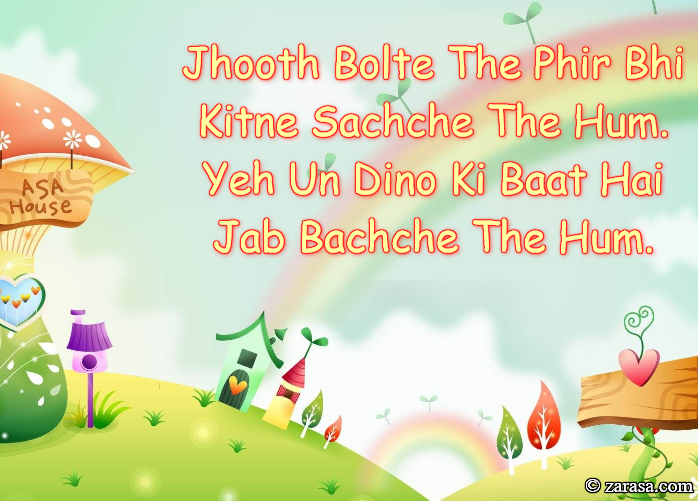 Jhooth Bolte The Phir Bhi Kitne Sachche The Hum.
Yeh Un Dino Ki Baat Hai Jab Bachche The Hum.
झूठ बोलते थे फिर भी कितने सच्चे थे हम .
यह उन दिनों की बात है जब बच्चे थे हम .
جھوٹھ بولتے تھے پھر بھی کتنے سچچے تھے ہم .
یہ ان دنو کی بات ہے جب بچچے تھے ہم .
---