Shayari for Kids "सफ़र से लौट जाना चाहता है"
|
Safar Se Lot Jana Chahta Hai
Parinda Aashyana Chahta Hai,
Koi School Ki Ghanti Bajade
Ye Bachcha Muskurana Chahta Hai.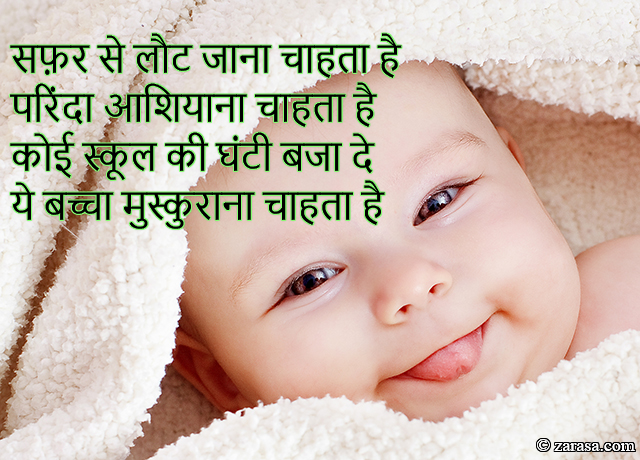 ---

सफ़र से लौट जाना चाहता है
परिंदा आशियाना चाहता है
कोई स्कूल की घंटी बजा दे
ये बच्चा मुस्कुराना चाहता है


---

سفر سے لوٹ جانا چاہتا ہے ,
پرندہ آشیانہ چاہتا ہے,
کوی اسکول کی گھنٹی بجا دے
یہ بچچا مسکرانا چاہتا ہے.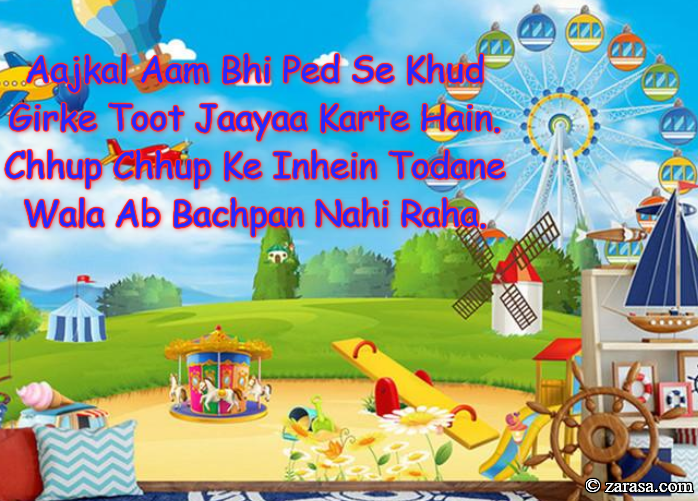 Aajkal Aam Bhi Ped Se Khud Girke Toot Jaayaa Karte Hain.
Chhup Chhup Ke Inhein Todane Wala Ab Bachpan Nahi Raha.
आजकल आम भी पेड़ से खुद गिरके टूट जाया करते हैं .
छुप छुप के इन्हें तोड़ने वाला अब बचपन नहीं रहा .
آجکل ام بھی پید سے خود گرکے ٹوٹ جایا کرتے ہیں .
چھپ چھپ کے انہیں تودانے والا اب بچپن نہیں رہا .
---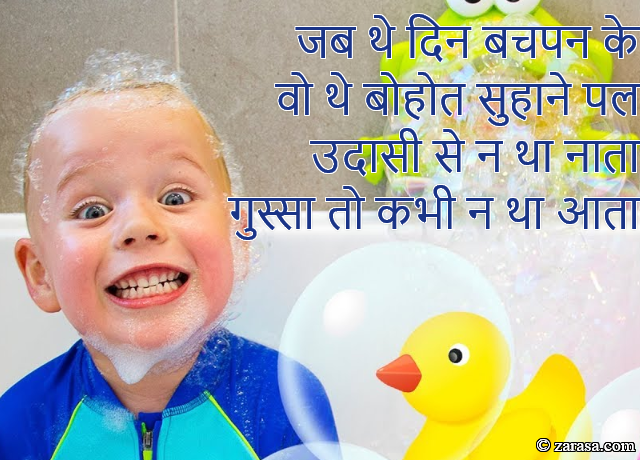 Jab The Din Bachpan Ke
Vo The Bohot Suhane Pal
Udasi Se Na Tha Nata
Gussa To Kabhi Na Tha Aata
जब थे दिन बचपन के
वो थे बोहोत सुहाने पल
उदासी से न था नाता
गुस्सा तो कभी न था आता
جب تھے دن بچپن کے
وو تھے بوہوت سہانے پل
اداسی سے نہ تھا ناتا
گسسا تو کبھی نہ تھا آتا
---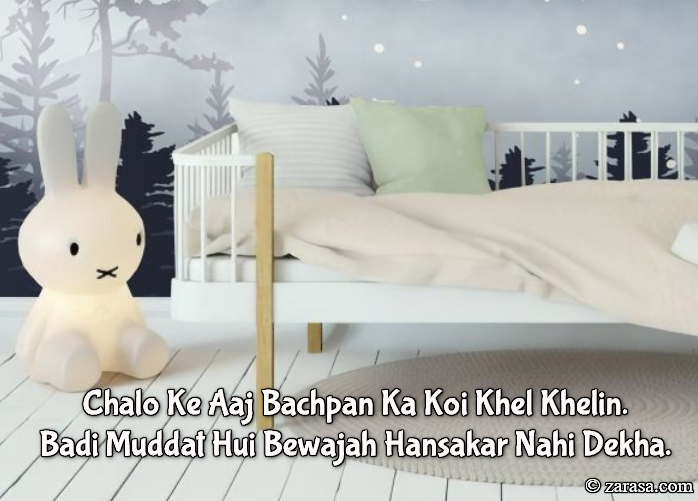 Chalo Ke Aaj Bachpan Ka Koi Khel Khelin.
Badi Muddat Hui Bewajah Hansakar Nahi Dekha.
चलो के आज बचपन का कोई खेल खेलीं .
बड़ी मुद्दत हुई बेवजह हंसकर नहीं देखा .
چلو کے آج بچپن کا کوئی کھل کھیلیں .
بدی مدّت ہی بوجہ ہنساکر نہیں دیکھا .
---
Der Tak Hansta Raha Unn Par Humara Bachpana.
Jab Tajurbe Aaye The Sanjeeda Banaane Ke Liye.
देर तक हँसता रहा उन् पर हमारा बचपना .
जब तजुर्बे आये थे संजीदा बनाने के लिए .
دیر تک ہنستا رہا ان پر ہمارا بچپنا .
جب تجربے اے تھے سنجیدہ بنانے کے لیا .
---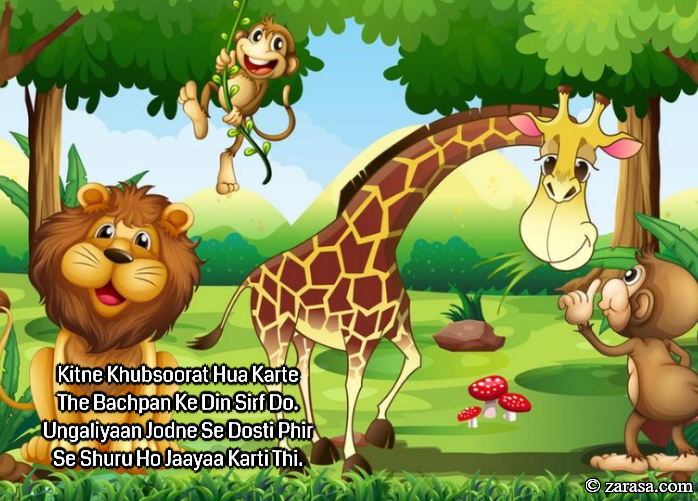 Kitne Khubsoorat Hua Karte The Bachpan Ke Din Sirf Do.
Ungaliyaan Jodne Se Dosti Phir Se Shuru Ho Jaayaa Karti Thi.
कितने खूबसूरत हुआ करते थे बचपन के दिन सिर्फ दो .
उंगलियां जोड़ने से दोस्ती फिर से शुरू हो जाया करती थी .
کتنے خوبصورت ہوا کرتے تھے بچپن کے دن صرف دو .
انگلیاں جوڑنے سے دوستی پھر سے شرو ہو جایا کرتی تھی .
---