Shayari for Kids "सफ़र से लौट जाना चाहता है"
|
Safar Se Lot Jana Chahta Hai
Parinda Aashyana Chahta Hai,
Koi School Ki Ghanti Bajade
Ye Bachcha Muskurana Chahta Hai.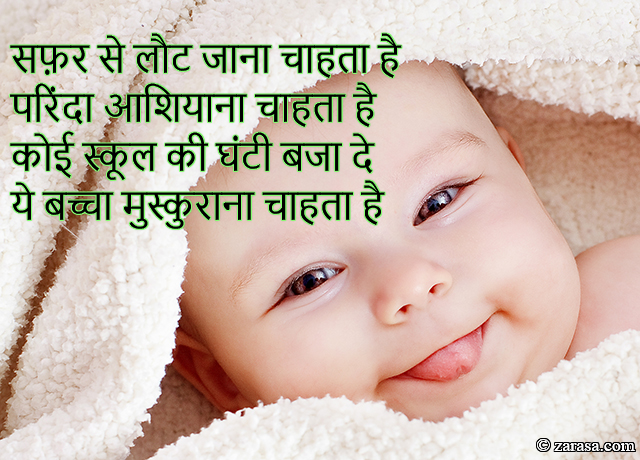 ---

सफ़र से लौट जाना चाहता है
परिंदा आशियाना चाहता है
कोई स्कूल की घंटी बजा दे
ये बच्चा मुस्कुराना चाहता है


---

سفر سے لوٹ جانا چاہتا ہے ,
پرندہ آشیانہ چاہتا ہے,
کوی اسکول کی گھنٹی بجا دے
یہ بچچا مسکرانا چاہتا ہے.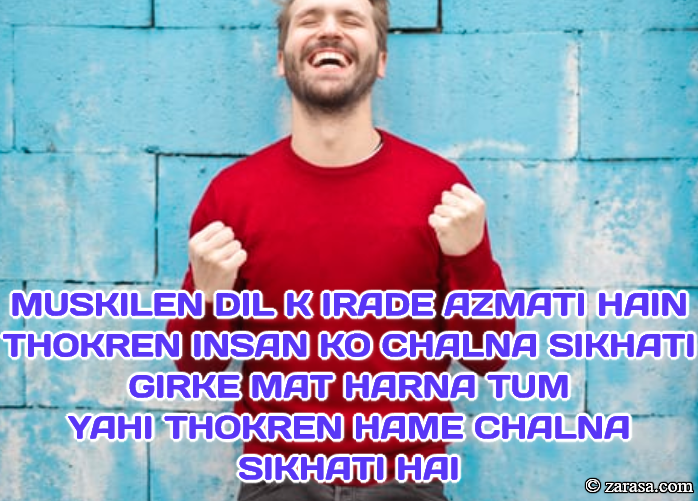 MUSHKILEN DIL KE IRADE AZMATI HAIN
THOKREN INSAN KO CHALNA SIKHATI
GIRKE MAT HARNA TUM
YAHI THOKREN HAME CHALNA SIKHATI HAI
मुश्किलें दिल क इरादे आज़माती हैं
ठोकरें इंसान को चलना सिखाती
गिरके मत हारना तुम
यही ठोकरें हमें चलना सिखाती है
مشکلیں دل کے ارادے آزماتی ہیں
ٹھوکریں انسان کو چلنا سیکھاتی
گرکے مت ہارنا تم
یہی ٹھوکریں ہمی چلنا سیکھاتی ہے
---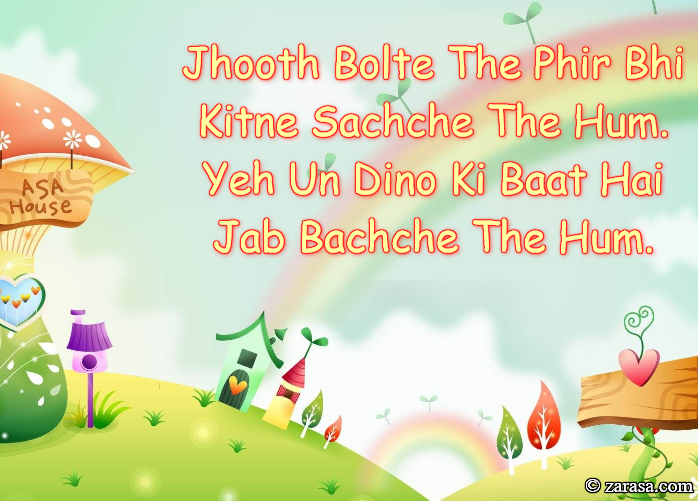 Jhooth Bolte The Phir Bhi Kitne Sachche The Hum.
Yeh Un Dino Ki Baat Hai Jab Bachche The Hum.
झूठ बोलते थे फिर भी कितने सच्चे थे हम .
यह उन दिनों की बात है जब बच्चे थे हम .
جھوٹھ بولتے تھے پھر بھی کتنے سچچے تھے ہم .
یہ ان دنو کی بات ہے جب بچچے تھے ہم .
---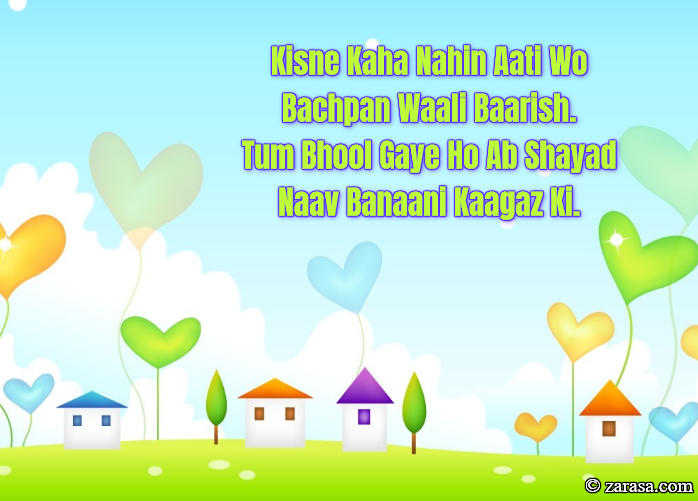 Kisne Kaha Nahin Aati Wo Bachpan Waali Baarish.
Tum Bhool Gaye Ho Ab Shayad Naav Banaani Kaagaz Ki.
किसने कहा नहीं आती वो बचपन वाली बारिश .
तुम भूल गए हो अब शायद नाव बनानी कागज़ की .
کسنے کہا نہیں آتی وو بچپن والی بارش .
تم بھول گئے ہو اب شاید ناؤ بنانی کاگز کی .
---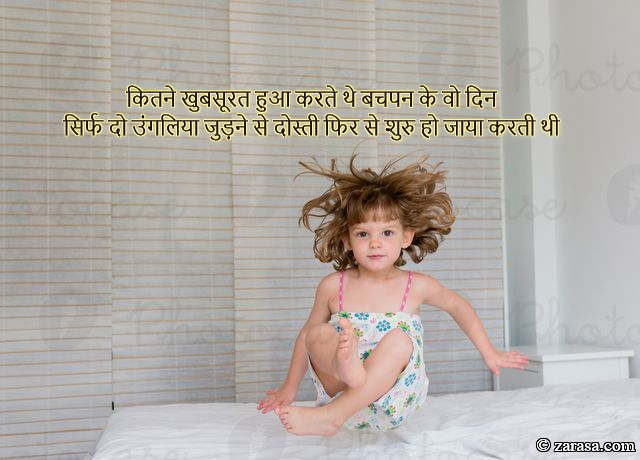 Kitne Khoobsoorat Hua Karte The Bachpan Ke Vo Din
Sirf Do Ungliyan Judne Se Dosti Phir Se Shuru Hojaya Karti Thi.
कितने खुबसूरत हुआ करते थे बचपन के वो दिन
सिर्फ दो उंगलिया जुड़ने से दोस्ती फिर से शुरु हो जाया करती थी
کتنے خوبصورت ہوا کرتے تھے بچپن کے وہ دن
صرف دو انگلیاں جڑنے سے دوستی پھر سے شرو ہوجایا کرتی تھی.
---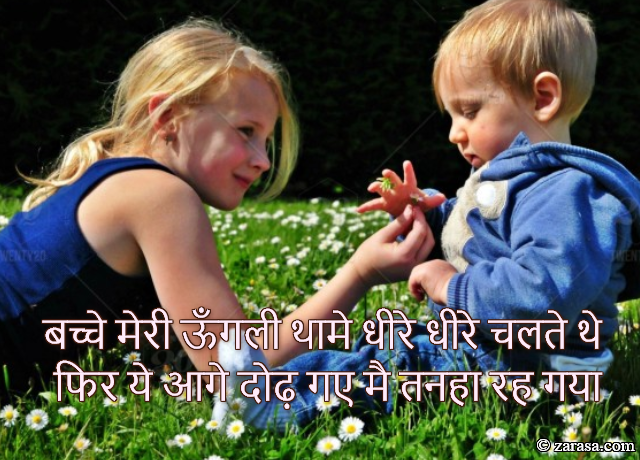 Bachche Meri Ungli Thame Dheere Dheere Chalte The
Phir Ye Aage Daurh Gaye Mai Tanha Reh Gaya.


बच्चे मेरी ऊँगली थामे धीरे धीरे चलते थे
फिर ये आगे दोढ़ गए मै तनहा रह गया .
بچچے میری انگلی تھامے دھیرے دھیرے چلتے تھے
پھر یہ آگے دوڈ گئے می تنہا رہ گیا-
---