Shayari for Kamyabi (success)"GIRKE MAT HARNA TUM"
|
MUSHKILEN DIL KE IRADE AZMATI HAIN
THOKREN INSAN KO CHALNA SIKHATI
GIRKE MAT HARNA TUM
YAHI THOKREN HAME CHALNA SIKHATI HAI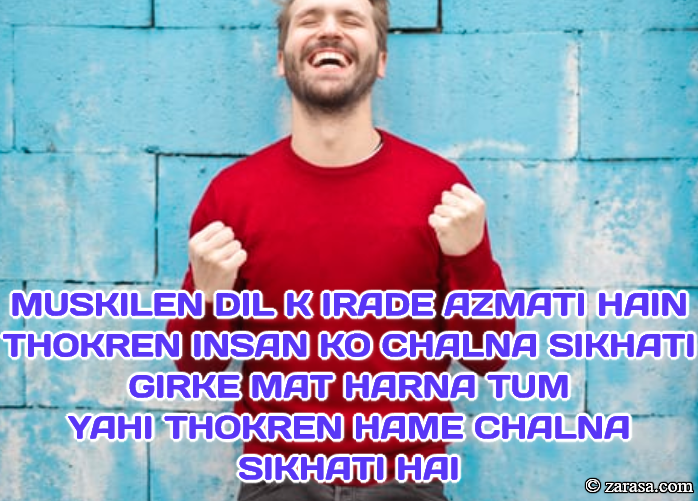 ---

मुश्किलें दिल क इरादे आज़माती हैं
ठोकरें इंसान को चलना सिखाती
गिरके मत हारना तुम
यही ठोकरें हमें चलना सिखाती है


---

مشکلیں دل کے ارادے آزماتی ہیں
ٹھوکریں انسان کو چلنا سیکھاتی
گرکے مت ہارنا تم
یہی ٹھوکریں ہمی چلنا سیکھاتی ہے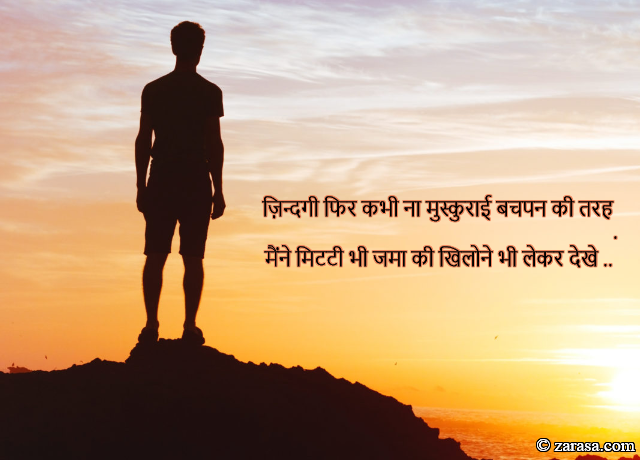 Zindagi Phir Kabhi Na Muskurai Bachpan Ki Tarha.
Maine Mitti Bhi Jama Ki Khilone Bhi Lekar Dekhe.
ज़िन्दगी फिर कभी ना मुस्कुराई बचपन की तरह .
मैंने मिटटी भी जमा की खिलोने भी लेकर देखे .
زندگی پھر کبھی نہ مسکرائی بچپن کی تارہا .
مہینے متی بھی جما کی کھلونے بھی لیکر دیکھ .
---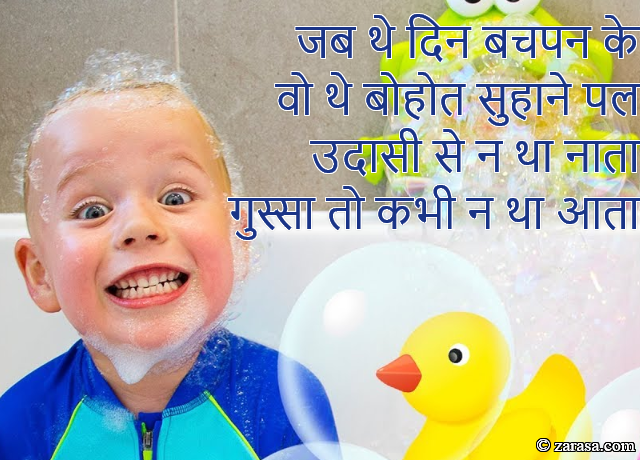 Jab The Din Bachpan Ke
Vo The Bohot Suhane Pal
Udasi Se Na Tha Nata
Gussa To Kabhi Na Tha Aata
जब थे दिन बचपन के
वो थे बोहोत सुहाने पल
उदासी से न था नाता
गुस्सा तो कभी न था आता
جب تھے دن بچپن کے
وو تھے بوہوت سہانے پل
اداسی سے نہ تھا ناتا
گسسا تو کبھی نہ تھا آتا
---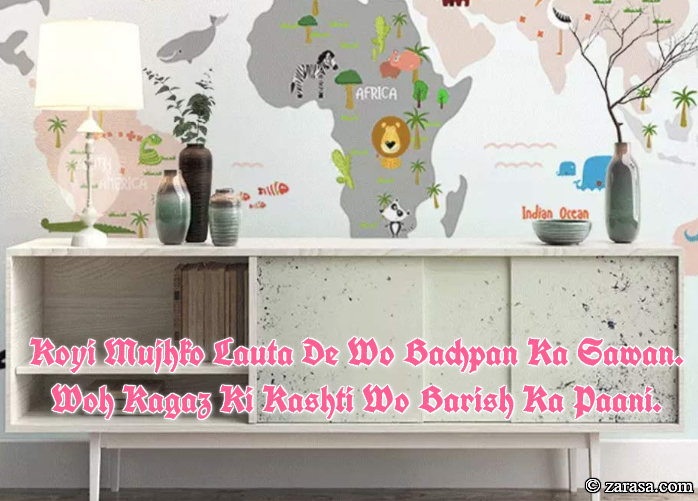 Koyi Mujhko Lauta De Wo Bachpan Ka Sawan.
Woh Kagaz Ki Kashti Wo Barish Ka Paani.
कोई मुझको लौटा दे वो बचपन का सावन .
वह कागज़ की कश्ती वो बारिश का पानी .

کویی مجھکو لوٹا دے وو بچپن کا ساون .
وہ کگاز کی کشتی وو بارش کا پانی .
---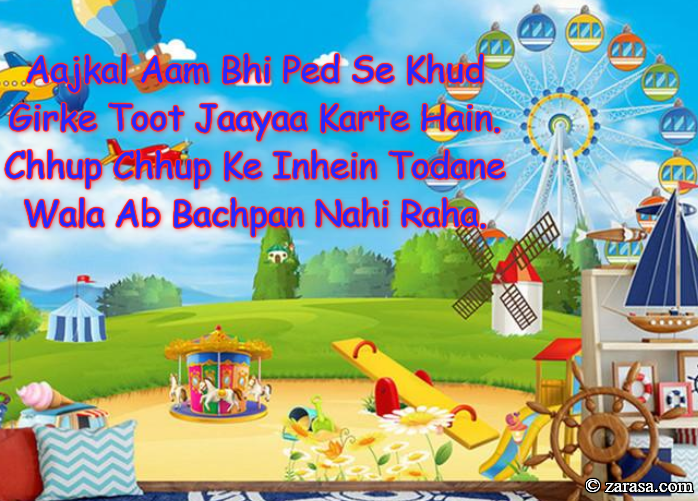 Aajkal Aam Bhi Ped Se Khud Girke Toot Jaayaa Karte Hain.
Chhup Chhup Ke Inhein Todane Wala Ab Bachpan Nahi Raha.
आजकल आम भी पेड़ से खुद गिरके टूट जाया करते हैं .
छुप छुप के इन्हें तोड़ने वाला अब बचपन नहीं रहा .
آجکل ام بھی پید سے خود گرکے ٹوٹ جایا کرتے ہیں .
چھپ چھپ کے انہیں تودانے والا اب بچپن نہیں رہا .
---
Thodi Si Ebaadat Bohat Sa Sila Deti Hai
Gulab Ki Tarha Chehra Khila Deti Hai
Allah Ki Yaad Ko Dil Se Jane Na Dena
Kabhi Kabhi Choti Si Dua Arsh Hila Deti Hai
थोड़ी सी इबादत बोहत सा सिला देती है
गुलाब की तरह चेहरा खिला देती है
अल्लाह की याद को दिल से जाने न देना
कभी कभी छोटी सी दुआ अर्श हिला देती है
تھوڑی سی عبادت بہت سا سلا دیتی ہے
گلاب کی طرھ چہرہ کھلا دیتی ہے
الله کی یاد کو دل سے جانے نہ دینا  
کبھی کبھی چھوٹی سی دوا عرش ہلا دیتی ہے
---