Shayari for Kamyabi (success)"GIRKE MAT HARNA TUM"
|
MUSHKILEN DIL KE IRADE AZMATI HAIN
THOKREN INSAN KO CHALNA SIKHATI
GIRKE MAT HARNA TUM
YAHI THOKREN HAME CHALNA SIKHATI HAI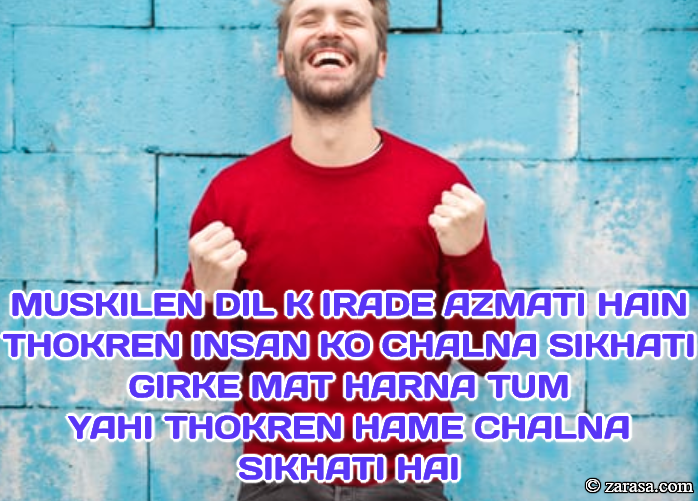 ---

मुश्किलें दिल क इरादे आज़माती हैं
ठोकरें इंसान को चलना सिखाती
गिरके मत हारना तुम
यही ठोकरें हमें चलना सिखाती है


---

مشکلیں دل کے ارادے آزماتی ہیں
ٹھوکریں انسان کو چلنا سیکھاتی
گرکے مت ہارنا تم
یہی ٹھوکریں ہمی چلنا سیکھاتی ہے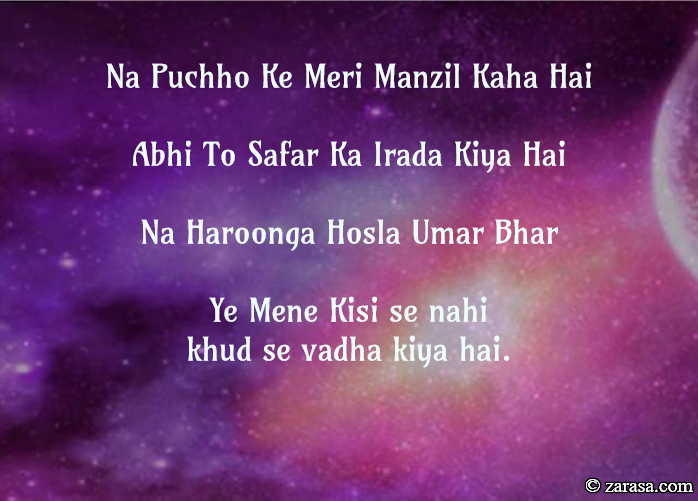 Na Puchho Ke Meri Manzil Kaha Hai
Abhi To Safar Ka Irada Kiya Hai
Na Haroonga Hosla Umar Bhar
Ye Mene Kisi se nahi khud se vadha kiya hai.
न पूछो के मेरी मंज़िल कहा है
अभी तो सफर का इरादा किया है
न हरूँगा हौसला उम्र भ
ये मेने किसी से नहीं खुद से वधा किया है .
نہ پوچھو کے میری منزل کہاں ہے
ابھی تو سفر کا ارادہ کیا ہے
نہ حرونگا حوصلہ امر بھر
یہ مینے کسی سے نہیں خود سے ودھ کیا ہے .
---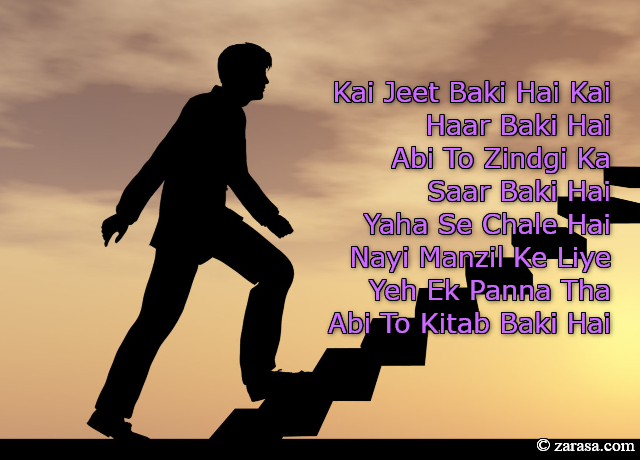 Kai Jeet Baki Hai Kai Haar Baki Hai
Abi To Zindgi Ka Saar Baki Hai
Yaha Se Chale Hai Nayi Manzil Ke Liye
Yeh Ek Panna Tha Abi To Kitab Baki Hai
कई जीत बाकि है कई हार बाकि है
अभी तो ज़िंदग का सा बाकि है
यहाँ से चले है नयी मंजिल के लिए
यह एक पन्ना था अभी तो किताब बाकि है
کیا جیت باقی ہے کیا ہار باقی ہے
ابھی تو زندگی کا سار باقی ہے
یہاں سے چلے ہے نیی منزل کے لئے
یہ ایک پنا تھا ابھی تو کتاب باقی ہے
---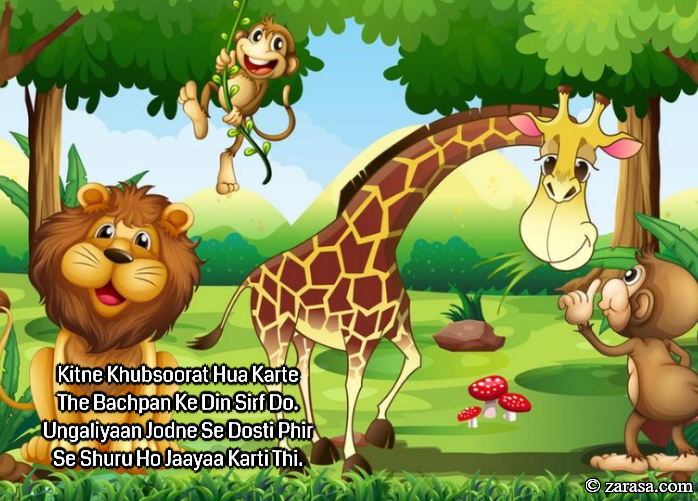 Kitne Khubsoorat Hua Karte The Bachpan Ke Din Sirf Do.
Ungaliyaan Jodne Se Dosti Phir Se Shuru Ho Jaayaa Karti Thi.
कितने खूबसूरत हुआ करते थे बचपन के दिन सिर्फ दो .
उंगलियां जोड़ने से दोस्ती फिर से शुरू हो जाया करती थी .
کتنے خوبصورت ہوا کرتے تھے بچپن کے دن صرف دو .
انگلیاں جوڑنے سے دوستی پھر سے شرو ہو جایا کرتی تھی .
---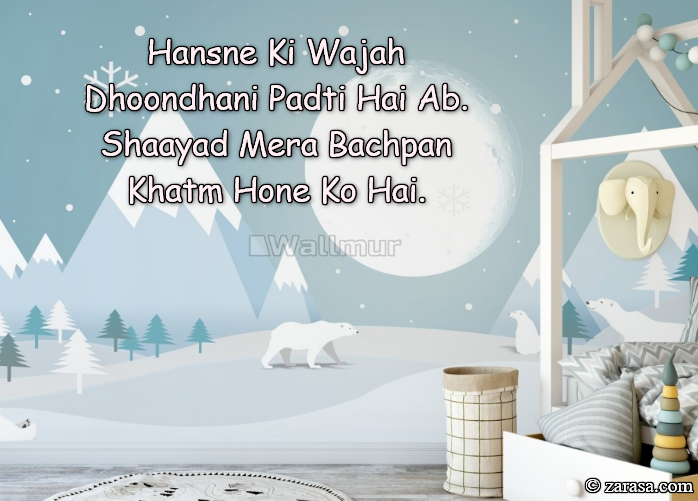 Hansne Ki Wajah Dhoondhani Padti Hai Ab.
Shaayad Mera Bachpan Khatm Hone Ko Hai.
हंसने की वजह ढूंढनी पड़ती है अब .
शायद मेरा बचपन ख़त्म होने को है .
ہنسنے کی وجہ ڈھوندھانی پڑتی ہے اب .
شاید میرا بچپن ختم ہونے کو ہے .
---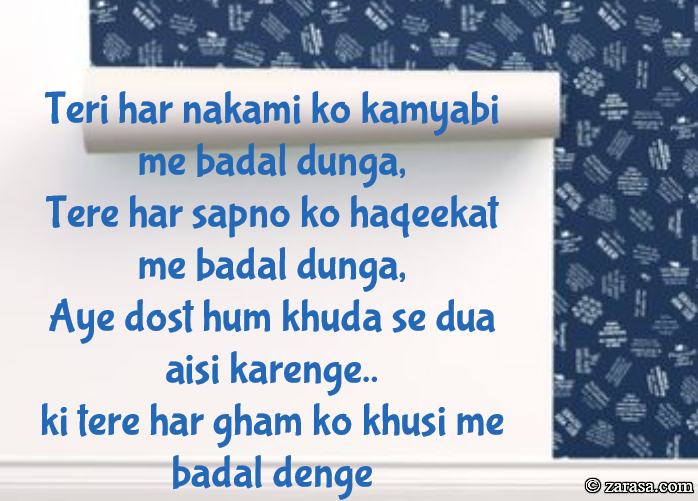 Teri Har Nakami Ko Kamyabi Me Badal Dunga.
Tere Har Sapno Ko Haqeekat Me Badal Dunga.
Aye Dost Hum Khuda Se Dua Aisi Karenge.
Ki Tere Har Gham Ko Khusi Me Badal Denge.
तेरी हर नाकामी को कामयाब में बदल दूंगा ,
तेरे हर सपनो को हक़ीक़त में बदल दूंगा ,
ए दोस्त हम खुदा से दुआ ऐसी करेंगे ..
की तेरे हर ग़म को खुसी में बदल देंगे
تیری ہر ناکامی کو کامیابی مے بدل دونگ ,
تیرے ہر سپنو کو حقیقت مے بدل دونگا ,
ہے دوست ہم خدا سے دوا ایسی کرینگے ..
کی تیرے ہر غم کو خصی مے بدل دینگے
---