Shayari for Mother "Sard Ki Ye Pehli Hawa Mujhko Rula Gai"
|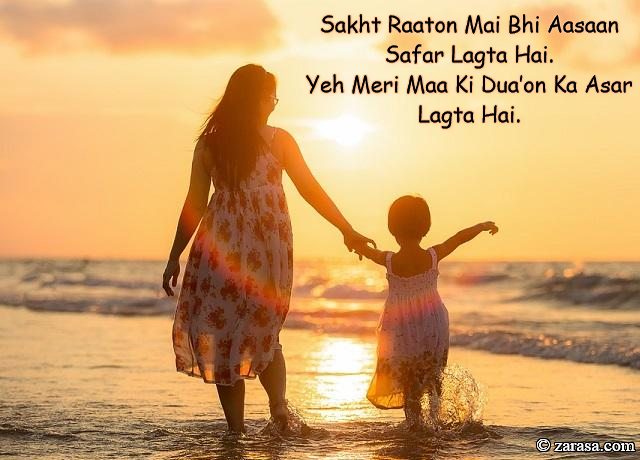 Sakht Raaton Mai Bhi Aasaan Safar Lagta Hai.
Yeh Meri Maa Ki Dua'on Ka Asar Lagta Hai.
सख़्त रातों मै भी आसान सफ़र लगता है .
यह मेरी माँ की दुआओं का असर लगता है .
سخت راتوں می بھی آسان سفر لگتا ہے .
یہ میری ما کی دعاؤں کا اثر لگتا ہے .
---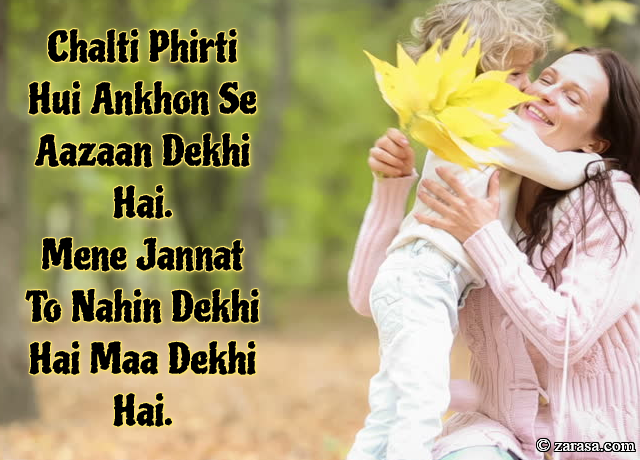 Chalti Phirti Hui Ankhon Se Aazaan Dekhi Hai.
Mene Jannat To Nahin Dekhi Hai Maa Dekhi Hai.
चलती फिरती हुई आँखों से आज़ान देखी है .
मेने जन्नत तो नहीं देखी है माँ देखी है .
چلتی پھرتی ہی آنکھوں سے ازاں دیکھی ہے .
منے جنّت تو نہیں دیکھی ہے ما دیکھی ہے .
---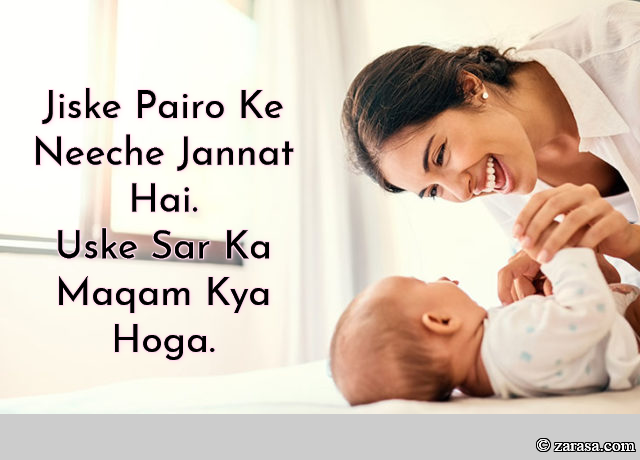 Jiske Pairo Ke Neeche Jannat Hai.
Uske Sar Ka Maqam Kya Hoga.
जिसके पैरो के नीचे जन्नत है .
उसके सर का मक़ाम क्या होगा .
جسکے پیرو کے نیچے جنّت ہے .
اسکے سر کا مقام کیا ہوگا .
---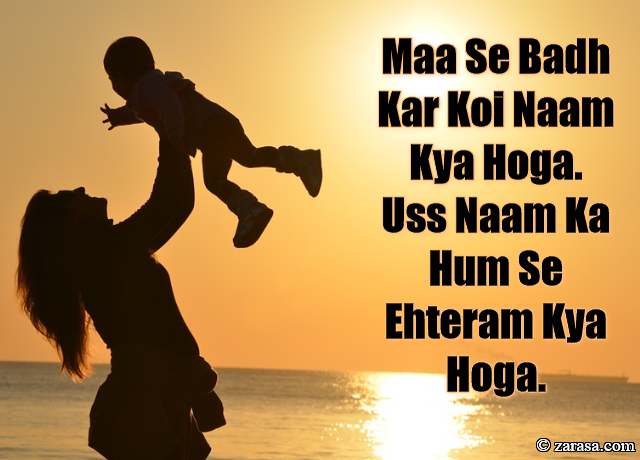 Maa Se Badh Kar Koi Naam Kya Hoga.
Uss Naam Ka Hum Se Ehteram Kya Hoga.
माँ से बढ़ कर कोई नाम क्या होगा .
उस नाम का हम से एहतेराम क्या होगा .
ما سے بڑھ کر کوئی نام کیا ہوگا .
اس نام کا ہم سے احترام کیا ہوگا .
---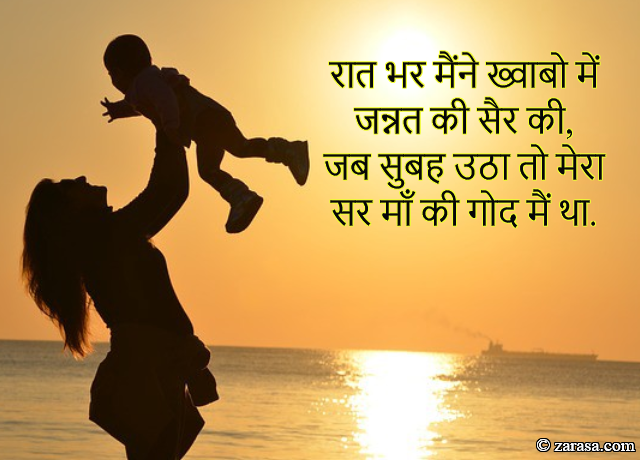 Raat Bhar Maine Khwabo Me Jannat Ki Sair Ki
Jab Subah Utha To Mera Sar Maa Ki God Me Tha.
रात भर मैंने ख्वाबो में जन्नत की सैर की
जब सुबह उठा तो मेरा सर माँ की गोद मैं था .
رات بھر مہینے خوابو میں جنّت کی سیر کی
جب صوبہ اٹھا تو میرا سر ماں کی گود میں تھا .
---