Shayari for Mother"Mere Hisse Main Maa Aai"
|
Kisi Ko Ghar Mila Hisse Main Ya Koi Dukan Aai.
Main Ghar Main Sab Se Chota Tha Mere Hisse Main Maa Aai.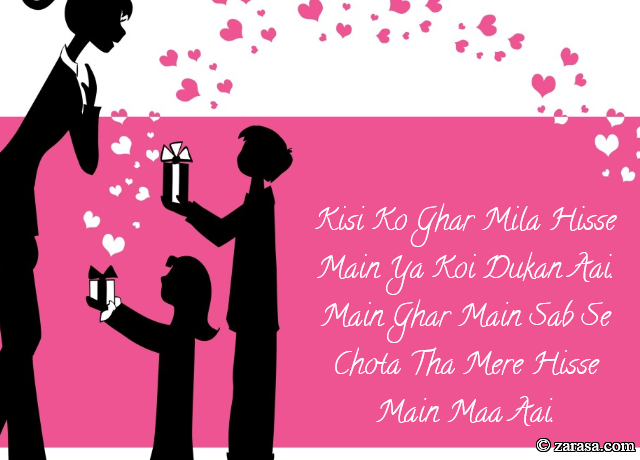 ---

किसी को घर मिला हिस्से मैं या कोई दुकान आई .
मैं घर मैं सब से छोटा था मेरे हिस्से मैं माँ आई .


---

کسی کو گھر ملا حصّے میں یا کوئی دکان ای .
میں گھر میں سب سے چھوٹا تھا میرے حصّے میں ما ای .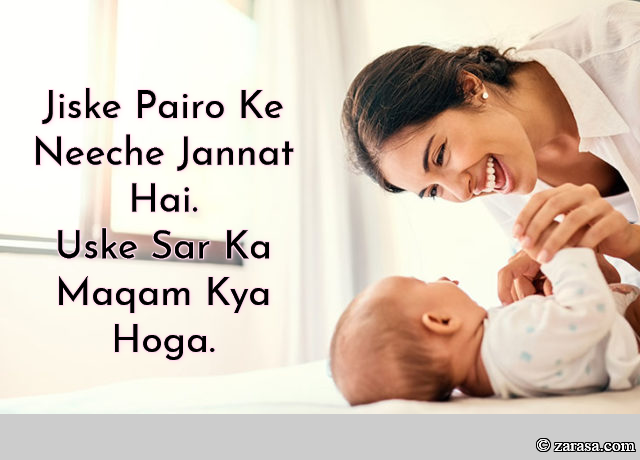 Jiske Pairo Ke Neeche Jannat Hai.
Uske Sar Ka Maqam Kya Hoga.
जिसके पैरो के नीचे जन्नत है .
उसके सर का मक़ाम क्या होगा .
جسکے پیرو کے نیچے جنّت ہے .
اسکے سر کا مقام کیا ہوگا .
---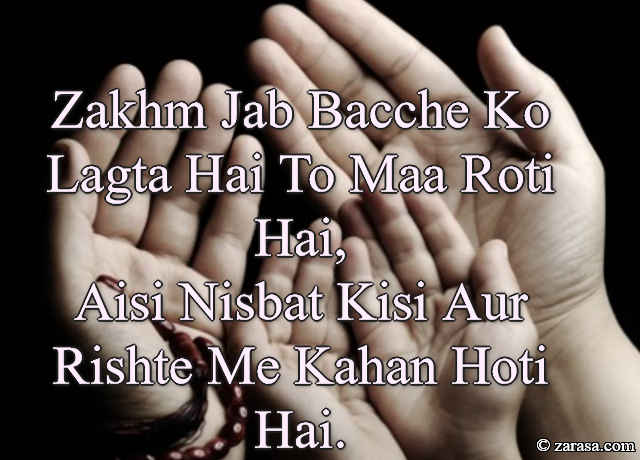 Zakhm Jab Bacche Ko Lagta Hai To Maa Roti Hai,
Aisi Nisbat Kisi Aur Rishte Me Kahan Hoti Hai.
ज़ख्म जब बच्चे को लगता है तो माँ रोटी है ,
ऐसी निस्बत किस i और रिश्ते में कहाँ होती हi.
زخم جب بکچے کو لگتا ہے تو ما روٹی ہے ,
ایسی نسبت کسی اور رشتے می کہاں ہوتی ہے .
---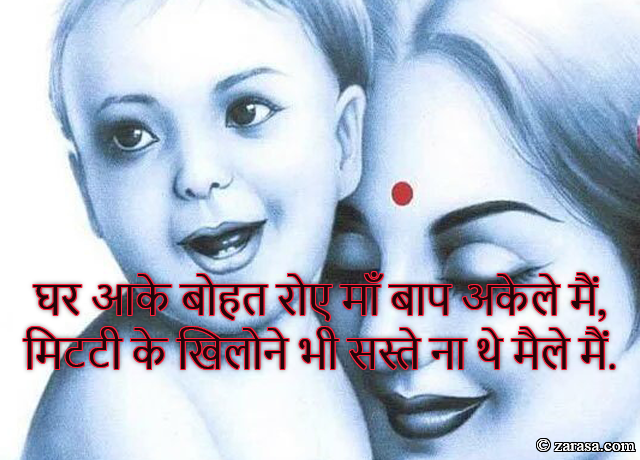 Ghar Aa Ke Bohat Roye Maa Baap Akele Mein,
Mitti Ke Khilone Bhi Saste Na The Maile Mein.
घर आके बोहत रोए माँ बाप अकेले मैं ,
मिटटी के खिलोने भी सस्ते ना थे मैले मैं.
گھر آکے بوہت رویے ماں باپ اکیلے میں ,
مٹتی کے کھلونے بھی سستے نہ تھے میلے میں .
---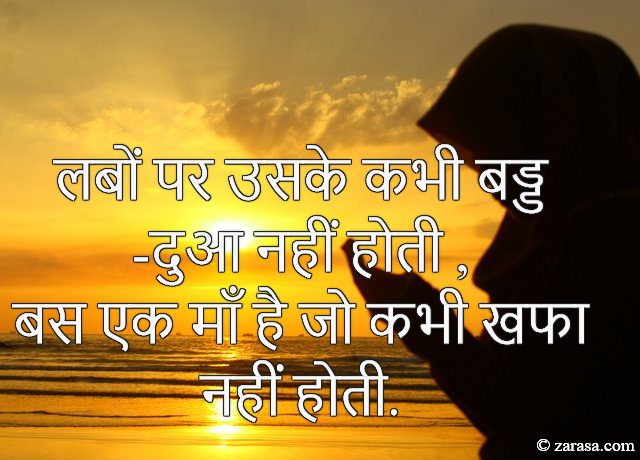 Labon par Uske Kabhi Badd-Dua Nahi hoti,
Bas Ek Maa hai Jo Kabhi Khafa Nahi hoti.
लबों पर उसके कभी बड्ड -दुआ नहीं होती ,
बस एक माँ है जो कभी खफा नहीं होती .
لبوں پر اسکے کبھی بعدد -دوا نہیں ہوتی ,
بس ایک ما ہے جو کبھی خفا نہیں ہوتی .
---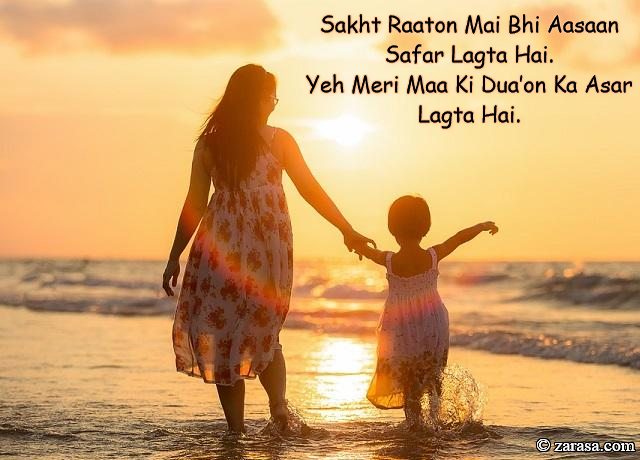 Sakht Raaton Mai Bhi Aasaan Safar Lagta Hai.
Yeh Meri Maa Ki Dua'on Ka Asar Lagta Hai.
सख़्त रातों मै भी आसान सफ़र लगता है .
यह मेरी माँ की दुआओं का असर लगता है .
سخت راتوں می بھی آسان سفر لگتا ہے .
یہ میری ما کی دعاؤں کا اثر لگتا ہے .
---