Shayari for Mother"Mere Hisse Main Maa Aai"
|
Kisi Ko Ghar Mila Hisse Main Ya Koi Dukan Aai.
Main Ghar Main Sab Se Chota Tha Mere Hisse Main Maa Aai.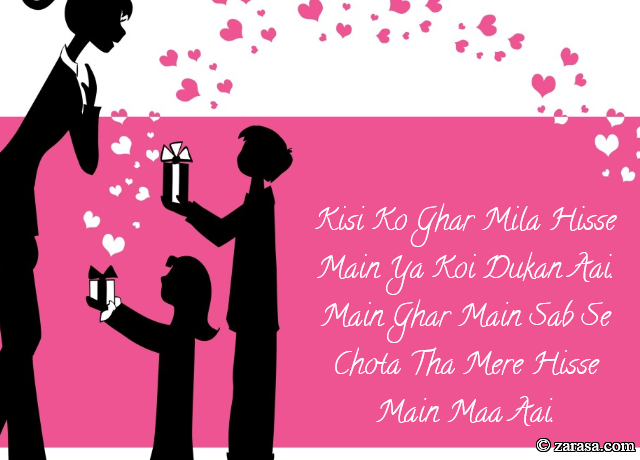 ---

किसी को घर मिला हिस्से मैं या कोई दुकान आई .
मैं घर मैं सब से छोटा था मेरे हिस्से मैं माँ आई .


---

کسی کو گھر ملا حصّے میں یا کوئی دکان ای .
میں گھر میں سب سے چھوٹا تھا میرے حصّے میں ما ای .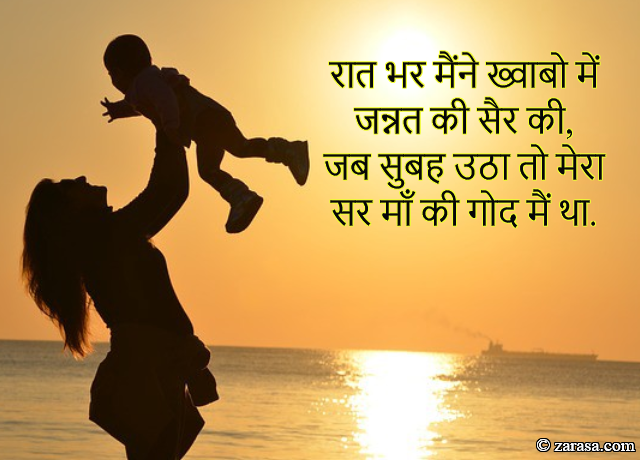 Raat Bhar Maine Khwabo Me Jannat Ki Sair Ki
Jab Subah Utha To Mera Sar Maa Ki God Me Tha.
रात भर मैंने ख्वाबो में जन्नत की सैर की
जब सुबह उठा तो मेरा सर माँ की गोद मैं था .
رات بھر مہینے خوابو میں جنّت کی سیر کی
جب صوبہ اٹھا تو میرا سر ماں کی گود میں تھا .
---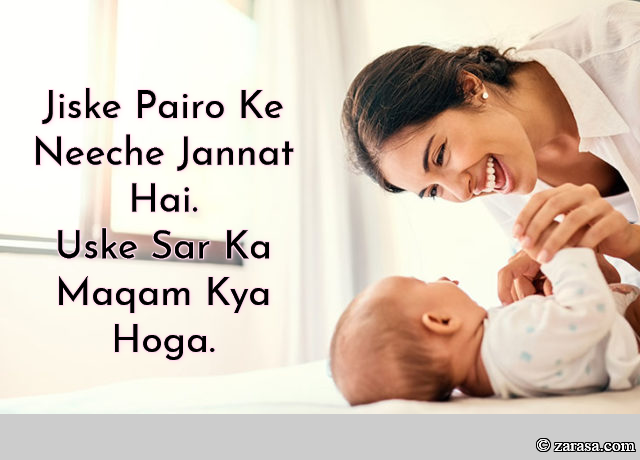 Jiske Pairo Ke Neeche Jannat Hai.
Uske Sar Ka Maqam Kya Hoga.
जिसके पैरो के नीचे जन्नत है .
उसके सर का मक़ाम क्या होगा .
جسکے پیرو کے نیچے جنّت ہے .
اسکے سر کا مقام کیا ہوگا .
---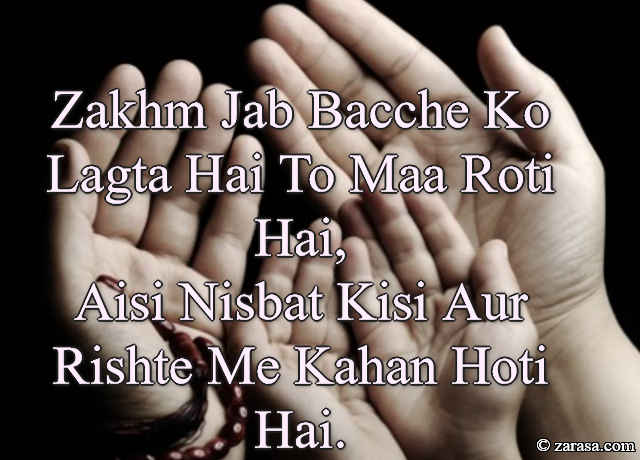 Zakhm Jab Bacche Ko Lagta Hai To Maa Roti Hai,
Aisi Nisbat Kisi Aur Rishte Me Kahan Hoti Hai.
ज़ख्म जब बच्चे को लगता है तो माँ रोटी है ,
ऐसी निस्बत किस i और रिश्ते में कहाँ होती हi.
زخم جب بکچے کو لگتا ہے تو ما روٹی ہے ,
ایسی نسبت کسی اور رشتے می کہاں ہوتی ہے .
---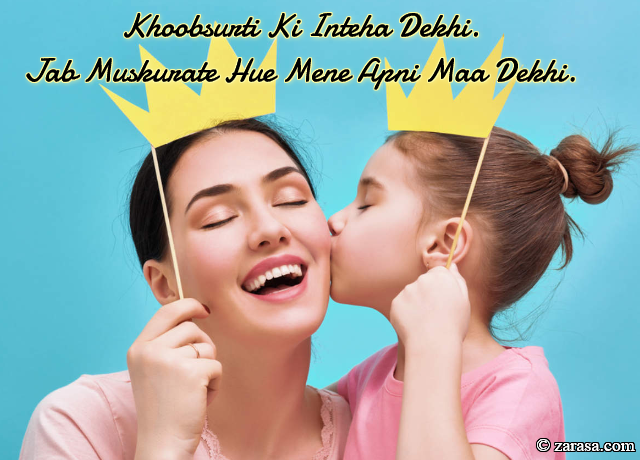 Khoobsurti Ki Inteha Dekhi.
Jab Muskurate Hue Mene Apni Maa Dekhi.
ख़ूबसूरती की इन्तेहा देखी .
जब मुस्कुराते हुए मेने अपनी माँ देखी .
خوبصورتی کی انتہا دیکھی .
جب مسکراتے ہوئے منے اپنی ما دیکھی .
---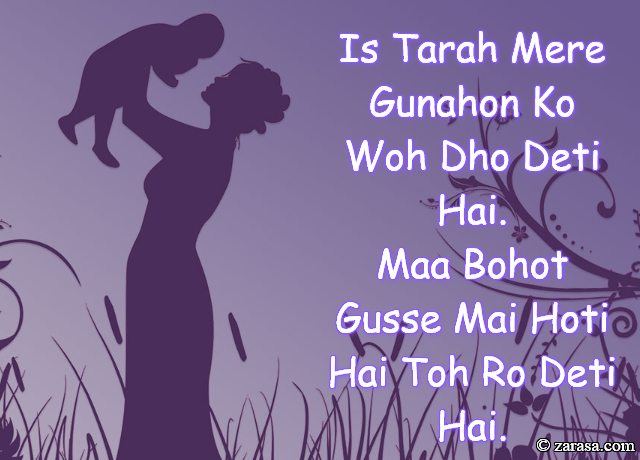 Is Tarah Mere Gunahon Ko Woh Dho Deti Hai.
Maa Bohot Gusse Mai Hoti Hai Toh Ro Deti Hai.
इस तरह मेरे गुनाहों को वो धो देती है .
माँ बोहोत गुस्से मै होती है तो रो देती है .
اس طرح میرے گناہوں کو وہ دھو دیتی ہے .
ما بوہوت گسسے می ہوتی ہے تو رو دیتی ہے .
---