Shayari for Mother"Jab Tak Meri Maa Hai Mujhe Koi Darr Nahi Hai"
|
Jab Tak Meri Maa Hai Mujhe Koi Darr Nahi Hai Dosto.
Kyuki Mai Jab Ghar Se Nikalta Hu Toh Uski Dua Bhi Mere Saath Chalti Hai.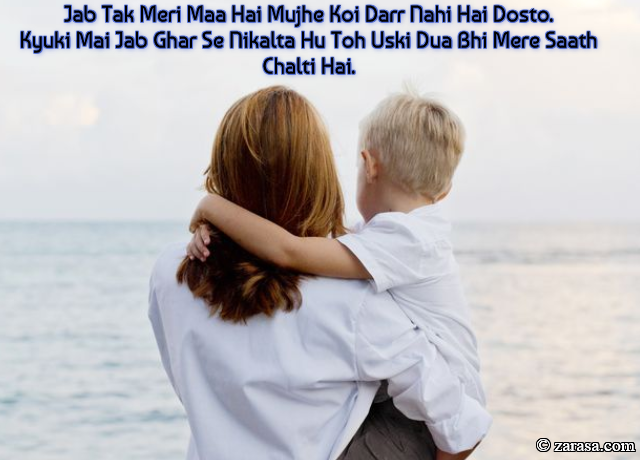 ---

जब तक मेरी माँ है मुझे कोई डर नहीं है दोस्तों .
क्युकी मै जब घर से निकलता हु तो मेरी माँ भी मेरे साथ चलती है .


---

جب تک میری ما ہے مجھے کوئی درر نہیں ہے دوستو .
کیکی می جب گھر سے نکلتا ہو ٹوہ اسکی دوا بھی میرے ساتھ چلتی ہے .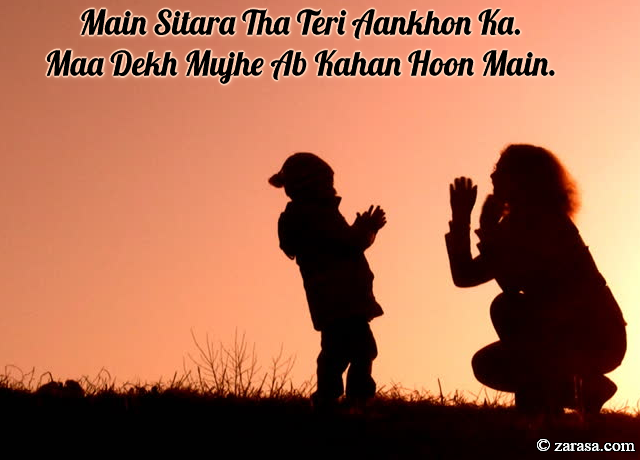 Main Sitara Tha Teri Aankhon Ka.
Maa Dekh Mujhe Ab Kahan Hoon Main.
मैं सितारा था तेरी आँखों का .
माँ देख मुझे अब कहाँ हूँ मैं .
میں سترہ تھا تیری آنکھوں کا
ما دیکھ مجھے اب کہاں ہوں میں .
---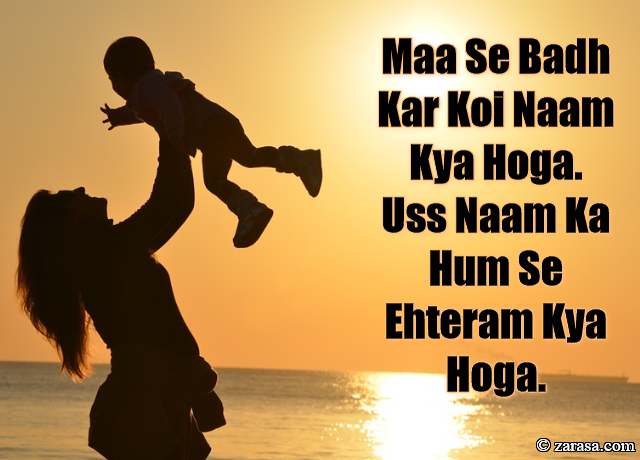 Maa Se Badh Kar Koi Naam Kya Hoga.
Uss Naam Ka Hum Se Ehteram Kya Hoga.
माँ से बढ़ कर कोई नाम क्या होगा .
उस नाम का हम से एहतेराम क्या होगा .
ما سے بڑھ کر کوئی نام کیا ہوگا .
اس نام کا ہم سے احترام کیا ہوگا .
---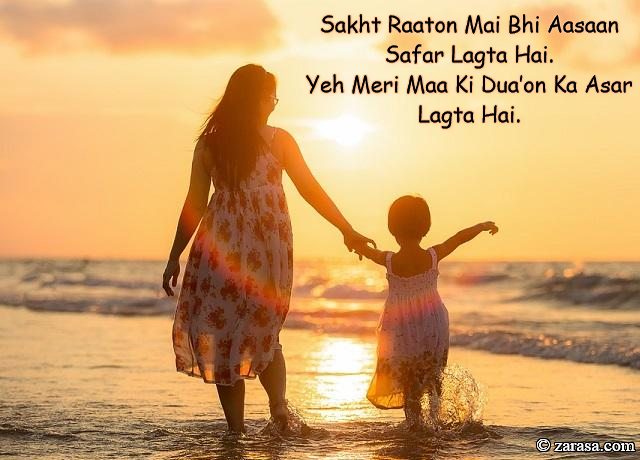 Sakht Raaton Mai Bhi Aasaan Safar Lagta Hai.
Yeh Meri Maa Ki Dua'on Ka Asar Lagta Hai.
सख़्त रातों मै भी आसान सफ़र लगता है .
यह मेरी माँ की दुआओं का असर लगता है .
سخت راتوں می بھی آسان سفر لگتا ہے .
یہ میری ما کی دعاؤں کا اثر لگتا ہے .
---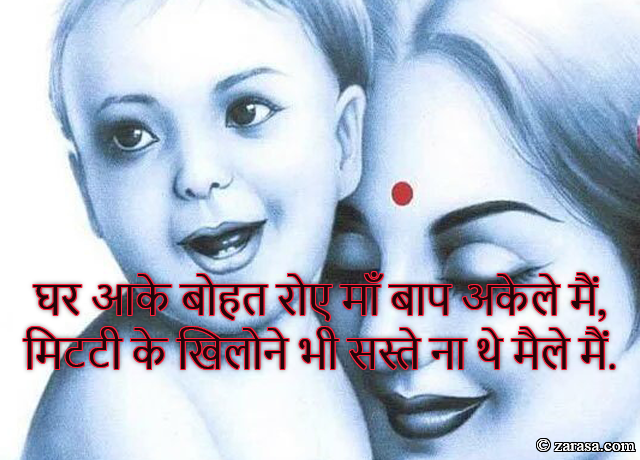 Ghar Aa Ke Bohat Roye Maa Baap Akele Mein,
Mitti Ke Khilone Bhi Saste Na The Maile Mein.
घर आके बोहत रोए माँ बाप अकेले मैं ,
मिटटी के खिलोने भी सस्ते ना थे मैले मैं.
گھر آکے بوہت رویے ماں باپ اکیلے میں ,
مٹتی کے کھلونے بھی سستے نہ تھے میلے میں .
---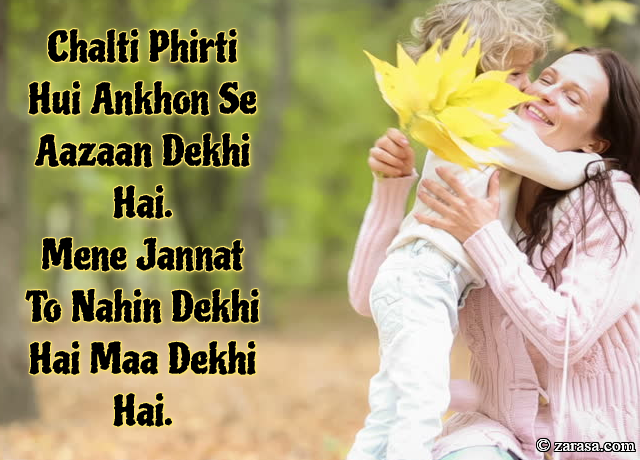 Chalti Phirti Hui Ankhon Se Aazaan Dekhi Hai.
Mene Jannat To Nahin Dekhi Hai Maa Dekhi Hai.
चलती फिरती हुई आँखों से आज़ान देखी है .
मेने जन्नत तो नहीं देखी है माँ देखी है .
چلتی پھرتی ہی آنکھوں سے ازاں دیکھی ہے .
منے جنّت تو نہیں دیکھی ہے ما دیکھی ہے .
---