Shayari for Politics "कीमत तो खूब बढ़ गई दिल्ली में धान की"
|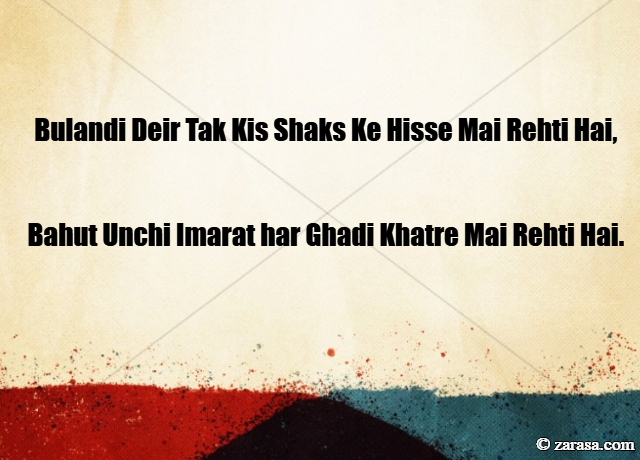 Bulandi Deir Tak Kis Shaks Ke Hisse Mai Rehti Hai,
Bahut Unchi Imarat har Ghadi Khatre Mai Rehti Hai.
बुलंदी देर तक किस शख़्स के हिस्से में रहती है،
बहुत ऊँची इमारत हर घड़ी खतरे में रहती है |

بولاندی دیر تک کس شکس کے حصّے می رھتی ہے
بہت اونچی عمارت ہر گھڈی خطرے می رہتی ہے
---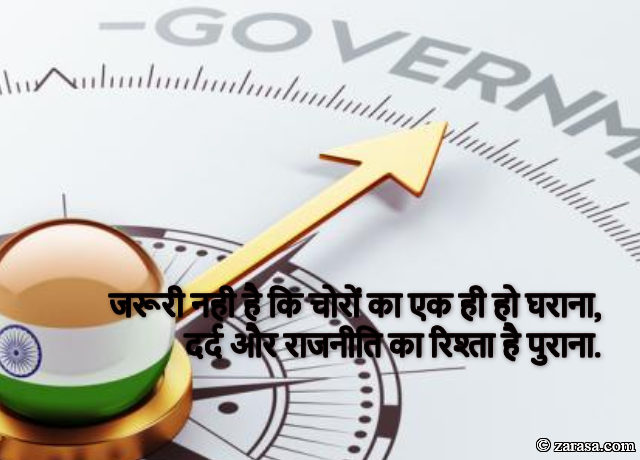 Zaroori Nahi Hai  Ki Choron Ka Ek Hi Ho Gharana ,
Dard Aur Rajneeti Ka Rishta Hai Purana.
जरूरी नही है कि चोरों का एक ही हो घराना,
दर्द और राजनीति का रिश्ता है पुराना.
زروری نہیں ہے  کی چوروں کا ایک ہی ہو گھرانہ ,
درد اور راجنیتی کا رشتہ ہے پرانا
---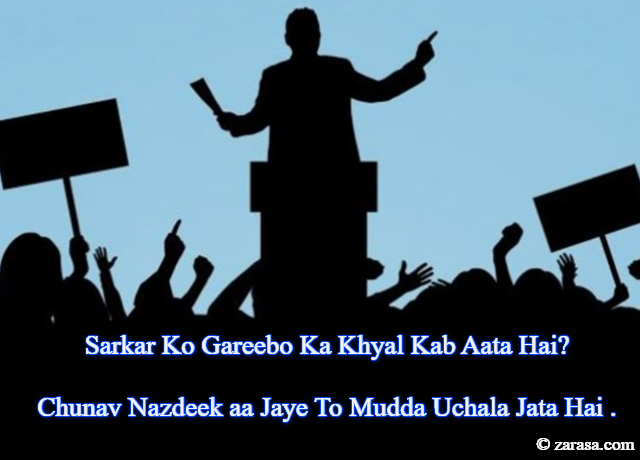 Sarkar Ko Gareebo Ka Khyal Kab Aata Hai?
Chunav Nazdeek aa Jaye To Mudda Uchala Jata Hai .
सरकार को गरीबों का ख्याल कब आता है?
चुनाव नजदीक आ जाए तो मुद्दा उछाला जाता है.
سرکار کو گریبوں کا خیال کب آتا ہے
چناو نزدیک آ جائے تو مودّا اچھالا جاتا ہے
---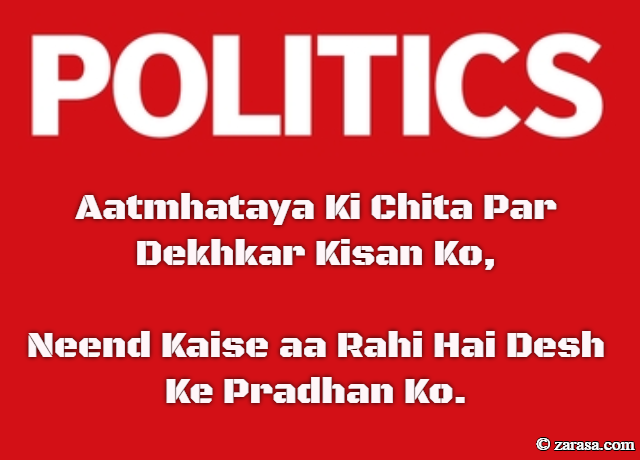 Aatmhataya Ki Chita Par Dekhkar Kisan Ko,
Neend Kaise aa Rahi Hai Desh Ke Pradhan Ko.
आत्महत्या की चिता पर देखकर किसान को,

नींद कैसे आ रही हैं देश के प्रधान को |
اتمھٹیا کی چتا پر دیکھکر کسان کو
نیند کیسے آرہی ہے دیش کے پردھان کو
---
Ab Koi Aur Na Dhoka Dega,
Itni Umeed To Vapas Kar De
Hum Se Har Khuab Chenne Vale,
Hamari Neend toh Vaapas Kar De....
अब कोई और न धोखा देगा,
इतनी उम्मीद तो वापस कर दे.
हम से हर ख़्वाब छीनने वाले,
हमारी नींद तो वापस कर दे..
اب کوئی اور نہ دھوکہ دیگا
اتنی امید تو واپس کردے
ہم سے حر خواب چننے والے
ہماری نیند ٹوہ واپس کر دے
---