Shayari for Politics "Zaroori Nahi Hai  Ki Choron Ka Ek Hi Ho Gharana"
|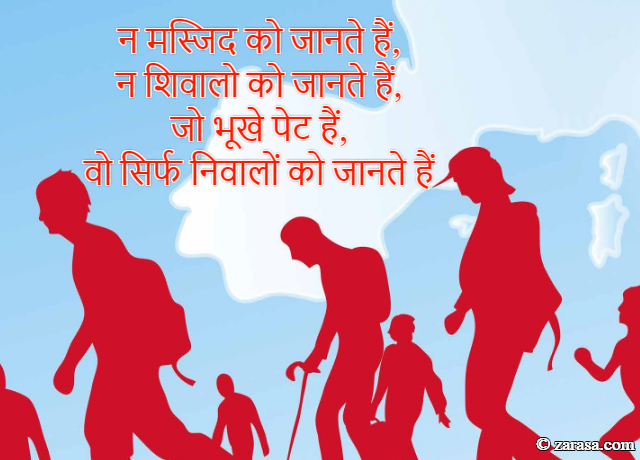 Na Masjid Ko Jante Hai,
Na Shivalo Ko Jante Hai,
Jo Bhuke Pait Hai,
Vo Sirf Nivalon Ko Jante Hai,
न मस्जिद को जानते हैं,
न शिवालो को जानते हैं,
जो भूखे पेट हैं,
वो सिर्फ निवालों को जानते हैं.
نا مسجد کو جانتے ہے
نا شولو کو جانتے ہے
جو بھوکے پیٹ ہے
وہ صرف نوالوں کو جانتے ہے
---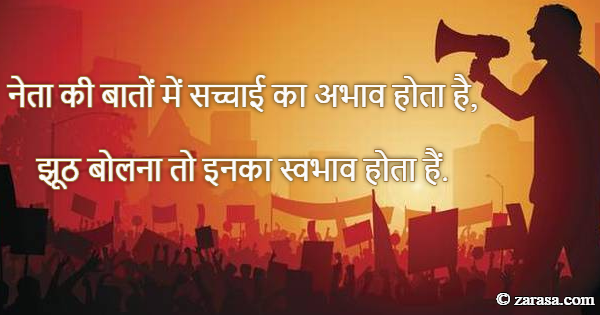 Neta Ki Baton Mai Sachai Ka Aabhav Hota Hai,
Jhut Bolna to Inke Saubhav Hota Hai.
नेता की बातों में सच्चाई का अभाव होता है,
झूठ बोलना तो इनका स्वभाव होता हैं.
نیتا کی باتو می سچھائ کا ابہاو ہوتا ہے
جھٹ بولنا تو انکے سبھاؤ ہوتا ہے
---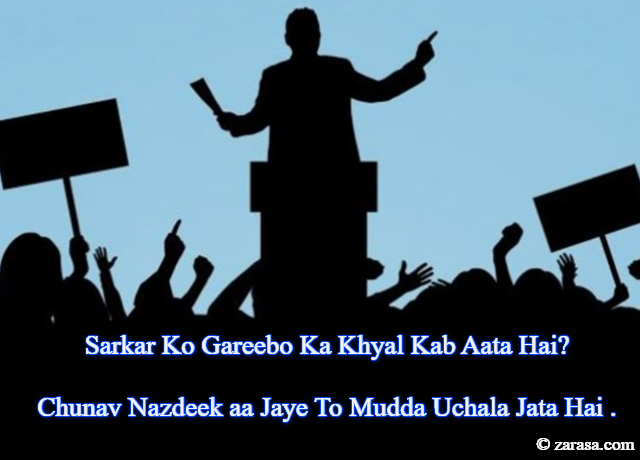 Sarkar Ko Gareebo Ka Khyal Kab Aata Hai?
Chunav Nazdeek aa Jaye To Mudda Uchala Jata Hai .
सरकार को गरीबों का ख्याल कब आता है?
चुनाव नजदीक आ जाए तो मुद्दा उछाला जाता है.
سرکار کو گریبوں کا خیال کب آتا ہے
چناو نزدیک آ جائے تو مودّا اچھالا جاتا ہے
---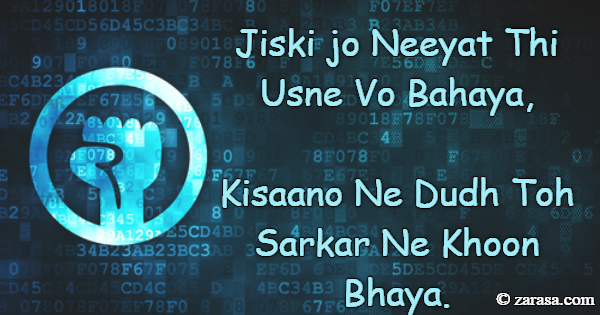 Jiski jo Neeyat Thi Usne Vo Bahaya,
Kisaano Ne Dudh Toh Sarkar Ne Khoon Bhaya.
जिसकी जो नियत थी उसने वो बहाया,
किसानो ने दूध तो सरकार ने खून बहाया |
جسکی جو نیت تھی اسنے وہ بہایا
کسانو نے دودھ تو سرکار نے خون بھایا
---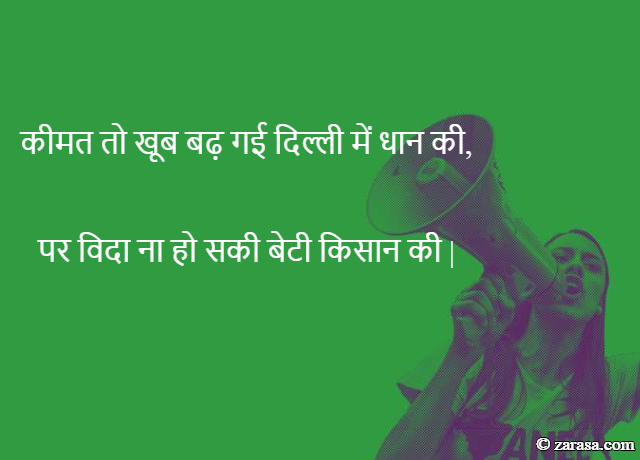 Kimat Toh Khub Badh Gayi Dilli Mai Dhan Ki,
Par Vida na Ho Saki Beti Kisan Ki.
कीमत तो खूब बढ़ गई दिल्ली में धान की,

पर विदा ना हो सकी बेटी किसान की |
قیمت تو خوب بڑھ گی دیلی می دھان کی
پر ودا نہ ہو سکی بیٹی کسان کی
---