Shayari for Politics "Zaroori Nahi Hai  Ki Choron Ka Ek Hi Ho Gharana"
|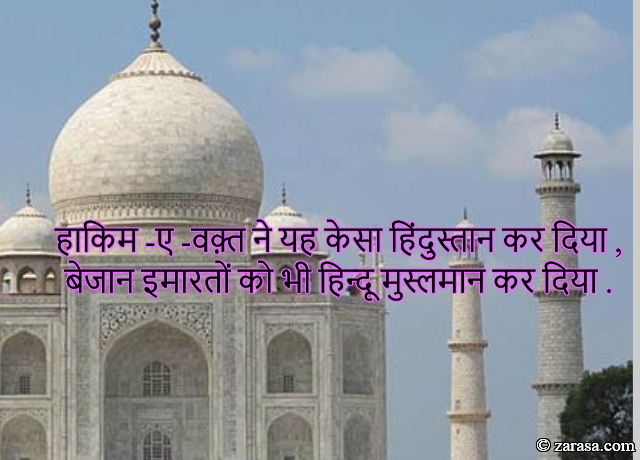 Hakim-e-Waqt Ne Yeh Kesa Hindustan Kar Diya,
Bejaan Imarton Ko Bhi Hindu Musalman Kar Diya.
हाकिम -ए -वक़्त ने यह केसा हिंदुस्तान कर दिया ,
बेजान इमारतों को भी हिन्दू मुस्लमान कर दिया .
حکیم -ے-وقت نے یہ کیسا ہندوستان کر دیا ,
بےجان عمارتوں کو بھی ہندو مسلمان کر دیا .
---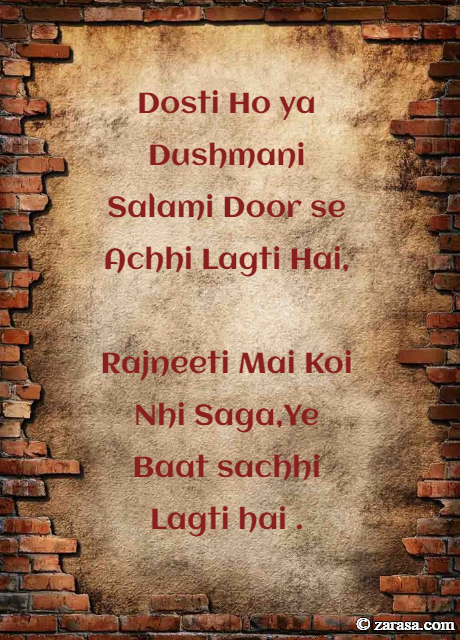 Dosti Ho ya Dushmani Salami Door se Achhi Lagti Hai,
Rajneeti Mai Koi Nhi Saga,Ye Baat sachhi Lagti hai .
दोस्ती हो या दुश्मनी सलामी दूर से अच्छी लगती हैं,
राजनीति में कोई नही सगा, ये बात सच्ची लगती हैं |
دوستی ہو یا دشمنی سلامی دور سے اچھی لگتی ہے
راجنیتی می کوئی نہی سگا ، یہ بات سچھ لگتی ہے
---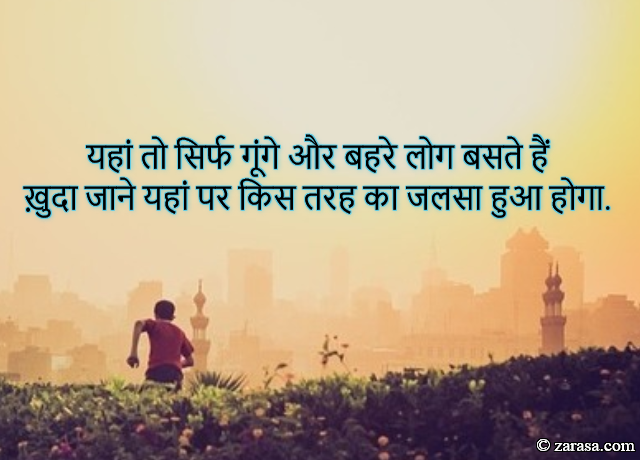 Yaha To Sirf Goonge Aur Behre Log Baste Hai,
Khuda Jaane Yahan Par Kis Tarha ka Jalsa Hua Hoga.
यहां तो सिर्फ गूंगे और बहरे लोग बसते हैं
ख़ुदा जाने यहां पर किस तरह का जलसा हुआ होगा.
یہا تو صرف گونگے اور بھرے لوگ بستے ہے ,
خدا جانے یہاں پر کس تارہا کا جلسہ ہوا ہوگا .
---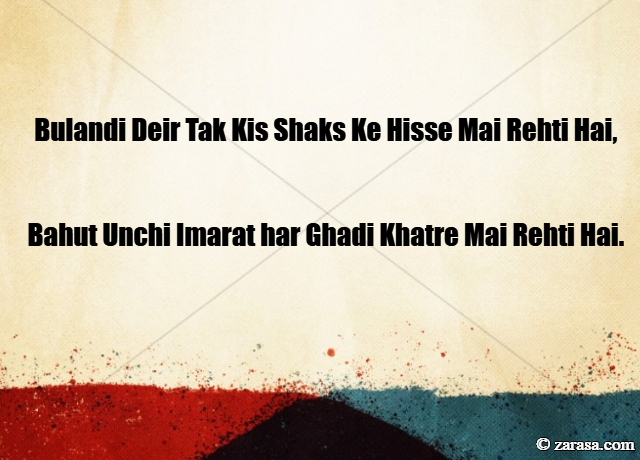 Bulandi Deir Tak Kis Shaks Ke Hisse Mai Rehti Hai,
Bahut Unchi Imarat har Ghadi Khatre Mai Rehti Hai.
बुलंदी देर तक किस शख़्स के हिस्से में रहती है،
बहुत ऊँची इमारत हर घड़ी खतरे में रहती है |

بولاندی دیر تک کس شکس کے حصّے می رھتی ہے
بہت اونچی عمارت ہر گھڈی خطرے می رہتی ہے
---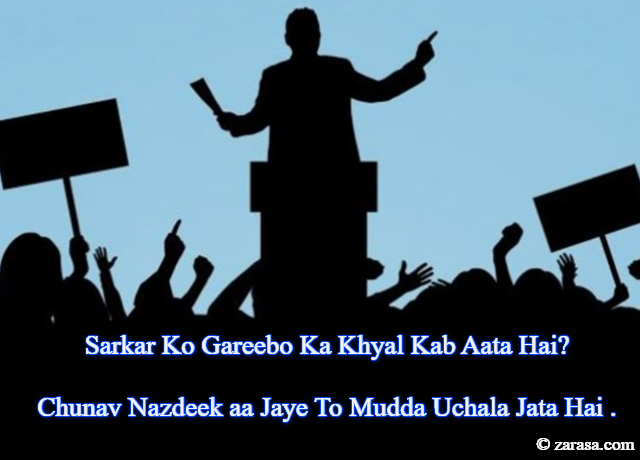 Sarkar Ko Gareebo Ka Khyal Kab Aata Hai?
Chunav Nazdeek aa Jaye To Mudda Uchala Jata Hai .
सरकार को गरीबों का ख्याल कब आता है?
चुनाव नजदीक आ जाए तो मुद्दा उछाला जाता है.
سرکار کو گریبوں کا خیال کب آتا ہے
چناو نزدیک آ جائے تو مودّا اچھالا جاتا ہے
---