Zulm Shayari "Dekhna Hai Zor Kitna Bazu-E-Qatil Main Hai."
|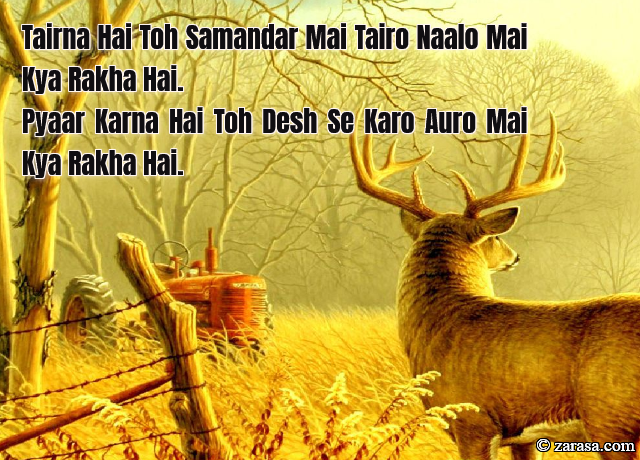 Tairna Hai Toh Samandar Mai Tairo Naalo Mai Kya Rakha Hai.
Pyaar Karna Hai Toh Desh Se Karo Auro Mai Kya Rakha Hai.
तैरना है तो समंदर मै तैरो नालो मै क्या रखा है .
प्यार करना है तो देश से करो औरो मै क्या रखा है .
تیرنا ہے تو سمندر می تیرو نالو می کیا رکھا ہے .
پیار کرنا ہے تو دیش سے کرو اورو می کیا رکھا ہے .
---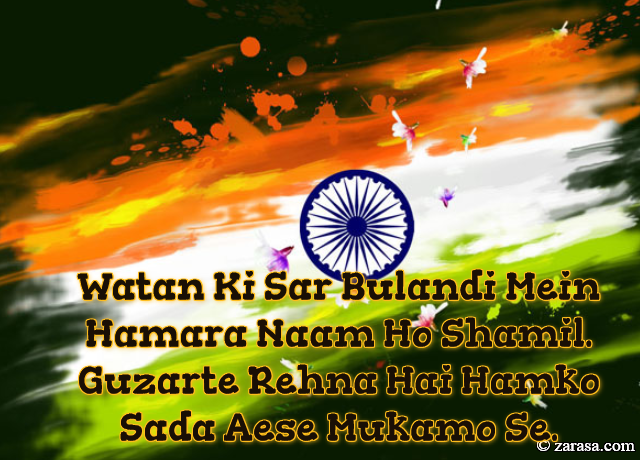 Watan Ki Sar Bulandi Mein Hamara Naam Ho Shamil.
Guzarte Rehna Hai Hamko Sada Aese Mukamo Se.
वतन की सर बुलंदी में हमारा नाम हो शामिल .
गुज़रते रहना है हमको सदा ऐसे मुकामो से .
وطن کی سر بلندی میں ہمارا نام ہو شامل .
گزرتے رہنا ہے ہمکو سدہ ایسے مکمو سے .
---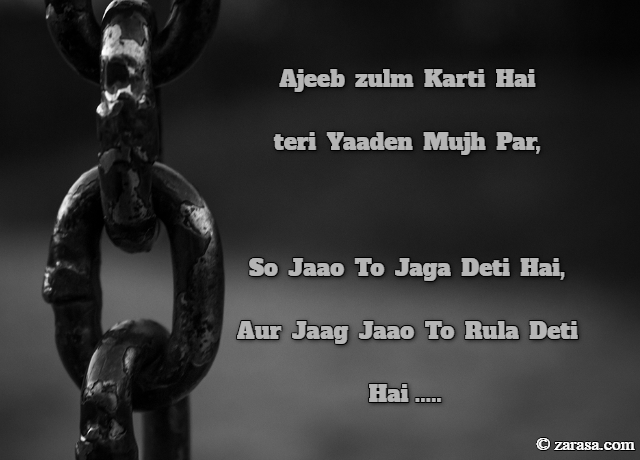 Ajeeb zulm Karti Hai teri Yaaden Mujh Par,
So Jaao To Jaga Deti Hai,Aur Jaag Jaao To Rula Deti Hai .....
अजीब जुल्म करती है तेरी यादें मुझ पर,
सो जाऊ तो जगा देती है, और जाग जाऊ तो रुला देती है…
عجیب ظلم کرتی ہے تیری یادیں مجھ پر
سو جاؤ تو جگا دیتی ہے ، اور جاگ جاؤ تو رولا دیتی ہے
---
Ab Koi Aur Na Dhoka Dega,
Itni Umeed To Vapas Kar De
Hum Se Har Khuab Chenne Vale,
Hamari Neend toh Vaapas Kar De....
अब कोई और न धोखा देगा,
इतनी उम्मीद तो वापस कर दे.
हम से हर ख़्वाब छीनने वाले,
हमारी नींद तो वापस कर दे..
اب کوئی اور نہ دھوکہ دیگا
اتنی امید تو واپس کردے
ہم سے حر خواب چننے والے
ہماری نیند ٹوہ واپس کر دے
---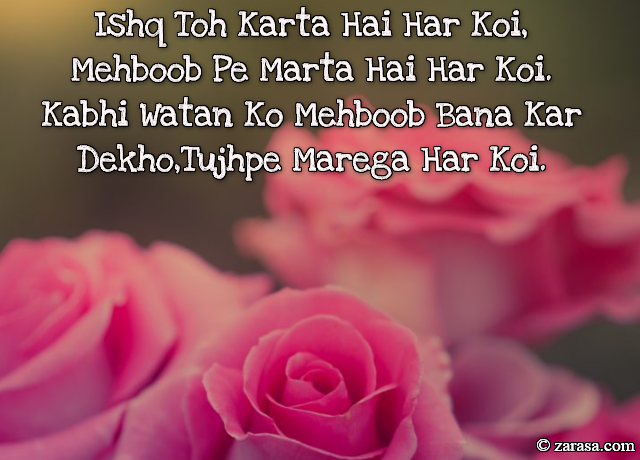 Ishq Toh Karta Hai Har Koi, Mehboob Pe Marta Hai Har Koi.
Kabhi Watan Ko Mehboob Bana Kar Dekho,Tujhpe Marega Har Koi.
इश्क़ तोह करता है हर कोई , मेहबूब पे मरता है हर कोई .
कभी वतन को मेहबूब बना कर देखो ,तुझपे मरेगा हर कोई .
عشق توہ کرتا ہے ہر کوئی , محبوب پی مارتا ہے ہر کوئی .
کبھی وطن کو محبوب بنا کر دیکھو ,تجھپے مریگا ہر کوئی .
---