Shayari for Politics "हाकिम -ए -वक़्त ने यह केसा हिंदुस्तान कर दिया"
|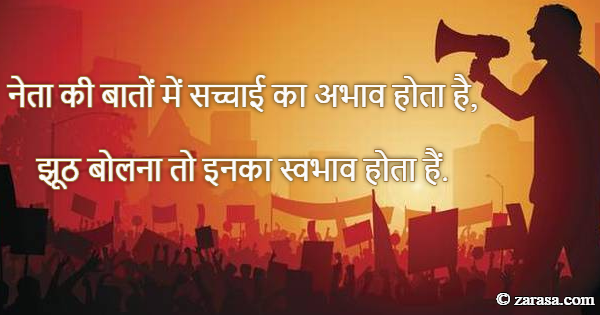 Neta Ki Baton Mai Sachai Ka Aabhav Hota Hai,
Jhut Bolna to Inke Saubhav Hota Hai.
नेता की बातों में सच्चाई का अभाव होता है,
झूठ बोलना तो इनका स्वभाव होता हैं.
نیتا کی باتو می سچھائ کا ابہاو ہوتا ہے
جھٹ بولنا تو انکے سبھاؤ ہوتا ہے
---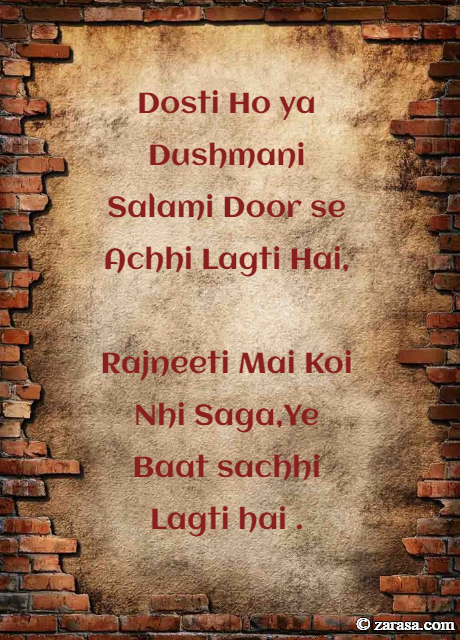 Dosti Ho ya Dushmani Salami Door se Achhi Lagti Hai,
Rajneeti Mai Koi Nhi Saga,Ye Baat sachhi Lagti hai .
दोस्ती हो या दुश्मनी सलामी दूर से अच्छी लगती हैं,
राजनीति में कोई नही सगा, ये बात सच्ची लगती हैं |
دوستی ہو یا دشمنی سلامی دور سے اچھی لگتی ہے
راجنیتی می کوئی نہی سگا ، یہ بات سچھ لگتی ہے
---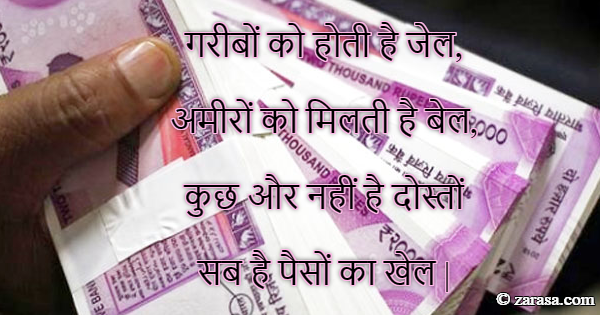 Garibon Ko Hoti Hai Jail ,
Amiron Ko Milti Hai Bail,
Kuch Or Nhi Hai Doston,
Sab Hai Paison Ka Khel.
गरीबों को होती है जेल,
अमीरों को मिलती है बेल,
कुछ और नहीं है दोस्तों
सब है पैसों का खेल |
گریبوں کو ہوتی ہے جیل
امیروں کو ملتی ہے بیل
کچھ ور نہی ہے دوستو
سب ہے پیسوں کا کھل
---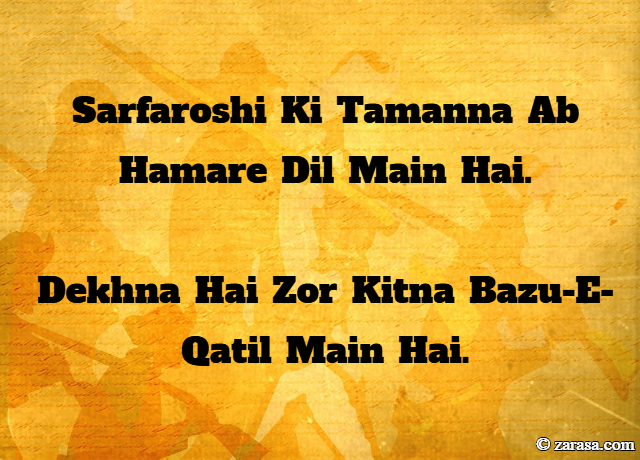 Sarfaroshi Ki Tamanna Ab Hamare Dil Main Hai.
Dekhna Hai Zor Kitna Bazu-E-Qatil Main Hai.

सरफ़रोशी की तमन्ना अब हमारे दिल में है।

देखना है ज़ोर कितना बाज़ू-ए-क़ातिल में है।
سرفروشی کی تمنّا اب ہمارے دل می ہے
دیکھنا ہے زور کتنا بازو ے قاتل می ہے
---
Ab Koi Aur Na Dhoka Dega,
Itni Umeed To Vapas Kar De
Hum Se Har Khuab Chenne Vale,
Hamari Neend toh Vaapas Kar De....
अब कोई और न धोखा देगा,
इतनी उम्मीद तो वापस कर दे.
हम से हर ख़्वाब छीनने वाले,
हमारी नींद तो वापस कर दे..
اب کوئی اور نہ دھوکہ دیگا
اتنی امید تو واپس کردے
ہم سے حر خواب چننے والے
ہماری نیند ٹوہ واپس کر دے
---