Shayari for Politics "Humne Duniya Mai Mohabbat ka Asar Zinda Kiya Hai"
|
Humne Duniya Mai Mohabbat ka Asar Zinda Kiya Hai,
Humne Nafrat ko Gale Mil-Mil ke Sharminda Kiya Hai.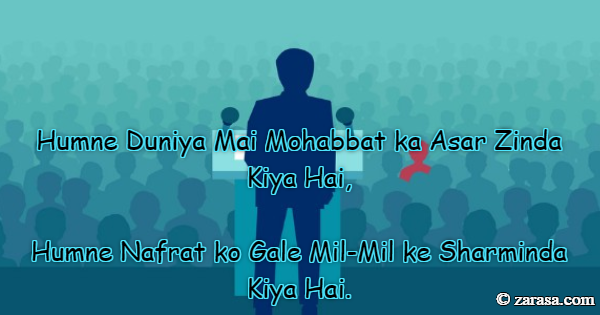 ---

हमने दुनिया में मुहब्बत का असर जिंदा किया हैं,
हमनें नफ़रत को गले मिल-मिल के शर्मिंदा किया हैं |


---

ہمنے دنیا می موحبّت کا اثر زندا کیا ہے
ہمنے نفرت کو گلے مل -مل کے شرمندا کیا ہے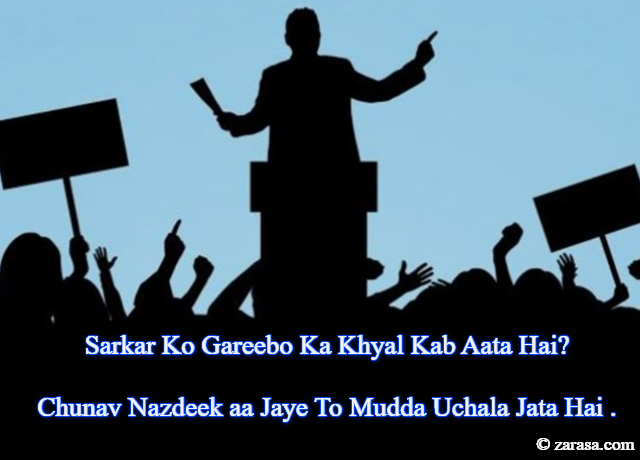 Sarkar Ko Gareebo Ka Khyal Kab Aata Hai?
Chunav Nazdeek aa Jaye To Mudda Uchala Jata Hai .
सरकार को गरीबों का ख्याल कब आता है?
चुनाव नजदीक आ जाए तो मुद्दा उछाला जाता है.
سرکار کو گریبوں کا خیال کب آتا ہے
چناو نزدیک آ جائے تو مودّا اچھالا جاتا ہے
---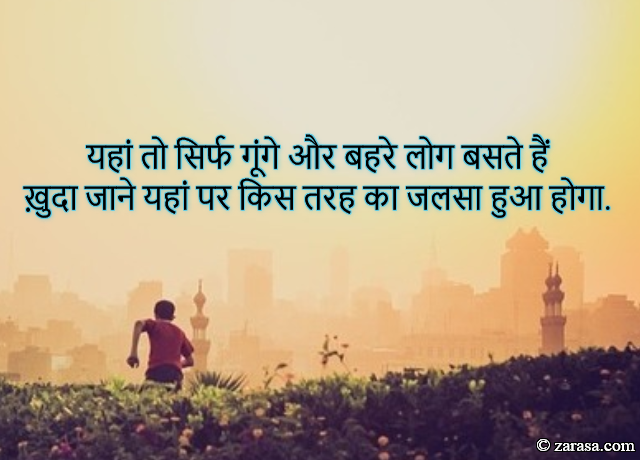 Yaha To Sirf Goonge Aur Behre Log Baste Hai,
Khuda Jaane Yahan Par Kis Tarha ka Jalsa Hua Hoga.
यहां तो सिर्फ गूंगे और बहरे लोग बसते हैं
ख़ुदा जाने यहां पर किस तरह का जलसा हुआ होगा.
یہا تو صرف گونگے اور بھرے لوگ بستے ہے ,
خدا جانے یہاں پر کس تارہا کا جلسہ ہوا ہوگا .
---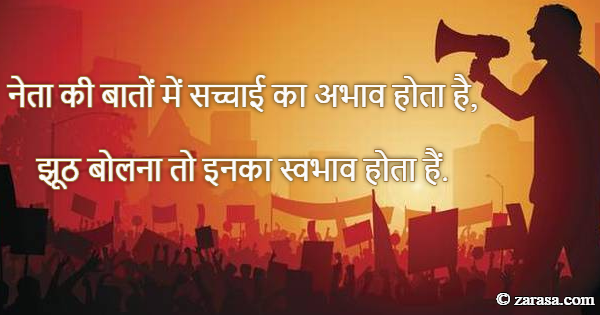 Neta Ki Baton Mai Sachai Ka Aabhav Hota Hai,
Jhut Bolna to Inke Saubhav Hota Hai.
नेता की बातों में सच्चाई का अभाव होता है,
झूठ बोलना तो इनका स्वभाव होता हैं.
نیتا کی باتو می سچھائ کا ابہاو ہوتا ہے
جھٹ بولنا تو انکے سبھاؤ ہوتا ہے
---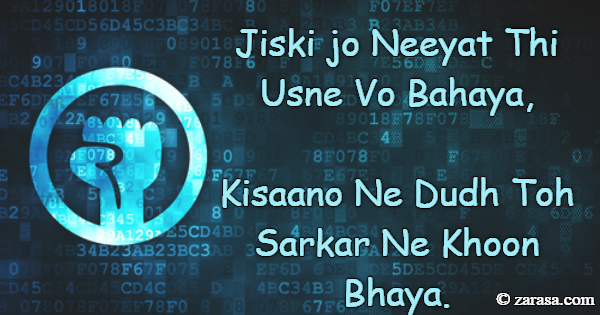 Jiski jo Neeyat Thi Usne Vo Bahaya,
Kisaano Ne Dudh Toh Sarkar Ne Khoon Bhaya.
जिसकी जो नियत थी उसने वो बहाया,
किसानो ने दूध तो सरकार ने खून बहाया |
جسکی جو نیت تھی اسنے وہ بہایا
کسانو نے دودھ تو سرکار نے خون بھایا
---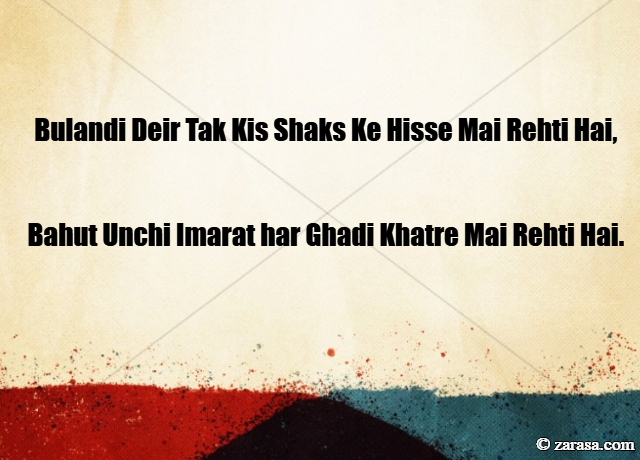 Bulandi Deir Tak Kis Shaks Ke Hisse Mai Rehti Hai,
Bahut Unchi Imarat har Ghadi Khatre Mai Rehti Hai.
बुलंदी देर तक किस शख़्स के हिस्से में रहती है،
बहुत ऊँची इमारत हर घड़ी खतरे में रहती है |

بولاندی دیر تک کس شکس کے حصّے می رھتی ہے
بہت اونچی عمارت ہر گھڈی خطرے می رہتی ہے
---