Shayari for Politics "Humne Duniya Mai Mohabbat ka Asar Zinda Kiya Hai"
|
Humne Duniya Mai Mohabbat ka Asar Zinda Kiya Hai,
Humne Nafrat ko Gale Mil-Mil ke Sharminda Kiya Hai.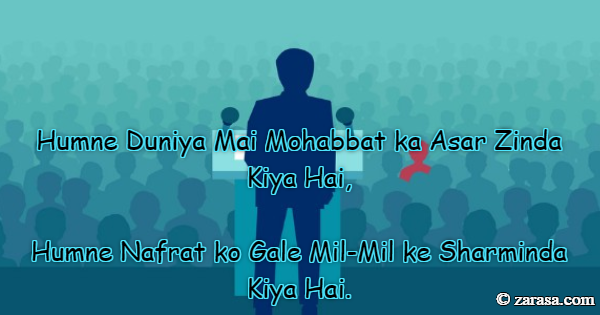 ---

हमने दुनिया में मुहब्बत का असर जिंदा किया हैं,
हमनें नफ़रत को गले मिल-मिल के शर्मिंदा किया हैं |


---

ہمنے دنیا می موحبّت کا اثر زندا کیا ہے
ہمنے نفرت کو گلے مل -مل کے شرمندا کیا ہے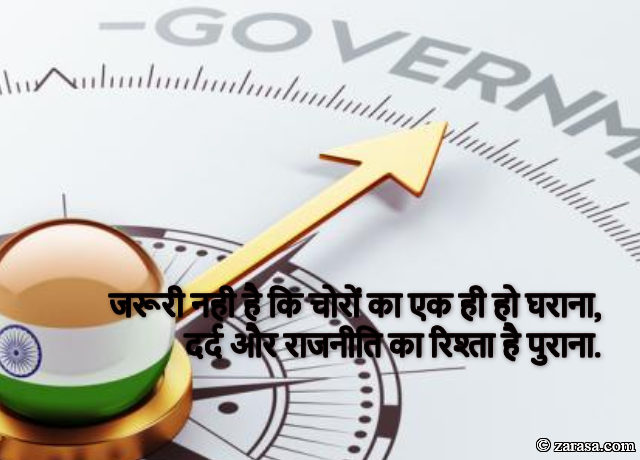 Zaroori Nahi Hai  Ki Choron Ka Ek Hi Ho Gharana ,
Dard Aur Rajneeti Ka Rishta Hai Purana.
जरूरी नही है कि चोरों का एक ही हो घराना,
दर्द और राजनीति का रिश्ता है पुराना.
زروری نہیں ہے  کی چوروں کا ایک ہی ہو گھرانہ ,
درد اور راجنیتی کا رشتہ ہے پرانا
---
Ab Koi Aur Na Dhoka Dega,
Itni Umeed To Vapas Kar De
Hum Se Har Khuab Chenne Vale,
Hamari Neend toh Vaapas Kar De....
अब कोई और न धोखा देगा,
इतनी उम्मीद तो वापस कर दे.
हम से हर ख़्वाब छीनने वाले,
हमारी नींद तो वापस कर दे..
اب کوئی اور نہ دھوکہ دیگا
اتنی امید تو واپس کردے
ہم سے حر خواب چننے والے
ہماری نیند ٹوہ واپس کر دے
---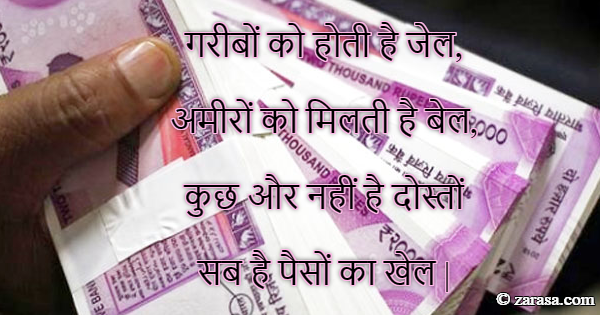 Garibon Ko Hoti Hai Jail ,
Amiron Ko Milti Hai Bail,
Kuch Or Nhi Hai Doston,
Sab Hai Paison Ka Khel.
गरीबों को होती है जेल,
अमीरों को मिलती है बेल,
कुछ और नहीं है दोस्तों
सब है पैसों का खेल |
گریبوں کو ہوتی ہے جیل
امیروں کو ملتی ہے بیل
کچھ ور نہی ہے دوستو
سب ہے پیسوں کا کھل
---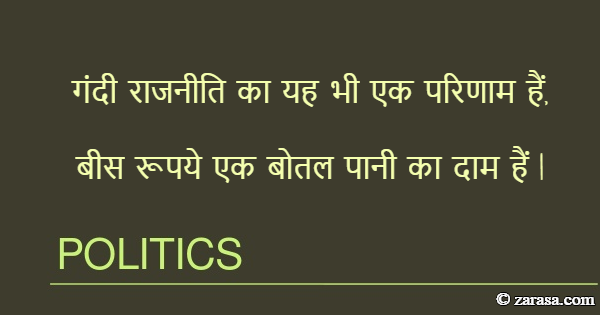 Gandi Rajneeti ka yeh Bhi Ek Parinaam Hai,
Bees Rupye ek Botal Pani Ka Daam Hai.

गंदी राजनीति का यह भी एक परिणाम हैं,
बीस रूपये एक बोतल पानी का दाम हैं |
گندی رجنیتی کا یہ بھی ایک پڑینام ہے
بیس روپے ایک بوتل پانی کا دام ہے
---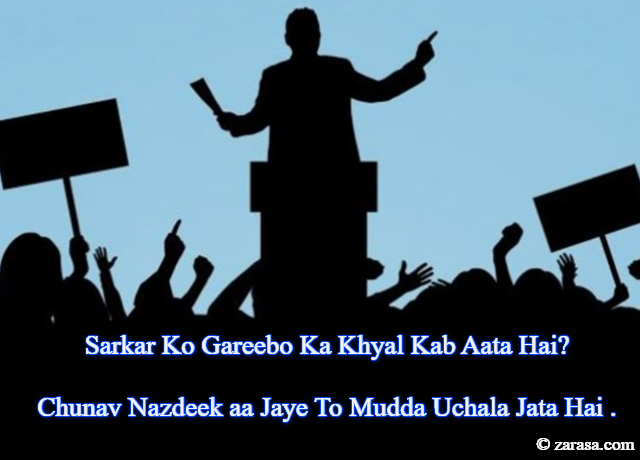 Sarkar Ko Gareebo Ka Khyal Kab Aata Hai?
Chunav Nazdeek aa Jaye To Mudda Uchala Jata Hai .
सरकार को गरीबों का ख्याल कब आता है?
चुनाव नजदीक आ जाए तो मुद्दा उछाला जाता है.
سرکار کو گریبوں کا خیال کب آتا ہے
چناو نزدیک آ جائے تو مودّا اچھالا جاتا ہے
---