Shayari for Politics "Humne Duniya Mai Mohabbat ka Asar Zinda Kiya Hai"
|
Humne Duniya Mai Mohabbat ka Asar Zinda Kiya Hai,
Humne Nafrat ko Gale Mil-Mil ke Sharminda Kiya Hai.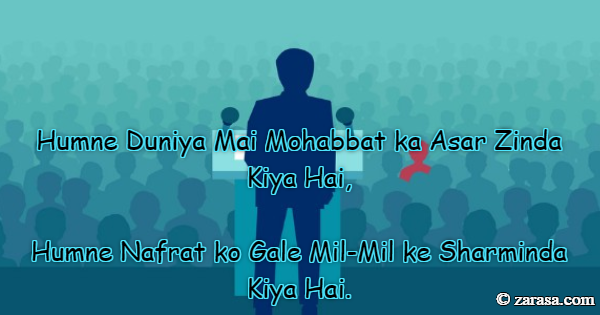 ---

हमने दुनिया में मुहब्बत का असर जिंदा किया हैं,
हमनें नफ़रत को गले मिल-मिल के शर्मिंदा किया हैं |


---

ہمنے دنیا می موحبّت کا اثر زندا کیا ہے
ہمنے نفرت کو گلے مل -مل کے شرمندا کیا ہے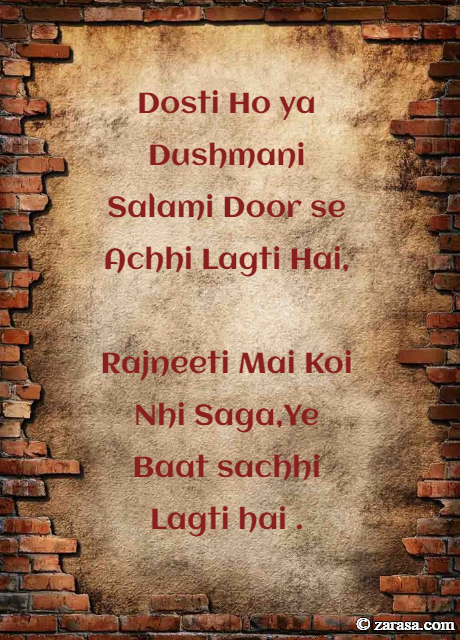 Dosti Ho ya Dushmani Salami Door se Achhi Lagti Hai,
Rajneeti Mai Koi Nhi Saga,Ye Baat sachhi Lagti hai .
दोस्ती हो या दुश्मनी सलामी दूर से अच्छी लगती हैं,
राजनीति में कोई नही सगा, ये बात सच्ची लगती हैं |
دوستی ہو یا دشمنی سلامی دور سے اچھی لگتی ہے
راجنیتی می کوئی نہی سگا ، یہ بات سچھ لگتی ہے
---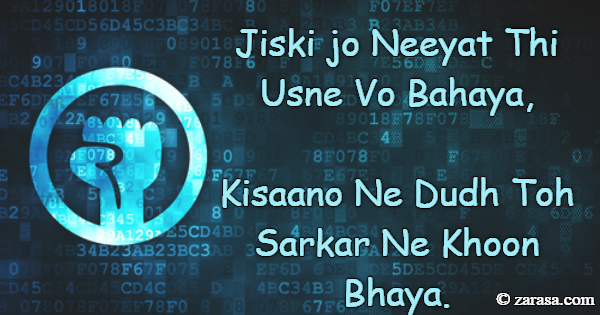 Jiski jo Neeyat Thi Usne Vo Bahaya,
Kisaano Ne Dudh Toh Sarkar Ne Khoon Bhaya.
जिसकी जो नियत थी उसने वो बहाया,
किसानो ने दूध तो सरकार ने खून बहाया |
جسکی جو نیت تھی اسنے وہ بہایا
کسانو نے دودھ تو سرکار نے خون بھایا
---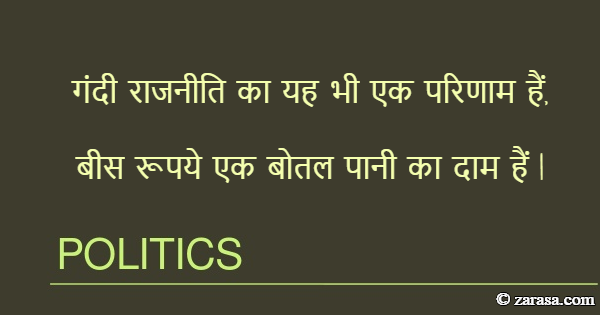 Gandi Rajneeti ka yeh Bhi Ek Parinaam Hai,
Bees Rupye ek Botal Pani Ka Daam Hai.

गंदी राजनीति का यह भी एक परिणाम हैं,
बीस रूपये एक बोतल पानी का दाम हैं |
گندی رجنیتی کا یہ بھی ایک پڑینام ہے
بیس روپے ایک بوتل پانی کا دام ہے
---
Ab Koi Aur Na Dhoka Dega,
Itni Umeed To Vapas Kar De
Hum Se Har Khuab Chenne Vale,
Hamari Neend toh Vaapas Kar De....
अब कोई और न धोखा देगा,
इतनी उम्मीद तो वापस कर दे.
हम से हर ख़्वाब छीनने वाले,
हमारी नींद तो वापस कर दे..
اب کوئی اور نہ دھوکہ دیگا
اتنی امید تو واپس کردے
ہم سے حر خواب چننے والے
ہماری نیند ٹوہ واپس کر دے
---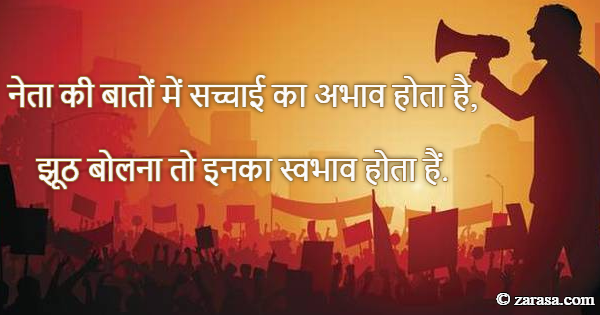 Neta Ki Baton Mai Sachai Ka Aabhav Hota Hai,
Jhut Bolna to Inke Saubhav Hota Hai.
नेता की बातों में सच्चाई का अभाव होता है,
झूठ बोलना तो इनका स्वभाव होता हैं.
نیتا کی باتو می سچھائ کا ابہاو ہوتا ہے
جھٹ بولنا تو انکے سبھاؤ ہوتا ہے
---