Shayari for Politics "Kisaano Ne Dudh Toh Sarkar Ne Khoon Bhaya"
|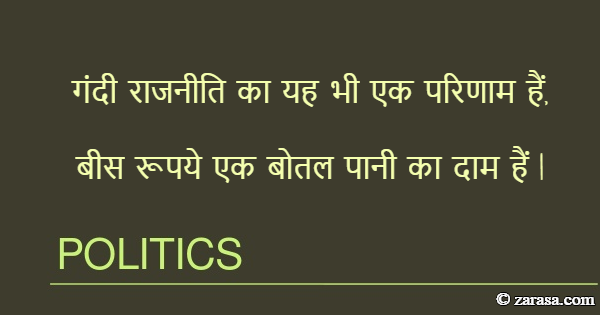 Gandi Rajneeti ka yeh Bhi Ek Parinaam Hai,
Bees Rupye ek Botal Pani Ka Daam Hai.

गंदी राजनीति का यह भी एक परिणाम हैं,
बीस रूपये एक बोतल पानी का दाम हैं |
گندی رجنیتی کا یہ بھی ایک پڑینام ہے
بیس روپے ایک بوتل پانی کا دام ہے
---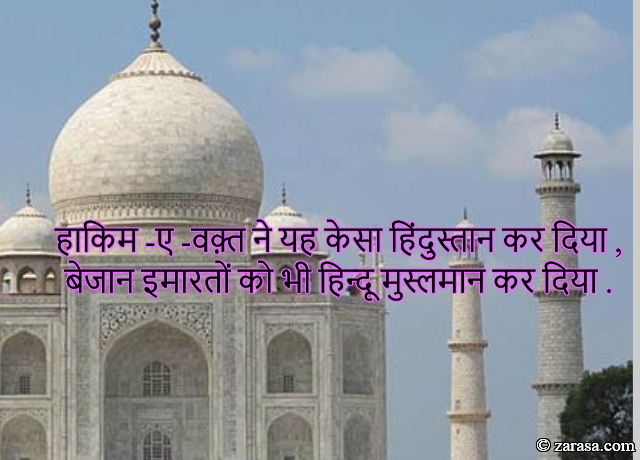 Hakim-e-Waqt Ne Yeh Kesa Hindustan Kar Diya,
Bejaan Imarton Ko Bhi Hindu Musalman Kar Diya.
हाकिम -ए -वक़्त ने यह केसा हिंदुस्तान कर दिया ,
बेजान इमारतों को भी हिन्दू मुस्लमान कर दिया .
حکیم -ے-وقت نے یہ کیسا ہندوستان کر دیا ,
بےجان عمارتوں کو بھی ہندو مسلمان کر دیا .
---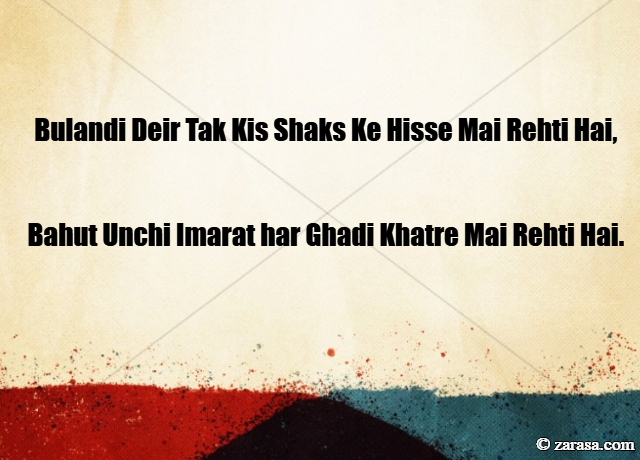 Bulandi Deir Tak Kis Shaks Ke Hisse Mai Rehti Hai,
Bahut Unchi Imarat har Ghadi Khatre Mai Rehti Hai.
बुलंदी देर तक किस शख़्स के हिस्से में रहती है،
बहुत ऊँची इमारत हर घड़ी खतरे में रहती है |

بولاندی دیر تک کس شکس کے حصّے می رھتی ہے
بہت اونچی عمارت ہر گھڈی خطرے می رہتی ہے
---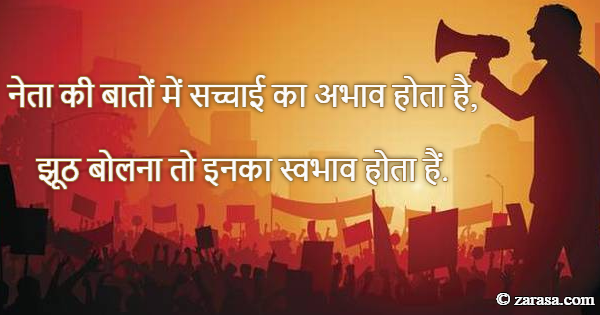 Neta Ki Baton Mai Sachai Ka Aabhav Hota Hai,
Jhut Bolna to Inke Saubhav Hota Hai.
नेता की बातों में सच्चाई का अभाव होता है,
झूठ बोलना तो इनका स्वभाव होता हैं.
نیتا کی باتو می سچھائ کا ابہاو ہوتا ہے
جھٹ بولنا تو انکے سبھاؤ ہوتا ہے
---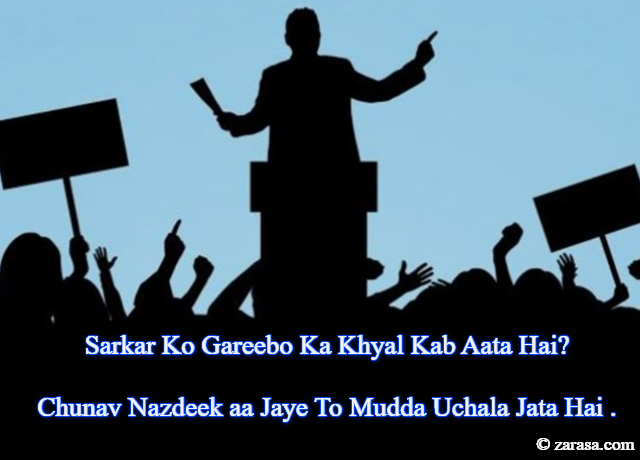 Sarkar Ko Gareebo Ka Khyal Kab Aata Hai?
Chunav Nazdeek aa Jaye To Mudda Uchala Jata Hai .
सरकार को गरीबों का ख्याल कब आता है?
चुनाव नजदीक आ जाए तो मुद्दा उछाला जाता है.
سرکار کو گریبوں کا خیال کب آتا ہے
چناو نزدیک آ جائے تو مودّا اچھالا جاتا ہے
---