Shayari for Pyaar "प्यार वो अनमोल हिरा है जो बिकता नही"
|
Pyaar vo Ehsas Hai jo Mit ta Nhi,
Pyaar vo Parvat Hai jo Jhukta Nhi,
Pyaar ki Kimat Kya hai Humse Phucho,
Pyaar Vo Anmol Heera Hai Jo Kabhi Bikta Nhi.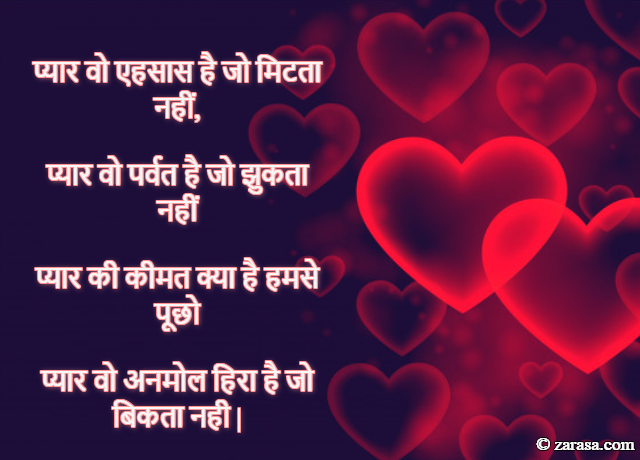 ---

प्यार वो एहसास है जो मिटता नहीं,
प्यार वो पर्वत है जो झुकता नहीं
प्यार की कीमत क्या है हमसे पूछो
प्यार वो अनमोल हिरा है जो बिकता नही.


---

پیار وہ احساس ہے جو مٹ تا نہی
پیار وہ پروات ہے جو جھکتا نہی
پیار کی قیمت کیا ہے ہمسے پھچو
پیار وہ انمول ہیرا ہے جو کبھی بکتا نہی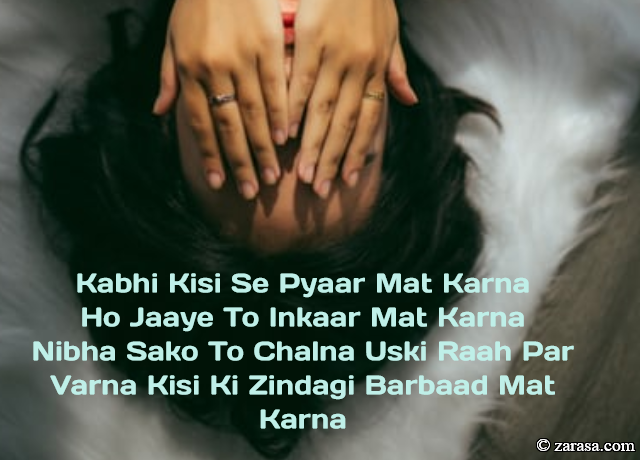 Kabhi Kisi Se Pyaar Mat Karna
Ho Jaaye To Inkaar Mat Karna
Nibha Sako To Chalna Uski Raah Par
Varna Kisi Ki Zindagi Barbaad Mat Karna
कभी किसी से प्यार मत करना
हो जाए तो इंकार मत करना
निभा सको तो चलना उसकी राह पर
वार्ना किसी की ज़िन्दगी बर्बाद मत करना
کبھی کسی سے پیار مت کرنا
ہو جائے تو انکار مت کرنا
نبھا سکو تو چلنا اسکی راہ پر
ورنہ کسی کی زندگی برباد مت کرنا
---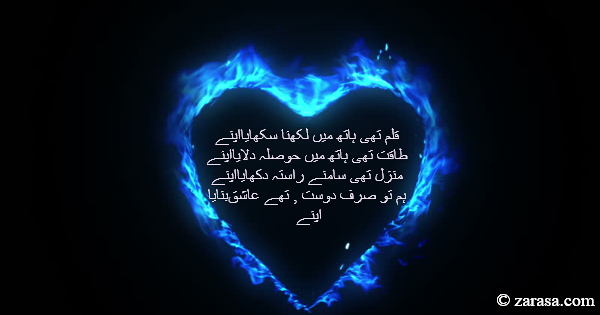 Kalam thi haath mai likhna sikhaya aapne

Taakt thi haath mai hausla Dilaya aapne

Manzil thi saamne rasta dikhaya aapne

Hm toh sirf Dost the ,Aashiq banaya aapne
कलम थी हाथ मई लिखना सिखाया आपने
ताकत थी हाथ मई हौसला दिलाया आपने
मंज़िल थी सामने रास्ता दिखाया आपने
हम तो सिर्फ दोस्त थे , आशिक़ बनाया आपने
قلم تھی ہاتھ میں لکھنا سکھایا اپنے
طاقت تھی ہاتھ میں حوصلہ دلایا اپنے
منزل تھی سامنے راستہ دکھایا اپنے
ہم تو صرف دوست تھے , عاشق بنایا اپنے
---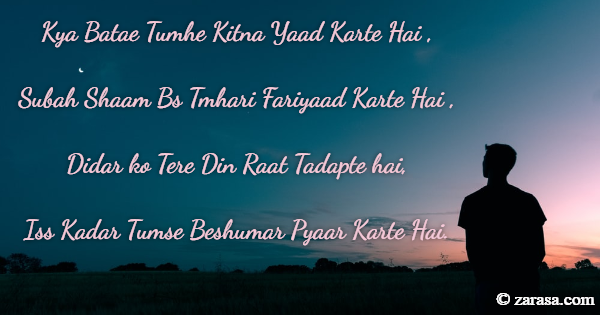 Kya Batae Tumhe Kitna Yaad Karte Hai ,
Subah Shaam Bs Tmhari Fariyaad Karte Hai ,
Didar ko Tere Din Raat Tadapte hai,
Iss Kadar Tumse Beshumar Pyaar Karte Hai.
क्या बताए तम्हें कितना याद करते है ,
सुबह शाम बस तम्हारी फ़रियाद करते है,
दीदार को तेरे दिन रात तड़पते है ,
इस कदर तुमसे बेशुमार प्यार करते है।
کیا بتاۓ تمھ کتنا یاد کرتے ہے
صوبہ شام بس تمہاری فریاد کرتے ہے
دیدار کو تیرے دن رات تداپتے ہے
اسس کدر تمسے بیشمار پیار کرتے ہے
---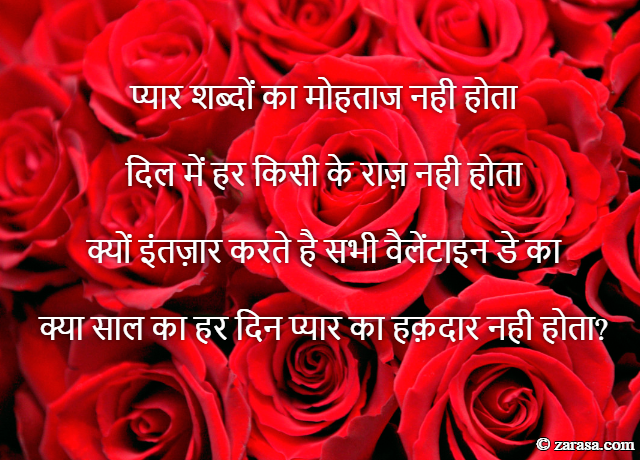 Pyaar shabdon ka mohtaj nhi hota
Dil mai har kisi ke rose nhi hota
Kyon intezaar karte hai sabhi Valentines Day ka
Kya saal ka har din pyaar ka hak daar nhi hota?
प्यार शब्दों का मोहताज नही होता
दिल में हर किसी के राज़ नही होता
क्यों इंतज़ार करते है सभी वैलेंटाइन डे का
क्या साल का हर दिन प्यार का हक़दार नही होता?
پیار شبدو کا موھتاج نہی ہوتا
دل می ہر کسی کے روس نہی ھوتا
کیو انتظار کرتے ہے سبھی والینتینس دے کا
کیا سال کا ہر دن پیار کا حکدار نہی ہوتا
---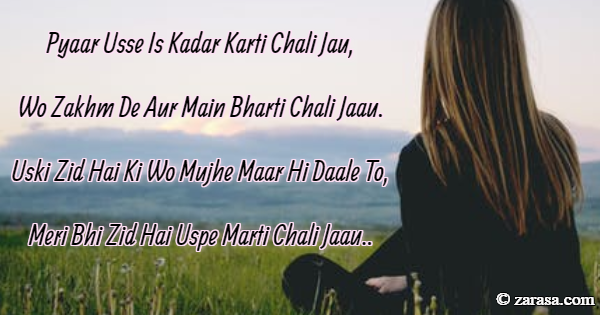 Pyaar Usse Is Kadar Karti Chali Jau,
Wo Zakhm De Aur Main Bharti Chali Jaau.
Uski Zid Hai Ki Wo Mujhe Maar Hi Daale To,
Meri Bhi Zid Hai Uspe Marti Chali Jaau..
प्यार उससे इस कदर करती चली जाऊँ,
वो जख़्म दे और मैं भरती चली जाऊँ.
उसकी ज़िद हैं कि वो मुझे मार ही डाले तो,
मेरी भी ज़िद हैं उसपे मरती चली जाऊँ..
پیار اسے اس کدر کرتی چلی جاو
وہ زخم دے اور می بھرتی چلی جاو
اسکی زد ہے کی وہ مجھے مار ہی دالے تو
میری بھی زد ہے اسپے مرتی چلی جاو
---