Shayari for Rose day "हम तो इस गुलाब को चूमना चाहते हैं। '
|
Pyaar ke Samandar Me Sab Doobna Chahte Hain,
Pyaar me Kuch Khote Hain, Toh Kuch Paate Hain,
Pyaar Toh Ek Gulaab hai Jise Sab Todna Chahte Hai,
Hum To Es Gulab Ko Chumna Chahte Hain.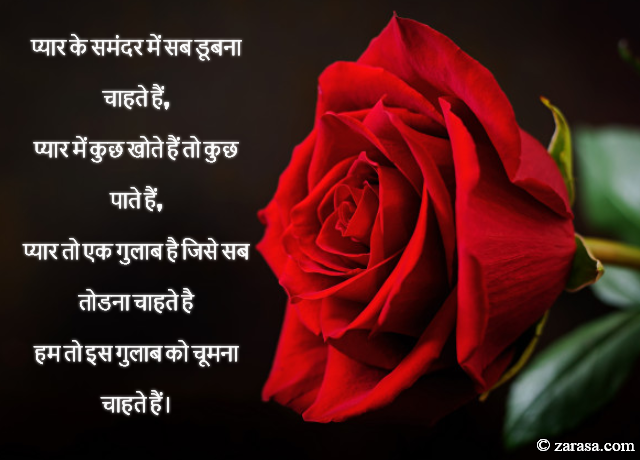 ---

प्यार के समंदर में सब डूबना चाहते हैं,
प्यार में कुछ खोते हैं तो कुछ पाते हैं,
प्यार तो एक गुलाब है जिसे सब तोडना चाहते है
हम तो इस गुलाब को चूमना चाहते हैं।


---

پیار کے سمندر مے سب دبنا چاہتے ہیں
پیار مے کچھ کھوتے ہیں ٹوہ کچھ پاتے ہیں
پیار ٹوہ ایک گلاب ہے جسے سب توڑنا چاہتے ہے
ہم تو یس گلاب کو چومنا چاہتے ہیں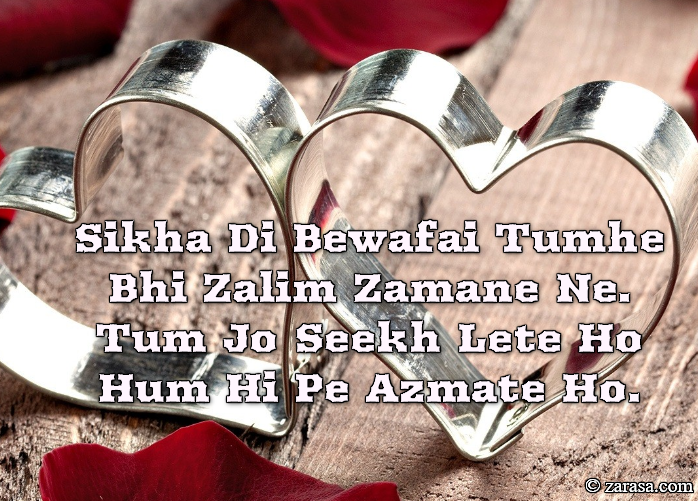 Sikha Di Bewafai Tumhe Bhi Zalim Zamane Ne.
Tum Jo Seekh Lete Ho Hum Hi Pe Azmate Ho.
सीखा दी बेवफाई तुम्हे भी ज़ालिम ज़माने ने .
तुम जो सीख लेते हो हम ही पे अज़मते हो .
سکھ دی بیوفائی تمھ بھی ظالم زمانے نے .
تم جو سیکھ لیتے ہو ہم ہی پی آزماتے ہو .
---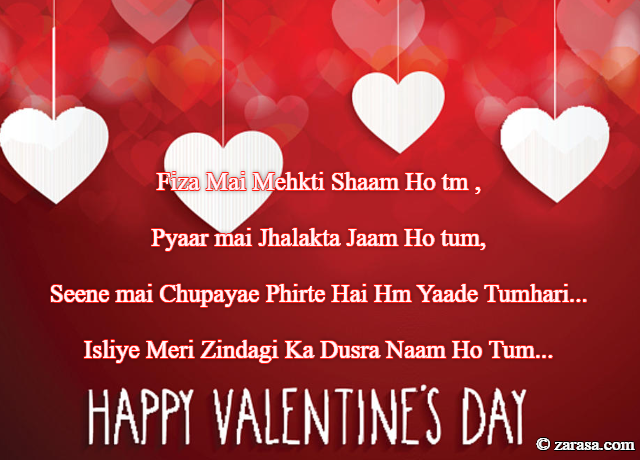 Fiza Mai Mehkti Shaam Ho tm ,
Pyaar mai Jhalakta Jaam Ho tum,
Seene mai Chupayae Phirte Hai Hm Yaade Tumhari...
Isliye Meri Zindagi Ka Dusra Naam Ho Tum...
फिज़ा में महकती शाम हो  तुम,
प्यार में झलकता जाम हो  तुम,
सीने में छुपाये फिरते है हम यादें  तुम्हारी…
इसलिये मेरी जिंदगी का दूसरा नाम हो तुम…
فضا می مہکتی شام ہو تم
پیار می جھلکتا جام ہو تم
سینے می چھپایا پھرتے ہے ہم یادیں تمہری
اسلئے میری زندگی کا دوسرا نام ہو تم
---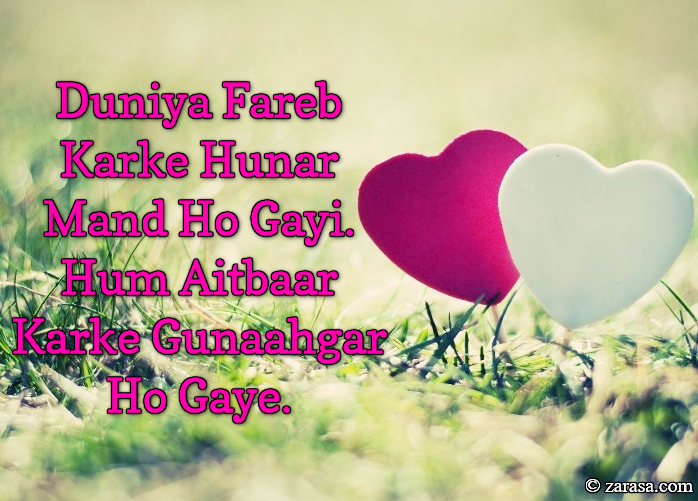 Duniya Fareb Karke Hunar Mand Ho Gayi.
Hum Aitbaar Karke Gunaahgar Ho Gaye.
दुनिया फरेब करके हुनर मंद हो गयी .
हम ऐतबार करके गुनाहगार हो गए .
دنیا فریب کرکے ہنر مند ہو گی .
ہم اعتبار کرکے گناہگار ہو گئے .
---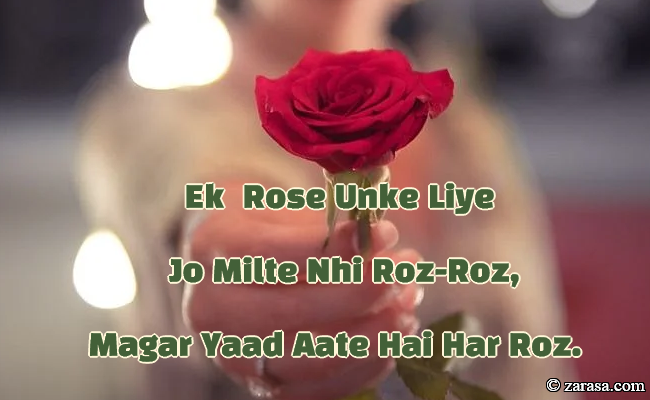 Ek  Rose Unke Liye
Jo Milte Nhi Roz-Roz,
Magar Yaad Aate Hai Har Roz.
एक रोस उनके लिए
जो मिलते नही रोज़-रोज़,
मगर याद आते है हर रोज़ |
ایک روسے انکے لئے
جو ملتے نہی روز -روز
مگر یاد آتے ہے ہر روز
---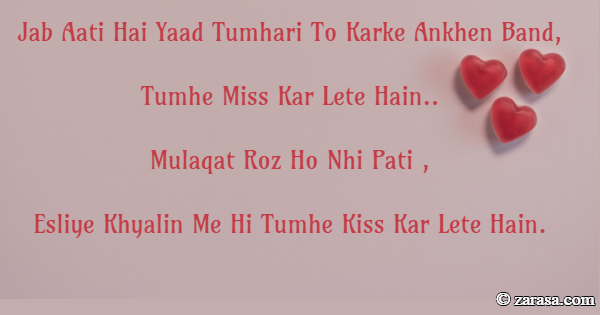 Jab Aati Hai Yaad Tumhari To Karke Ankhen Band,
Tumhe Miss Kar Lete Hain..
Mulaqat Roz Ho Nhi Pati ,
Esliye Khyalin Me Hi Tumhe Kiss Kar Lete Hain.

जब आती है याद तुम्हारी तो करके आंखे बंद,
तुम्हें मिस कर लेते हैं..
मुकालात रोज़ हो नहीं पाती,
इसलिए ख्यालों में ही तुम्हें किस कर लेते हैं।
جب آتی ہے یاد تمہاری تو کرکے آنکھ بند
تمھ مس کر لیتے ہیں
ملکات روز ہو نہی پتو
اسلئے خیالوں مے ہی تمھ کس کر لیتے ہیں
---