Shayari For Mohabbat "Mohabbat Chhod Di Mainne"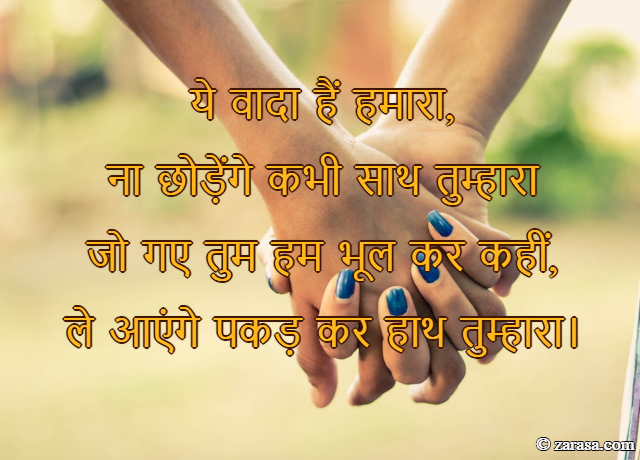 Yeh Vada Hain Hamara,
Na Chodenge Kabhi Saath Tumhara
Jo Gye Tum Hum Bhul kar Kahin,
Le Aayenge Pakad kar Haath Tumhara.
Happy Promise Day
ये वादा हैं हमारा,
ना छोड़ेंगे कभी साथ तुम्हारा
जो गए तुम हम भूल कर कहीं,
ले आएंगे पकड़ कर हाथ तुम्हारा।

Happy Promise Day
یہ وادا ہیں ہمارا
نہ چودینگے کبھی ساتھ تمہارا
جو گے بھلکر کہیں
لے ااینگے پکاڈ کر ہاتھ تمہارا
---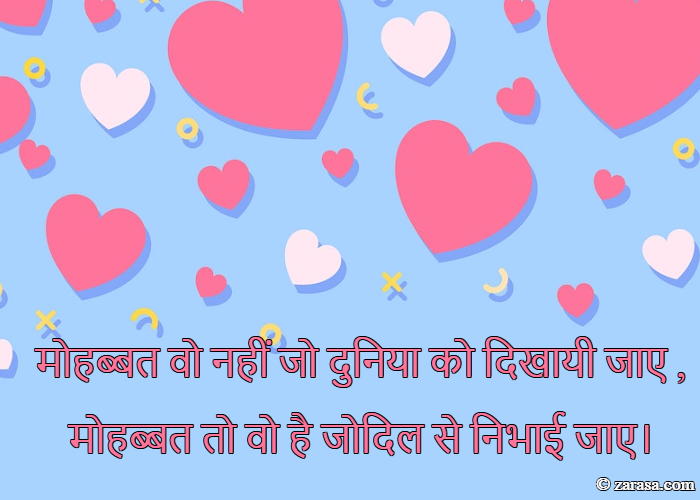 Mohabbat Wo Nahi Jo
Duniya Ko Dikhayi Jaye,
 Mohabbat To Wo Hai Jo
Dil Se Nibhayi Jaaye.
मोहब्बत वो नहीं जो
दुनिया को दिखायी जाए ,
मोहब्बत तो वो है जो
दिल से निभाई जाए।
موحبّت وہ نہیں جو
دنیا کو دکھایی جائے
موحبّت تو وہ ہے جو
دل سے نبھیی جائے
---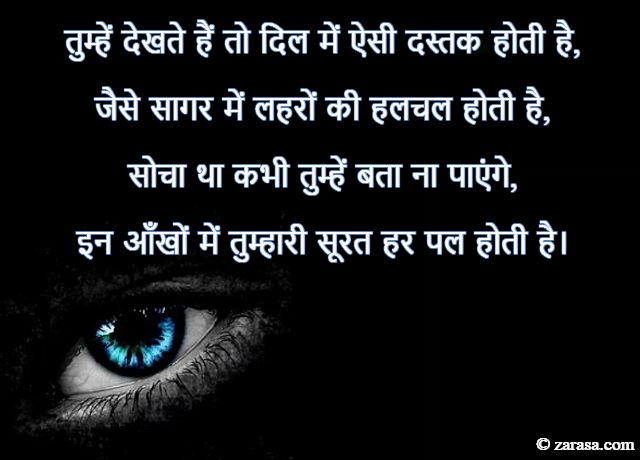 Tumhe Dekhte Dain to Dil Mein aisi Dastak Hoti Hai,
Jaise Saagar Mein Lehron ki Halchal Hoti Hai,
Socha tha Kabhi Tumhe Bataa na Payenge,
In Aankhon Mein Tumhaari Soorat har pal Hoti Hai…
तुम्हें देखते हैं तो दिल में ऐसी दस्तक होती है,
जैसे सागर में लहरों की हलचल होती है,
सोचा था कभी तुम्हें बता ना पाएंगे,
इन आँखों में तुम्हारी सूरत हर पल होती है।
تمھ دیکھتے ہے تو دل می ایسی دستک ہوتی ہے
جیسے ساگر می لہروں کی ہلچل ہوتی ہے
سوچا تھا کبھی تمھ بتا نہ پاینگے
ان آنکھوں می تمہاری صورت ہر پل ہوتی ہے
---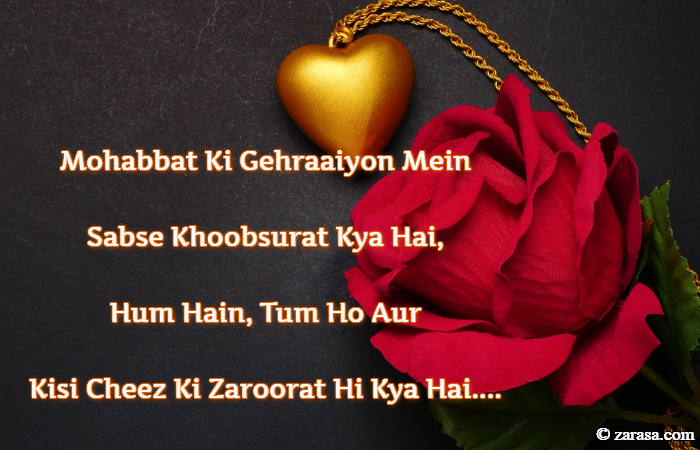 Mohabbat Ki Gehraaiyon Mein Sabse Khoobsurat Kya Hai,
Hum Hain, Tum Ho Aur Kisi Cheez Ki Zaroorat Hi Kya Hai....
मोहब्बत की गहराइयों में सबसे ख़ूबसूरत क्या है?
हम हैं, तुम हो और किसी चीज़ की जरूरत क्या है।
موحبّت کی گہرایوں میں سبسے خوبصورت کیا ہے
ہم ہے تم ہو اور کسی چیز کی ضرورت ہی کیا ہے
---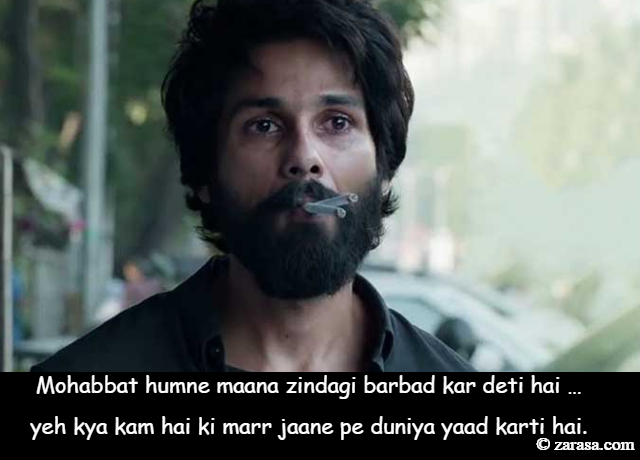 Mohabbat humne maana zindagi barbad kar deti hai …
yeh kya kam hai ki marr jaane pe duniya yaad karti hai.
मोहब्बत हमने माना ज़िन्दगी बर्बाद कर देती है ,
यह क्या कम है की मर जाने पे दुनिया याद करती है।
موحبّت ہمنے مانا زندگی برباد کر دیتی ہے
یہ کیا کم ہے کی مر جانے پی دنیا یاد کرتی ہے
---