Shayari For Mohabbat "Mohabbat Chhod Di Mainne"
|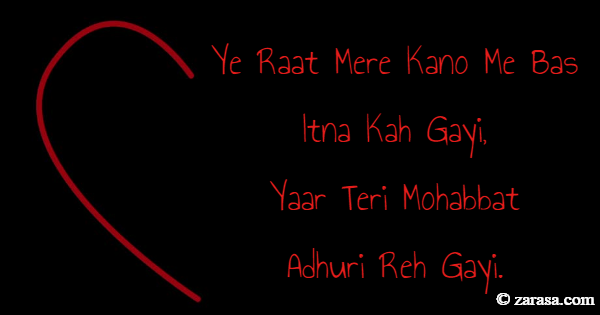 Ye Raat Mere Kano Me Bas
Itna Kah Gayi,
Yaar Teri Mohabbat
Adhuri Reh Gayi.
ये रात मेरे कानों में बस
इतना कह गयी,
यार तेरी मोहब्बत
अधूरी रह गयी |
یہ رات میرے کانو می بس
اتنا کہ گی
یار تیری موحبّت
ادھوری رہ گی
---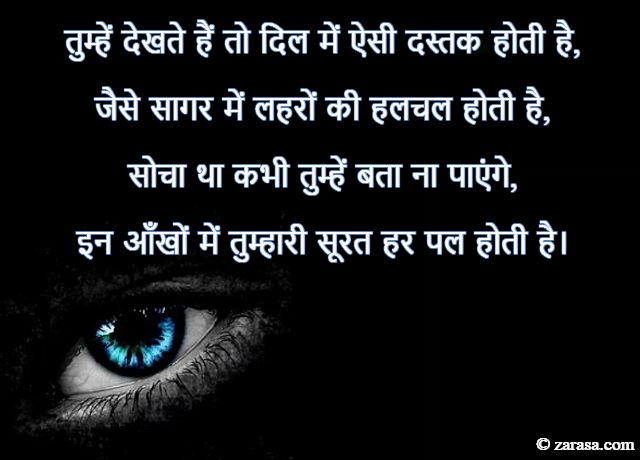 Tumhe Dekhte Dain to Dil Mein aisi Dastak Hoti Hai,
Jaise Saagar Mein Lehron ki Halchal Hoti Hai,
Socha tha Kabhi Tumhe Bataa na Payenge,
In Aankhon Mein Tumhaari Soorat har pal Hoti Hai…
तुम्हें देखते हैं तो दिल में ऐसी दस्तक होती है,
जैसे सागर में लहरों की हलचल होती है,
सोचा था कभी तुम्हें बता ना पाएंगे,
इन आँखों में तुम्हारी सूरत हर पल होती है।
تمھ دیکھتے ہے تو دل می ایسی دستک ہوتی ہے
جیسے ساگر می لہروں کی ہلچل ہوتی ہے
سوچا تھا کبھی تمھ بتا نہ پاینگے
ان آنکھوں می تمہاری صورت ہر پل ہوتی ہے
---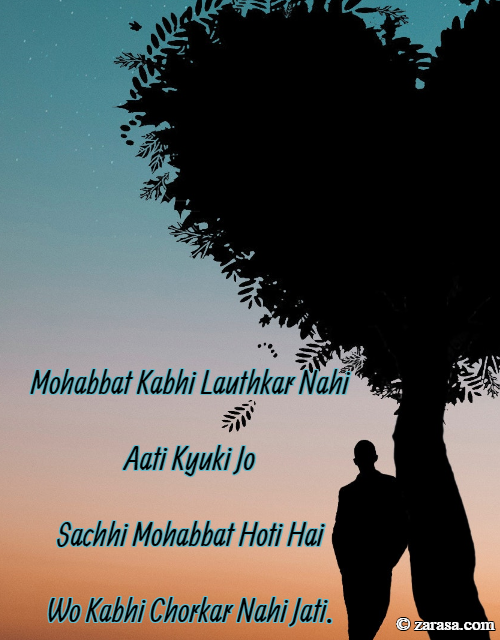 Mohabbat Kabhi Lauthkar Nahi
Aati Kyuki Jo
Sachhi Mohabbat Hoti Hai
Wo Kabhi Chorkar Nahi Jati,
मोहब्बत कभी लौटकर नहीं
आती क्युकी जो
सच्ची मोहब्बत होती है
वो कभी छोड़कर नहीं जाती |
موحبّت کبھی لوٹکر نہی
آتی کنکی جو
سچھی موحبّت ہوتی ہے
وہ کبھی چھوڑکر نہی جاتی
---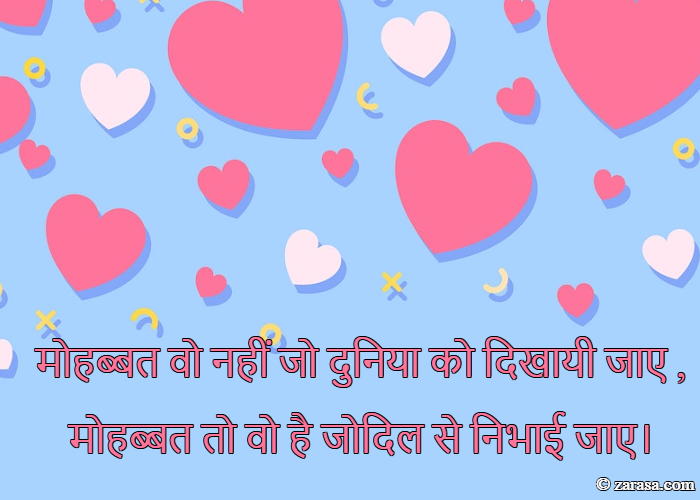 Mohabbat Wo Nahi Jo
Duniya Ko Dikhayi Jaye,
 Mohabbat To Wo Hai Jo
Dil Se Nibhayi Jaaye.
मोहब्बत वो नहीं जो
दुनिया को दिखायी जाए ,
मोहब्बत तो वो है जो
दिल से निभाई जाए।
موحبّت وہ نہیں جو
دنیا کو دکھایی جائے
موحبّت تو وہ ہے جو
دل سے نبھیی جائے
---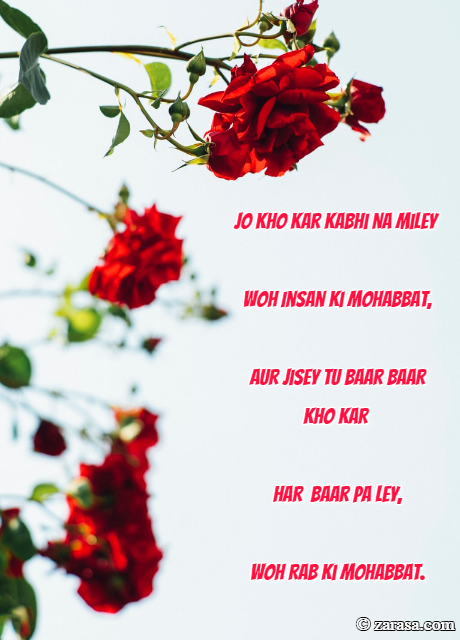 Jo Kho Kar Kabhi Na Miley
Woh Insan Ki Mohabbat,
Aur Jisey Tu Baar Baar Kho Kar
Har  Baar Pa Ley,
Woh Rab ki Mohabbat.
जो खो कर कभी ना मिले
वोह इंसान की मोहब्बत ,
और जिसे तू बार बार खो कर
हर बार पा ले ,
वोह रब की मोहब्बत।
جو کھو کر کبھی نہ ملے
وہ انسان کی موحبّت
اور جسے تو بار بار کھو کر
ہر بار پا لے
وہ رب کی موحبّت
---