Shayari for Teachers"Ek Aaccha Insaan Bana Diya"
|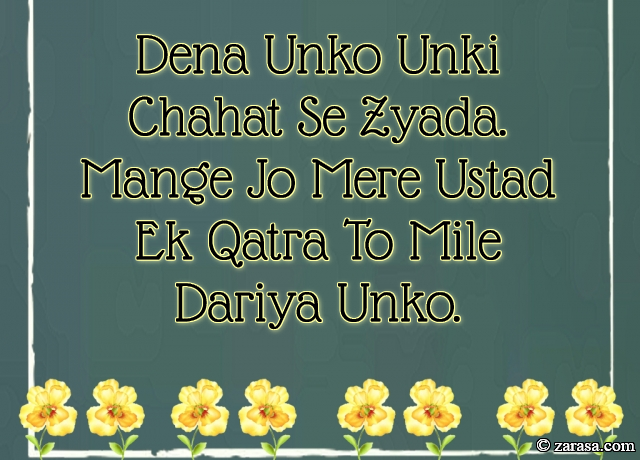 Dena Unko Unki Chahat Se Zyada.
Mange Jo Mere Ustad Ek Qatra To Mile Dariya Unko.
देना उनको उनकी चाहत से ज़्यादा .
मांगे जो मेरे उस्ताद एक क़तरा तो मिले दरिया उनको .
دینا انکو انکی چاہت سے زیادہ .
مانگے جو میرے استاد ایک قطرہ تو میل دریا انکو .
---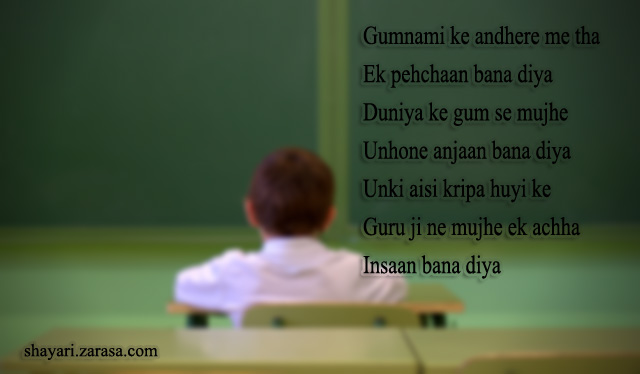 Gumnami ke andhere me tha
Ek pehchaan bana diya
Duniya ke gum se mujhe
Unhone anjaan bana diya
Unki aisi kripa huyi ke
Guru ji ne mujhe ek achha
Insaan bana diya

 
गुमनामी के अँधेरे में था
एक पहचान बना दिया
दुनिया के गम से मुझे
उन्होंने अनजान बना दिया
उनकी ऐसी कृपा हुयी के
गुरु जी ने मुझे एक अच्छा
इंसान बना दिया
گمنامی کے اندھیرے میں تھا
ایک شناخت بنا دیا
دنیا کے گم سے مجھے
انہوں نے نامعلوم بنا دیا
ان ایسی فضل ہوئی کے
گورو جی نے مجھے ایک اچھا
انسان بنا دیا
---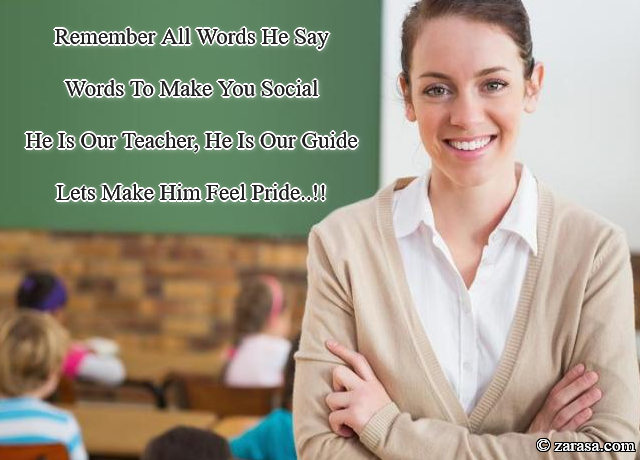 Remember All Words He Say
Words To Make You Social
He Is Our Teacher, He Is Our Guide
Lets Make Him Feel Pride..!!

रिमेम्बर आल वर्ड्स ही से
वर्ड्स टो मेक यू सोशल
ही इस आवर टीचर ,ही इस आवर गाइड
लेटस मेक हिम फील प्राइड।
ریممبر آل وورڈس ہے سے
وورڈس تو مکے یو سوشل
 ہے اس اور ٹیچر, ہے اس اور گائیڈ
لیٹس مکے ہم فیل پردے
---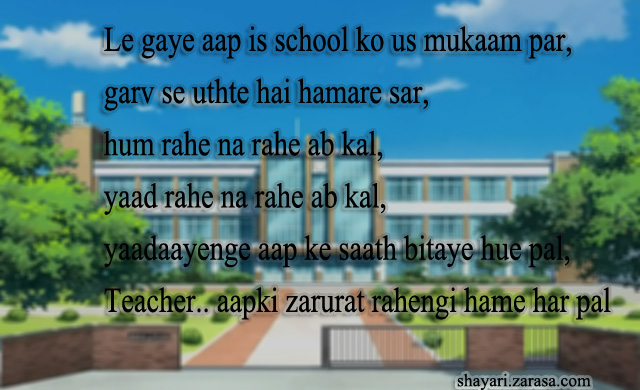 Le gaye aap is school ko us mukaam par,
garv se uthte hai hamare sar,
hum rahe na rahe ab kal,
yaad rahe na rahe ab kal,
yaadaayenge aap ke saath bitaye hue pal,
Teacher.. aapki zarurat rahengi hame har pal



ले गए आप इस स्कूल को उस मुकाम पर,
गर्व से उठते है हमारे सर,
हम रहे न रहे अब काl,
याद रहे न रहे अब कल,
यादायेंगे आप के साथ बिताये हुए पल,
टीचर.. आपकी ज़रूरत रहेंगी हमें हर पल
لے گئے، آپ اس اسکول کو اس مقام پر
فخر سے اٹھتے ہے ہمارے سر
ہم رہے نہ رہے اب کا
یاد رہے نہ رہے اب کل
يادايےگے آپ کے ساتھ گزارے ہوئے لمحے
ٹیچر .. آپ ضرورت رہیں گی ہمیں ہر لمحے
---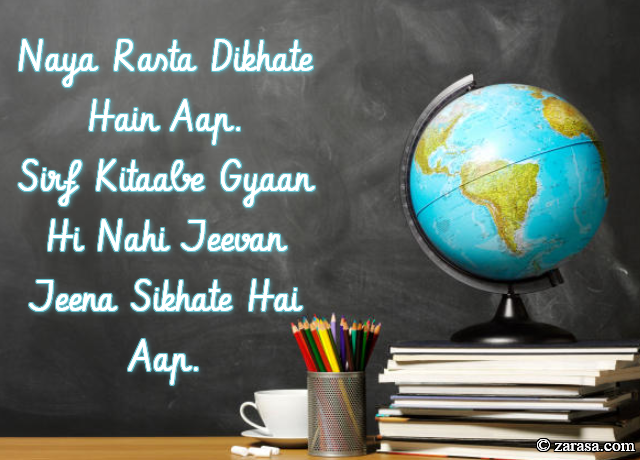 Naya Rasta Dikhate Hain Aap.
Sirf Kitaabe Gyaan Hi Nahi Jeevan Jeena Sikhate Hai Aap.
नया रास्ता दिखते हैं आप .
सिर्फ किताबे ज्ञान ही नहीं जीवन जीना सिखाते है आप .
نیا راستہ دکھاتے ہیں آپ
صرف کتابے گیان ہی نہیں جیو جینا سکھاتے ہے آپ .
---