Shayari On Valentines Day "ना होने दू कभी मोहब्बत कम"
|
Tere hothon pe ho bs muskaan,
Aesa mai kuch aaj karo,
Na hone do kabhi Mohabbat kam,
Itna ji bhar kar tujhe pyar karo.
HAPPY VALENTINES DAY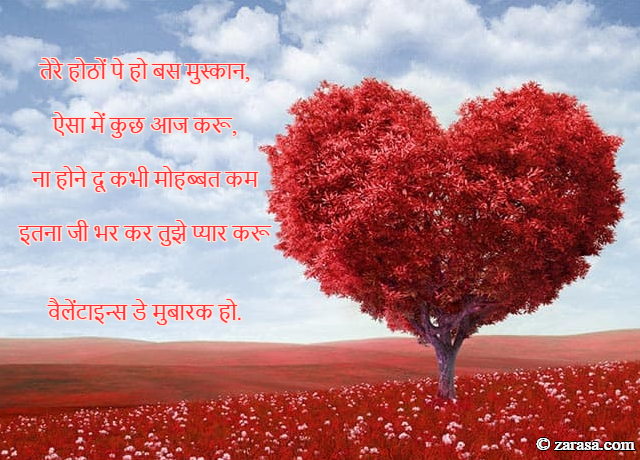 ---

तेरे होठों पे हो बस मुस्कान,
ऐसा में कुछ आज करू,
ना होने दू कभी मोहब्बत कम
इतना जी भर कर तुझे प्यार करू

वैलेंटाइन्स डे मुबारक हो.


---

تیرے ہوتہوں پی ہو بس مسکان
ایسا می کچھ آج کرو
نہ ہونے دو کبھی موحبّت کم
اتنا جی بھر کر تجھے پیار کرو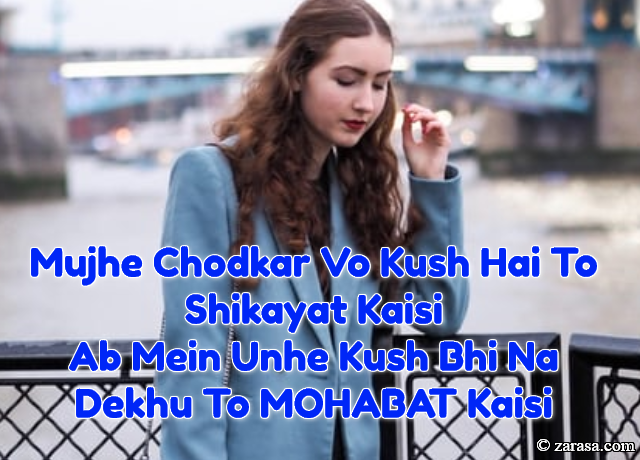 Mujhe Chodkar Vo Kush Hai To Shikayat Kaisi
Ab Mein Unhe Khush Bhi Na Dekhu To Mohabbat Kaisi
मुझे छोड़कर वो कुश है तो शिकायत कैसी
अब में उन्हें कुश भी न देखु तो मोहबत कैसी
مجھے چھوڑکر وہ خوش ہے تو شکایات کیسی
اب میں انھ خوش بھی نہ دیکھو تو موہبت کیسی
---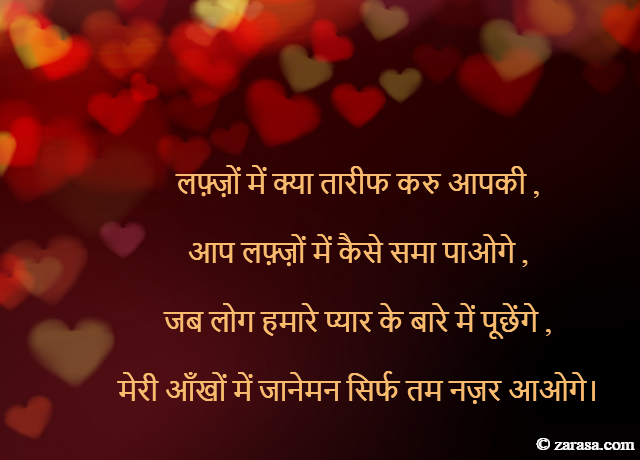 Lafzon Me Kya Taarif Karu Aapki,
Aap Lafzon Me Kaise Sama Paoge,
Jb Log Hamare Pyar Ke Bare Me Puchenge,
Meri Aankho Me Jaaneman Sirf Tum Nazar Aoge.
लफ़्ज़ों में क्या तारीफ करु आपकी ,
आप लफ़्ज़ों में कैसे समा पाओगे ,
जब लोग हमारे प्यार के बारे में पूछेंगे ,
मेरी आँखों में जानेमन सिर्फ तम नज़र आओगे।
لفظوں می کیا تعارف کرو آپکی
آپ لفظوں می کیسے سما پاؤگے
جب لوگ ہمارے پیار کے بارے مے پچینگے
میری آنکوں مے جانیمن صرف تم نظر آؤگے
---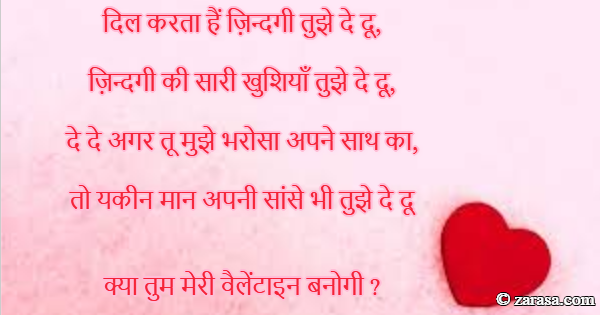 Dil Karta Hai Zindagi Tujhe De Doon,
Zindagi Ki Saari Khushiyan Tujhe De Doon,
De De Agar tu Mujhe Bharosa Apne Saath Ka,
Toh Yakeen Maan Apni Saanse Bhi Tujhe De Doon.
WILL YOU BE MY VALENTINE?
दिल करता हैं ज़िन्दगी तुझे दे दू,
ज़िन्दगी की सारी खुशियाँ तुझे दे दू,
दे दे अगर तू मुझे भरोसा अपने साथ का,
तो यकीन मान अपनी सांसे भी तुझे दे दू

क्या तुम मेरी वैलेंटाइन बनोगी ?
دل کرتا ہے زندگی تجھے دے دو
زندگی کی ساری خوشیاں تجھے دے دو
دے دے اگر تو مجھے بھروسا اپنے ساتھ کا
تو یکین ماں اپنی سانسے بھی تجھے دے دو
---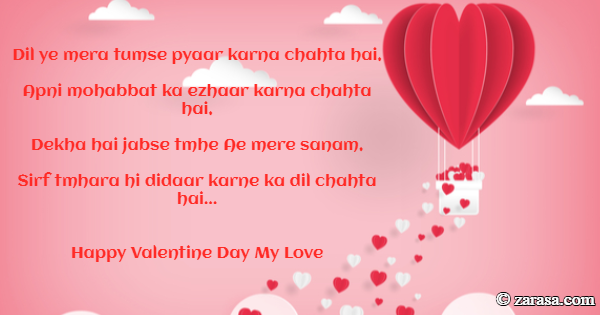 Dil ye mera tumse pyaar karna chahta hai,
Apni mohabbat ka ezhaar karna chahta hai,
Dekha hai jabse tmhe Ae mere sanam,
Sirf tmhara hi didaar karne ka dil chahta hai...
Happy Valentine Day My Love
दिल ये मेरा तुमसे प्यार करना चाहता है,
अपनी मोहब्बत का इज़हार करना चाहता है,
देखा है जब से तुम्हें ए मेरे सनम,
सिर्फ तुम्हारा ही दीदार करने का दिल चाहता है..
Happy Valentine Day My Love
دل یہ میرا تمسے پیار کرنا چاہتا ہے
اپنی موحبّت کا اظہار کرنا چاہتا ہے
دیکھا ہے جبسے تمھ اے میرے صنم
صرف تمہارا ہی دیدار کرنے کا دل چاہتا ہے
---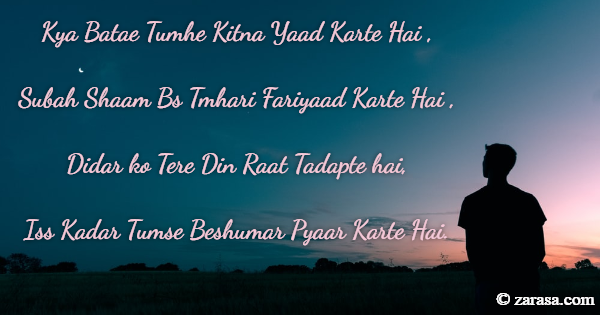 Kya Batae Tumhe Kitna Yaad Karte Hai ,
Subah Shaam Bs Tmhari Fariyaad Karte Hai ,
Didar ko Tere Din Raat Tadapte hai,
Iss Kadar Tumse Beshumar Pyaar Karte Hai.
क्या बताए तम्हें कितना याद करते है ,
सुबह शाम बस तम्हारी फ़रियाद करते है,
दीदार को तेरे दिन रात तड़पते है ,
इस कदर तुमसे बेशुमार प्यार करते है।
کیا بتاۓ تمھ کتنا یاد کرتے ہے
صوبہ شام بس تمہاری فریاد کرتے ہے
دیدار کو تیرے دن رات تداپتے ہے
اسس کدر تمسے بیشمار پیار کرتے ہے
---