Talaash Shayari "Talash Sirf Sukun Ki Hoti Hai"
|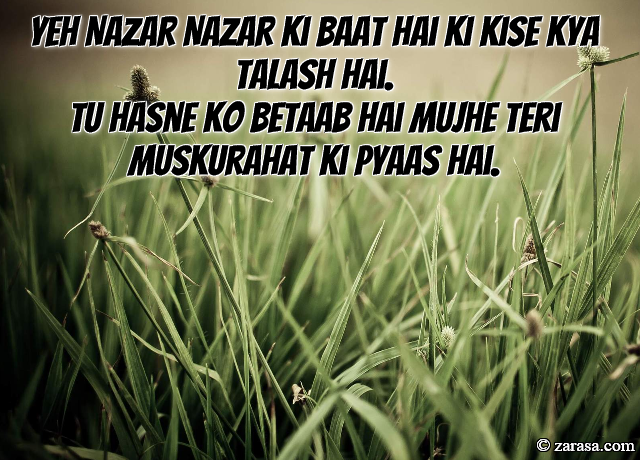 Yeh Nazar Nazar Ki Baat Hai Ki Kise Kya Talash Hai.
Tu Hasne Ko Betaab Hai Mujhe Teri Muskurahat Ki Pyaas Hai.
यह नज़र नज़र की बात है की किसे क्या तलाश है .
तू हसने को बेताब है मुझे तेरी मुस्कराहट की प्यास है .

یہ نظر نظر کی بات ہے کی کیسے کیا تلاش ہے .
تو ہسنے کو بیتاب ہے مجھے تیری مسکراہٹ کی پیاس ہے .

---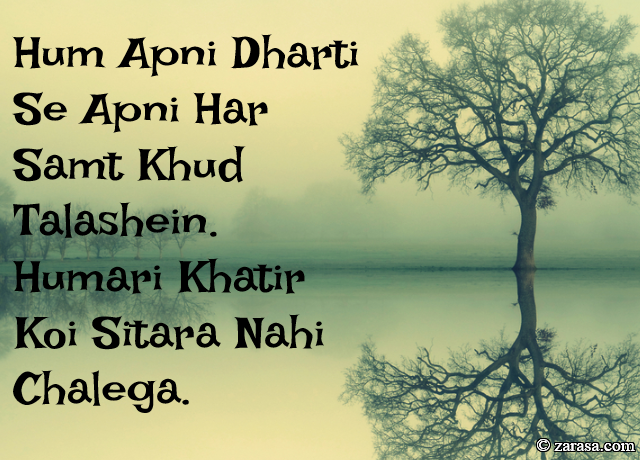 Hum Apni Dharti Se Apni Har Samt Khud Talashein.
Humari Khatir Koi Sitara Nahi Chalega.
हम अपनी धरती से अपनी हर संत खुद तलाशें .
हमारी खातिर कोई सितारा नहीं चलेगा .
ہم اپنی دھرتی سے اپنی ہر سمت خود تلاشیں .
ہماری خاطر کوئی سترہ نہیں چلیگا .
---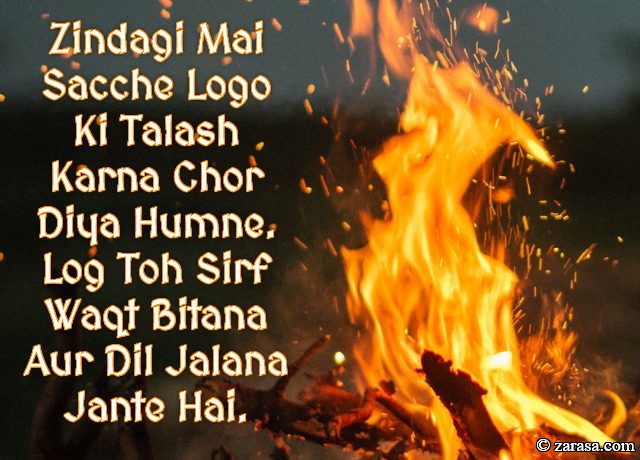 Zindagi Mai Sacche Logo Ki Talash Karna Chor Diya Humne.
Log Toh Sirf Waqt Bitana Aur Dil Jalana Jante Hai.
ज़िन्दगी मै सच्चे लोगो की तलाश करना छोड़ दिया हमने .
लोग तोह सिर्फ वक़्त बिताना और दिल जलना जानते है .



زندگی می سکچے لوگو کی تلاش کرنا چھوڑ دیا ہمنے .
لوگ ٹوہ صرف وقت بتانا اور دل جلانا جانتے ہے .



---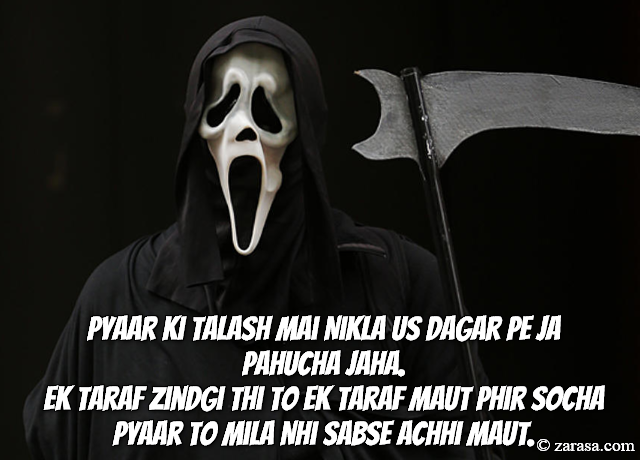 Pyaar Ki Talash Mai Nikla Us Dagar Pe Ja Pahucha Jaha.
Ek Taraf Zindgi Thi To Ek Taraf Maut Phir Socha Pyaar To Mila Nhi Sabse Achhi Maut.
प्यार की तलाश में निकला उस डगर पे जा पंहुचा जहा .
एक तरफ ज़िंदगी थी तो एक तरफ मौत फिर सोचा प्यार तो मिला नहीं सबसे अच्छी मौत .
پیار کی تلاش مے نکلا اس دگر پی جا پہچا جہا .
ایک طرف زندگی تھی تو ایک طرف موت پھر سوچا پیار تو ملا نہی سبسے اچھی موت .
---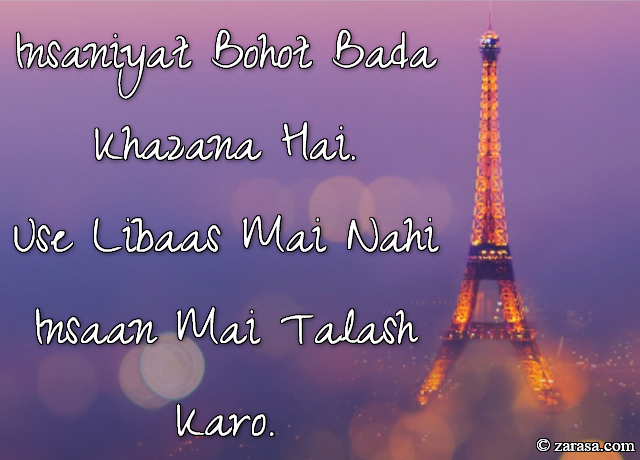 Insaniyat Bohot Bada Khazana Hai.
Use Libaas Mai Nahi Insaan Mai Talash Karo.

इंसानियत बोहोत बड़ा खज़ाना है .
उसे लिबास मै नहीं इंसान मै तलाश करो .

انسانیت بوہوت بد خزانہ ہے .
اسے لباس می نہیں انسان می تلاش کرو .
---