Talaash Shayari "Samt Khud Talashein"
|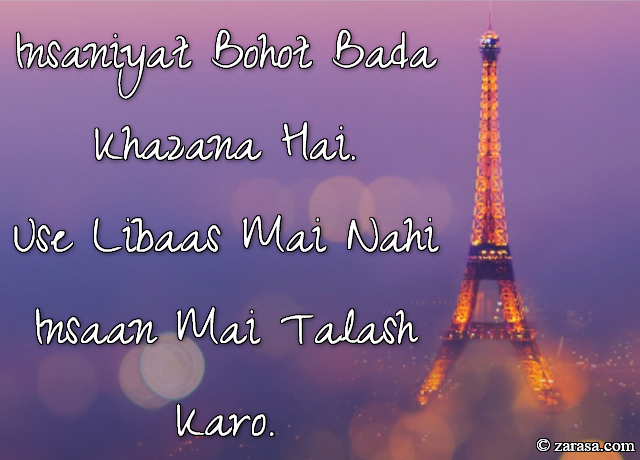 Insaniyat Bohot Bada Khazana Hai.
Use Libaas Mai Nahi Insaan Mai Talash Karo.

इंसानियत बोहोत बड़ा खज़ाना है .
उसे लिबास मै नहीं इंसान मै तलाश करो .

انسانیت بوہوت بد خزانہ ہے .
اسے لباس می نہیں انسان می تلاش کرو .
---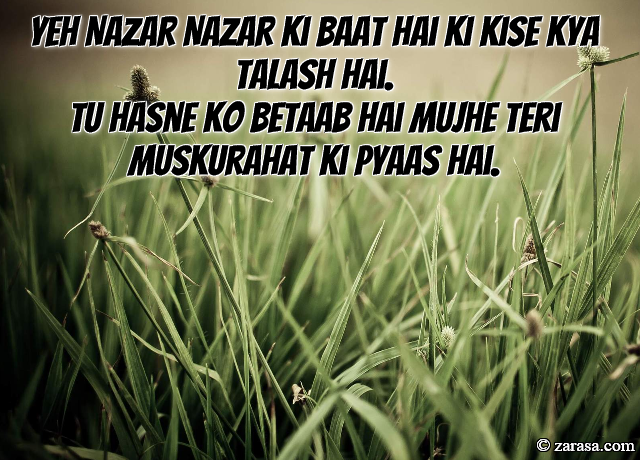 Yeh Nazar Nazar Ki Baat Hai Ki Kise Kya Talash Hai.
Tu Hasne Ko Betaab Hai Mujhe Teri Muskurahat Ki Pyaas Hai.
यह नज़र नज़र की बात है की किसे क्या तलाश है .
तू हसने को बेताब है मुझे तेरी मुस्कराहट की प्यास है .

یہ نظر نظر کی بات ہے کی کیسے کیا تلاش ہے .
تو ہسنے کو بیتاب ہے مجھے تیری مسکراہٹ کی پیاس ہے .

---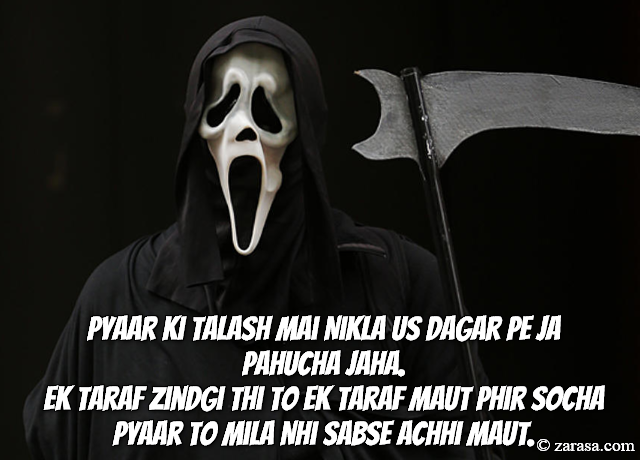 Pyaar Ki Talash Mai Nikla Us Dagar Pe Ja Pahucha Jaha.
Ek Taraf Zindgi Thi To Ek Taraf Maut Phir Socha Pyaar To Mila Nhi Sabse Achhi Maut.
प्यार की तलाश में निकला उस डगर पे जा पंहुचा जहा .
एक तरफ ज़िंदगी थी तो एक तरफ मौत फिर सोचा प्यार तो मिला नहीं सबसे अच्छी मौत .
پیار کی تلاش مے نکلا اس دگر پی جا پہچا جہا .
ایک طرف زندگی تھی تو ایک طرف موت پھر سوچا پیار تو ملا نہی سبسے اچھی موت .
---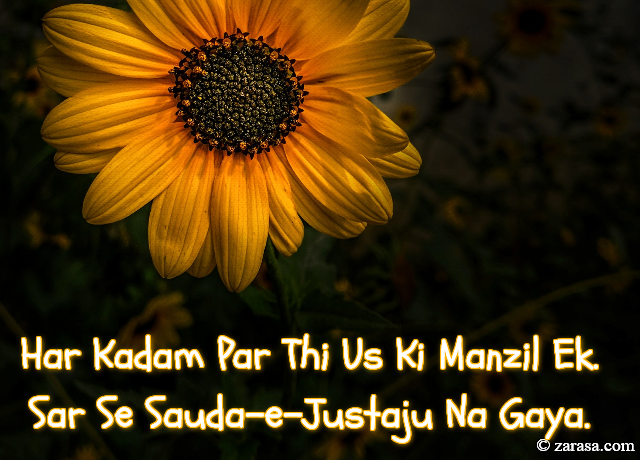 Har Kadam Par Thi Us Ki Manzil Ek.
Sar Se Sauda-e-Justaju Na Gaya.

हर मंज़िल पर थी उस की मंज़िल एक .
सर से सौदा -इ -जुस्तजू न गया .

ہر کدام پر تھی اس کی منزل ایک .
سر سے سودا -ا -جستجو نہ گیا .
---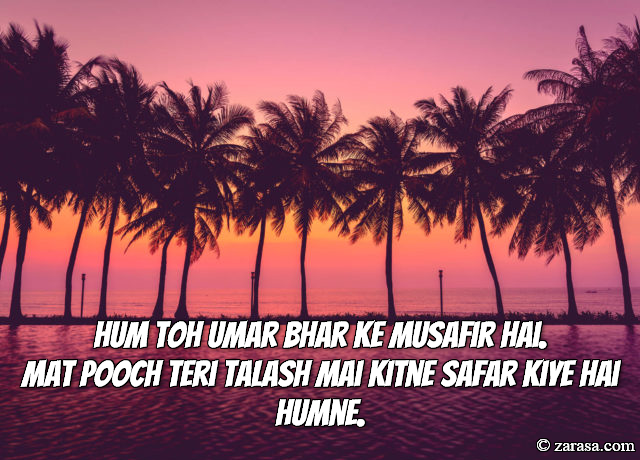 Hum Toh Umar Bhar Ke Musafir Hai.
Mat Pooch Teri Talash Mai Kitne Safar Kiye Hai Humne.
हम तोह उम्र भर के मुसाफिर है .
मत पूछ तेरी तलाश मई कितने सफर किये है हमने .

ہم ٹوہ امر بھر کے مسافر ہے .
مت پوچھ تیری تلاش می کتنے سفر کے ہے ہمنے .

---