Tanhai Shayari "Ab Bhi Yoon Milte Hain"
|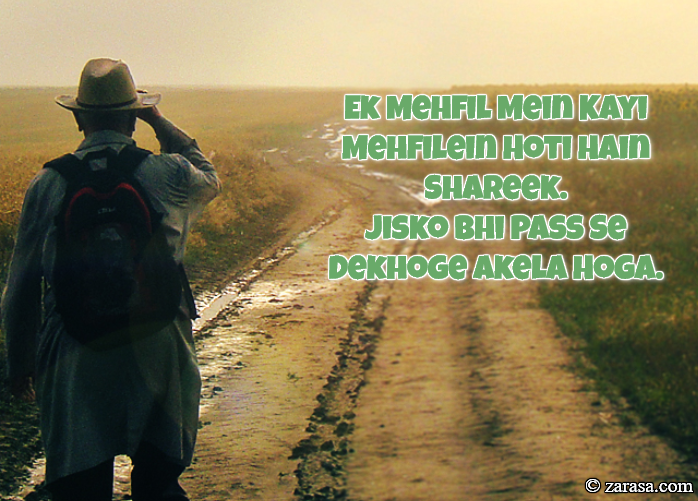 Ek Mehfil Mein Kayi Mehfilein Hoti Hain Shareek.
Jisko Bhi Pass Se Dekhoge Akela Hoga.
एक महफ़िल में कई महफ़िलें होती हैं शरीक .
जिसको भी पास से देखोगे अकेला होगा .
ایک محفل میں کی محفلیں ہوتی ہیں شریک .
جسکو بھی پاسس سے دیکھوگے اکیلا ہوگا .
---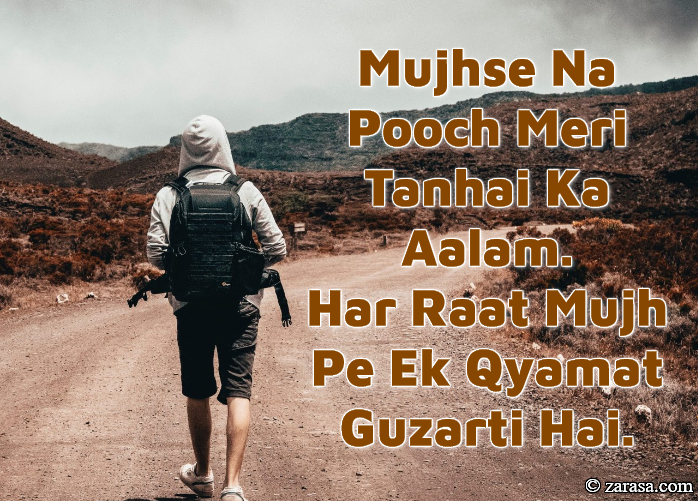 Mujhse Na Pooch Meri Tanhai Ka Aalam.
Har Raat Mujh Pe Ek Qyamat Guzarti Hai.
मुझसे ना पूछ मेरी तन्हाई का आलम .
हर रात मुझ पे एक क़यामत गुज़रती है .
مجھسے نہ پوچھ میری تنہائی کا عالم .
ہر رات مجھ پی ایک قیمت گزرتی ہے .
---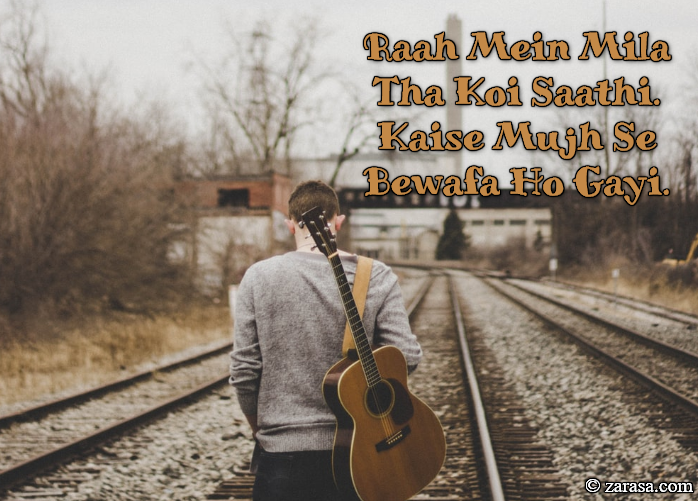 Raah Mein Mila Tha Koi Saathi.
Kaise Mujh Se Bewafa Ho Gayi.
राह में मिला था कोई साथी .
कैसे मुझ से बेवफा हो गयी .
راہ میں ملا تھا کوئی ساتھ .
کیسے مجھ سے بیوفا ہو گی .
---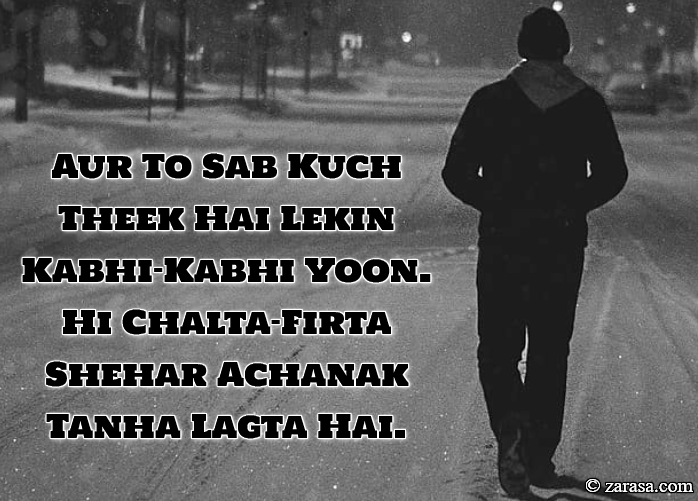 Aur To Sab Kuch Theek Hai Lekin Kabhi-Kabhi Yoon.
Hi Chalta-Firta Shehar Achanak Tanha Lagta Hai.
और तो सब कुछ ठीक है लेकिन कभी -कभी यूं .
ही चलता -फिरता शहर अचानक तनहा लगता है .
اور تو سب کچھ ٹھیک ہے لیکن کبھی - کبھی یوں .
ہی چلتا -فرتا شہر اچانک تنہا لگتا ہے .
---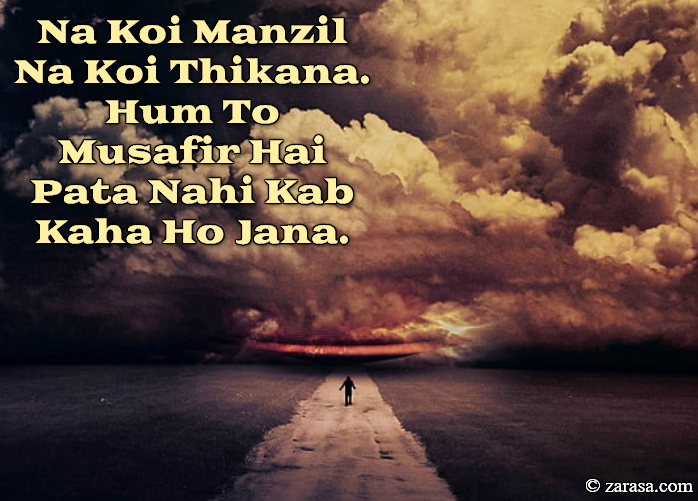 Na Koi Manzil Na Koi Thikana.
Hum To Musafir Hai Pata Nahi Kab Kaha Ho Jana.
ना कोई मंज़िल ना कोई ठिकाना .
हम तो मुसाफिर है पता नहीं कब कहा हो जाना .
نہ کوئی منزل نہ کوئی ٹھکانہ .
ہم تو مسافر ہے پتا نہیں کب کہا ہو جانا .
---