Tanhai Shayari "Dil Par Likha Tha"
|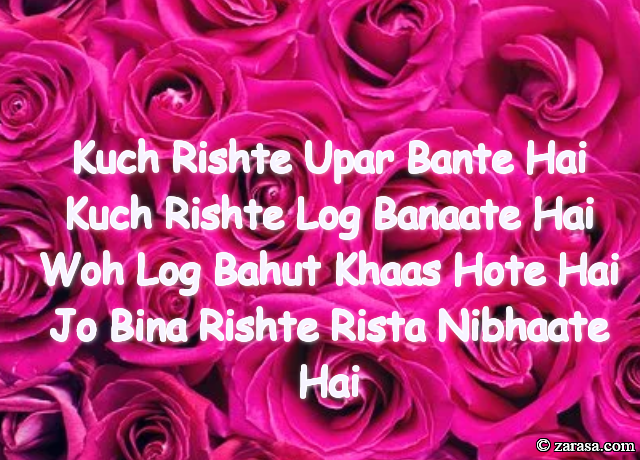 Kuch Rishte Upar Bante Hai
Kuch Rishte Log Banaate Hai
Woh Log Bahut Khaas Hote Hai
Jo Bina Rishte Rishta Nibhaate Hai
कुछ रिश्ते ऊपर बनते है
कुछ रिश्ते लोग बनाते है
वह लोग बहुत ख़ास होते है
जो बिना रिश्ते रिस्ता निभाते है
کچھ رشتے اپر بنتے ہے
کچھ رشتے لوگ بناتے ہے
وہ لوگ بہت خاص ہوتے ہے
جو بنا رشتے رستہ نبھاتے ہے
---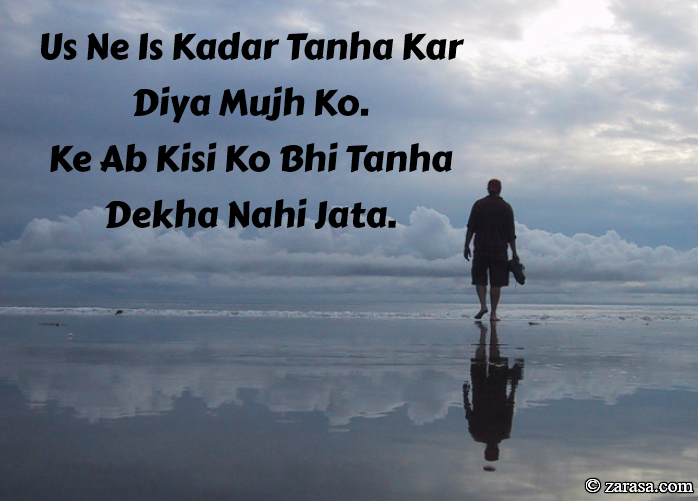 Us Ne Is Kadar Tanha Kar Diya Mujh Ko.
Ke Ab Kisi Ko Bhi Tanha Dekha Nahi Jata.
उस ने इस कदर तनहा कर दिया मुझ को .
के अब किसी को भी तनहा देखा नहीं जाता .
اس نے اس کدر تنہا کر دیا مجھ کو .
کا اب کسی کو بھی تنہا دیکھا نہیں جاتا .
---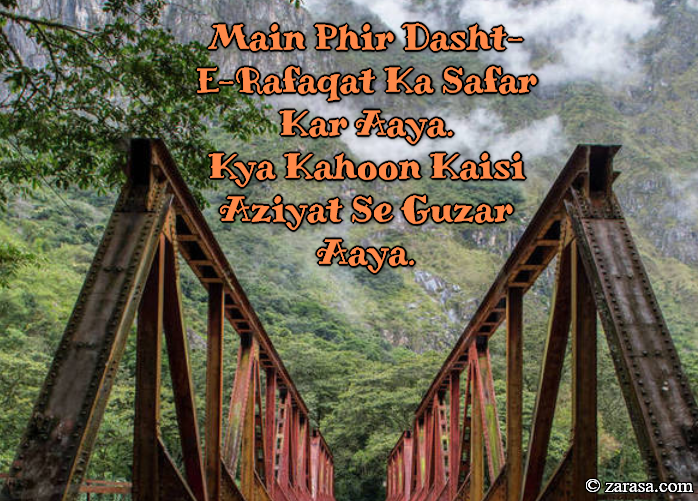 Main Phir Dasht-E-Rafaqat Ka Safar Kar Aaya.
Kya Kahoon Kaisi Aziyat Se Guzar Aaya.
मैं फिर दश्त -इ -रफक़त का सफर कर आया .
क्या कहूँ कैसी अज़ीयत से गुज़र आया .
میں پھر داشت -ا -رفاقت کا سفر کر آیا .
کیا کہوں کیسی اذیت سے گزر آیا .
---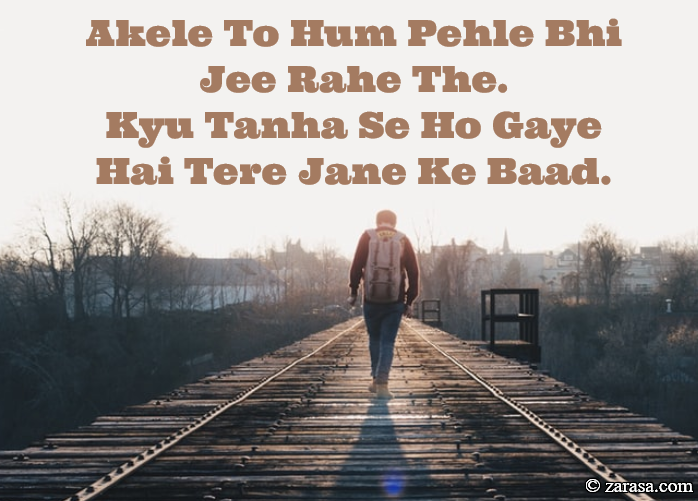 Akele To Hum Pehle Bhi Jee Rahe The.
Kyu Tanha Se Ho Gaye Hai Tere Jane Ke Baad.
अकेले तो हम पहले भी जी रहे थे .
क्यों तनहा से हो गए है तेरे जाने के बाद .
اکیلے تو ہم پہلے بھی جی رہے تھے .
کیو تنہا سے ہو گئے ہے تیرے جانے کے بعد .
---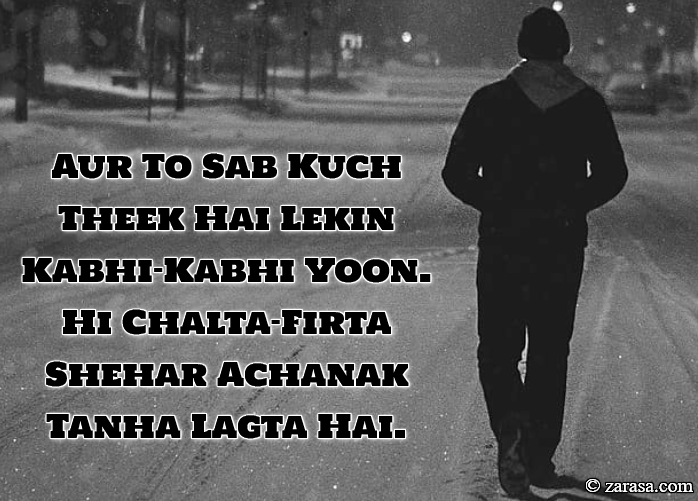 Aur To Sab Kuch Theek Hai Lekin Kabhi-Kabhi Yoon.
Hi Chalta-Firta Shehar Achanak Tanha Lagta Hai.
और तो सब कुछ ठीक है लेकिन कभी -कभी यूं .
ही चलता -फिरता शहर अचानक तनहा लगता है .
اور تو سب کچھ ٹھیک ہے لیکن کبھی - کبھی یوں .
ہی چلتا -فرتا شہر اچانک تنہا لگتا ہے .
---