Tanhai Shayari "Pyaas Jis Nehr Se"
|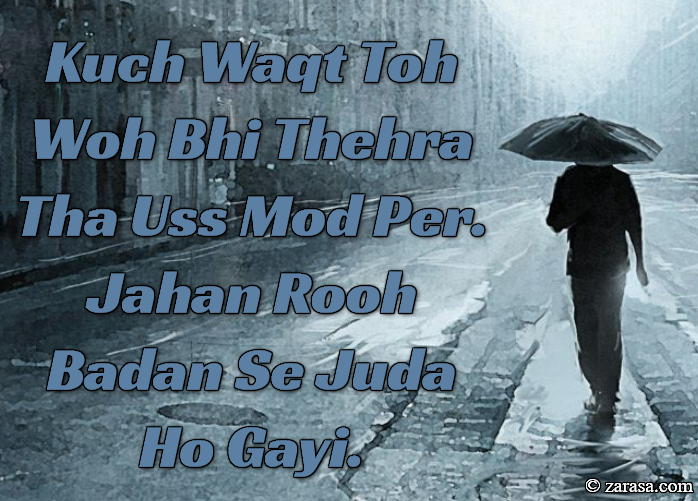 Kuch Waqt Toh Woh Bhi Thehra Tha Uss Mod Per.
Jahan Rooh Badan Se Juda Ho Gayi.
कुछ वक़्त तोह वह भी ठहरा था उस मोड़ पैर .
जहाँ रूह बदन से जुड़ा हो गयी .
کچھ وقت توہ وہ بھی ٹھہرا تھا اس موڈ پر .
جہاں روح بدن سے جدا ہو گی .
---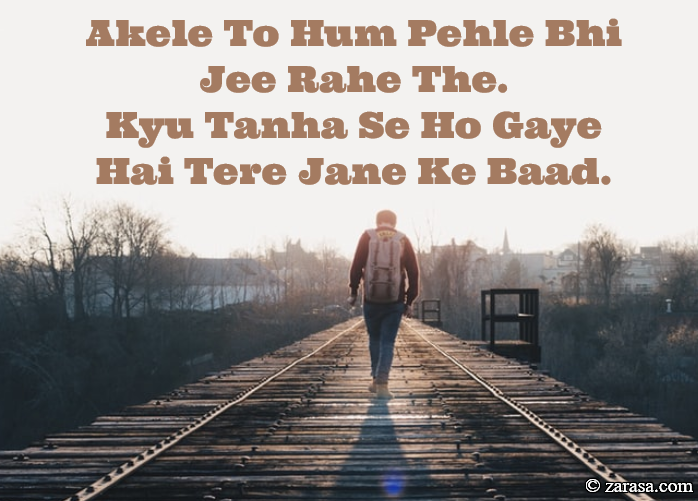 Akele To Hum Pehle Bhi Jee Rahe The.
Kyu Tanha Se Ho Gaye Hai Tere Jane Ke Baad.
अकेले तो हम पहले भी जी रहे थे .
क्यों तनहा से हो गए है तेरे जाने के बाद .
اکیلے تو ہم پہلے بھی جی رہے تھے .
کیو تنہا سے ہو گئے ہے تیرے جانے کے بعد .
---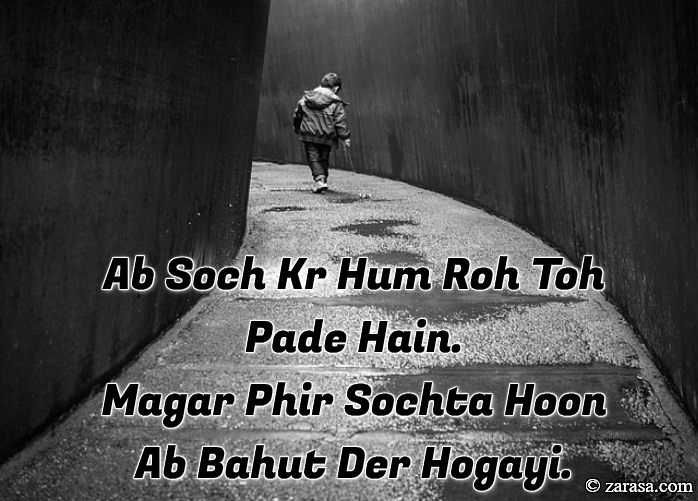 Ab Soch Kr Hum Roh Toh Pade Hain.
Magar Phir Sochta Hoon Ab Bahut Der Hogayi.a
अब सोच कर हम रोह तोह पड़े हैं .
मगर फिर सोचता हूँ अब बहुत देर होगयी .
اب سوچ کر ہم روه توہ پڑے ہیں .
مگر پھر سوچتا ہوں اب بہت در ہوگیی .
---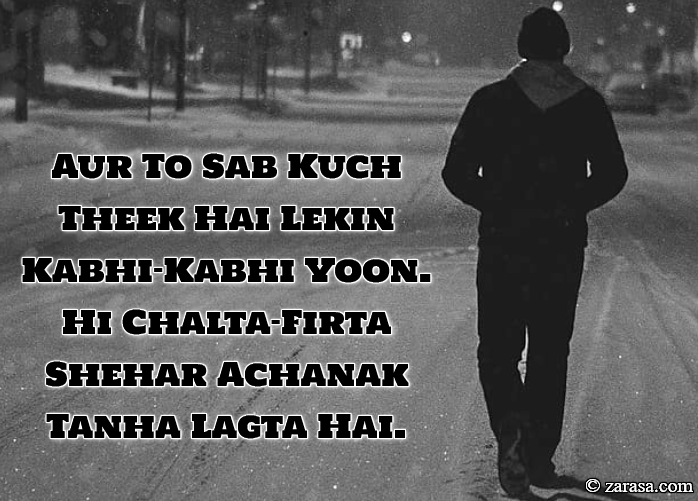 Aur To Sab Kuch Theek Hai Lekin Kabhi-Kabhi Yoon.
Hi Chalta-Firta Shehar Achanak Tanha Lagta Hai.
और तो सब कुछ ठीक है लेकिन कभी -कभी यूं .
ही चलता -फिरता शहर अचानक तनहा लगता है .
اور تو سب کچھ ٹھیک ہے لیکن کبھی - کبھی یوں .
ہی چلتا -فرتا شہر اچانک تنہا لگتا ہے .
---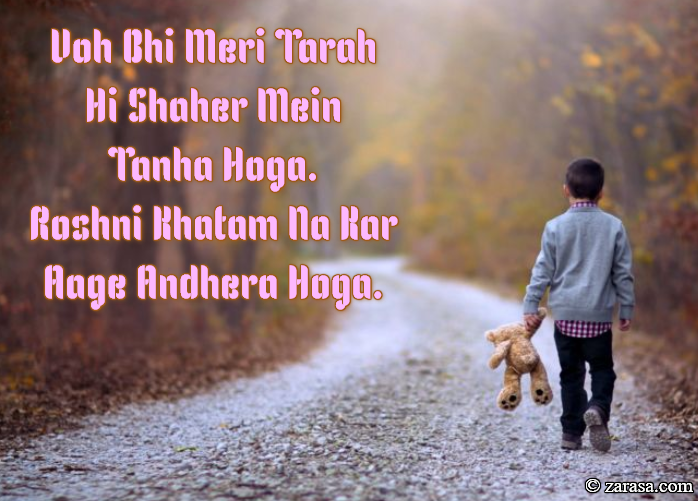 Voh Bhi Meri Tarah Hi Shaher Mein Tanha Hoga.
Roshni Khatam Na Kar Aage Andhera Hoga.
वोह भी मेरी तरह ही शहर में तनहा होगा .
रौशनी ख़तम ना कर आगे अँधेरा होगा .
وہ بھی میری طرح ہی شہر میں تنہا ہوگا .
روشنی ختم نہ کر آگے اندھیرا ہوگا .
---