Shayari for Rose day "Meri Zindagi Ka Ek Sundar sa Gulab Ho Tum"
|
Jise Paya Na ja Sake Vo Janab Ho Tum,
Meri Zindagi Ka Pehla Khwab Ho Tum,
Log Chahe Kuch Bhi Kahe Lekin
Meri Zindagi Ka Ek Sundar sa Gulab Ho Tum.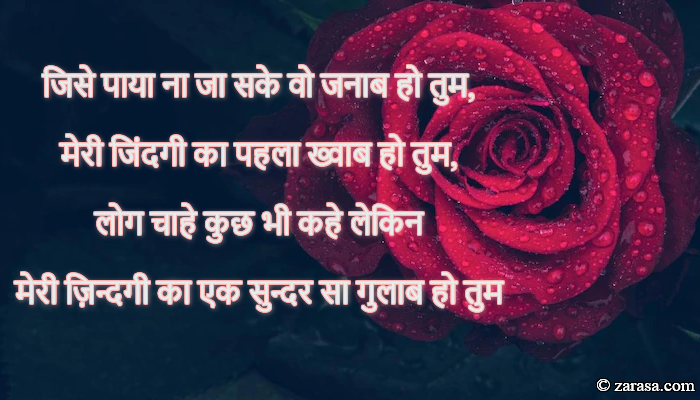 ---

जिसे पाया ना जा सके वो जनाब हो तुम,
मेरी जिंदगी का पहला ख्वाब हो तुम,
लोग चाहे कुछ भी कहे लेकिन
मेरी ज़िन्दगी का एक सुन्दर सा गुलाब हो तुम |



---

جسے پایا نہ جا سکے وو جناب ہو تم
میری زندگی کا پہلا خواب ہو تم
لوگ چاہے کچھ بھی کہے لیکن
میری زندگی کا ایک سندر سا گلاب ہو تم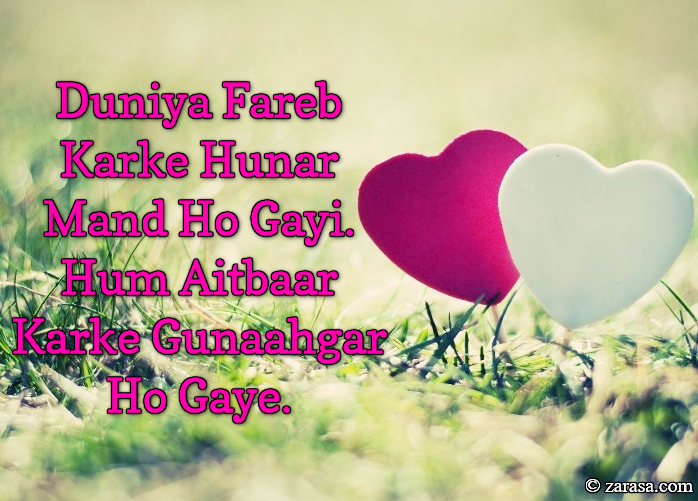 Duniya Fareb Karke Hunar Mand Ho Gayi.
Hum Aitbaar Karke Gunaahgar Ho Gaye.
दुनिया फरेब करके हुनर मंद हो गयी .
हम ऐतबार करके गुनाहगार हो गए .
دنیا فریب کرکے ہنر مند ہو گی .
ہم اعتبار کرکے گناہگار ہو گئے .
---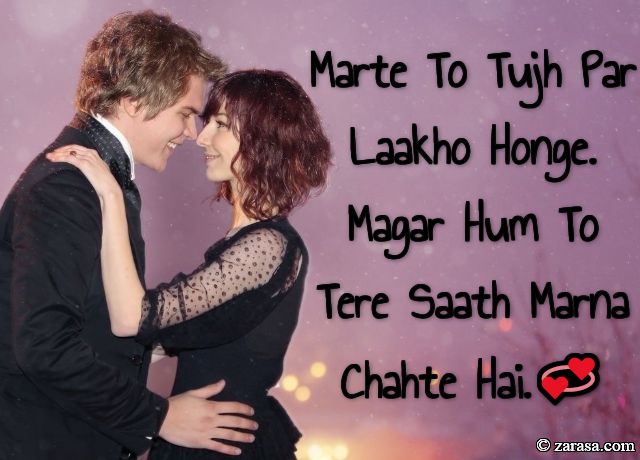 Marte To Tujh Par Laakho Honge.
Magar Hum To Tere Saath Marna Chahte Hai.
मरते तो तुझ पर लाखो होगें.
मगर हम तो तेरे साथ मरना चाहते है.
مرتے تو تجھ پر لاکھو ہونگے .
مگر ہم تو تیرے ساتھ مارنا چاہتے ہے .
---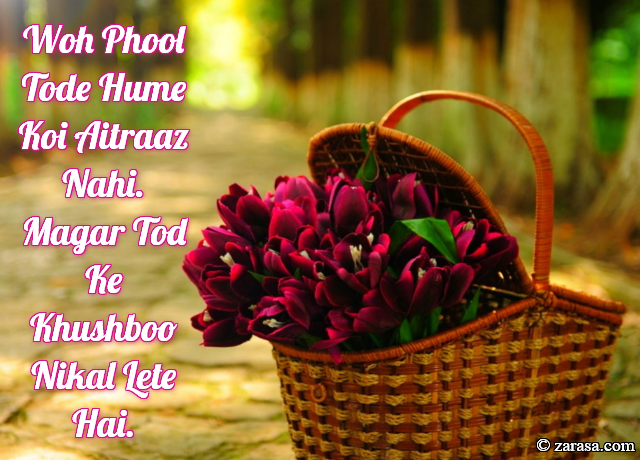 Woh Phool Tode Hume Koi Aitraaz Nahi.
Magar Tod Ke Khushboo Nikal Lete Hai.
वो फूल तोड़े हमे कोई ऐतराज़ नहीं .
मगर तोड़ के ख़ुश्बू निकाल लेते है .

وہ پھول تودے ہمے کوئی اعتراض نہیں .
مگر ٹاڈ کے خوشبو نکل لیتے ہے .

---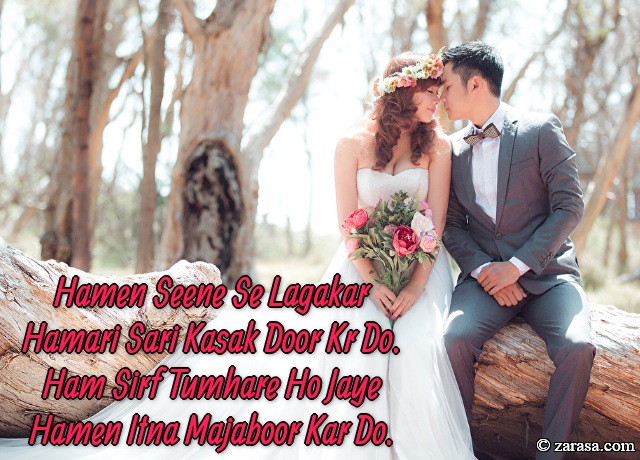 Hamen Seene Se Lagakar Hamari Sari Kasak Door Kr Do.
Ham Sirf Tumhare Ho Jaye Hamen Itna Majaboor Kar Do.
हमें सीने से लगाकर हमारी साडी कसक दूर कर दो .
हम सिर्फ तुम्हारे हो जाये हमें इतना मजबूर कर दो .
ہمیں سینے سے لگاکر ہماری سری کسک دور کر دو.
ہم صرف تمہارے ہو جائے ہمیں اتنا مجبور کر دو .
---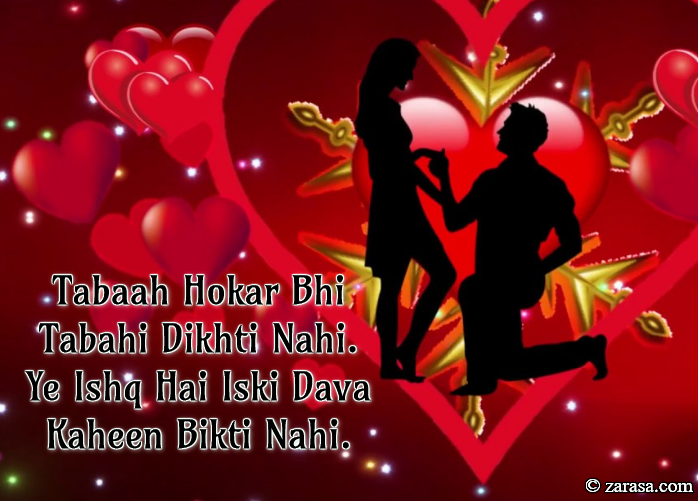 Tabaah Hokar Bhi Tabahi Dikhti Nahi.
Ye Ishq Hai Iski Dava Kaheen Bikti Nahi.
तबाह होकर भी तबाही दिखती नहीं .
ये इश्क़ है इसकी दवा कहीं बिकती नहीं .

تباہ ہوکر بھی تباہی دیکھتی نہیں .
یہ عشق ہے اسکی دو کہیں بکتی نہیں .

---