Zulm Shayari "करते हो जुल्म मगर क़माल करते हो…"
|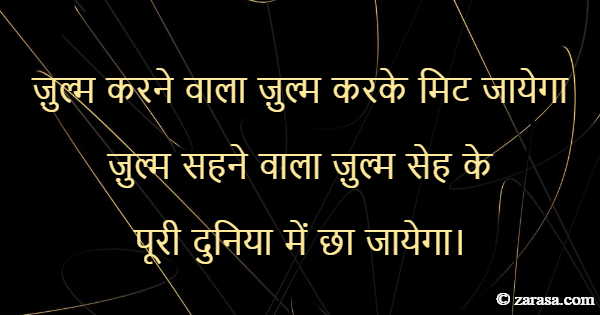 Zulm Karne Vala Zulm Karke Mit Jaega
Zulm Sehne Vala Zulm Sah Ke
Puri Duniya Ke Dilo Mai Cha Jayega.
ज़ुल्म करने वाला ज़ुल्म करके मिट जायेगा
ज़ुल्म सहने वाला ज़ुल्म सेह के
पूरी दुनिया में छा जायेगा।
ظلم کرنے والا ظلم کرکے مٹ جاےگا
ظلم سہنے والا ظلم سہ کے
پوری دنیا کے دلو می چا جاےگا
---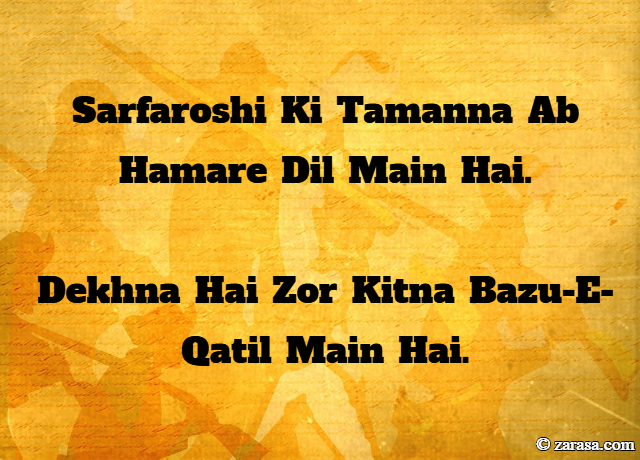 Sarfaroshi Ki Tamanna Ab Hamare Dil Main Hai.
Dekhna Hai Zor Kitna Bazu-E-Qatil Main Hai.

सरफ़रोशी की तमन्ना अब हमारे दिल में है।

देखना है ज़ोर कितना बाज़ू-ए-क़ातिल में है।
سرفروشی کی تمنّا اب ہمارے دل می ہے
دیکھنا ہے زور کتنا بازو ے قاتل می ہے
---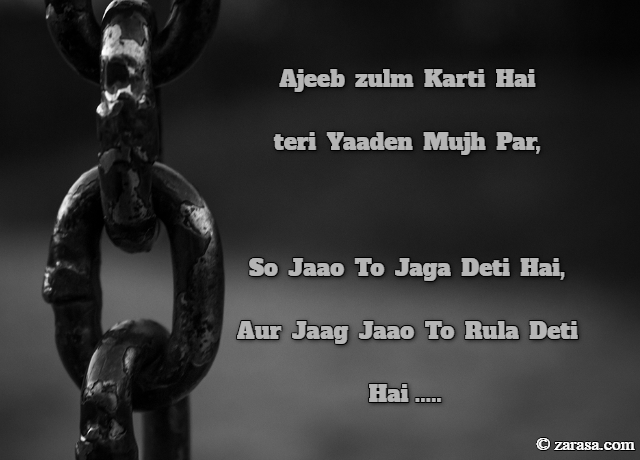 Ajeeb zulm Karti Hai teri Yaaden Mujh Par,
So Jaao To Jaga Deti Hai,Aur Jaag Jaao To Rula Deti Hai .....
अजीब जुल्म करती है तेरी यादें मुझ पर,
सो जाऊ तो जगा देती है, और जाग जाऊ तो रुला देती है…
عجیب ظلم کرتی ہے تیری یادیں مجھ پر
سو جاؤ تو جگا دیتی ہے ، اور جاگ جاؤ تو رولا دیتی ہے
---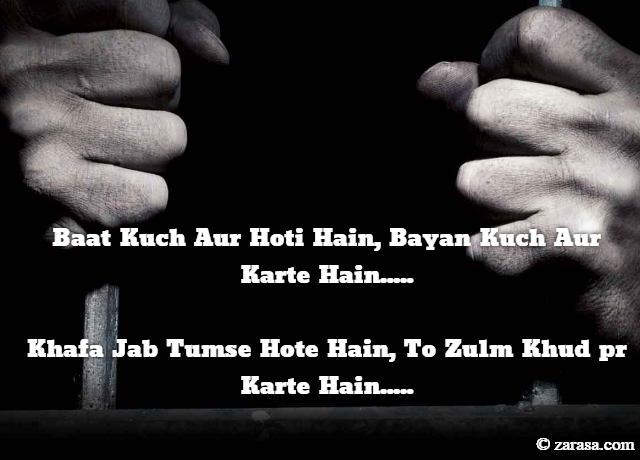 Baat Kuch Aur Hoti Hain, Bayan Kuch Aur Karte Hain.....
Khafa Jab Tumse Hote Hain, To Zulm Khud pr Karte Hain.....
बात कुछ और होती है,बयाँ कुछ और करते हैं….
ख़फा जब तुमसे होते हैं,तो जुल्म खुद पर करते है….
بات کچھ اور ہوتی ہے ،بیان کچھ اور کرتے ہے
خفا جب تمسے ہوتے ہے ،تو ظلم خود پر کرتے ہے
---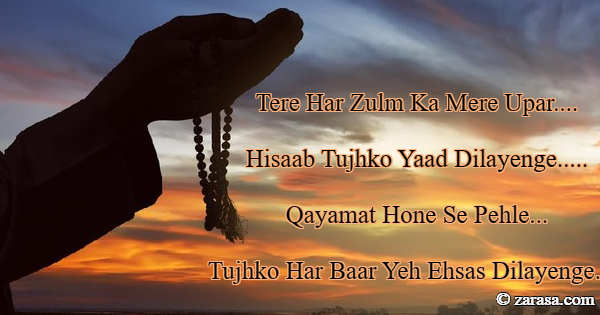 Tere Har Zulm Ka Mere Upar....
Hisaab Tujhko Yaad Dilayenge.....
Qayamat Hone Se Pehle...
Tujhko Har Baar Yeh Ehsas Dilayenge.....
तेरे हर ज़ुल्म का मेरे ऊपर
हिसाब तुझको याद दिलाएंगे ,
क़यामत होने से पहले
तुझको हर बार यह एहसास दिलाएंगे।
تیرے ہر ظلم کا میرے اوپر
حساب تجھکو یاد دلاینگے
قیامت ہونے سے پہلے
تجھکو ہر بار یہ احساس دلاینگے
---