Zulm Shayari "To Zulm Khud pr Karte Hain….."
|
Baat Kuch Aur Hoti Hain, Bayan Kuch Aur Karte Hain…..
Khafa Jab Tumse Hote Hain, To Zulm Khud pr Karte Hain…..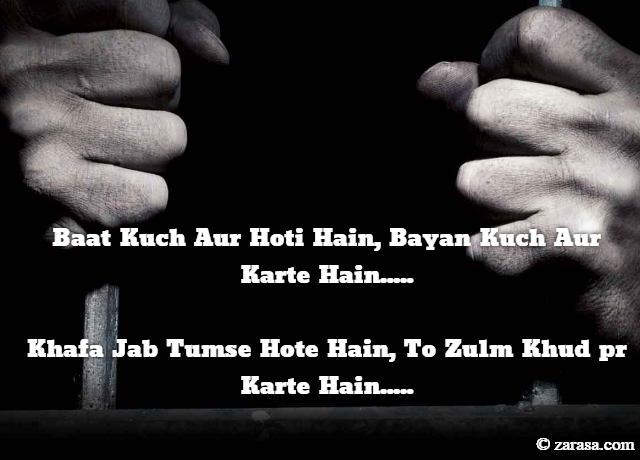 ---

बात कुछ और होती है,बयाँ कुछ और करते हैं….
ख़फा जब तुमसे होते हैं,तो जुल्म खुद पर करते है….


---

بات کچھ اور ہوتی ہے ،بیان کچھ اور کرتے ہے
خفا جب تمسے ہوتے ہے ،تو ظلم خود پر کرتے ہے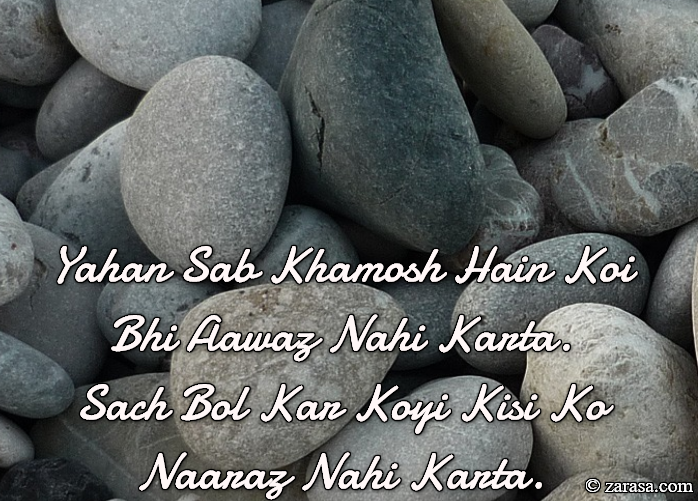 Yahan Sab Khamosh Hain Koi Bhi Aawaz Nahi Karta.
Sach Bol Kar Koyi Kisi Ko Naaraz Nahi Karta.
यहाँ सब खामोश हैं कोई भी आवाज़ नहीं करता .
सच बोल कर कोई किसी को नाराज़ नहीं करता .
یہاں سب خاموش ہیں کوئی بھی آواز نہیں کرتا .
سچ بول کر کویی کسی کو ناراض نہیں کرتا .
---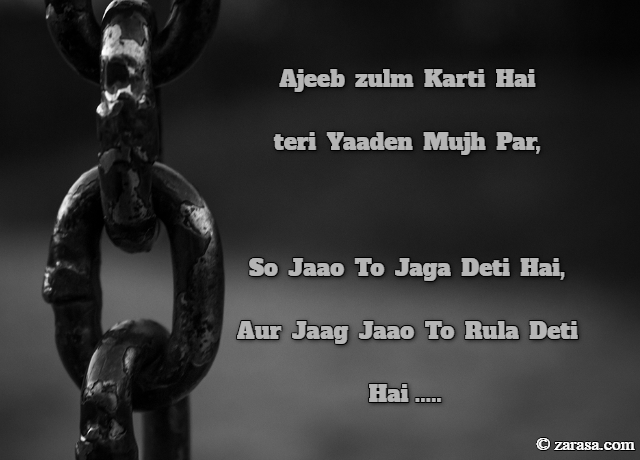 Ajeeb zulm Karti Hai teri Yaaden Mujh Par,
So Jaao To Jaga Deti Hai,Aur Jaag Jaao To Rula Deti Hai .....
अजीब जुल्म करती है तेरी यादें मुझ पर,
सो जाऊ तो जगा देती है, और जाग जाऊ तो रुला देती है…
عجیب ظلم کرتی ہے تیری یادیں مجھ پر
سو جاؤ تو جگا دیتی ہے ، اور جاگ جاؤ تو رولا دیتی ہے
---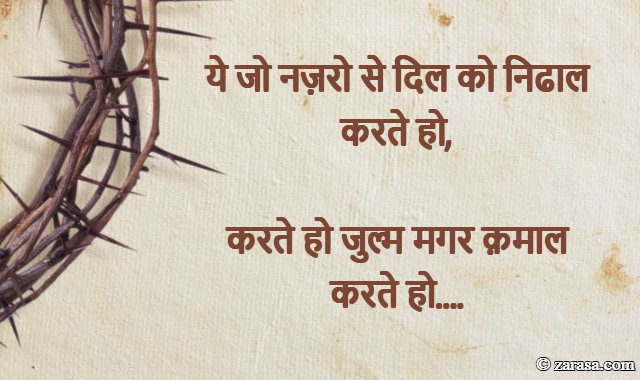 Yeh Jo Nazron Se Dil Ko Nidhal karte Ho ,
Karte Ho zulm Magar kamaal Karte Ho..........
ये जो नज़रो से दिल को निढाल करते हो,
करते हो जुल्म मगर क़माल करते हो….
یہ جو نظرو سے دل کو نڈھال کرتے ہو
کرتے ہو ظلم مگر کمال کرتے ہو
---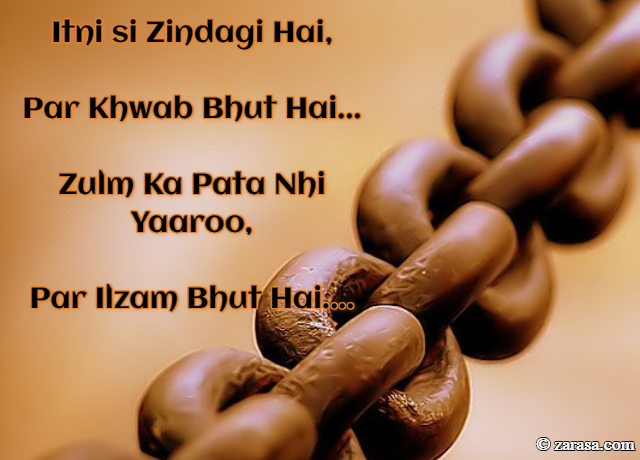 Itni si Zindagi Hai,
Par Khwab Bhut Hai...
Zulm Ka Pata Nhi Yaaroo,
Par Ilzam Bhut Hai....
इतनी सी ज़िन्दगी है ,
पर खुआब बहुत है। ..
ज़ुल्म का पता नहीं यारों ,
पर इलज़ाम बहुत है।
اتنی سی زندگی ہے
پر خواب بہت ہے
ظلم کا پتا نہی یارو
پر الزام بہت ہے
---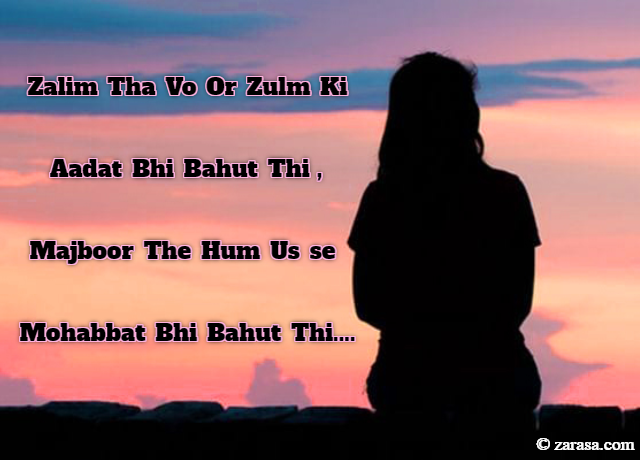 Zalim Tha Vo Or Zulm Ki
Aadat Bhi Bahut Thi ,
Majboor The Hum Us se
Mohabbat Bhi Bahut Thi....
ज़ालिम था वो और ज़ुल्म की
आदत भी बहुत थी ,
मजबूर थे हम उस से
मोहब्बत भी बहुत थी।
ظالم تھا وہ اور ظلم کی
عادت بھی بہت تھی
مجبور تھے ہم اس سے
موحبّت بھی بہت تھی
---