Zulm Shayari "To Zulm Khud pr Karte Hain….."
|
Baat Kuch Aur Hoti Hain, Bayan Kuch Aur Karte Hain…..
Khafa Jab Tumse Hote Hain, To Zulm Khud pr Karte Hain…..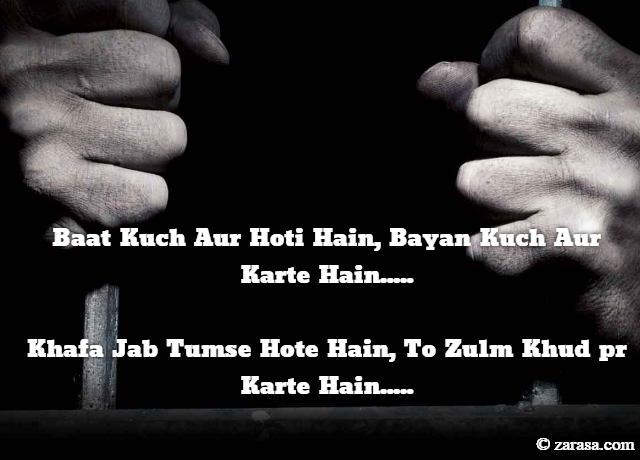 ---

बात कुछ और होती है,बयाँ कुछ और करते हैं….
ख़फा जब तुमसे होते हैं,तो जुल्म खुद पर करते है….


---

بات کچھ اور ہوتی ہے ،بیان کچھ اور کرتے ہے
خفا جب تمسے ہوتے ہے ،تو ظلم خود پر کرتے ہے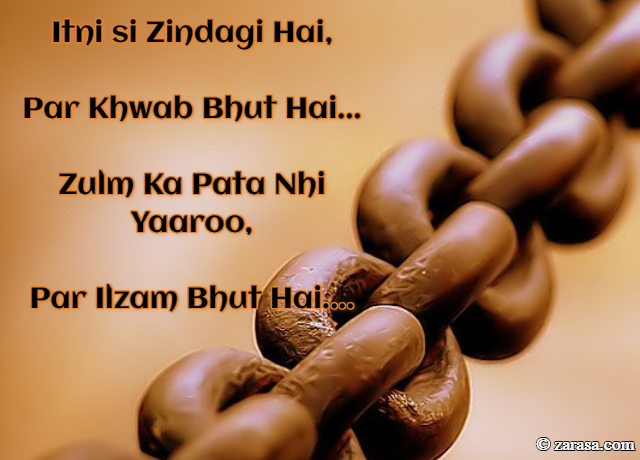 Itni si Zindagi Hai,
Par Khwab Bhut Hai...
Zulm Ka Pata Nhi Yaaroo,
Par Ilzam Bhut Hai....
इतनी सी ज़िन्दगी है ,
पर खुआब बहुत है। ..
ज़ुल्म का पता नहीं यारों ,
पर इलज़ाम बहुत है।
اتنی سی زندگی ہے
پر خواب بہت ہے
ظلم کا پتا نہی یارو
پر الزام بہت ہے
---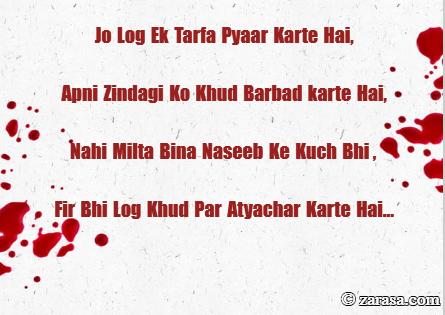 Jo Log Ek Tarfa Pyaar Karte Hai,
Apni Zindagi Ko Khud Barbad karte Hai,
Nahi Milta Bina Naseeb Ke Kuch Bhi ,
Fir Bhi Log Khud Par Atyachar Karte Hai...
जो लोग एक तरफा प्यार करते है,
अपनी ज़िन्दगी को खुद बर्बाद करते है,
नहीं मिलता बिना नसीब के कुछ भी,
फिर भी लोग खुद पर अत्याचार करते है..
جو لوگ ایک طرفہ پیار کرتے ہے
اپنی زندگی کو خود برباد کرتے ہے
نہیں ملتا بنا نصیب کے کچھ بھی
فر بھی لوگ خود پر اتیاچار کرتے ہے
---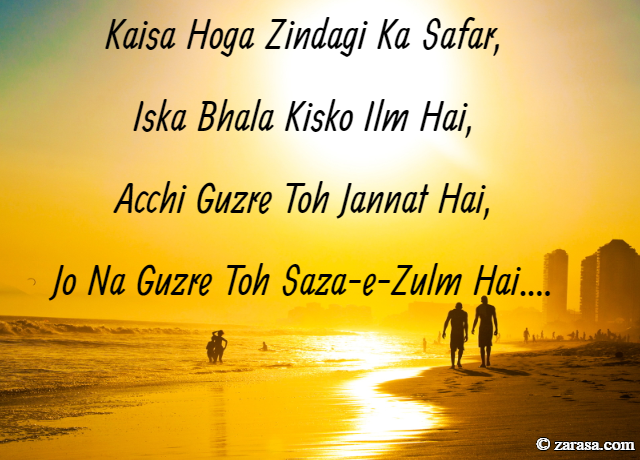 Kaisa Hoga Zindagi Ka Safar,
Iska Bhala Kisko Ilm Hai,
Acchi Guzre Toh Jannat Hai,
Jo Na Guzre Toh Saza-e-Zulm Hai....
कैसा होगा ज़िन्दगी का सफर ,
इसका भला किसको इल्म है ,
अच्छी गुज़रे तोह जन्नत है ,
जो न गुज़रे तोह सज़ा -ए -ज़ुल्म है।
کیسا ہوگا زندگی کا سفر
اسکا بھلا کیسکو علم ہے
اچھی گزرے تو جنّت ہے
جو نہ گزرے تو سزا -ا -ظلم ہے
---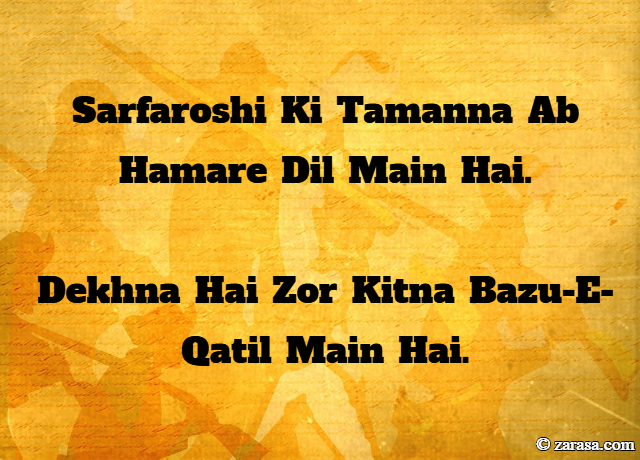 Sarfaroshi Ki Tamanna Ab Hamare Dil Main Hai.
Dekhna Hai Zor Kitna Bazu-E-Qatil Main Hai.

सरफ़रोशी की तमन्ना अब हमारे दिल में है।

देखना है ज़ोर कितना बाज़ू-ए-क़ातिल में है।
سرفروشی کی تمنّا اب ہمارے دل می ہے
دیکھنا ہے زور کتنا بازو ے قاتل می ہے
---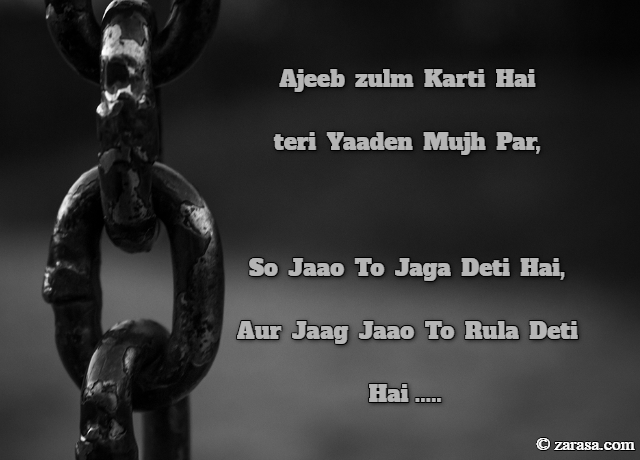 Ajeeb zulm Karti Hai teri Yaaden Mujh Par,
So Jaao To Jaga Deti Hai,Aur Jaag Jaao To Rula Deti Hai .....
अजीब जुल्म करती है तेरी यादें मुझ पर,
सो जाऊ तो जगा देती है, और जाग जाऊ तो रुला देती है…
عجیب ظلم کرتی ہے تیری یادیں مجھ پر
سو جاؤ تو جگا دیتی ہے ، اور جاگ جاؤ تو رولا دیتی ہے
---