Zulm Shayari "Zulm Ka Pata Nhi Yaaroo"
|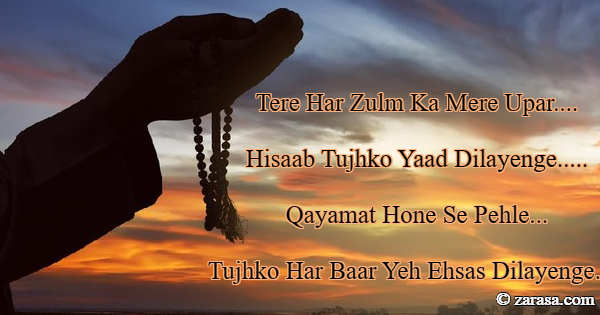 Tere Har Zulm Ka Mere Upar....
Hisaab Tujhko Yaad Dilayenge.....
Qayamat Hone Se Pehle...
Tujhko Har Baar Yeh Ehsas Dilayenge.....
तेरे हर ज़ुल्म का मेरे ऊपर
हिसाब तुझको याद दिलाएंगे ,
क़यामत होने से पहले
तुझको हर बार यह एहसास दिलाएंगे।
تیرے ہر ظلم کا میرے اوپر
حساب تجھکو یاد دلاینگے
قیامت ہونے سے پہلے
تجھکو ہر بار یہ احساس دلاینگے
---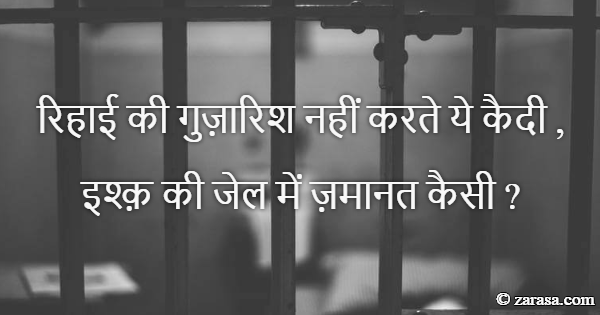 Rihai ki Guzarish Nhi Karte Ye Kaidi,
Ishq Ki Jail Mai Zamanat Kaisi?
रिहाई की गुज़ारिश नहीं करते ये कैदी ,
इश्क़ की जेल में ज़मानत कैसी ?
رہے کی گزارش نہی کرتے یہ کیدی
عشق کی جیل می ضمانت کیسی
---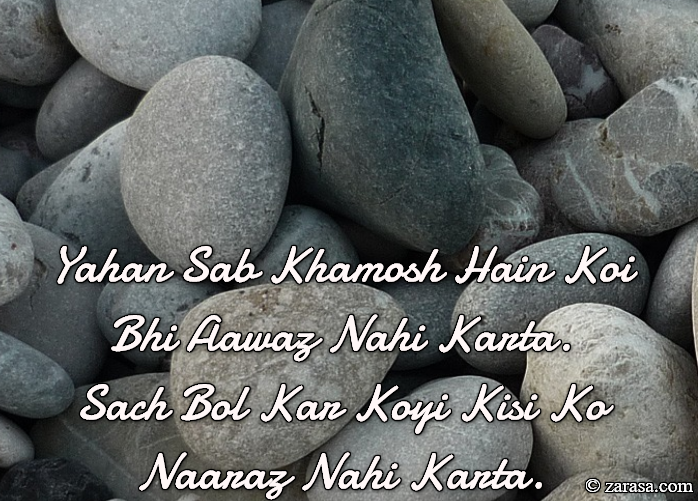 Yahan Sab Khamosh Hain Koi Bhi Aawaz Nahi Karta.
Sach Bol Kar Koyi Kisi Ko Naaraz Nahi Karta.
यहाँ सब खामोश हैं कोई भी आवाज़ नहीं करता .
सच बोल कर कोई किसी को नाराज़ नहीं करता .
یہاں سب خاموش ہیں کوئی بھی آواز نہیں کرتا .
سچ بول کر کویی کسی کو ناراض نہیں کرتا .
---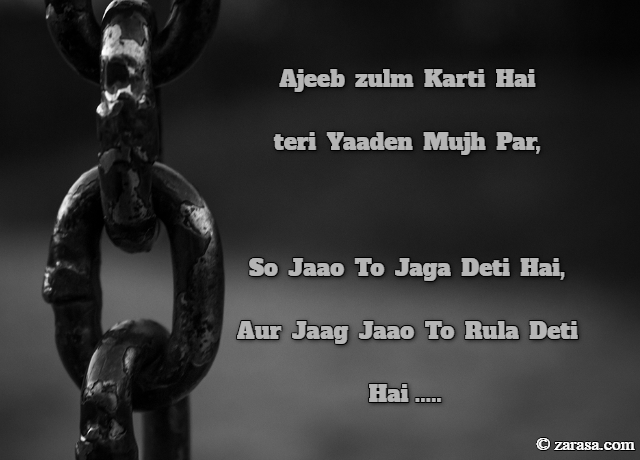 Ajeeb zulm Karti Hai teri Yaaden Mujh Par,
So Jaao To Jaga Deti Hai,Aur Jaag Jaao To Rula Deti Hai .....
अजीब जुल्म करती है तेरी यादें मुझ पर,
सो जाऊ तो जगा देती है, और जाग जाऊ तो रुला देती है…
عجیب ظلم کرتی ہے تیری یادیں مجھ پر
سو جاؤ تو جگا دیتی ہے ، اور جاگ جاؤ تو رولا دیتی ہے
---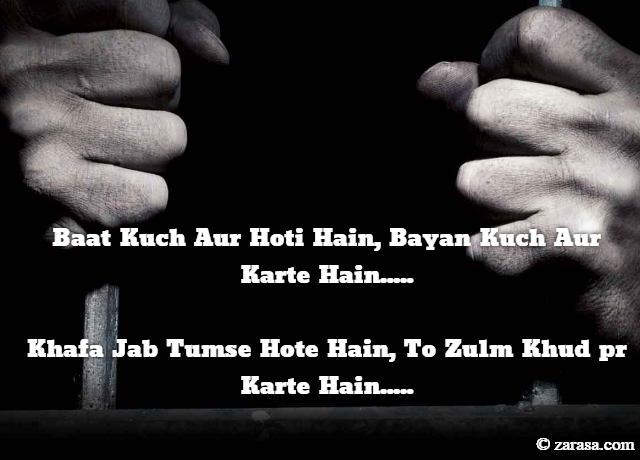 Baat Kuch Aur Hoti Hain, Bayan Kuch Aur Karte Hain.....
Khafa Jab Tumse Hote Hain, To Zulm Khud pr Karte Hain.....
बात कुछ और होती है,बयाँ कुछ और करते हैं….
ख़फा जब तुमसे होते हैं,तो जुल्म खुद पर करते है….
بات کچھ اور ہوتی ہے ،بیان کچھ اور کرتے ہے
خفا جب تمسے ہوتے ہے ،تو ظلم خود پر کرتے ہے
---