Aaina Shayari "Aaine Ki Nazar Lag Na jaye Kahin"
|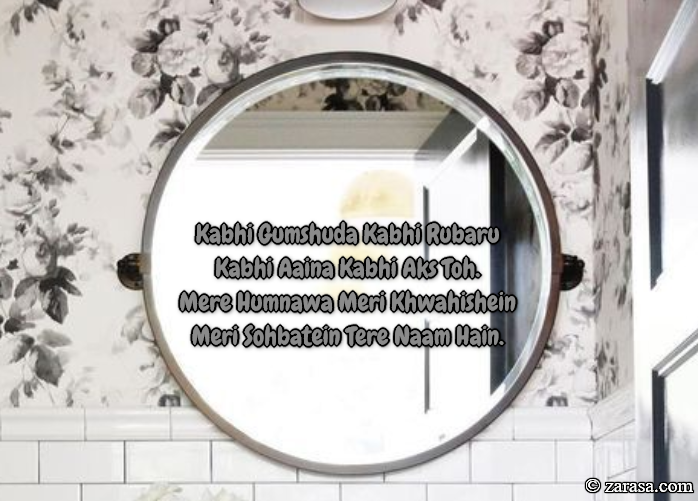 Kabhi Gumshuda Kabhi Rubaru Kabhi Aaina Kabhi Aks Toh.
Mere Humnawa Meri Khwahishein Meri Sohbatein Tere Naam Hain.
कभी गुमशुदा कभी रूबरू कभी आइना कभी अक्स तोह .
मेरे हमनवा मेरी ख्वाहिशें मेरी सोहबतें तेरे नाम हैं .
کبھی گمشدہ کبھی روبرو کبھی أن کبھی عکس ٹوہ .
میرے ہمنوا میری خواہشیں میری سوہبتیں تیرے نام ہیں .
---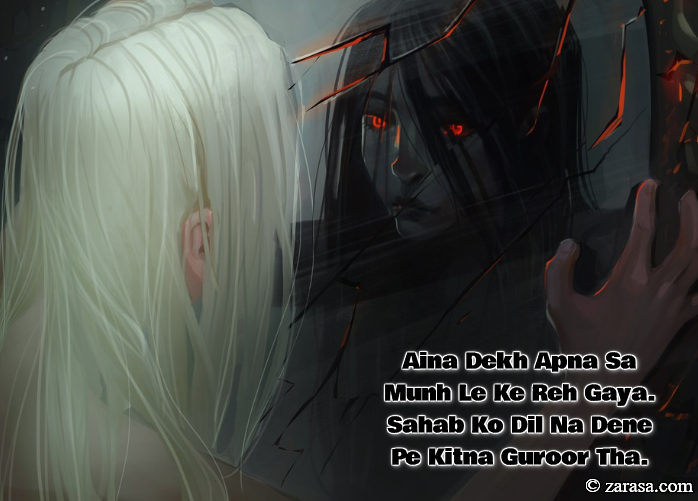 Aina Dekh Apna Sa Munh Le Ke Reh Gaya.
Sahab Ko Dil Na Dene Pe Kitna Guroor Tha.
ऐना देख अपना सा मुंह ले के रह गया .
साहब को दिल ना देने पे कितना गुरूर था .
اینا دیکھ اپنا سا منہ لے کے رہ گیا .
سحاب کو دل نہ دینے پی کتنا گرور تھا .
---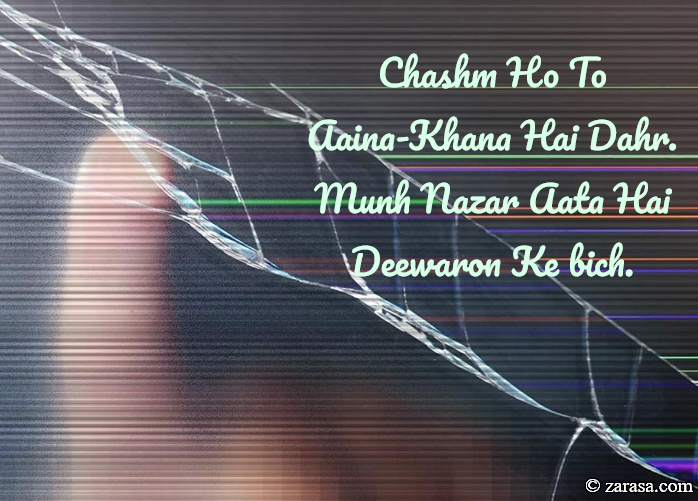 Chashm Ho To Aaina-Khana Hai Dahr.
Munh Nazar Aata Hai Deewaron Ke bich.
चश्म हो तो आइना -खाना है डहर .
मुंह नज़र आता है दीवारों के बिच .
چشم ہو تو أن -کھانا ہے دہر .
منہ نظر آتا ہے دیواروں کے بچ .
---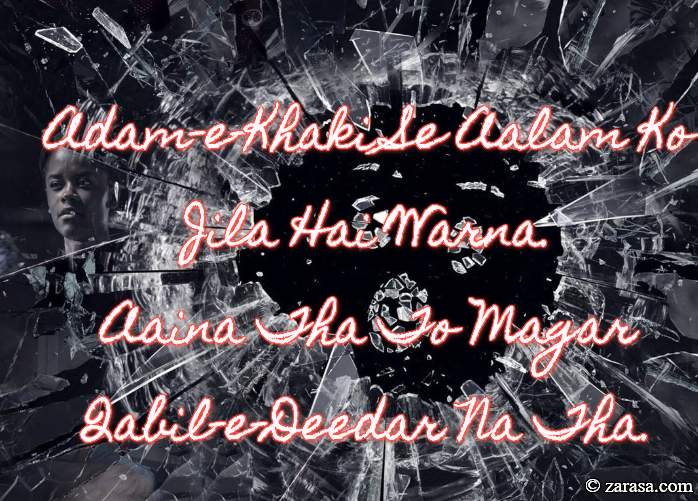 Adam-e-Khaki Se Aalam Ko Jila Hai Warna.
Aaina Tha To Magar Qabil-e-Deedar Na Tha.
आदम -इ -खाकी से आलम को जिला है वरना .
आइना था तो मगर क़ाबिल -इ -दीदार ना था .
آدم -ا -خاکی سے عالم کو جلا ہے ورنہ .
أن تھا تو مگر قبل -ا -دیدار نہ تھا .
---
Le Saans Bhi Ahista Ke Nazuk Hai Bahut Kaam.
Afaq Ki Is Kargah-e-Shishagari Ka.
ले सांस भी आहिस्ता के नाज़ुक है बहुत काम .
अफाक की इस करगाह -इ -शीशगरी का .
لے سانس بھی آہستہ کے نازک ہے بہت کام .
افق کی اس کارگاہ -ا -شیشاگری کا .
---