Bollywood Shayari "Mera Dil Hota Hai Bekaabu."
|
Teri Aankhein Hai Jheel,
Jharno Ka Hai Tujh Mein Jaadoo,
Bas Ek Nazar Dekh Kar Tuhjko,
Mera Dil Hota Hai Bekaabu.


---

तेरी आँखें हैं झील ,
झरनो का है तुझमें जादू ,
बस एक नज़र देख कर तुझको ,
मेरा दिल होता है बेकाबू।


---

تیری آنکھیں ہے جھیل
جھرنو کا ہے تجھمے جادو
بس ایک نظر دیکھ کر تجھکو
میرا دل ہوتا ہے بیکابو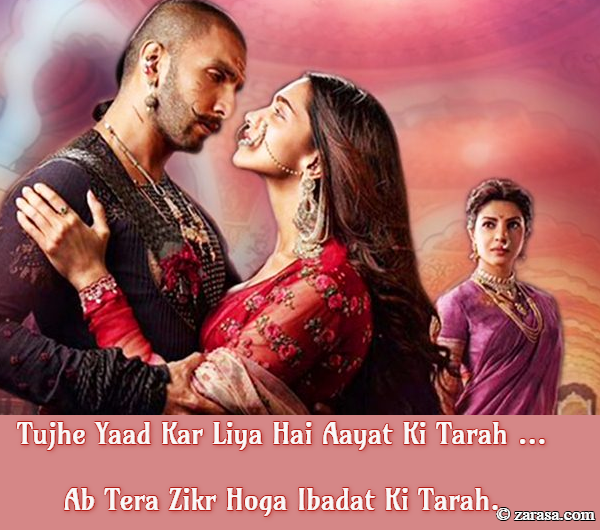 Tujhe Yaad Kar Liya Hai Aayat Ki Tarah …
Ab Tera Zikr Hoga Ibadat Ki Tarah.
तुझे याद कर लिया है आयत की तरह ,
अब तेरा ज़िक्र होगा इबादत की तरह।
تجھے یاد کر لیا ہے آیت کی طرح
اب تیرا ذکر ہوگا عبادت کی طرح
---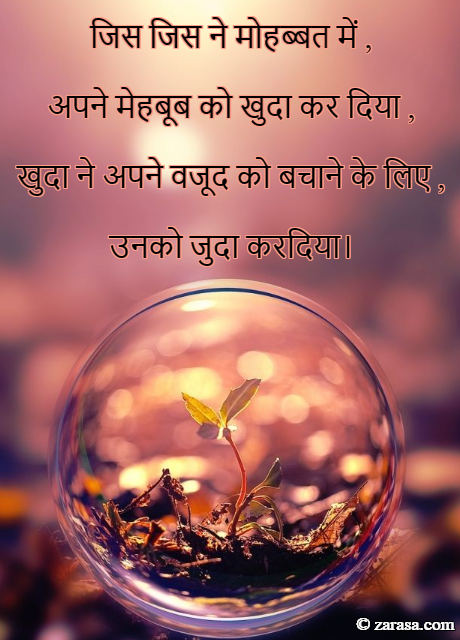 Jis Jis Ne Mohabbat Mai,
Apne Mehboob Ko Khuda Kar Diya ,
Khuda Ne Apne Wajud Ko Bachane Ke Liye ,
Unko Juda Kr Diya.
जिस जिस ने मोहब्बत में ,
अपने मेहबूब को खुदा कर दिया ,
खुदा ने अपने वजूद को बचाने के लिए ,
उनको जुदा करदिया।
جس جس نے موحبّت می
اپنے محبوب کو خدا کر دیا
خدا نے اپنے وجود کو بچانے کے لئے
انکو جودا کر دیا
---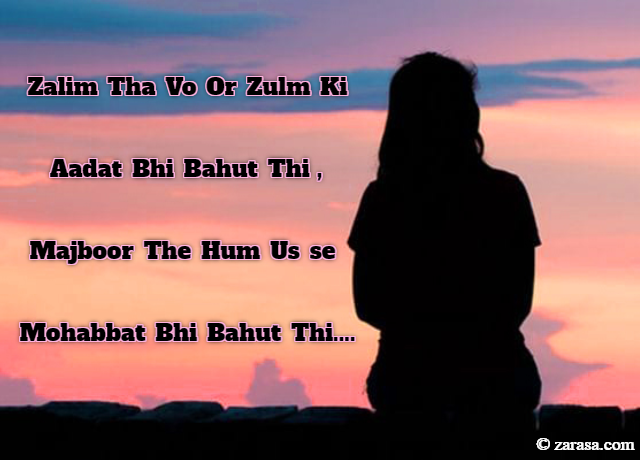 Zalim Tha Vo Or Zulm Ki
Aadat Bhi Bahut Thi ,
Majboor The Hum Us se
Mohabbat Bhi Bahut Thi....
ज़ालिम था वो और ज़ुल्म की
आदत भी बहुत थी ,
मजबूर थे हम उस से
मोहब्बत भी बहुत थी।
ظالم تھا وہ اور ظلم کی
عادت بھی بہت تھی
مجبور تھے ہم اس سے
موحبّت بھی بہت تھی
---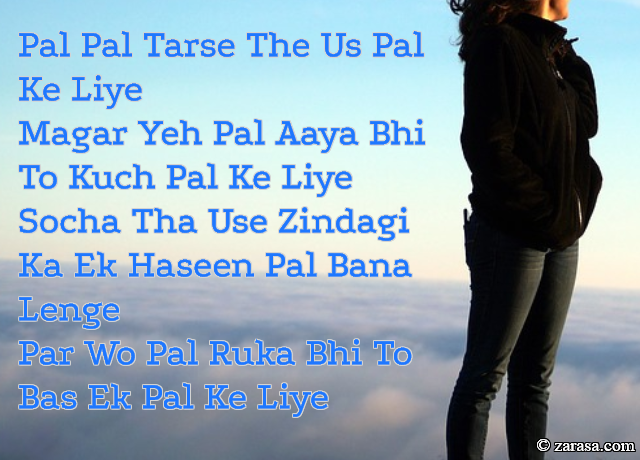 Pal Pal Tarse The Us Pal Ke Liye
Magar Yeh Pal Aaya Bhi To Kuch Pal Ke Liye
Socha Tha Use Zindagi Ka Ek Haseen Pal Bana Lenge
Par Wo Pal Ruka Bhi To Bas Ek Pal Ke Liye
पल पल तरसे थे उस पल के लिए
मगर यह पल आया भी तो कुछ पल के लिए
सोचा था उसे ज़िन्दगी का एक हसीं पल बना लेंगे
पर वो पल रुका भी तो बस एक पल के लिए
پل پل ترسے تھے اس پل کے لئے
مگر یہ پل آیا بھی تو کچھ پل کے لئے
سوچا تھا اسے زندگی کا ایک حسین پل بنا لینگے
پر وو پل روکا بھی تو بس ایک پل کے لئے
---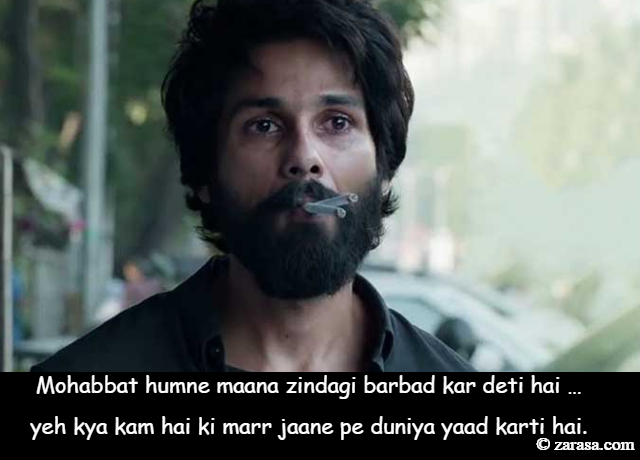 Mohabbat humne maana zindagi barbad kar deti hai …
yeh kya kam hai ki marr jaane pe duniya yaad karti hai.
मोहब्बत हमने माना ज़िन्दगी बर्बाद कर देती है ,
यह क्या कम है की मर जाने पे दुनिया याद करती है।
موحبّت ہمنے مانا زندگی برباد کر دیتی ہے
یہ کیا کم ہے کی مر جانے پی دنیا یاد کرتی ہے
---