Bollywood Shayari "Tum Kashmir Mangoge Hum Cheer Denge"
|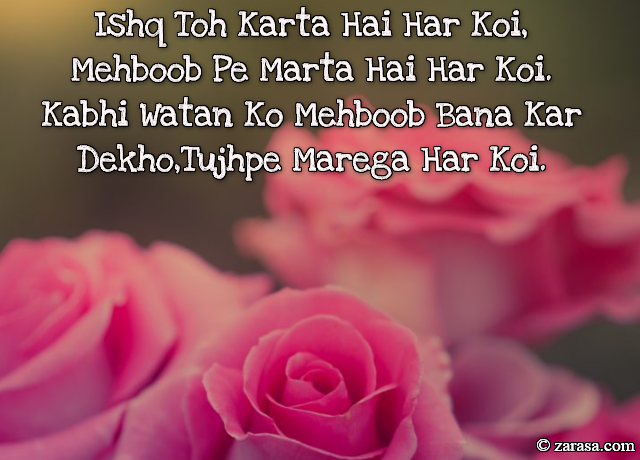 Ishq Toh Karta Hai Har Koi, Mehboob Pe Marta Hai Har Koi.
Kabhi Watan Ko Mehboob Bana Kar Dekho,Tujhpe Marega Har Koi.
इश्क़ तोह करता है हर कोई , मेहबूब पे मरता है हर कोई .
कभी वतन को मेहबूब बना कर देखो ,तुझपे मरेगा हर कोई .
عشق توہ کرتا ہے ہر کوئی , محبوب پی مارتا ہے ہر کوئی .
کبھی وطن کو محبوب بنا کر دیکھو ,تجھپے مریگا ہر کوئی .
---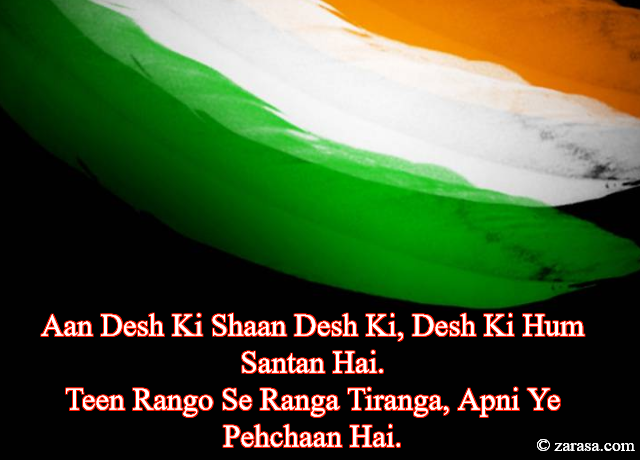 Aan Desh Ki Shaan Desh Ki Desh Ki Hum Santan Hai.
Teen Rango Se Ranga Tiranga Apni Ye Pehchaan Hai.
ाँ देश की शान देश की , देश की हम संतान है .
तीन रंगो से रंगा तिरंगा , अपनी ये पहचान है .
آن دیش کی شان دیش کی , دیش کی ہم سنتان ہے .
تین رنگو سے رنگ ترنگا , اپنی یہ پہچان ہے .
---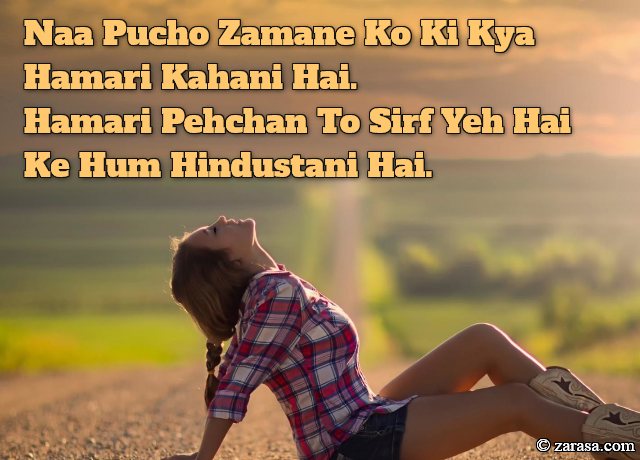 Naa Pucho Zamane Ko Ki Kya Hamari Kahani Hai.
Hamari Pehchan To Sirf Yeh Hai Ke Hum Hindustani Hai.
ना पूछो ज़माने को की क्या हमारी कहानी है .
हमारी पहचान तो सिर्फ यह है के हम हिंदुस्तानी है .
نا پوچھو زمانے کو کی کیا ہماری کہانی ہے .
ہماری پہچان تو صرف یہ ہے کے ہم ہندوستانی ہے .
---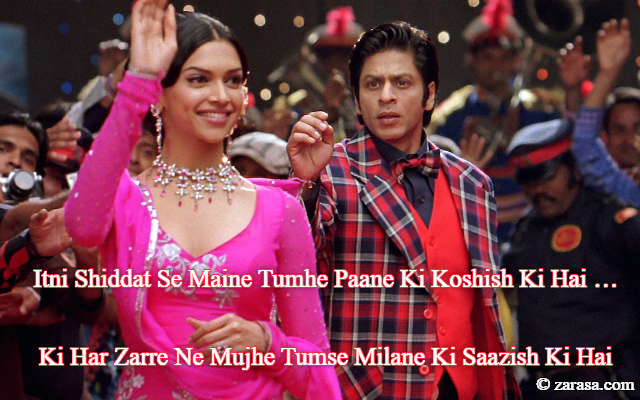 Itni Shiddat Se Maine Tumhe Paane Ki Koshish Ki Hai …
Ki Har Zarre Ne Mujhe Tumse Milane Ki Saazish Ki Hai
इतनी शिद्दत से मैंने तम्हे पाने की कोशिश की है,
की हर ज़र्रे ने मुझे तुमसे मिलाने की साज़िश की है।
اتنی شدّت سے مہینے تمھ پانے کی کوشش کی ہے
کی ہر زررے نے مجھے تمسے ملانے کی سازش کی ہے
---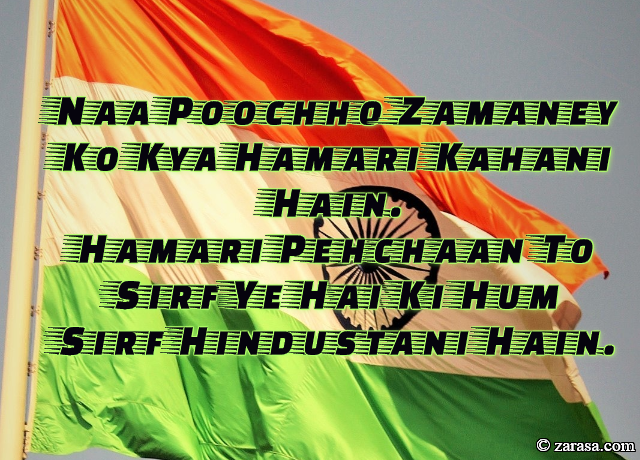 Naa Poochho Zamaney Ko Kya Hamari Kahani Hain.
Hamari Pehchaan To Sirf Ye Hai Ki Hum Sirf Hindustani Hain.
ना पूछो ज़माने को क्या हमारी कहानी हैं .
हमारी पहचान तो सिर्फ ये है की हम सिर्फ हिंदुस्तानी हैं .
نا پوچھو زمانے کو کیا ہماری کہانی ہیں .
ہماری پہچان تو صرف یہ ہے کی ہم صرف ہندوستانی ہیں .
---