Bollywood Shayari "Tum Kashmir Mangoge Hum Cheer Denge"
|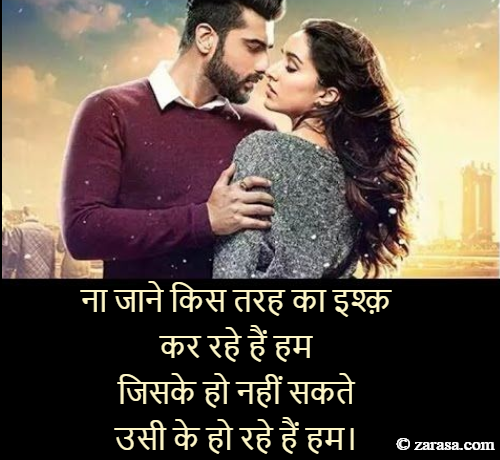 Na Jaane Kis Tarah ka Ishq
Kar Rhe Hain Hum
Jiske Ho Nhi Sakte
Usi Ke Ho Rhe Hain Hum
ना जाने किस तरह का इश्क़
कर रहे हैं हम
जिसके हो नहीं सकते
उसी के हो रहे हैं हम।
نہ جانے کس طرح کا عشق
کر رہی ہیں ہم
جسکے ہو نہی سکتے
اسی کے ہو رہی ہیں ہم
---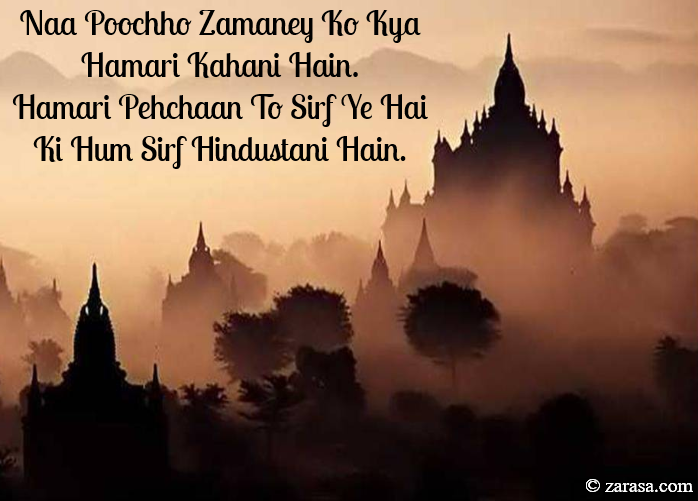 Naa Poochho Zamaney Ko Kya Hamari Kahani Hain.
Hamari Pehchaan To Sirf Ye Hai Ki Hum Sirf Hindustani Hain.
ना पूछो ज़माने को क्या हमारी कहानी हैं .
हमारी पहचान तो सिर्फ ये है की हम सिर्फ हिंदुस्तानी हैं .
نا پوچھو زمانے کو کیا ہماری کہانی ہیں .
ہماری پہچان تو صرف یہ ہے کی ہم صرف ہندوستانی ہیں .
---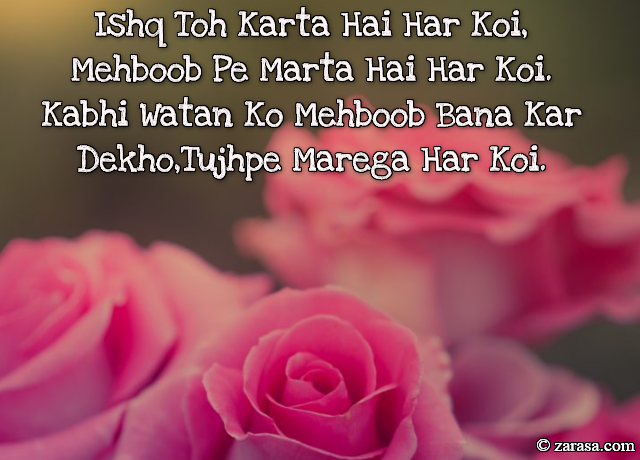 Ishq Toh Karta Hai Har Koi, Mehboob Pe Marta Hai Har Koi.
Kabhi Watan Ko Mehboob Bana Kar Dekho,Tujhpe Marega Har Koi.
इश्क़ तोह करता है हर कोई , मेहबूब पे मरता है हर कोई .
कभी वतन को मेहबूब बना कर देखो ,तुझपे मरेगा हर कोई .
عشق توہ کرتا ہے ہر کوئی , محبوب پی مارتا ہے ہر کوئی .
کبھی وطن کو محبوب بنا کر دیکھو ,تجھپے مریگا ہر کوئی .
---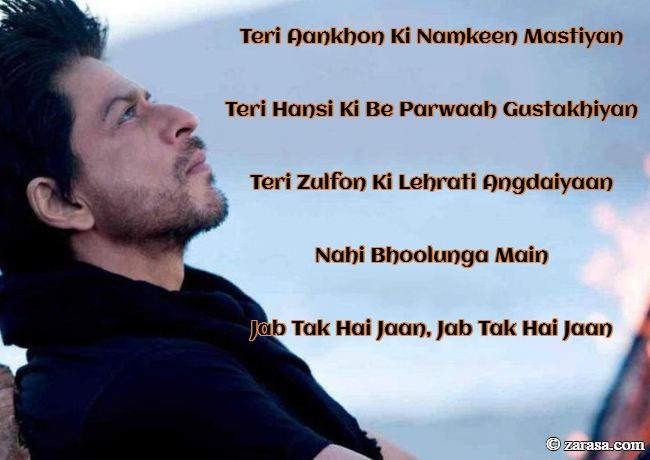 Teri Aankhon Ki Namkeen Mastiyan
Teri Hansi Ki Be Parwaah Gustakhiyan
Teri Zulfon Ki Lehrati Angdaiyaan
Nahi Bhoolunga Main
Jab Tak Hai Jaan, Jab Tak Hai Jaan
तेरी आँखों की नमकीन मस्तियाँ
तेरी हंसी की बे परवाह गुस्ताखियां
तेरी ज़ुल्फ़ों की लहराती अंगड़ाइयाँ
नहीं भूलूंगा मैं
जब तक है जान ,जब तक है जान |
تیری آنکھوں کی نمکین مستیاں
تیری ہنسی کی بے پرواہ گاتخیاں
تیری زلفوں کی لہراتی انگدہین
نہیں بھلنگا می
جب تک ہے جان ،جب تک ہے جان
---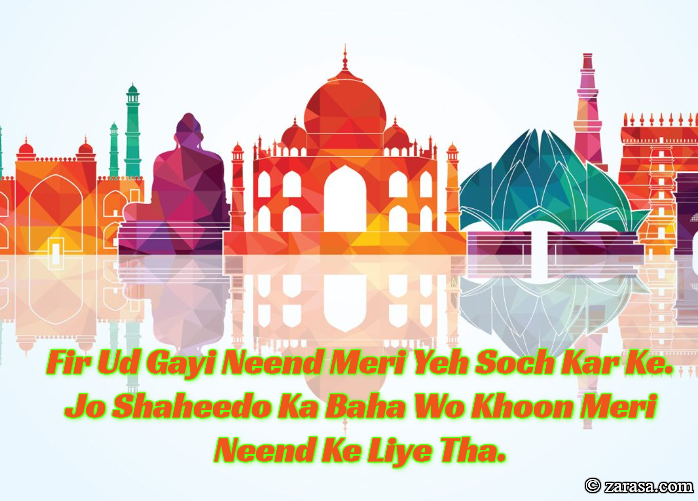 Fir Ud Gayi Neend Meri Yeh Soch Kar Ke.
Jo Shaheedo Ka Baha Wo Khoon Meri Neend Ke Liye Tha.
फिर उड़ गयी नींद मेरी यह सोच कर के .
जो शहीदों का बहा वो खून मेरी नींद के लिए था .
فر اد گی نیند میری یہ سوچ کر کے .
جو شہیدو کا بہا وو خون میری نیند کے لئے تھا .
---