Bollywood Shayari "Tum Kashmir Mangoge Hum Cheer Denge"
|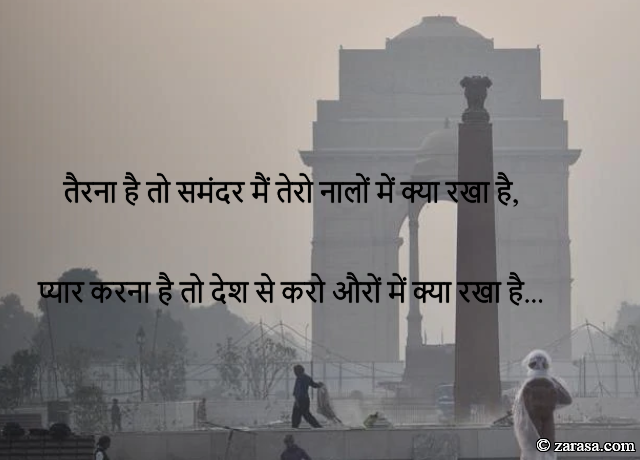 Terna Hai To Samandar Me Tero Naalon Me Kya Rakha Hai,
Pyar Karna Hai To Desh Se Karo Auron Me Kya Rakha Hai...
तैरना है तो समंदर मैं तेरो नालों मैं क्या रखा है,
प्यार करना है तो देश से करो औरों मैं क्या रखा है...
تیرنا ہے تو سمندر می تھرو نالوں میں کیا رکھا ہے'
پیار کرنا ہے تو دیش میں کرو آوروں میں کیا رکھا ہے -
---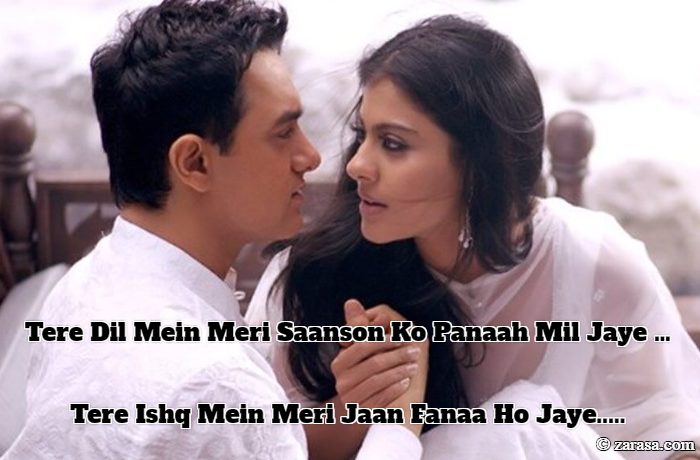 Tere Dil Mein Meri Saanson Ko Panaah Mil Jaye …
Tere Ishq Mein Meri Jaan Fanaa Ho Jaye.....
तेरे दिल में मेरी सांसों को पनाह मिल जाए ,
तेरे इश्क़ में मेरी जान फना हो जाए।
تیرے دل می میری سانسوں کو پناہ مل جائے
تیرے عشق می میری جان فنا ہو جائے
---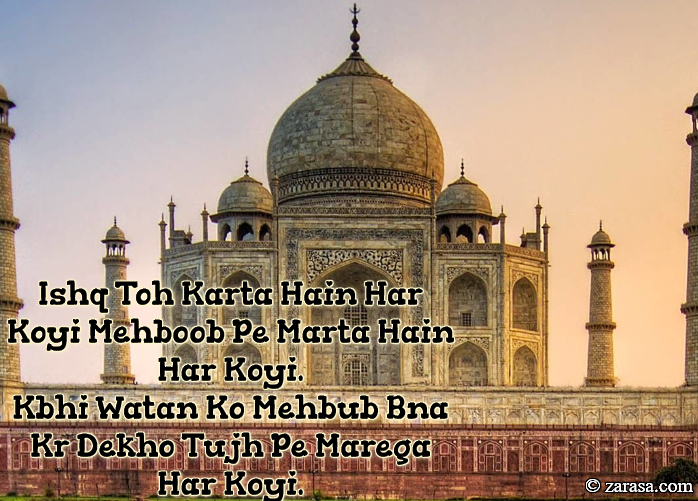 Ishq Toh Karta Hain Har Koyi Mehboob Pe Marta Hain Har Koyi.
Kbhi Watan Ko Mehbub Bna Kr Dekho Tujh Pe Marega Har Koyi.
इश्क़ तोह करता हैं हर कोई मेहबूब पे मरता हैं हर कोई .
कभी वतन को मेहबूब बना कर देखो तुझ पे मरेगा हर कोई .
عشق ٹوہ کرتا ہیں ہر کویی محبوب پی مارتا ہیں ہر کویی .
کبھی وطن کو محبوب بنا کر دیکھو تجھ پی مریگا ہر کویی .
---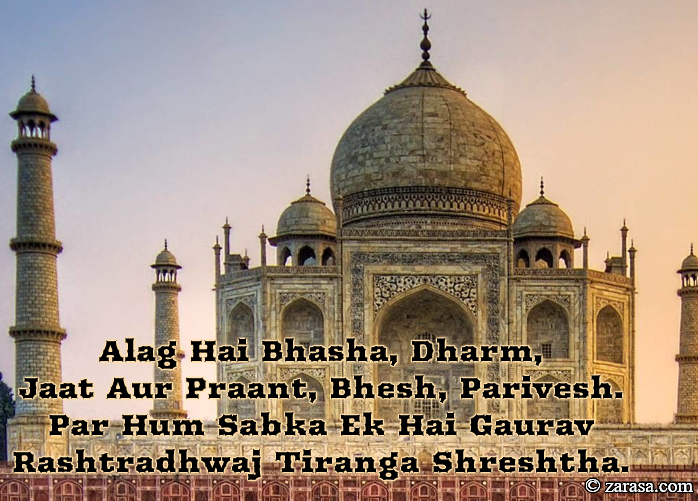 Alag Hai Bhasha, Dharm, Jaat Aur Praant, Bhesh, Parivesh.
Par Hum Sabka Ek Hai Gaurav Rashtradhwaj Tiranga Shreshtha.
अलग है भाषा , धर्म , जात और प्रांत , भेष , परिवेश .
पर हम सबका एक है गौरव राष्ट्रध्वज तिरंगा श्रेष्ठ .
الگ ہے بھاشا , دھرم , جات اور پرانت , بہش , پریویش .
پر ہم سبکا ایک ہے گورو راشٹرادھوج ترنگا شریشتھا .
---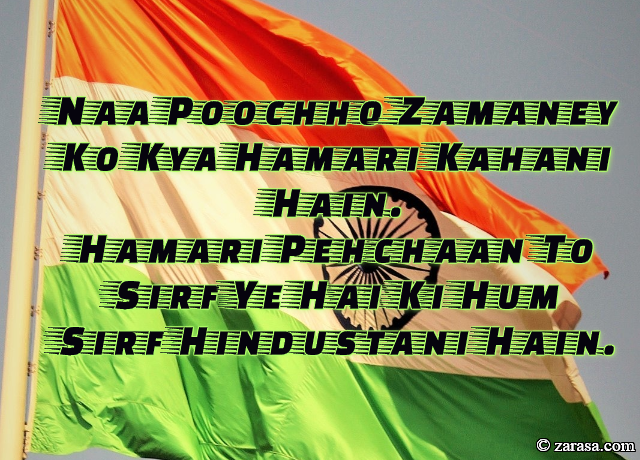 Naa Poochho Zamaney Ko Kya Hamari Kahani Hain.
Hamari Pehchaan To Sirf Ye Hai Ki Hum Sirf Hindustani Hain.
ना पूछो ज़माने को क्या हमारी कहानी हैं .
हमारी पहचान तो सिर्फ ये है की हम सिर्फ हिंदुस्तानी हैं .
نا پوچھو زمانے کو کیا ہماری کہانی ہیں .
ہماری پہچان تو صرف یہ ہے کی ہم صرف ہندوستانی ہیں .
---