Bollywood Shayari "Tum Kashmir Mangoge Hum Cheer Denge"
|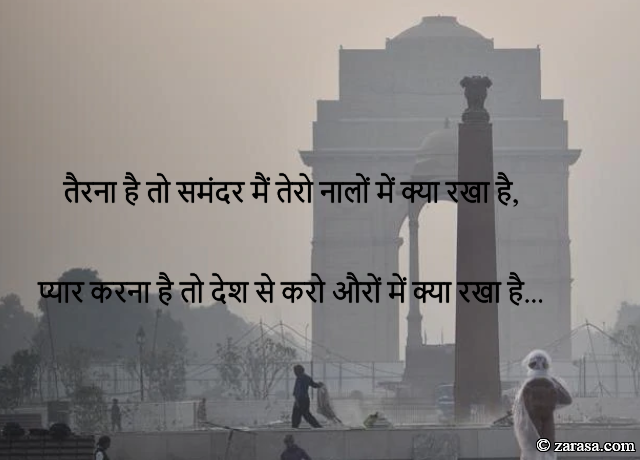 Terna Hai To Samandar Me Tero Naalon Me Kya Rakha Hai,
Pyar Karna Hai To Desh Se Karo Auron Me Kya Rakha Hai...
तैरना है तो समंदर मैं तेरो नालों मैं क्या रखा है,
प्यार करना है तो देश से करो औरों मैं क्या रखा है...
تیرنا ہے تو سمندر می تھرو نالوں میں کیا رکھا ہے'
پیار کرنا ہے تو دیش میں کرو آوروں میں کیا رکھا ہے -
---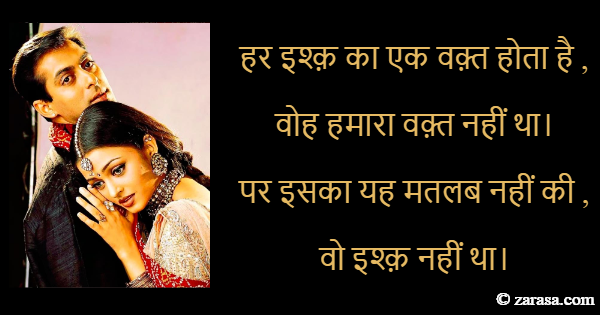 Har Ishq Ka Ek Waqt Hota Hai,
Woh Hamara Waqt Nahi Tha.
Par Iska Yeh Matlab Nahi Ki
Wo Ishq Nahi Tha.
हर इश्क़ का एक वक़्त होता है ,
वोह हमारा वक़्त नहीं था।
पर इसका यह मतलब नहीं की ,
वो इश्क़ नहीं था।
ہر عشق کا ایک وقت ہوتا ہے
وہ ہمارا وقت نہیں تھا
پر اسکا یہ مطلب نہیں کی
وہ عشق نہیں تھا
---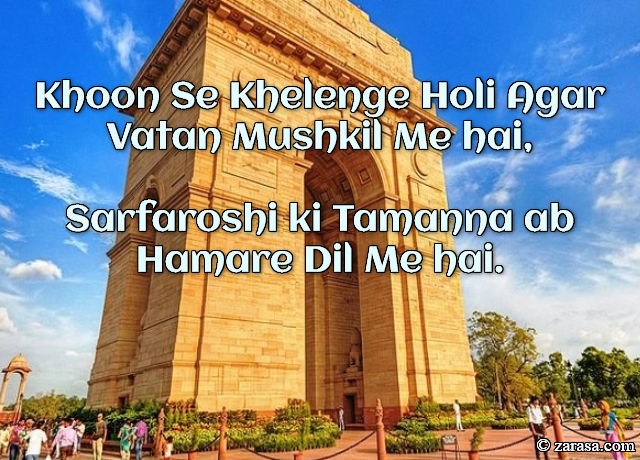 Khoon Se Khelenge Holi Agar Vatan Mushkil Me hai,
Sarfaroshi ki Tamanna ab Hamare Dil Me hai.
खून से खेलेंगे होली अगर वतन मुश्किल में है,
सरफ़रोशी की तमन्ना अब हमारे दिल में है.
خون سے کھیلینگے ہولی اگر وطن مشکل مے ہے,
سرفروشی کی تمنّ اب ہمارے دل مے ہے.
---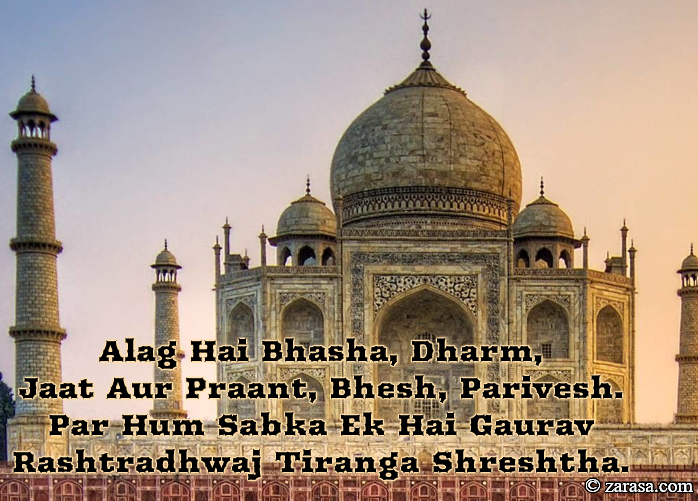 Alag Hai Bhasha, Dharm, Jaat Aur Praant, Bhesh, Parivesh.
Par Hum Sabka Ek Hai Gaurav Rashtradhwaj Tiranga Shreshtha.
अलग है भाषा , धर्म , जात और प्रांत , भेष , परिवेश .
पर हम सबका एक है गौरव राष्ट्रध्वज तिरंगा श्रेष्ठ .
الگ ہے بھاشا , دھرم , جات اور پرانت , بہش , پریویش .
پر ہم سبکا ایک ہے گورو راشٹرادھوج ترنگا شریشتھا .
---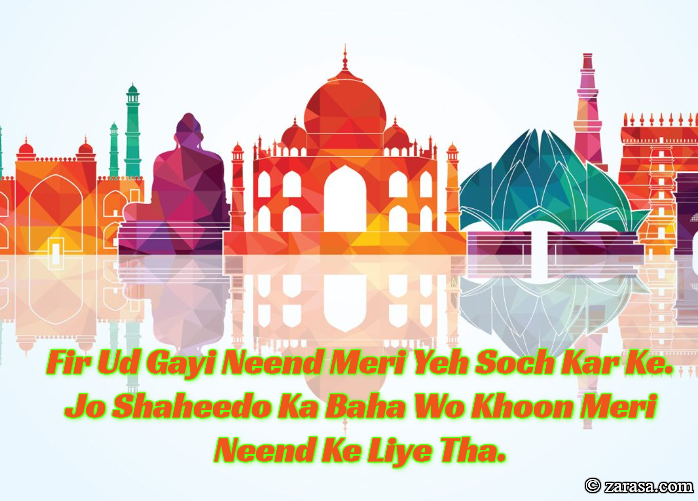 Fir Ud Gayi Neend Meri Yeh Soch Kar Ke.
Jo Shaheedo Ka Baha Wo Khoon Meri Neend Ke Liye Tha.
फिर उड़ गयी नींद मेरी यह सोच कर के .
जो शहीदों का बहा वो खून मेरी नींद के लिए था .
فر اد گی نیند میری یہ سوچ کر کے .
جو شہیدو کا بہا وو خون میری نیند کے لئے تھا .
---