Funny Shayari "Itarate Bohot Ho"
|
Kuch Bolu To Itarate Bohot Ho.
Janeman Tum Muskurate Bohot Ho.
Mann Karta Hai Tumhe Dawat Par Bulau.
Lekin Janeman Tum Khaate Bohot Ho.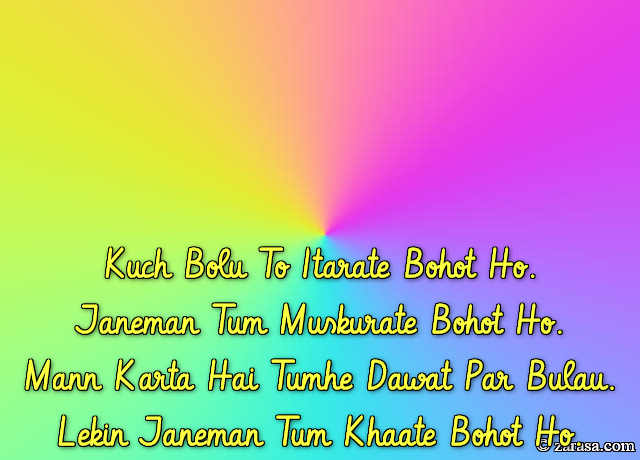 ---

कुछ बोलू तो इतराते बहुत हो .
जानेमन तुम मुस्करात बहुत हो .
मन करता है तुम्हे दावत पर बुलाऊ .
लेकिन जानेमन तुम खाते बहुत हो .


---

کچھ بولو تو اترتے بوہوت ہو .
جنیمن تم مسکراتے بوہوت ہو .
منن کرتا ہے تمھ دعوت پر بلو .
لیکن جنیمن تم کھاتے بوہوت ہو .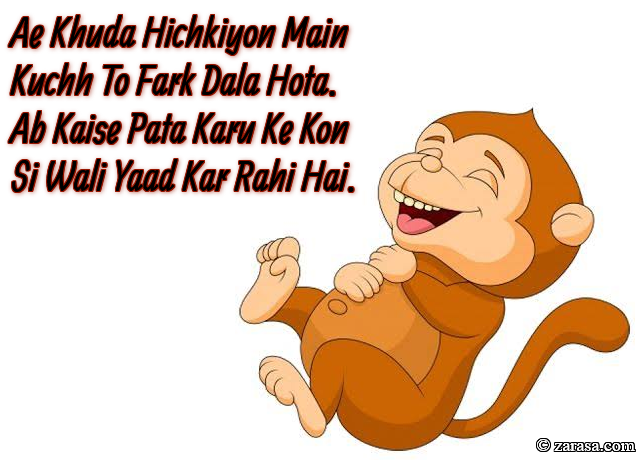 Ae Khuda Hichkiyon Main Kuchh To Fark Dala Hota.
Ab Kaise Pata Karu Ke Kon Si Wali Yaad Kar Rahi Hai.
ऐ खुदा हिचकियों में कुछ तो फर्क डाला होता,
अब कैसे पता करूँ के कौन सी वाली याद कर रही है।




اے خدا ہچکیوں میں کچھ تو پھڑک ڈالا ہوتا .
اب کیسے پتا کرو کے کون سی والی یاد کر رہی ہے .

---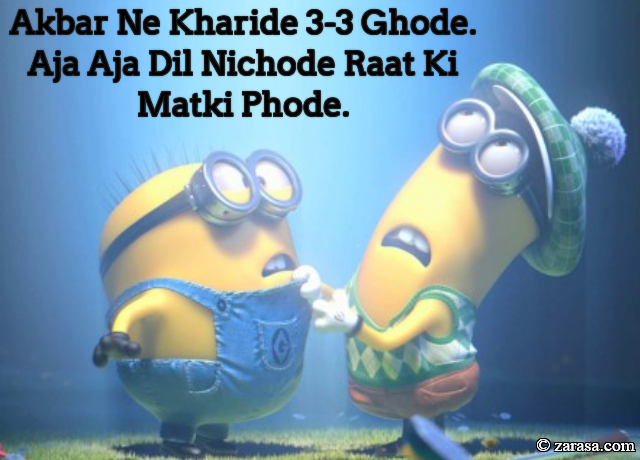 Akbar Ne Kharide 3-3 Ghode.
Aja Aja Dil Nichode Raat Ki Matki Phode.
अख़बार ने ख़रीदे ३ -३ घोड़े .
अजा अजा दिल निचोड़े रात की मटकी फोड़े .
اکبر نے خریدے ٣ -٣ غودے .
آجا آجا دل نچودے رات کی متکی فوڈے .
---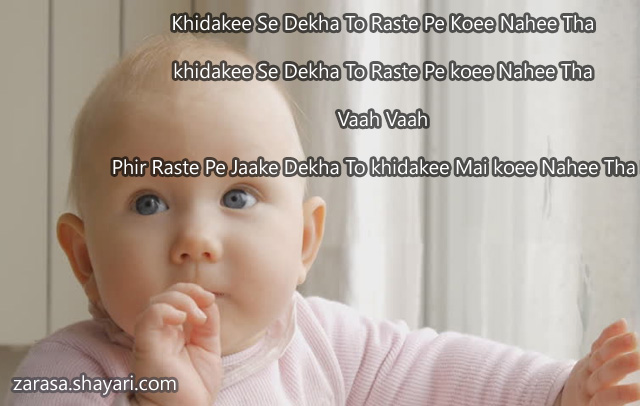 Khidakee Se Dekha To Raste Pe Koee Nahee Tha
khidakee Se Dekha To Raste Pe koee Nahee Tha
Vaah Vaah
Phir Raste Pe Jaake Dekha To khidakee Mai koee Nahee Tha ?

 



खिडकी से देखा तो रस्ते पे कोई नही था
खिडकी से देखा तो रस्ते पे कोई नही था
वाह वाह
फिर रस्ते पे जाके देखा तो खिडकी मै कोई नही था ?
کھڑکی سے دیکھا تو رستے پہ کوئی نہیں تھا
کھڑکی سے دیکھا تو رستے پہ کوئی نہیں تھا
واہ واہ
پھر رستے پہ جاکے دیکھا تو کھڑکی مے کوئی نہیں تھا
---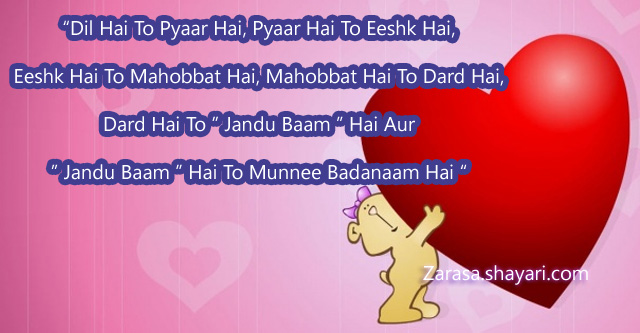 "Dil Hai To Pyaar Hai, Pyaar Hai To Eeshk Hai,
Eeshk Hai To Mahobbat Hai, Mahobbat Hai To Dard Hai,
Dard Hai To " Jandu Baam " Hai Aur
" Jandu Baam " Hai To Munnee Badanaam Hai "

 

 

"दिल है तो प्यार है, प्यार है तो ईश्क है,
ईश्क है तो महोब्बत है, महोब्बत है तो दर्द है,
दर्द है तो " जंडु बाम " है और
" जंडु बाम " है तो मुन्नी बदनाम है "
دل ہے تو محبت ہے، محبت ہے تو يشك ہے
يشك ہے تو مهوببت ہے، مهوببت ہے تو درد ہے
درد ہے تو "جڈ بام" ہے اور
"جڈ بام" ہے تو منی بدنام ہے "
---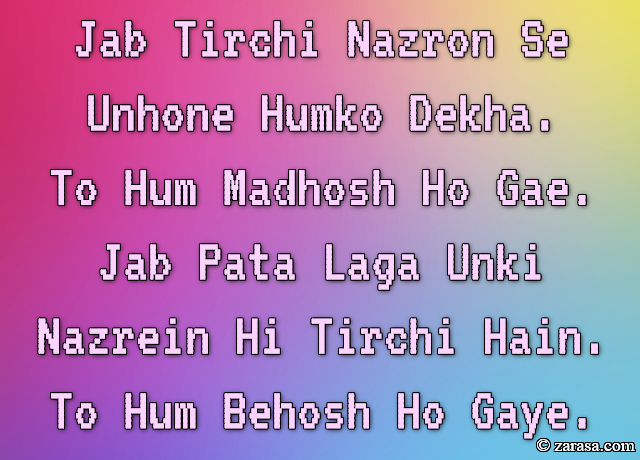 Jab Tirchi Nazron Se Unhone Humko Dekha.
To Hum Madhosh Ho Gae.
Jab Pata Laga Unki Nazrein Hi Tirchi Hain.
To Hum Behosh Ho Gaye.
जब तिरछी नज़रों से उन्होंने हमको देखा .
तो हम मदहोश हो गए .
जब पता लगा उनकी नज़रें ही तिरछी हैं .
तो हम बेहोश हो गए .

جب ترچھی نظروں سے انہونے ہمکو دیکھا .
تو ہم مدہوش ہو گے .
جب پتا لگا انکی نظریں ہی ترچھی ہیں .
تو ہم بیہوش ہو گئے .

---