Funny Shayari "Itarate Bohot Ho"
|
Kuch Bolu To Itarate Bohot Ho.
Janeman Tum Muskurate Bohot Ho.
Mann Karta Hai Tumhe Dawat Par Bulau.
Lekin Janeman Tum Khaate Bohot Ho.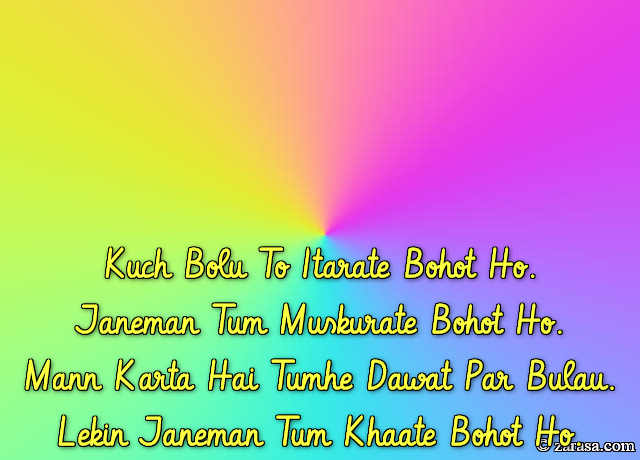 ---

कुछ बोलू तो इतराते बहुत हो .
जानेमन तुम मुस्करात बहुत हो .
मन करता है तुम्हे दावत पर बुलाऊ .
लेकिन जानेमन तुम खाते बहुत हो .


---

کچھ بولو تو اترتے بوہوت ہو .
جنیمن تم مسکراتے بوہوت ہو .
منن کرتا ہے تمھ دعوت پر بلو .
لیکن جنیمن تم کھاتے بوہوت ہو .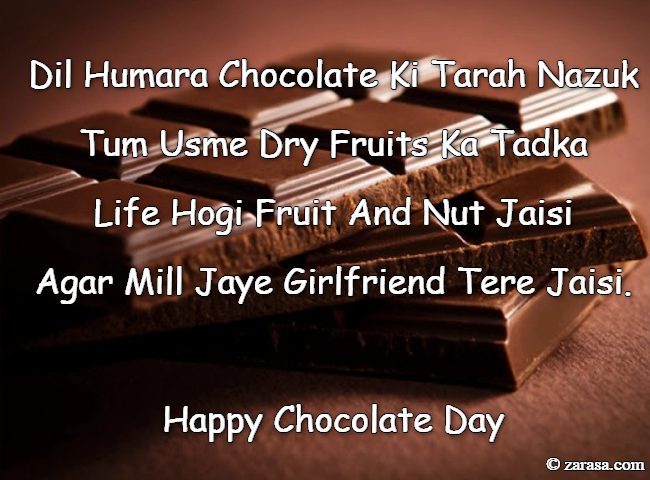 Dil Humara Chocolate Ki Tarah Nazuk
Tum Usme Dry Fruits Ka Tadka
Life Hogi Fruit And Nut Jaisi
Agar Mill Jaye Girlfriend Tere Jaisi.
Happy Chocolate Day
दिल हमारा चॉक्लेट की तरह नाज़ुक
तम उसमें ड्राई फ्रूट्स का तड़का
लाइफ होगी फ्रूट एंड नट जैसी
अगर मिल जाए गर्लफ्रेंड तेरी जैसी।
دل ہمارا چوکلاتے کی طرح نازک
تم اسمے درے فروٹس کا تڑکا
لائف ہوگی فروٹ اینڈ نٹ جیسی
اگر مل جائے گرل فرینڈ تیرے جیسی
---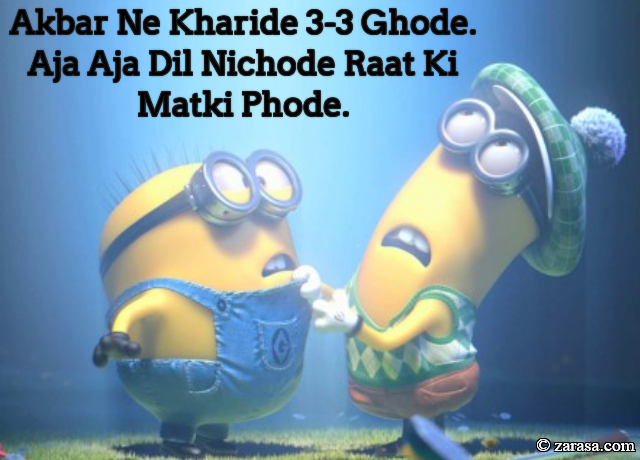 Akbar Ne Kharide 3-3 Ghode.
Aja Aja Dil Nichode Raat Ki Matki Phode.
अख़बार ने ख़रीदे ३ -३ घोड़े .
अजा अजा दिल निचोड़े रात की मटकी फोड़े .
اکبر نے خریدے ٣ -٣ غودے .
آجا آجا دل نچودے رات کی متکی فوڈے .
---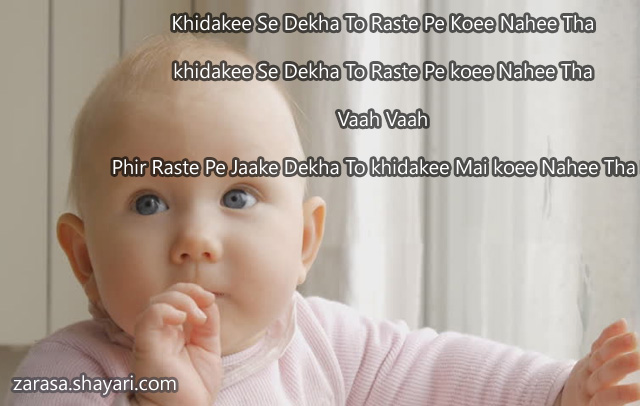 Khidakee Se Dekha To Raste Pe Koee Nahee Tha
khidakee Se Dekha To Raste Pe koee Nahee Tha
Vaah Vaah
Phir Raste Pe Jaake Dekha To khidakee Mai koee Nahee Tha ?

 



खिडकी से देखा तो रस्ते पे कोई नही था
खिडकी से देखा तो रस्ते पे कोई नही था
वाह वाह
फिर रस्ते पे जाके देखा तो खिडकी मै कोई नही था ?
کھڑکی سے دیکھا تو رستے پہ کوئی نہیں تھا
کھڑکی سے دیکھا تو رستے پہ کوئی نہیں تھا
واہ واہ
پھر رستے پہ جاکے دیکھا تو کھڑکی مے کوئی نہیں تھا
---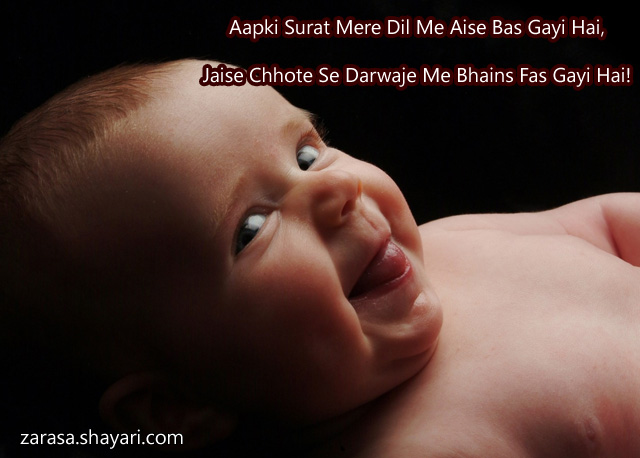 Aapki Surat Mere Dil Me Aise Bas Gayi Hai,
Jaise Chhote Se Darwaje Me Bhains Fas Gayi Hai!






आपकी सूरत मेरे दिल में ऐसे बस गयी है,
जैसे छोटे से दरवाजे में भैंस फास गयी है! .
آپ سورت میرے دل میں ایسے بس گئی ہے
جیسے چھوٹے سے دروازے میں بھینس پھاس گئی ہے
---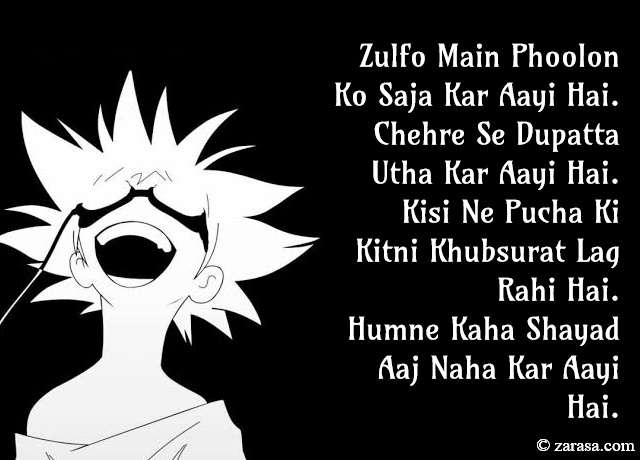 Zulfo Main Phoolon Ko Saja Kar Aayi Hai.
Chehre Se Dupatta Utha Kar Aayi Hai.
Kisi Ne Pucha Ki Kitni Khubsurat Lag Rahi Hai.
Humne Kaha Shayad Aaj Naha Kar Aayi Hai.
जुल्फों में फूलों को सजा के आयी,
चेहरे से दुपट्टा उठा के आयी,
किसी ने पूछा आज बड़ी खुबसूरत लग रही है,
हमने कहा शायद आज नहा के आयी।

زلفو میں پھولوں کو سجا کر آی ہے .
چہرے سے دوپٹے اٹھا کر آی ہے .
کسی نے پچا کی کتنی خوبصورت لگ رہی ہے .
ہمنے کہا شاید آج نہ کر آی ہے .

---