Funny Shayari "Khayalaat Badal Jate Hain"
|
Umar Ki Raah Main Jazbaat Badal Jaate Hain.
Waqt Ki Aandhi Me Halat Badal Jaate Hain.
Sochta Hun Ki Kaam Kar-Kar Ke Record Tod Dun.
Par Office Aate Aate Khayalaat Badal Jate Hain.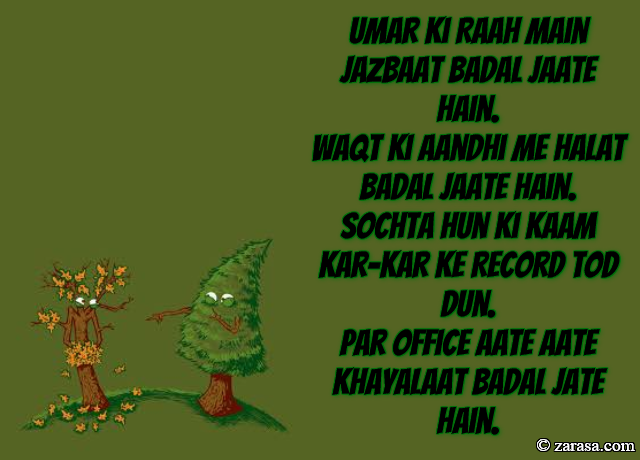 ---

उम्र की राह में जज्बात बदल जाते है,
वक़्त की आंधी में हालात बदल जाते है,
सोचता हूँ कि काम कर-कर के रिकॉर्ड तोड़ दूँ,
पर ऑफिस आते आते ख़यालात बदल जाते है।



---


امر کی راہ میں جذبات بدل جاتے ہیں .
وقت کی آندھی مے حالت بدل جاتے ہیں .
سوچتا ہوں کی کام کر -کر کے ریکارڈ ٹاڈ دن .
پر آفس آتے آتے خیالات بدل جاتے ہیں .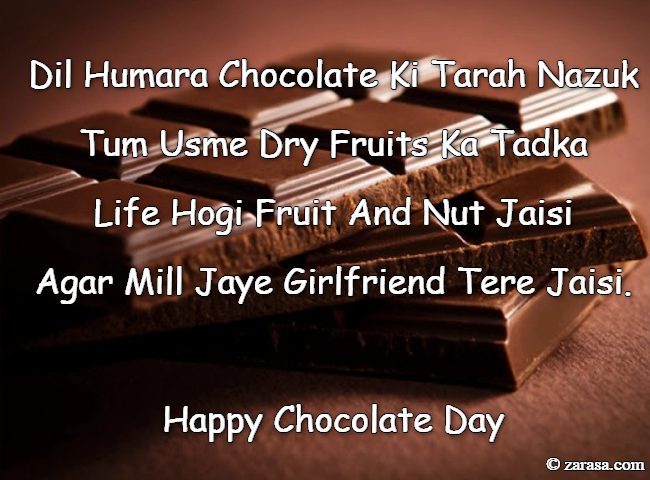 Dil Humara Chocolate Ki Tarah Nazuk
Tum Usme Dry Fruits Ka Tadka
Life Hogi Fruit And Nut Jaisi
Agar Mill Jaye Girlfriend Tere Jaisi.
Happy Chocolate Day
दिल हमारा चॉक्लेट की तरह नाज़ुक
तम उसमें ड्राई फ्रूट्स का तड़का
लाइफ होगी फ्रूट एंड नट जैसी
अगर मिल जाए गर्लफ्रेंड तेरी जैसी।
دل ہمارا چوکلاتے کی طرح نازک
تم اسمے درے فروٹس کا تڑکا
لائف ہوگی فروٹ اینڈ نٹ جیسی
اگر مل جائے گرل فرینڈ تیرے جیسی
---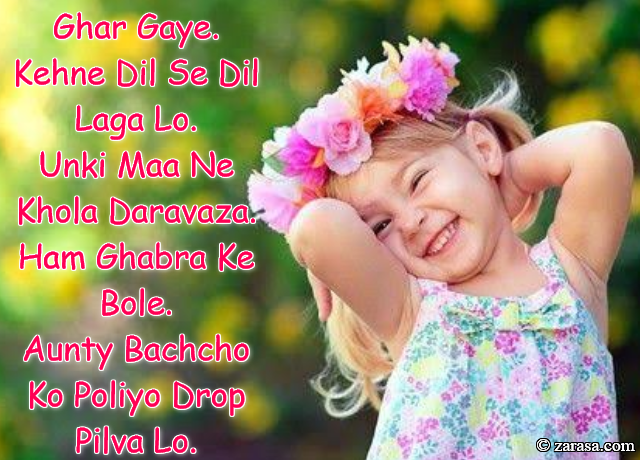 Jab Ham Unke Ghar Gaye.
Kehne Dil Se Dil Laga Lo.
Unki Maa Ne Khola Daravaza.
Ham Ghabra Ke Bole.
Aunty Bachcho Ko Poliyo Drop Pilva Lo.
जब हम उनके घर गए .
कहने दिल से दिल लगा लो .
उनकी माँ ने खोला दरवाज़ा .
हम घबरा के बोले .
आंटी बच्चो को पोलियो ड्राप पिलवा लो .

جب ہم انکے گھر گئے .
کہنے دل سے دل لگا لو .
انکی ما نے کھولا دروازہ .
ہم گھبرا کے بولے .
اونتے بچّھو کو پولیو ڈراپ پلوا لو .

---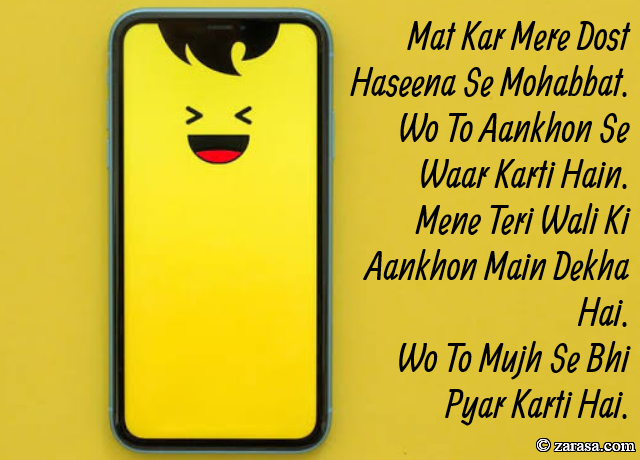 Mat Kar Mere Dost Haseena Se Mohabbat.
Wo To Aankhon Se Waar Karti Hain.
Mene Teri Wali Ki Aankhon Main Dekha Hai.
Wo To Mujh Se Bhi Pyar Karti Hai.
मत कर मेरे दोस्त हसीना से मोहब्बत,
वो तो आँखों से वार करती हैं,
मैंने तेरी वाली की आँखों में देखा है,
वो तो मुझ से भी प्यार करती है।

مت کر میرے دوست حسینہ سے موحبّت .
وو تو آنکھوں سے وار کرتی ہیں .
منے تیری والی کی آنکھوں میں دیکھا ہے .
وو تو مجھ سے بھی پیار کرتی ہے .

---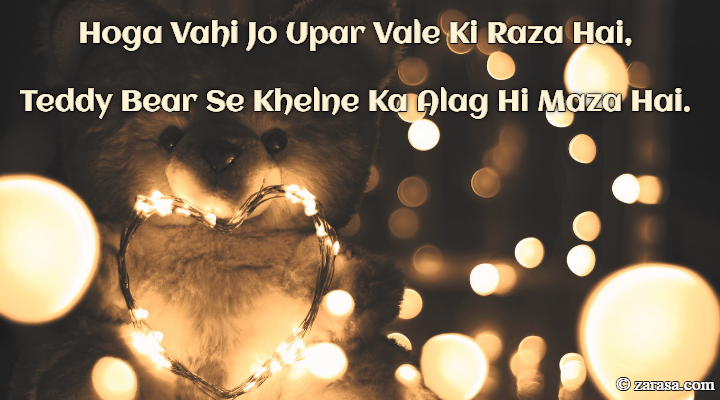 Hoga Vahi Jo Upar Vale Ki Raza Hai,
Teddy Bear Se Khelne Ka Alag Hi Maza Hai.
होगा वही जो ऊपर वाले की रज़ा है,

टेडी बियर से खेलने का अलग ही मज़ा है।
ہوگا وہی جو اپپر والے کے رزا ہے
تادی بیر سے کھیلنے کا الگ ہی مزا ہے
---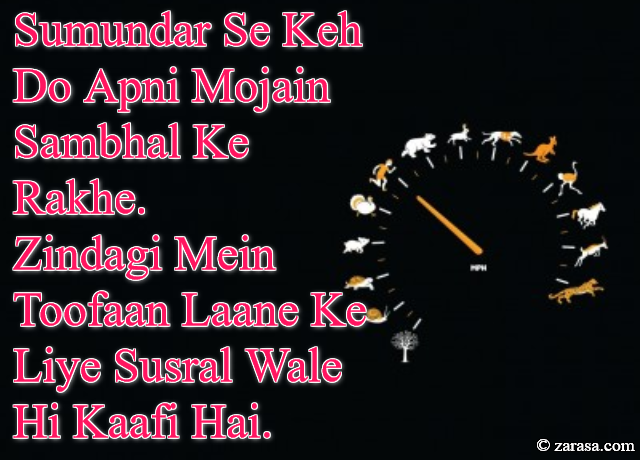 Sumundar Se Keh Do Apni Mojain Sambhal Ke Rakhe.
Zindagi Mein Toofaan Laane Ke Liye Susral Wale Hi Kaafi Hai.
समुन्दर से कह दो अपनी मोजैं संभल के रखे .
ज़िन्दगी में तूफ़ान लाने के लिए सुसराल वाले ही काफी है .
سمندر سے کہ دو اپنی موجیں سمبھال کے رکھے .
زندگی میں طوفان لانے کے لئے سسرال والے ہی کافی ہے .
---