Funny Shayari "Kyuki Jeb Main Paise Kam Nikle"
|
Hazaron Khwahishen Aisi Ki Har Khwahish Pe Rum Nikle.
Jee Bhar Ke Kabhi Na Pee Paya Kyuki Jeb Main Paise Kam Nikle.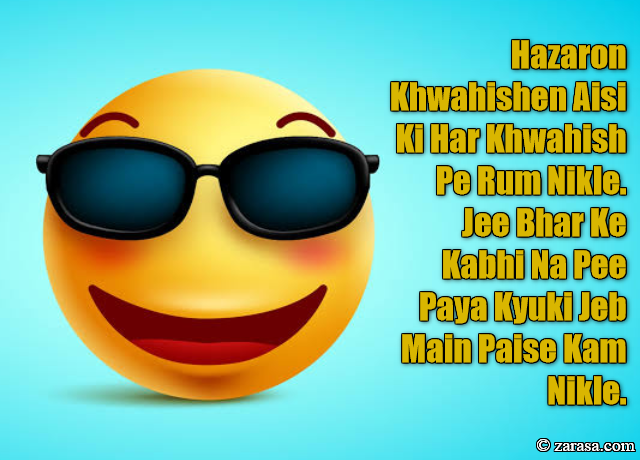 ---

हज़ारों ख्वाहिशें ऐसी कि हर ख्वाहिश पे रम निकले.
जी भर के कभी ना पी पाया क्योंकि जेब में पैसे कम निकले.



---

ہزاروں خواہشیں ایسی کی ہر خواہش پی روم نکلے .
جی بھر کے کبھی نہ پی پایا کیکی جیب میں پیسے کم نکلے .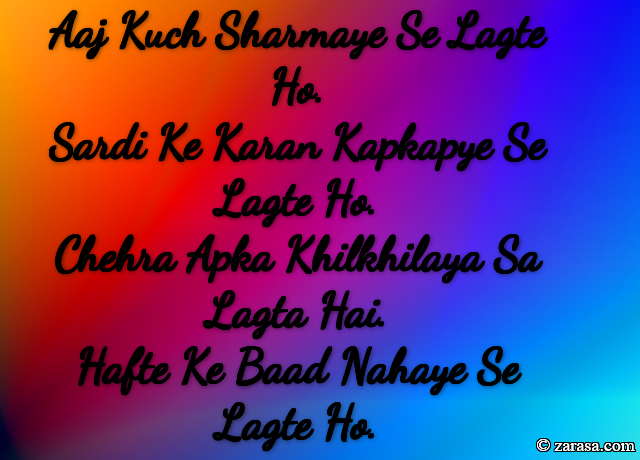 Aaj Kuch Sharmaye Se Lagte Ho.
Sardi Ke Karan Kapkapye Se Lagte Ho.
Chehra Apka Khilkhilaya Sa Lagta Hai.
Hafte Ke Baad Nahaye Se Lagte Ho.
आज कुछ शर्माए से लगते हो,
सर्दी के कारण कपकपए से लगते हो,
चेहरा आपका खिलखिलाये सा लगता है,
हफ्ते के बाद नहाए से लगते हो।

آج کچھ شرماے سے لگتے ہو .
سردی کے کران کپکپیسے لگتے ہو .
چہرہ اپکا کھلکھلایا سا لگتا ہے .
ہفتے کے بعد ناہے سے لگتے ہو .
---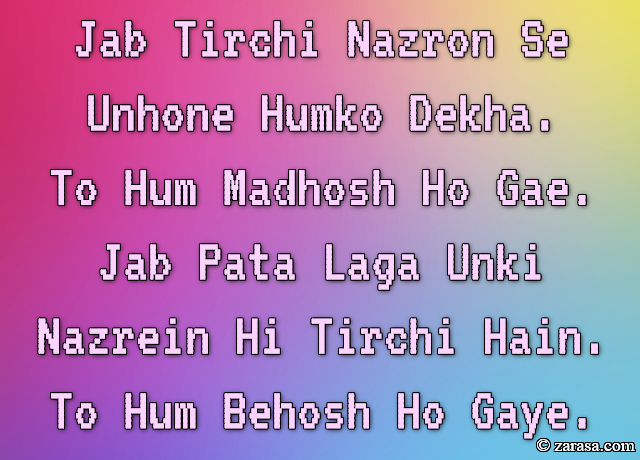 Jab Tirchi Nazron Se Unhone Humko Dekha.
To Hum Madhosh Ho Gae.
Jab Pata Laga Unki Nazrein Hi Tirchi Hain.
To Hum Behosh Ho Gaye.
जब तिरछी नज़रों से उन्होंने हमको देखा .
तो हम मदहोश हो गए .
जब पता लगा उनकी नज़रें ही तिरछी हैं .
तो हम बेहोश हो गए .

جب ترچھی نظروں سے انہونے ہمکو دیکھا .
تو ہم مدہوش ہو گے .
جب پتا لگا انکی نظریں ہی ترچھی ہیں .
تو ہم بیہوش ہو گئے .

---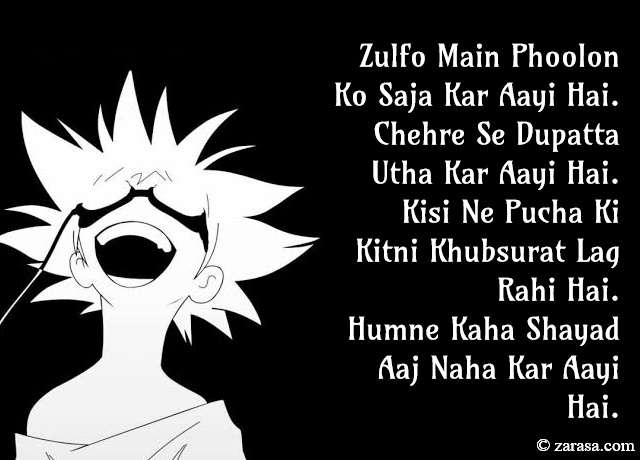 Zulfo Main Phoolon Ko Saja Kar Aayi Hai.
Chehre Se Dupatta Utha Kar Aayi Hai.
Kisi Ne Pucha Ki Kitni Khubsurat Lag Rahi Hai.
Humne Kaha Shayad Aaj Naha Kar Aayi Hai.
जुल्फों में फूलों को सजा के आयी,
चेहरे से दुपट्टा उठा के आयी,
किसी ने पूछा आज बड़ी खुबसूरत लग रही है,
हमने कहा शायद आज नहा के आयी।

زلفو میں پھولوں کو سجا کر آی ہے .
چہرے سے دوپٹے اٹھا کر آی ہے .
کسی نے پچا کی کتنی خوبصورت لگ رہی ہے .
ہمنے کہا شاید آج نہ کر آی ہے .

---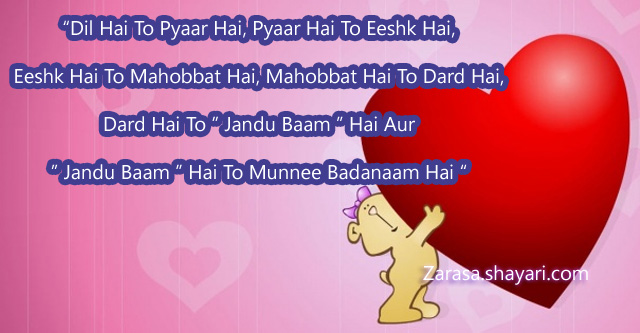 "Dil Hai To Pyaar Hai, Pyaar Hai To Eeshk Hai,
Eeshk Hai To Mahobbat Hai, Mahobbat Hai To Dard Hai,
Dard Hai To " Jandu Baam " Hai Aur
" Jandu Baam " Hai To Munnee Badanaam Hai "

 

 

"दिल है तो प्यार है, प्यार है तो ईश्क है,
ईश्क है तो महोब्बत है, महोब्बत है तो दर्द है,
दर्द है तो " जंडु बाम " है और
" जंडु बाम " है तो मुन्नी बदनाम है "
دل ہے تو محبت ہے، محبت ہے تو يشك ہے
يشك ہے تو مهوببت ہے، مهوببت ہے تو درد ہے
درد ہے تو "جڈ بام" ہے اور
"جڈ بام" ہے تو منی بدنام ہے "
---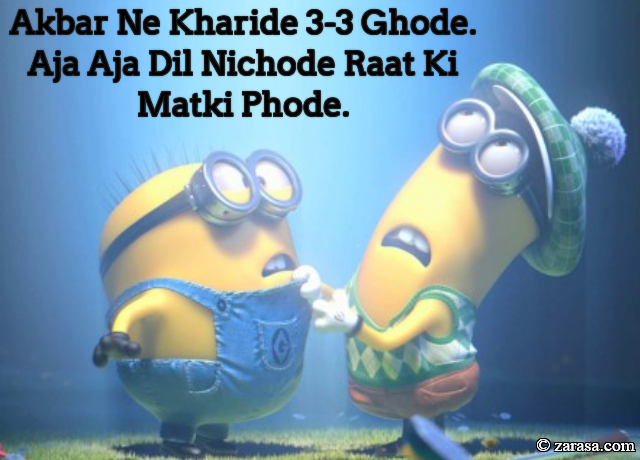 Akbar Ne Kharide 3-3 Ghode.
Aja Aja Dil Nichode Raat Ki Matki Phode.
अख़बार ने ख़रीदे ३ -३ घोड़े .
अजा अजा दिल निचोड़े रात की मटकी फोड़े .
اکبر نے خریدے ٣ -٣ غودے .
آجا آجا دل نچودے رات کی متکی فوڈے .
---